Posted: Thursday, Dec 19th, 2019
20 Things You'd be Wise to do in Ventura in 2020
by Visit Ventura
Sure, it's only mid-December, and perhaps a tad early for New Year's Resolutions. But why not start 2020 with a ground-breaking resolution? Stop adhering to the calendar or the status quo. These 20 Ventura charms fly in the face of convention (
This year I'll eat more Brussel sprouts and be nicer to my mother-in-law
), AND they'll see you getting a jump on all the hemmers and hawers. In 2020, carpe diem Ventura-style…
#1 – Take a Historic Walking Tour
Travel through time in Ventura courtesy of
the historical sites
that have contributed to Ventura's past and present. From the
San Buenaventura Mission
, to the
historical murals
scattered about town, to
the Museum of Ventura County
(your go-to site for art and historical facts about Ventura County), the past is your oyster — and a fun window on the present.
Step through Ventura's 150-year history by picking up a free "Historic Walking Tour Guide" at the Ventura Visitors Center.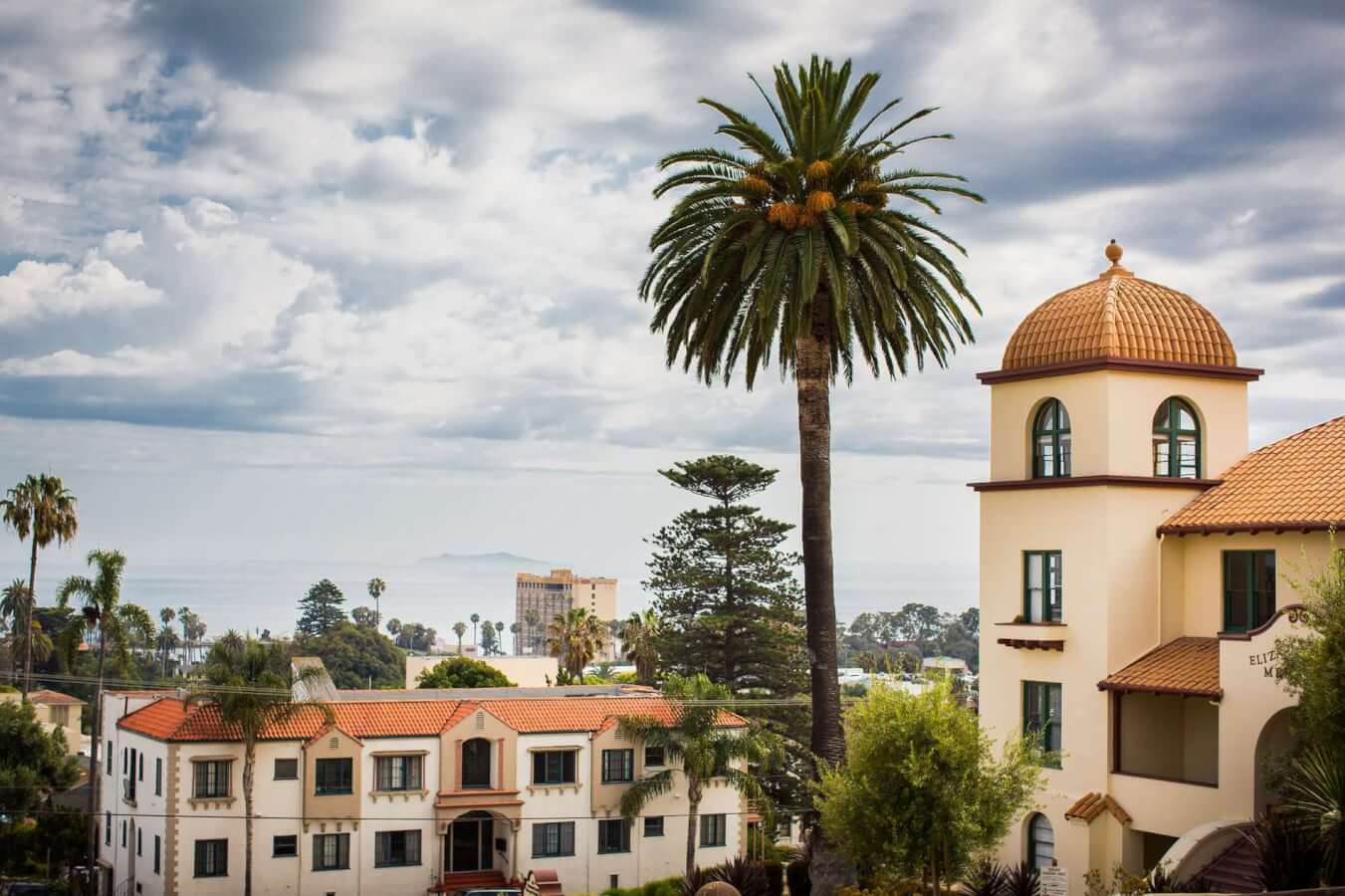 #2 – Discover Ventura's vibrant art
Ventura is, and always has been, home to a thriving
arts community
— and it's visible almost literally everywhere you turn. Murals in the
Santa Clara Street Post Office
, on the sides of buildings, even on the
utility boxes
scattered about the city; paintings adorning the walls of our City Hall (take your own self-guided tour); art galleries and artist enclaves — on the First Friday of the month, the artists at the
Bell Arts Factory
open their studio doors to the public. You might even spot impromptu art as you walk along the beach. If it's an improbably ornate rock balancing act, it might be the handiwork of
Juan Manuel Cisneros
.
Ventura has the gift of finding beauty in the ordinary — and the extraordinary.
Antique junkies and thrift shoppers, Ventura has your fix. Take a sail through the past — and find terrific sale items — in any of Ventura's thrift stores and antique shops. Uncover great finds and walk all the while — most of the stores are clustered together along Main Street (though if you find a steal of an antique credenza, you might want to have your car), at stores like the
Coalition Thrift Store
and Jacqueline Jarrot Treasure Chest Thrift Store.
#4 – Throw yourself into a fun fitness class
Okay, it's a stereotype — but it's a healthy one. Check out classes with
Fit Buddha
, Club Pilates or
Yoga Jones
to get you in shape. Plus, it's a lot of fun. Really. And keep an eye out for
Pop up Yoga
classes — they're often held outside in the Ventura sunshine. They charge a small fee, but it's a small price to pay for flexibility and serenity. All levels and all ages are welcome.

#5 – Learn to surf
Keeping it simple, Ventura is surfing. Plenty of great folks offer surf lessons in Ventura. Some surf shops offer lessons, too (or they can put you in touch with folks who do). You can't go wrong with
Ventura Makos Surf Camp
,
Mary Osborne Surf
, or
Surfclass.com
, the latter run by the always-infectious "Chipper Bro" Bell.
From the second you stand, you'll know the magic.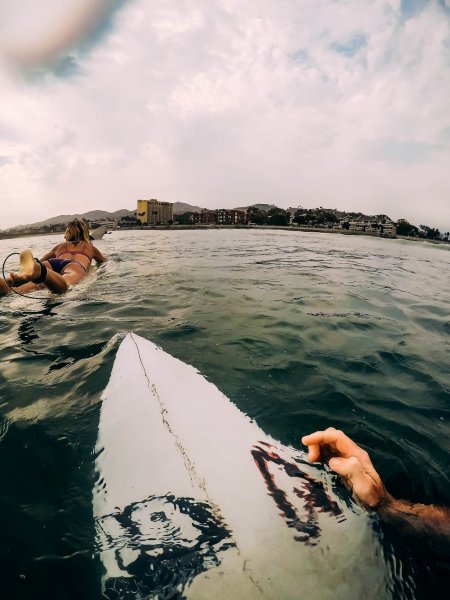 #6 – Rent a bike and wheel off to adventure
Near, far, wherever you want to go — your route (
along the coast; up into the hills
) and equipment (Tandem with a friend? Electric bike for ease?) options are pretty much limitless. Plenty of great places rent all manner of bikes (
Wheel Fun Rentals
,
Cycle Dynamics
,
Ventura Bike Depot
) — and some, like Ventura Bike Depot, offer guided tours.
Head for the hills. Or the flats.
#7 – Yummmmmmm. Sample gelato at Palermo
Maybe a good one after you ride. Stretch your legs out at a patio table in the sun and methodically work your way through their myriad gelatos. Maybe start with their yummy affogato (gelato, yummily drowned in espresso) so you can stay alert for the long haul.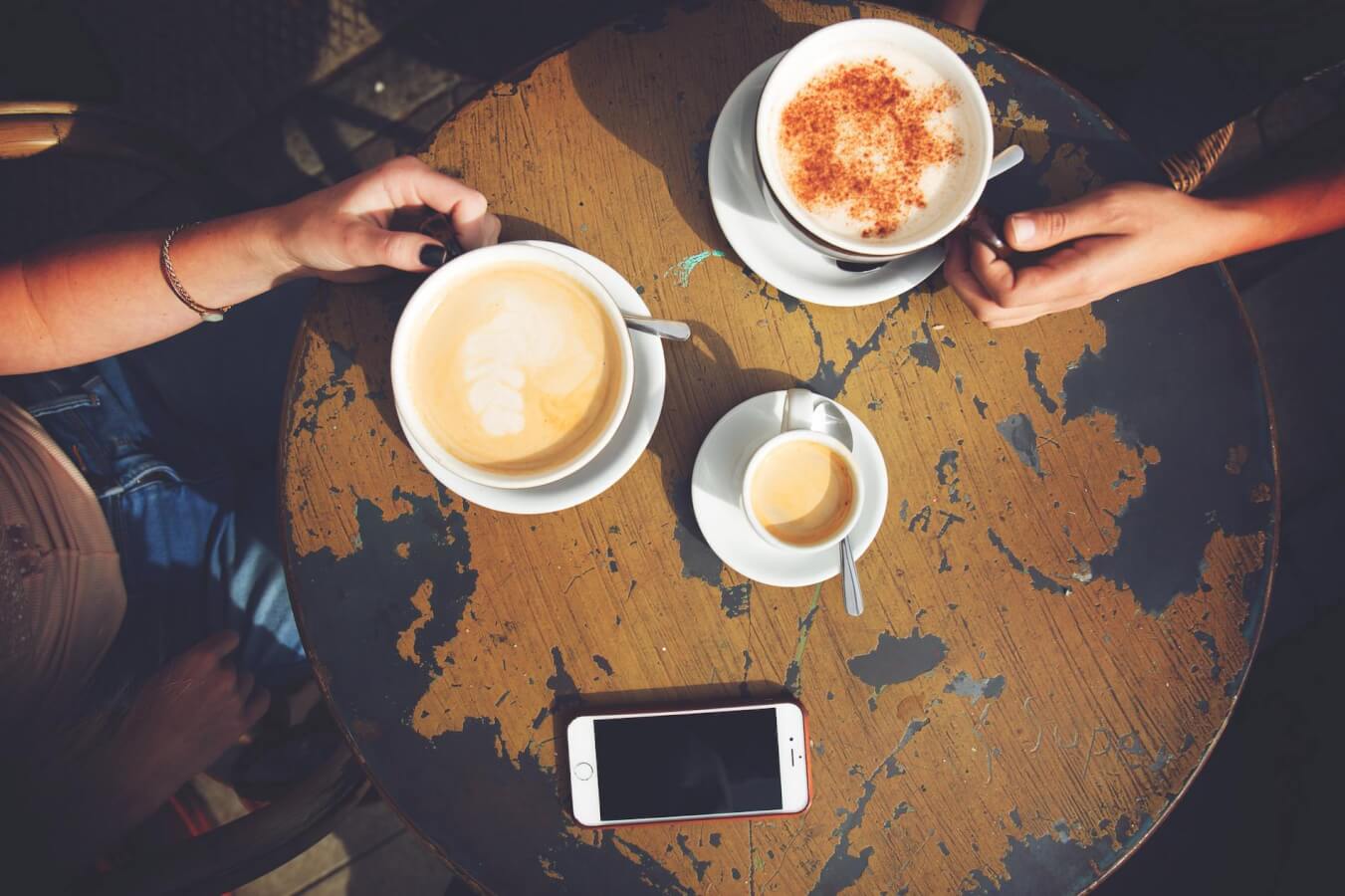 #8 – Visit Ventura's tasty Taco District
You won't find more real-deal Mexican food than you will in the 14 restaurants that more or less line Ventura Avenue. Each has its' specialties and you should try as many as you can. We'll just address one. You haven't lived until you've sampled
Taqueria Ventura Doña Raquel's
fish tacos. Soft, fresh homemade tortillas, a sublime creamy sauce, just the right amount of cabbage and cilantro filling, topped with juicy fish and a squirt of lime. What? You're not going to read the rest of this blog?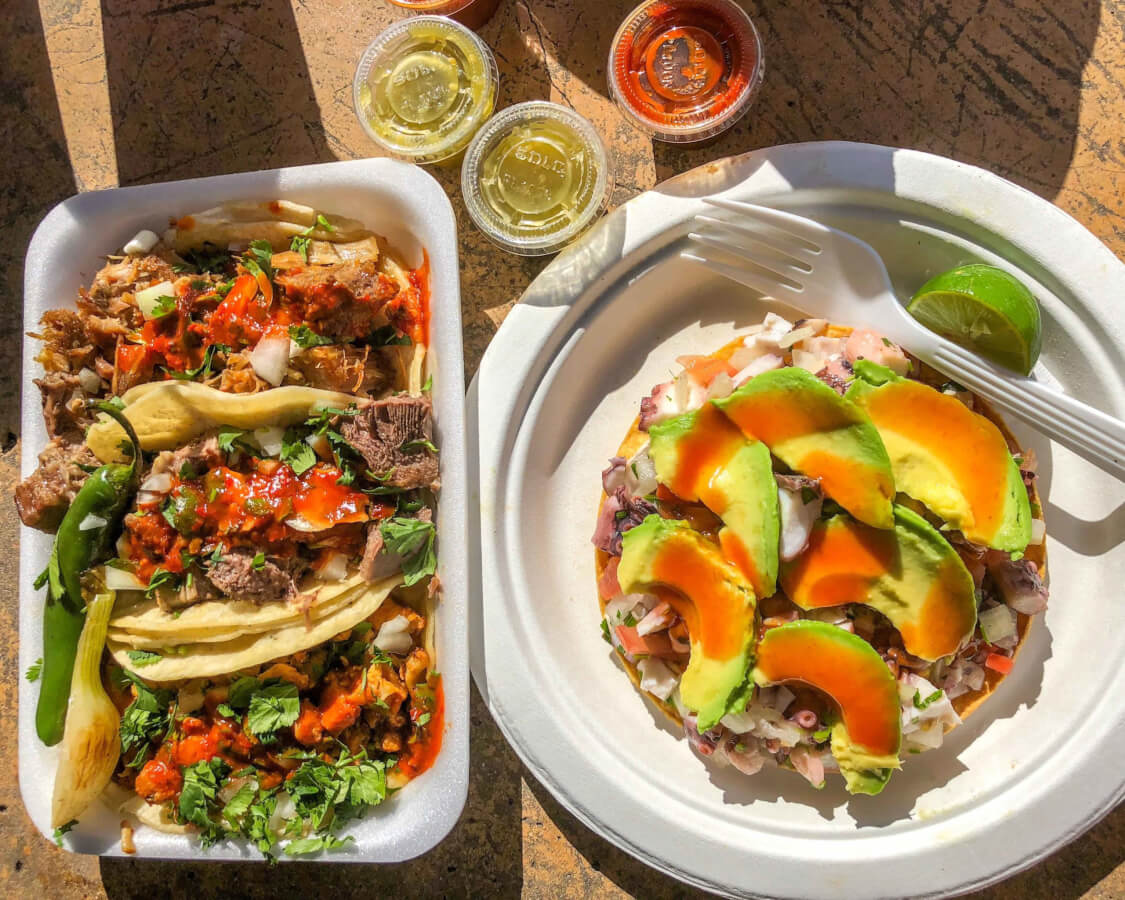 We are a happy town, and so have the requisite number (dozens) of happy hours — and that means drink
and
food. Things change, but we have a solution. Stop by the
Ventura Visitors Center
(101 South California Street) to get your free Happy Hour handout. To wet your whistle,
Cafe Fiore
has a delectable cucumber and jalapeno mojito,
Casa Bella
has a great happy hour that lasts all day on the weekends (visualize mouthwatering Kobe Steak nachos and chile rellenos with pulled pork). Like your happy hours a little later? Every night from 10 pm until closing,
Dargan's Irish Pub & Restaurant
celebrates "Irish Hours": get any draft beer for $1 off and add a shot of Tullamore Dew for $3.
#10 – Crunch into a Fish Cone at Coastal Cone
Have you ever had a fish-shaped ice cream cone? Coastal Cone, in
Ventura Harbor Village
, is famous for its homemade
Taiyaki cones
. And flavors even Da Vinci couldn't have invented.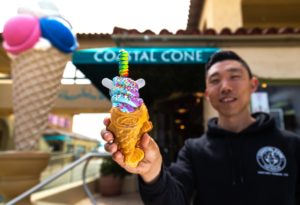 #11 – Shuck your own beside the beach at the Jolly Oyster
Operating out of a trailer parked in
San Buenaventura State Beach Park
, The Jolly Oyster sells fresh, sustainably grown oysters and clams still in the shell, and you can eat them, dripping fingers and all, right there on picnic tables with an ocean breeze.
Bring your own beer and wine (the Park allows it); the Jolly Oyster folks sell sauces, shuckers, and even charcoal, should you opt to grill your mollusks.
They are open on weekends, from 11 am to 5 pm.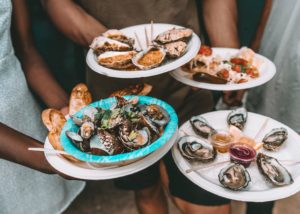 #12 – Watch the sunset (or sunrise) at any of our beaches
Hmmmmm. Might want to pair this one with the one above. Each day guarantees a uniquely spectacular show. And, in this quiet town, often a chance to reflect in solitude (see Number Twenty).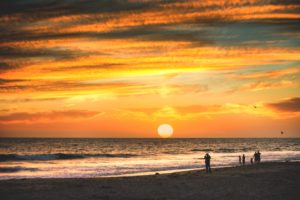 #13 – Hunt for sea glass
Now and again, take your eyes off the horizon and look to the sand. Possibly a sparkle will catch your eye as the waves retreat. Sea glass is the small gift the ocean shapes from pieces of broken glass, meticulously worn down by water. From trash sometimes rises jewelry (though please put your own glass trash into Ventura's bins, as there's already enough glass circulating). Especially fun for kids (and kids at heart) — think pirate treasure.
San Buenaventura State Beach
is a fine place to start.
You can also check out Betty Belts to see sea glass jewelry in its' finest form …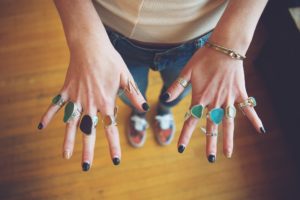 #14 – Visit the Channel Islands
There is no place like the five islands — Santa Barbara, Anacapa, Santa Cruz, Santa Rosa and San Miguel — that comprise
Channel Islands National Park and Marine Sanctuary
.
Be advised; if you're jumping on this one early in 2020, there are some temporary closures you need to be aware of. But these closures are also offering unique opportunities. For information on both sides of the coin, please click
here
. And
Island Packers Cruises
will take you to the magic.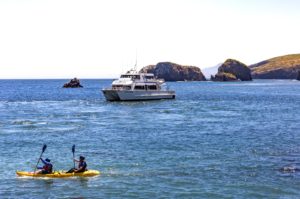 #15 – Go whale watching (and feel your heart soar)
Ventura offers world-class whale watching, without a doubt. You never know what you'll see in the waters off Ventura's coast — Nature isn't a Disney exhibit — and that mystery is part of the thrill and the joy. But here's a rock-solid fact: the waters of the Santa Barbara Channel and the (protected) Channel Islands National Marine Sanctuary are filled with life, much of it very, very large, and, quite possibly, very, very life-changing. When anticipation collides with realization and some of the largest creatures on this planet roil to the surface — and sometimes leap free of it — you have to be there to understand.
Island Packers
offers whale watching trips.
#16 – Go for, well, pretty much every kind of hike
If you like to take a walk on the wild side, Ventura is your arena. On the mainland, if you want fun hiking and sweeping panoramic views,
Arroyo Verde Park
and
the Ventura Botanical Gardens
are two great options. And you should, without doubt, head out to any of the five islands of
Channel Islands National Park
. To really experience the magic, bring a tent. Honestly, the islands offer
months worth of hiking
.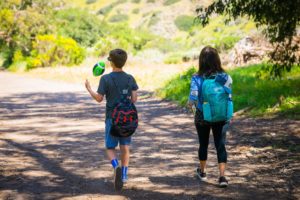 #17- Test your wits in an Escape Room
What if you were locked in a room and had to use your wits to escape? For some of us, it could be a long stay. But it's more fun (and help) with friends. So head to
The Ultimate Escape Rooms
at Ventura Harbor Village or
Two Trees Escape Rooms
on Johnson Drive, where fun puzzles test your knowledge and wits, and, possibly, make way for escape. Rooms like the Wizard's Lair, the Mermaid's Curse Room, Mystery at the Manor and The Runic Ritual hint at the fun.
#18 – Overnight beside the sea (or within salty sniffing distance)
Assuming you're not overnighting in the Escape Room, Ventura has a host of oceanfront and close-to-oceanfront places to stay, including wholly unique
Waypoint Ventura Vintage Trailer Hotel & Campground
, the recently renovated
Ventura Beach Marriott
and the
Crowne Plaza Ventura Beach
. There's nothing like staying near the sea.
#19 – Come by the Ventura Visitors Center for inside tips of all kinds (plus great swag and a free sticker)
We welcome visitors, but we're not just here for visitors. It's always a joy to see locals come into the Visitors Center too — to maybe learn something new about the town we are so lucky to call home, or pick up a free Ventura ambigram sticker or
Inspiration Guide
, or score a great deal on a Ventura-branded Patagonia jacket. Patagonia gear? Yep. And other surprises and specials. We have a great team that loves this town. We look forward to helping you!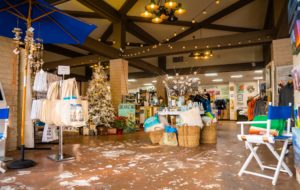 #20 – Take a moment, visitor or resident, to realize how very lucky we are to be here
Ventura is a town like no other. A town tousled by sea breezes, a town that drifts sea breeze easy under the radar, a town where the days end with the sun slipping behind purpling islands, a town where play matters as much as (more than) work. It's a nice feeling. Stop right where you are and breathe it in. It's this moment that matters.
For more great stories, request our FREE inspiration guide right to your door!
Check out upcoming events!
Discover More
Get to know Ventura, and discover the best things to do around the city.
Ventura Partners With