Posted: Thursday, Sep 10th, 2015
Think Outside the Box
Drive around Ventura and you will find plenty of zing.
Color, spice and wit: in my view, essential ingredients in any recipe for a happy day.  All add
zing
, transforming an ordinary moment, making it shine. Drive around Ventura and you will find plenty of zing.  Color, spice and wit in the most unexpected places, near the most ordinary street corners.  No.  I am not talking about street food and saucy vendors.  I am talking about the delightful utility boxes that catch your eye as you drive out Main, over Santa Clara or up the Avenue.  These eye-catching creative works are part of the City of Ventura's Streetscape Mural project: a citywide, street-level effort to transform traffic signal utility boxes into art that brightens your day.  Underwritten by engaged community members and showcasing talented local artists, these unique boxes beautify our streets and minimize unwanted graffiti.  For Ventura, a win-win all around.
In researching this post, I went around town to catalog as many of the boxes as I could locate.  What particularly surprised me in taking a closer look, were the stories behind the boxes.  My first impulse was to go for only the visual, particularly my own visual preferences.  In this respect, I instinctively favored the vibrant flowers at Main and Loma Vista (
Year Round Bounty
, by Teri Suzanne, 2014); the pulsing ovoid colors at Ventura Ave. and Main (
The Nature of Nothing
, Michelle Gould, 2014); the bird taking flight against a sunset hued lagoon at  Thompson and Chestnut (
Sunset Flight of the Blue Heron,
Patricia Cadenas, 2014); the cascading colors of  avocados, lemons, oranges, strawberries and pumpkins celebrated at Ventura Ave. and Center (
Ventura's
Bounty
by Janell Timmons, 2014).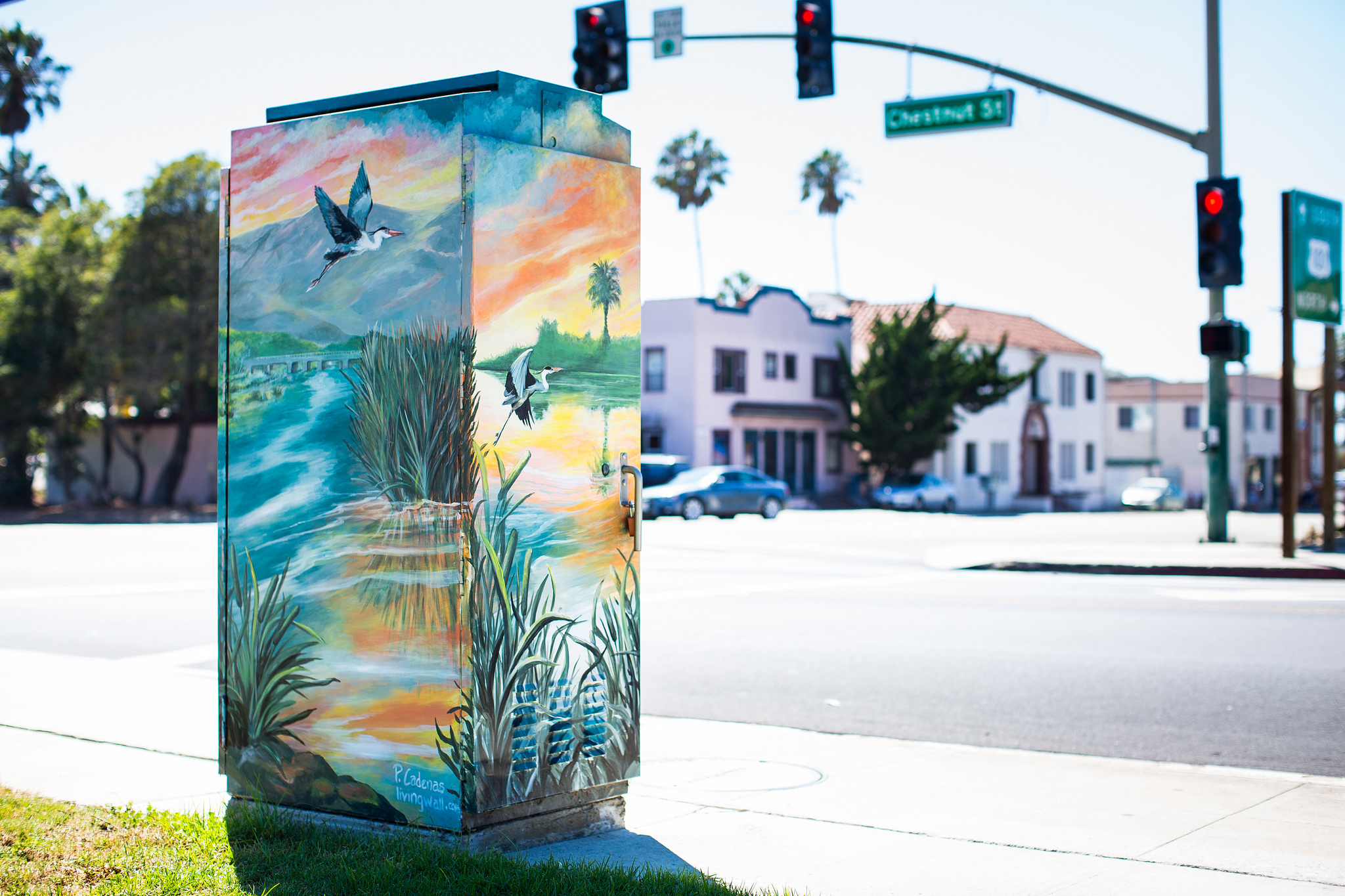 But several of the boxes captivated also by their sources and themes.   For example, there is a rustic recycling message crafted by the children of Montalvo Elementary School with artist Jill Bonilla (
Do Your Part – It's a Small World
, 2008) and an homage to Matisse and other modern masters created by the modern masters in the Pierpont Elementary School Kindergarten Class with Karine Osborn (
A Masterpiece through My Eyes
, 2006-2007).  A composition, both cosmic and charming, quotes Nicola Tesla as it promotes peace (
Turning in to the Wave of Peace
, Ryan Reeves, 2014); a lovely, dream-like ocean sequence asks that we cherish our waters (
Only Rain Down the Drain
, Michelle Gould, 2014); a trompe l'oeil Chinese lacquer chest evokes the memory of Ventura's vanished Chinatown. 
There are many more examples, but I suggest that you go out and discover them for yourself. Find your own favorites. This is public art at its best, engaging the community and encouraging us to  "think outside the box" of the everyday; to step away from our worries, to look up from our smart phones; to take time to look out and see what is happening around us now, in this moment. So keep your heads up and your eyes open as you tool around town.  You are sure to find a bit of zing on more than a few corners and your day will be all the brighter for it.  Pretty much guaranteed.
Want more information about the Streetscape Mural Project, including a listing of artists and completed box projects?  Interested in participating? Check out this link:  
www.cityofventura.net/artopps
.

Discover More
Get to know Ventura, and discover the best things to do around the city.
Ventura Partners With