Mission San Buenaventura, named for Saint Bonaventure, was the most successful and influential of the California Missions founded by Father Junipero Serra. Following the great earthquake of 1812-13, the Mission lands were divided up among the settlers. Administrators were appointed to transfer such lands to private property owners and to proceed with secular development of the country.
In 1841 the Rancho San Miguel was deeded to Raimundo Olivas, who built the most magnificent hacienda south of Monterey on the banks of the Santa Clara River. Along with the Old Mission, this building, the Olivas Adobe, is part of Ventura's historic past, and has been restored and refurnished as a splendid example of early California life.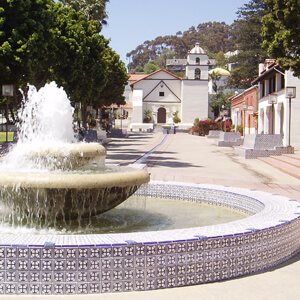 Settlers came in after the Civil War, buying land from the Mexicans or simply squatting on property. Vast holdings were later acquired by Easterners, including the railroad magnate, Thomas Scott. He was impressed by one of the young employees, Thomas R. Bard, who had been in charge of train supplies to Union Troops, and Bard was sent west to handle Scott's property.
Bard is often regarded as the Father of Ventura and his descendants have been prominently identified with the growth of Ventura County. The Union Oil Company was organized with Bard as President in 1890, and has offices in Santa Paula. The main Ventura oil field was drilled in 1914 and at its peak produced 90,000 barrels a day.
For most of its history, Ventura has escaped the thrust of immigrating people, and has been able to enjoy its own more leisurely, less crowded way of life. At the same time, Ventura became prosperous. The city is located between two richly endowed valleys, the Ventura River and the Santa Clara River, and so rich was the soil that citrus grew better here than anywhere else in the state. The growers along these rivers got together and formed Sunkist, the world's largest organization of citrus production.
Until the completion of the Ventura Freeway from Los Angeles to Ventura – the last link finished in 1969 – travel by auto was slow and hazardous. For most of the century which followed the incorporation of Ventura in 1866, it was pretty much isolated from the southern part of the State.
Even from the north, entrance was by way of a single road along the beach and stage coach passengers either had to wait until low tide when the horses could cross on the exposed wet sand, or go up the Ventura River Valley and then cross over the mountains to Santa Barbara via Casitas Pass, always a long and difficult trip. Inland, Ventura was hemmed in by the Los Padres National Forest, composed of mountainous country, deep canyons, and peaks that rise as high as 8,831 feet, namely Mt. Pinos. Thus Ventura was isolated in that direction also, until a narrow road, the Maricopa Highway, was built in the 1920's.
Visit the historic sites of Ventura, California
Ventura Partners With