Shopping
Malls, outlets and boutique shopping in Ventura, CA
Ventura shopping offers eclectic, locally-owned shops where you can find one-of-a-kind items you won't find anywhere else. Quaint shops line Ventura's streets; clothing boutiques, antique stores, home and garden shops, art galleries, gift stores, and specialty shops that almost defy description. And, in our compact downtown, they're all within walking distance. Ventura is the perfect town to park (for free) and shop.
Downtown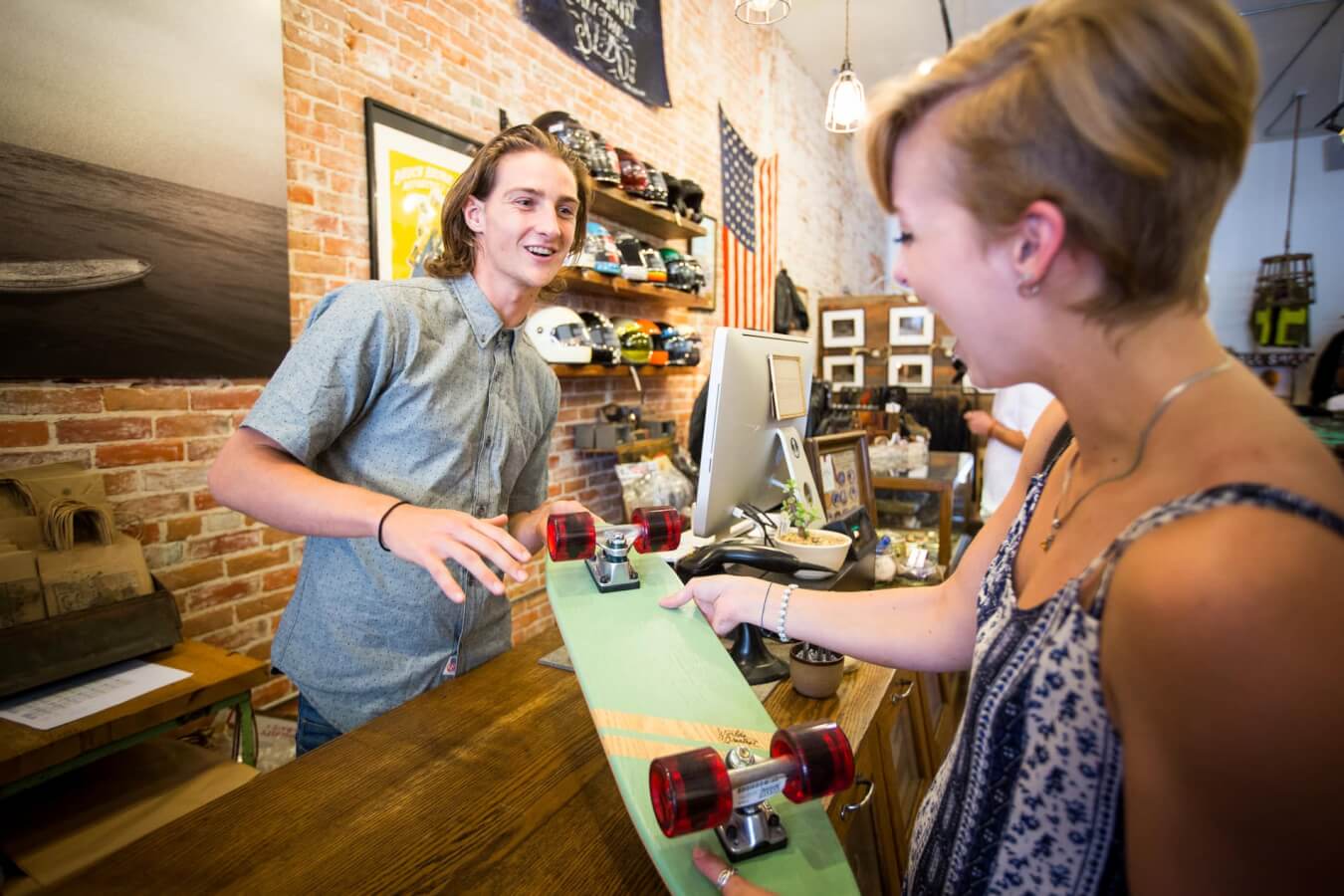 Starting in downtown Ventura, just steps away from the beach, a walk down Main Street is a shopper's dream. Quirky and intriguing storefronts vie for your attention. And, odds are, you'll be walking through sunshine. We enjoy close to 300 sunny days a year (with an average year-round temperature of 70 degrees).
But this is about shopping, not the weather.
Let's get started with clothes. Something old, something new, something consigned, and something blue–it's all here. For the highest quality outdoor apparel, there's hometown hero Patagonia
(founded here). For Patagonia overruns, seconds and closeouts, grab great bargains at nearby
Real Cheap Sports
. Nothing but home-grown, high-quality outdoor gear (and fun hog toys). All along Main Street, you'll keep falling into shopping heaven and fun opportunity. Looking for a buy-and-sell paradise? Explore
Buffalo Exchange
. You can offer your outgrown apparel for purchase and browse the fashion treasures of others. Maybe something jaw-droppingly breathtaking to hang on your wall? You'll find the quintessential shot of Ventura at
Latitudes Fine Art Gallery
. You'll find everything beachy (and great greeting cards) at
B. On Main
. Exquisite, wholly unique, ocean-oriented jewelry? Nothing like
Betty Belts
; where else is leftover surfboard resin transformed into gorgeous accessories? Plenty of other unique, lovingly hand-crafted jewelry offerings. See for yourself at
Fox Fine Jewelry
,
Ormachea Jewelry,
and
Silver Trends
.
Need something unique for a friend (or, why not, yourself?) Birkenstock Footprints of Ventura
is the go-to for stylish and super-comfortable footwear, and they've been in business in downtown Ventura for over 40 years, which tells you something about their service.
The Refill Shoppe
creates custom soaps and lotions with scents you choose. Ocean lovers won't be able to stay away from
Sea Things
, a pleasant gift shop where you'll find shells, home decor, and much more.
Shop Tiki Girl
and
Kariella
are filled with things that define cute and stylish.
Meadow Clothing & Jewelry
is a good stop for those of us who don't wear clothing for 19-year-olds anymore.
Folke
has vintage and mid-century home decor. Antique junkies and thrift shoppers, we've got your fix. Uncover great finds up and down Main Street, at stores like the
Coalition Thrift Store
and
Jacqueline Jarrot Treasure Chest Thrift Store
. For surfers,
Walden Surfboards
,
Ventura Surf Shop
, and
Revolution Board Company
are the perfect places to buy (or rent) boards, wetsuits, and beachy apparel. We are surfing. Trust us, there's nothing like it. We're home to Cowboy too. Check out
The Wharf
on Front Street. And off-the-beaten tracks gems like
Timbre Books
and
Bank of Books
; throwbacks to the days of true book lovers owning a local bookstore.
Ventura Harbor Village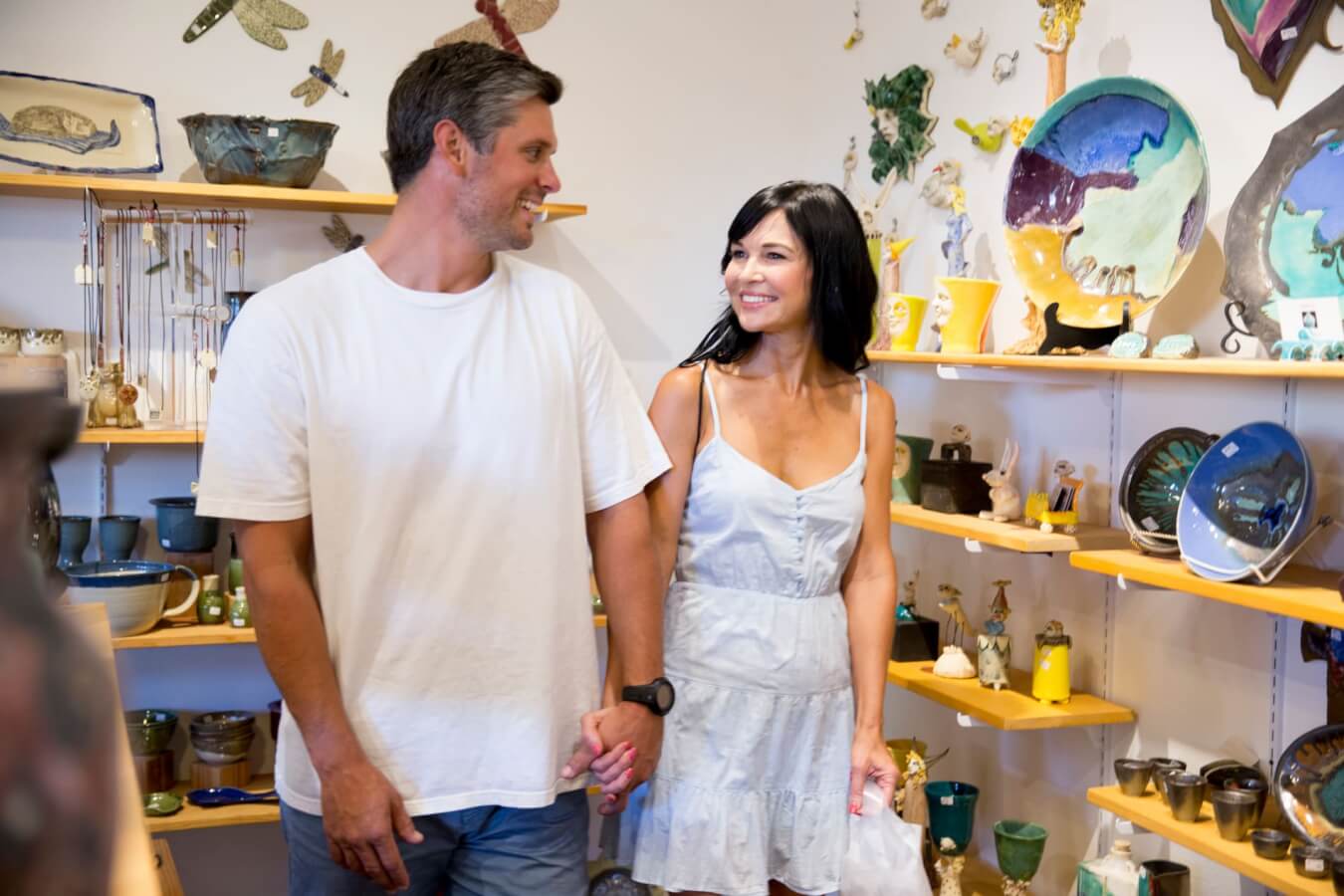 If you're looking for even more souvenirs that remind you of the beach (and a nice stroll beside the water), head to the Ventura Harbor. You'll find the perfect gifts for the ocean lovers in your life in this quaint shopping destination. Browse the Ventura County Potters' Guild
, where you'll find handmade gifts that showcase the talents of our local artists. Cute clothes at
Barefoot Boutique
.
Ventura Swimwear
offers a special experience in swimwear shopping — and they offer custom fittings with each purchase. And you'll be hard-pressed to find anything more unique (and fun) than
Hats Unlimited
, home to over 1,000 hats.
H&M
and
PacSun
provide affordable fashion, and
Macy's
provides affordable one-stop department store shopping.
Discover Ventura Shopping
Discover More
Get to know Ventura, and discover the best things to do around the city.
Ventura Partners With