Posted: Friday, Nov 29th, 2019
Shop Smart for the Holidays in Ventura
by Visit Ventura
Good things do come in small packages, and Ventura does small in a big way. Yes, 90 percent of
Ventura's stores
are locally owned. But that's more than a heart-warming statistic. In this holiday shopping season, it's both a chance and an opportunity.
Chance first.
Yes, it's quaint and feel-good that so many Ventura stores are locally owned. But from a gift shopper's standpoint, it's also important to note that those owners are also supremely talented artists, clothing designers, jewelers, surfboard shapers and pretty much everything betwixt and between. Equally important, they could very well be the ones coming around the counter to shake your hand and help you pick out the perfect gift. Providing you, quite literally, the inside scoop — and a gift you won't find anywhere else. Jeff Bezos can't do that.
Opportunity?
Shopping small in Ventura is your opportunity to do good on a local scale, supporting a community. But it's also your chance to do good on a global scale. So many of Ventura's shops are environmentally conscious; taking countless small steps to leave a small footprint. And some of our local businesses go environmentally Big. Patagonia offers outdoor gear unlike any other, and they contribute one percent of their profits to environmental causes. So shopping small in Ventura makes you a shopper with both smarts and conscience.
Get Started Early
Saturday, November 30th is
"Small Business Saturday"
in downtown Ventura, shops offering all kinds of happy specials. Added plus, bring a receipt for a purchase of $25 or more to the Downtown Ventura Partners table near Main Street and you'll be entered to win a $150 shopping spree.
Beginning November 24th, a Sleigh-Full of Surprises at the Ventura Visitor Center
Just a few days before "Small Business Saturday," we're
launching all kinds of shopping fun
. How about 15% off select items in each of the four weeks leading up to Christmas, from cozy Ventura-branded serapes to fun stocking stuffers like dog leashes and beachy wind chimes?
Need more incentive?
From November 29th through December 31st, you'll get a
free tote bag
(emblazoned with something beautiful Ventura) for every $25 you spend. $50 gets your friend a tote bag, and one for you too.
Why?
It's fun for us to sell nice things, and spread holiday joy.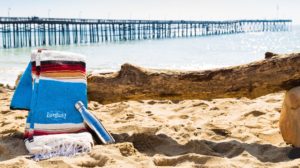 Shop On
Ventura-wide quality offerings (and happy special surprises) continue on through the holiday season. Amble through Ventura's small and easily walkable downtown and discover a holiday shopper's dream…
A home-grown hero, and purveyor of the highest quality outdoor gear and playthings, from motorcycles to surfboards. Their offerings are old-school meticulously hand-crafted — built to last a lifetime.
Local talents Stephanie Hogue and Steve Munch take stunning, well, local photos that will stop you in your tracks. They can customize any mounting.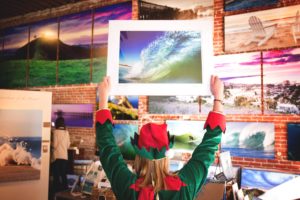 A thoughtfully curated selection of stylish goods; think vintage Moroccan rugs, leather backpacks, indigo scarves, and colorful home decor.
This furniture, decor and vintage clothing store offers a unique, ever-changing selection of mid-century, boho, and eclectic finds. Plus a boutique surf shop. You won't find that in too many places.
Several years ago, a panel of industry experts selected Fox Fine Jewelry as InStore Magazine's 2015 Coolest Store in the country — with good reason. Their staff and owners are beyond incredibly nice, their selection is stunning, and they regularly feature the art of local artists (so you might walk out with something unique even you didn't expect).
They carry everything from boots and jewelry to bathing suits, dresses and lots of other apparel. Think all the latest trends.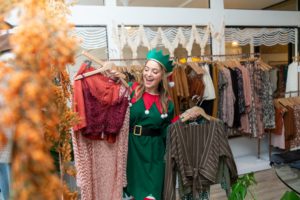 A buy-and-sell paradise, you can offer your outgrown apparel for purchase and browse the fashion treasures of others.
An eco-conscious store that offers quality bath, body, home, and cleaning liquids sold by the ounce. Bring your own bottle in, and fill it up. Or buy a refill bottle from their wide selection. They'll create custom soaps and lotions with scents you choose.
Sabine Dodane produces organic skincare products like no other. Dozens-fold little touches — crafting products only in small batches, using nothing synthetic, avoiding unnecessary packaging — that make a difference in her products, and in our world.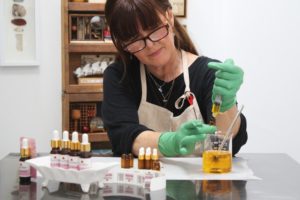 How local are Kristina Clark's custom handbags? Every handbag is designed by Clark. Then she names them after family and friends.
Browse mid-century and minimalist luxury goods. If you're of a certain age, it will bring back fond memories too.
They feature lots of locally made and/or branded items, including Dude Be Nice apparel, Lantern Press posters, Naturally Wild artisan soap and bath, and Local 805 Clothing.
Where else is leftover surfboard resin transformed into gorgeous accessories? They carry wholly unique, ocean-oriented jewelry; sea glass rings, necklaces, bracelets, anklets, earrings and more.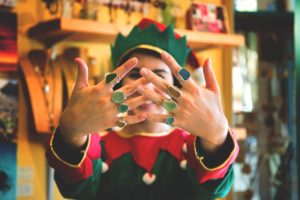 A great stop for those who appreciate style, but don't wear clothing for 19-year-olds anymore.
Ocean lovers central. This mermaid lair is best known for their incredible seashell decor and jewelry. They also have apparel and, well, every imaginable mermaid gift.
Yes, it's a delicious artisan cafe. But it also has an attached wine shop and an extensive cheese counter with a huge range of local and international specialities; cheeses, olives, wines, craft beers, chocolates and on.
One-of-a-kind jewelry hand-crafted by the Ormachea family at this, well, gem of a store tucked in the El Jardin Courtyard. There's a workshop right in the store. Hugo Ormachea is a third-generation jeweler, and the craftsmanship shows.
Also tucked in the El Jardin Courtyard. Think modern bohemian boutique filled with fun. Brands like Free People, Mavi Jeans, and Frankie's Bikinis sit alongside their own stylish label, Kariella.

Yet another great stop in the El Jardin Courtyard. Explore this European-style tasting room and market to sample fine culinary oils, balsamic vinegar, exclusive spices, rare spirits, and luscious liqueurs before you buy.
At this unique boutique, you'll find stylish clothing and accessories, both new and recycled.
And at the far end of downtown, just before you leave Ventura for parts north (like you would ever want to), there's Patagonia, our original hometown hero. You rightly know them for the highest quality outdoor gear. But you might not know that you can grab Patagonia overruns, seconds and closeouts, at nearby
Real Cheap Sports
.
Ventura Harbor Village
Few things are better than conducting your holiday shopping beside the water.
Ventura Harbor Village
is home to (again) an easily walkable gathering of great shops…
Voted one of Ventura's best, they carry trendy clothes for every California girl; affordable sundresses, handbags, locally made jewelry and more.
This art gallery/studio/gift shop showcases the work of local talent Tina O'Brien — whimsical mermaid pieces, oil paintings in Poetic Realism style, cards, prints and more.
Home to the perfect bikini, board short and one-piece. Plus, everything else you need for a stylish beach day. They offer custom fittings with each purchase.
You'll be hard-pressed to find anything more unique (and fun) than Hats Unlimited, home to over 1,000 hats.
Located at the end of Ventura Harbor near the Channel Islands National Park Visitor Center, they have a gift shop. But here's the cool thing. If you want a truly unique and unforgettable gift, why not send a lucky recipient(s) out to the beautiful Channel Islands on one of Island Packers' boats? Island Packer gift certificates can be purchased by
phone
through the holiday season and emailed to your special someone (or you).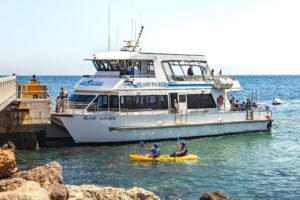 A few midtown gems…
Venture just a little farther afield, and head to midtown Ventura for a little bit of everything at this family-run shop; from vintage goods to current designer offerings.
Also in midtown, and worth the trip — lots of Ventura vibe in this enormous store that has a constantly changing inventory from over 650 consignors.
Two last items…
As you're shopping, look for Ventura's
"Made In"
logo on products ranging from craft beer (Leashless Brewery) to custom handbags (MidiQueen Handbags). It means you've purchased (or are perhaps quaffing) a piece of the happy jigsaw puzzle that defines community. And while you're in the giving mood, realize you can also give to yourself and a friend by throwing your hat into the ring in Visit Ventura's
Elf Giveaway
— 27 days of two-fer giveaways to be exact (beginning November 29th). And in all the shopping — and possible hectic rush — try not to lose sight of the greatest gift. Take a deep breath, turn your face to the sun, and think about how nice it is to be here to celebrate every season.
For more great stories, request our FREE inspiration guide right to your door!
Check out upcoming events!
Discover More
Get to know Ventura, and discover the best things to do around the city.
Ventura Partners With