Weddings in Ventura
First and foremost, congratulations on your engagement! Love makes the world better. We are so very happy for you!
Thank you for considering Ventura as a possible destination for one of the most memorable days of your life. We're a little biased, but we believe there's no better place to start your Happily Ever After than serenely beautiful Ventura by the sea. We'd love to help you with your wedding by answering your questions about our wedding venues and offerings here in Ventura. But know one thing right off the bat; whatever your wedding dreams, Ventura will offer the most breathtaking backdrop for the main attraction.
A few last words before we present some nuts and bolts. A wedding is one of your life's biggest events, and, let's be honest, planning a wedding can be equal parts dreamy romance and harrowing terror. No one can alleviate all the angst of planning a wedding, but we can tell you that it's different here in Ventura. For starters, if an outdoor wedding is your dream, we offer 270-plus days of sunshine a year, alleviating sleepless nights worrying about the weather. And then, indoor wedding or out, there are our views. From ocean's edge weddings on any of our beaches to Grant Park's breath-stealing, high-in-the-hills view of Ventura and the glittering Pacific Ocean, our grand panoramas remind you of something important.
Outdoor weddings
For more information on outdoor weddings:
Yes, your wedding is a very special day. But it's just the start of something much bigger.
Outdoor Venues
Serra Cross at Grant Park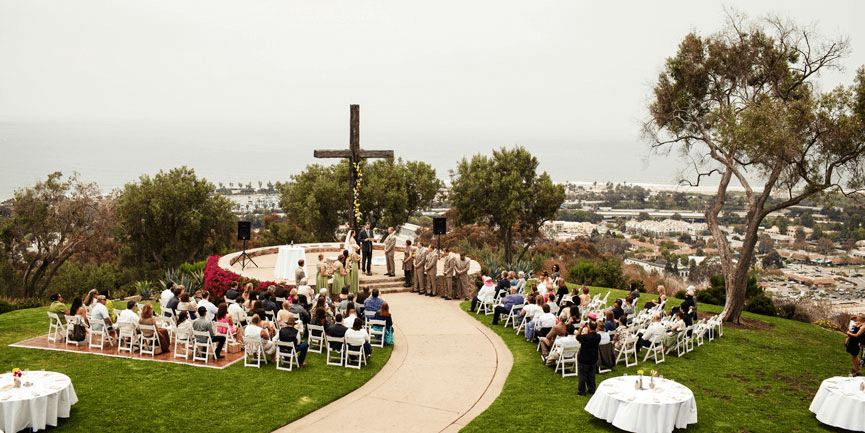 Impossible to not be dazzled by this site's spectacular views of Ventura's beaches and coastline. The history of Serra Cross dates back to 1782 and it has long since become a romantic spot for lovebirds from Ventura and tourists alike. The natural beauty and romance of this site make it very popular for wedding ceremonies and a unique spot for receptions. It is especially recommended for couples who are eager to customize details for their special day since the conservancy does not offer wedding packages.
Specs:
Non-refundable donation to the Serra Cross Conservancy required to reserve your date
Site capacity is 300 seated or 500 standing
Electrical outlets are available
Portable bathrooms required
Ventura Botanical Gardens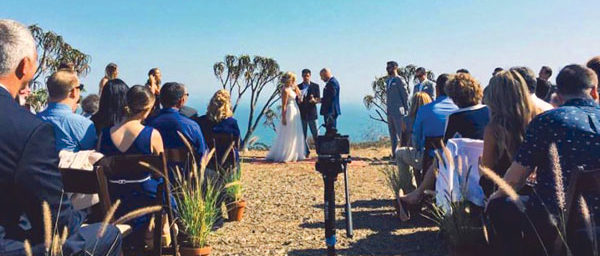 A beloved local treasure, the world-class Botanical Gardens showcase and preserve native plants and cultural enhancement for the coastal community. Situated directly behind City Hall, the Garden offers spectacular views, providing an iconic background to the wedding of your dreams.
Specs:
To learn more about renting out the breathtaking location please visit their website
Ventura County Museum

The Ventura County Museum offers personalized design within their halls and lovely outdoor courtyard; they also offer an event team to assist you with wedding planning. Your special day is important to the Museum, and they emphasize a stress-free arrangement.
Specs:
4 banquet halls with a maximum capacity
Offers a wide variety of wedding themes
Consists of both inside and outside event areas
Up to 200 seated guests and 250 theatre seating
Ventura Harbor Village
Ventura Harbor Village brings an oceanic atmosphere to your wedding and features beautiful waterfront, coastal, hillside, and Channel Island views for spectacular photography backdrops. You can reserve a beach site for your ceremony through Ventura Harbor Marketing and check Harbor restaurants for potential reception venues. You may also reserve a beach site for a tented reception (you provide the tent) if that suits your wedding plans. Ventura Harbor works closely with Wedgewood Banquet Center if you are looking for a package for your ceremony and reception. In addition, if you enjoy being outside and would like to be on a boat, Ventura Harbor Village has rental options for a pre-wedding adventure. Visit VenturaHarborVillage.com Event Rentals page for a Wedding Application and more information.
Specs:
Meet with the marketing team to schedule and reserve a beach site for your wedding.
Visit VenturaHarborVillage.com under Event Rentals for a Wedding Application
Optional sites include Surfers' Knoll Beach, South Beach, or Harbor Cove Beach
Choose from preferred Harbor restaurants for your reception
To learn more about renting out the breathtaking location please visit their website
Romantic Venues
The Old San Buenaventura Mission

Founded in 1749, the San Buenaventura Mission displays Spanish architecture and exhibits the history of Ventura. It's a popular wedding venue. They advise you to plan a wedding here at least six months in advance. The Mission often uses the delicious catering of Plated Events; Plated Events can accommodate up to 300 wedding guests for the meal seating.
Specs:
Bell Tower Conference seating up to 500 guests
Parish Center Auditorium seating up to 200 guests
The Olivas Adobe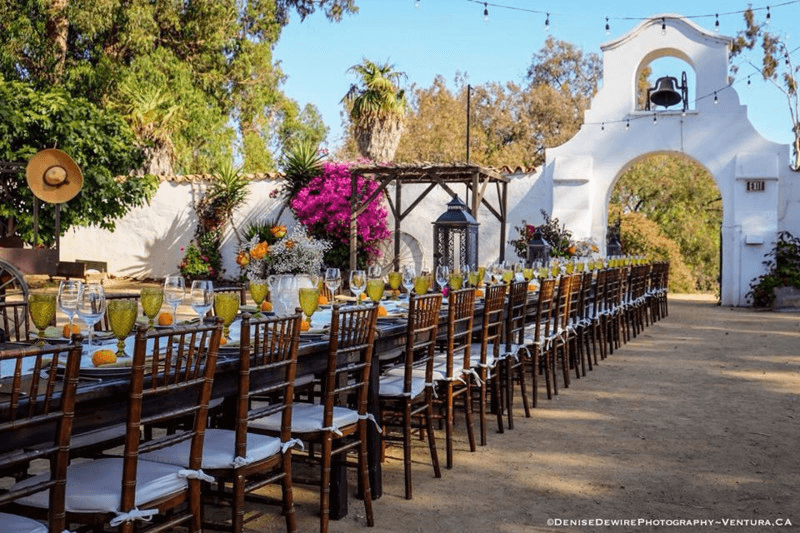 The Olivas Adobe is a wonderful site to rent out for your special day. Just minutes away from the beach and ocean, the Adobe is an ideal place for a wedding. The rose garden is one of the most popular areas for hosting wedding ceremonies. Doubly romantic, your vows echo off 170-year plus adobe walls.
Specs:
450 guest capacity
Outside vendors welcome
Very flexible
Poinsettia Pavilion
Up on the hillside of Ventura, the Poinsettia Pavilion offers two magnificent ballrooms that accommodate 100 guests comfortably with round table seating. They also have a stage that can be used in any way you wish, whether it be for live music, as a dance floor, or for a featured banquet table. This venue is rustic, with vintage candelabras, chandeliers, mirrors, and decor that will charm. It's a nonprofit, so prices tend to be affordable.
Specs:
Ventura and Santa Paula Rooms
Includes 6 to 7-hour reservation, excluding setup and cleanup
50% of estimated event expenses is required for a reservation
With round table seating, 100 guests can sit comfortably
San Buenaventura City Hall
Ventura's majestic and historic City Hall, built in 1913, is the perfect intimate setting for your big day. The public indoor and outdoor spaces provide beautiful views of the ocean. The foyer, with its marble staircase, offers a lovely backdrop for your wedding ceremony. Kitchen facilities are available. Extra perk, there's plenty of free parking on site. City Hall rentals and permits should be coordinated through the City.
Specs:
Site capacity ranges from 50 – 200
Private room for Bridal Party
Limited Table and chairs available for a nominal fee
On-site staff and security day of the event
Non-refundable application fee of $25 is required to reserve your date
Hotels that cater to weddings
Crowne Plaza Ventura Beach
The Crowne Plaza is Ventura's only hotel right on the beach. The hotel is available for wedding ceremonies, receptions, rehearsal dinners, and post-wedding brunches. Added convenience, the hotel is within easy walking distance of downtown Ventura. Enjoy year-round sunshine, moderate temperatures, extraordinary cuisine, miles of uncrowded beaches, and a staff ready to pamper you on your special day. They can host a beach wedding in front of the hotel, followed by a reception in the 12th-floor Penthouse ballroom, with floor-to-ceiling glass.
Specs:
258 ocean-view guest rooms including 18 luxurious suites
Heated oceanfront pool
Full-service restaurant
Oceanfront bar
Penthouse Ballroom with panoramic views of the Pacific Ocean, surrounding city and hillside
FOUR POINTS BY SHERATON VENTURA HARBOR
Four Points offers everything to ensure all planning details are stress-free. The hotel can reduce that stress by assisting with décor, providing reputable vendors, and aiding with floral design coordination for your reception. During your dream wedding, Four Points' mission is to create a relaxing and comfortable atmosphere for you and your guests.
Specs:
106 guest rooms (many with partial Harbor Views)
Heated outdoor Pool and Indoor Jacuzzi
Full-service restaurant serving Breakfast, Lunch, Dinner and a delicious Champagne Sunday Brunch
14,000 square feet of flexible event space
Located on the water at Ventura Harbor
The Pierpont Inn
The Pierpont Inn's charming and quaint atmosphere, combined with picturesque ocean views, are the perfect backdrop for a dream wedding. The Inn is located just steps from the Ventura State Beach and a stone's throw from historic downtown. Their amazing culinary team can prepare delicious gourmet meals from the menus provided, or their executive chef can customize a menu just for you.
Specs:
Can accommodate a reception for up to 220 guests
77 hotel rooms
Outdoor pool
Lounge with ocean views
Ventura Beach Marriott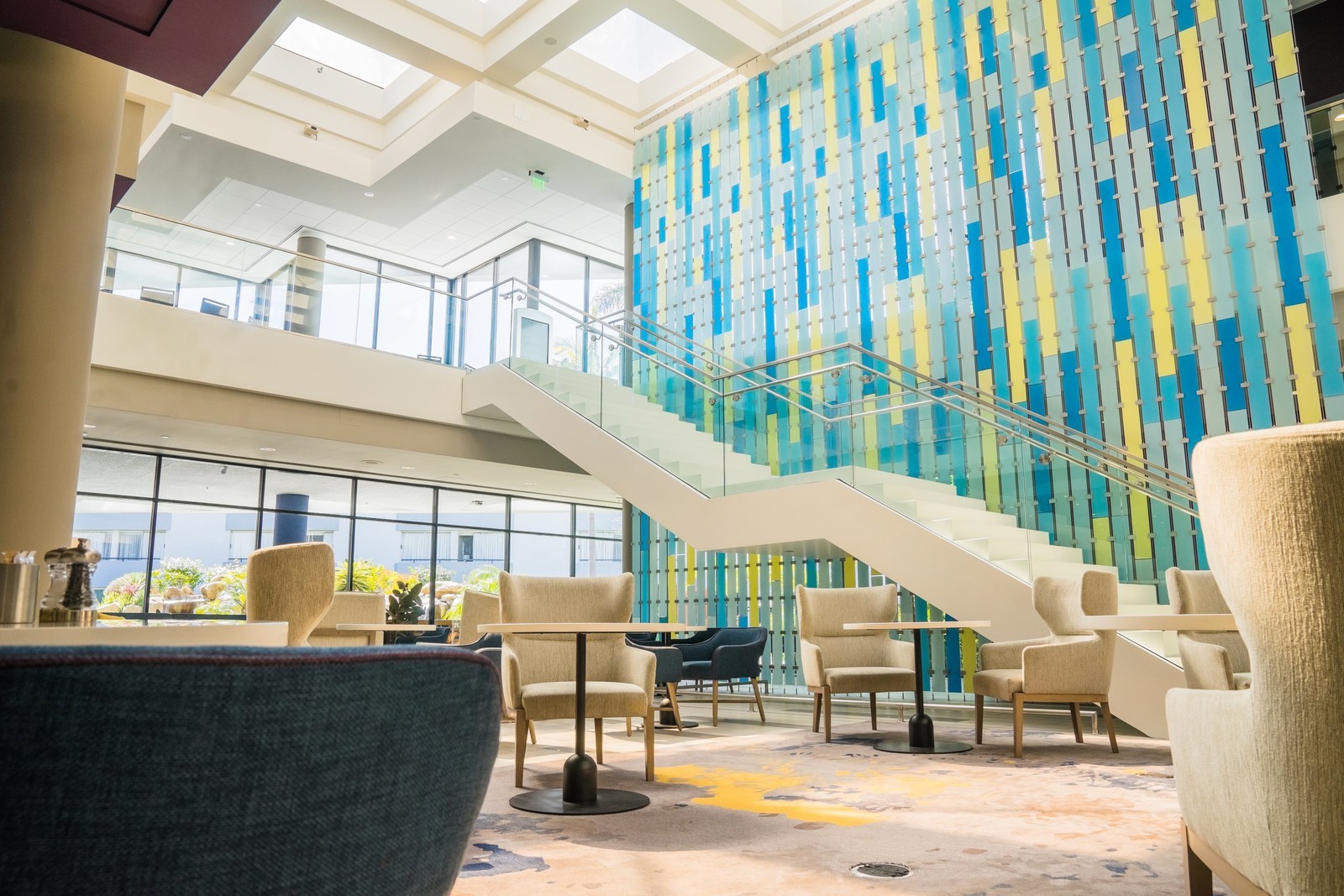 Share your vows a few blocks from the beach in 16,000 square feet of indoor and outdoor wedding space. Cater your wedding reception with locally sourced seafood and craft beer, and toast the beginning of new happiness with a craft cocktail on their sunlit Mezzanine or outdoor courtyard.
Specs:
16,000 square feet of indoor and outdoor wedding space
Outdoor pool
286 spacious hotel rooms
Crowne Plaza/Photoshoot Vendors
Crowne Plaza Ventura Beach
Fairytale Hair & Makeup
Bouquet Sound (DJ)
Passion Flowers
Seaside Ceremonies (Officiant)
A Gift of Taste (Bakery)
Linens and Ballroom Set Up (Ventura Party Rentals)
Discover More
Get to know Ventura, and discover the best things to do around the city.
Ventura Partners With