Ventura Is the Outdoors
With all due humility and honesty, Ventura IS the outdoors. How to put this modestly? Wide open spaces, starting with the Pacific Ocean. World-class surf. One of the nation's emptiest National Parks. Empty hiking and biking trails that wind on to adventure beneath sunny skies.

So come feel the pounding of your heart (if you don't feel it already). Come play.

Because play bestows so very much.
Oh right, Ventura's weather. A meteorologist somewhere once did some figuring and decided that Ventura has 273 sunny days a year. Applying a "pleasant day index," Zillow ranked Ventura number one in the country. Daytime temperatures average 70 degrees. Year-round. That is not a typo.
step-in, to outdoor fun
Little Visited Channel Islands National Park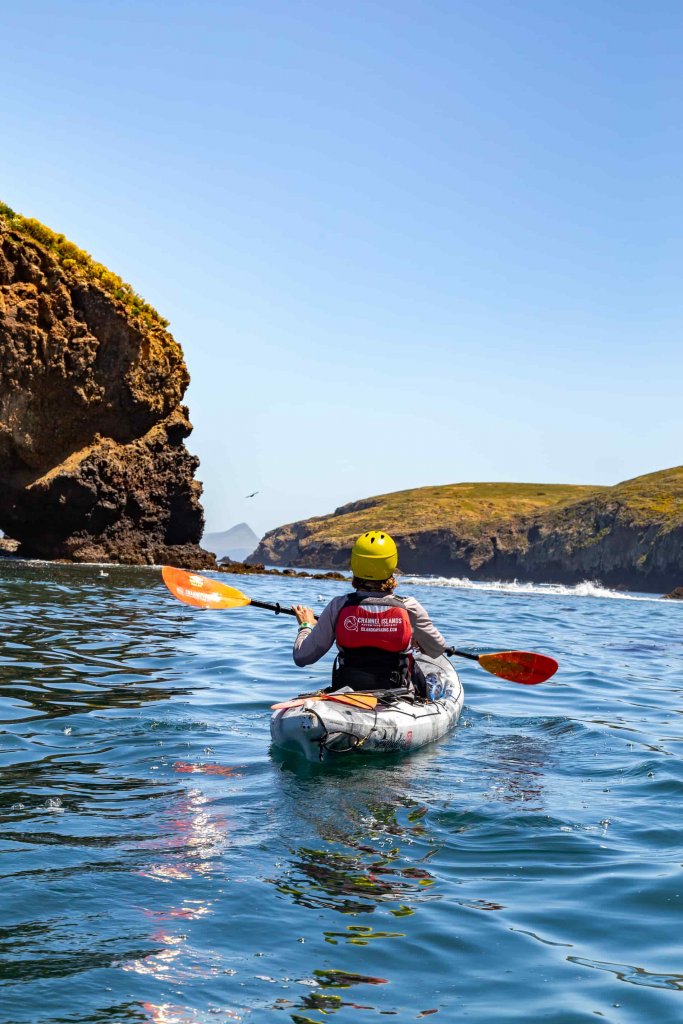 The five islands of Channel Islands National Park offer precisely the wild silence — and wide distances — you'd expect from one of America's least visited National Parks. And two of the islands — Anacapa and Santa Cruz — are only a 70-minute boat ride off Ventura's shore. They've been called the Galápagos of North America, and with good reason; a wild and wondrous place where housecat-size foxes (you won't find the island fox anywhere else in the world) scamper through fields of Seuss-like flowers, and moon and sun shine down on the untamed and the empty.
Santa Cruz, Santa Barbara, Anacapa, San Miguel, and Santa Rosa islands offer magic and adventure on so many fronts. There's remote camping, hiking (picture seascapes that steal your breath), sea kayaking (paddling into a sea cave is like descending into the throat of some softly breathing beast), snorkeling and world-class scuba diving (Jacques Cousteau called the Channel Islands one of the world's best dive spots), and bird-watching (some of the birds on the Channel Islands — the Island Scrub Jay, for one — are found nowhere else). At night, from certain island campsites on some of the islands, you can see the pinprick lights of civilization flickering like the campfires of some tremendous army. While you breathe in silence, the stars, and the sea.
Life-changing moments so close at hand. Island Packers Cruises
will take you there.
Breezy Beach Biking, Ventura-style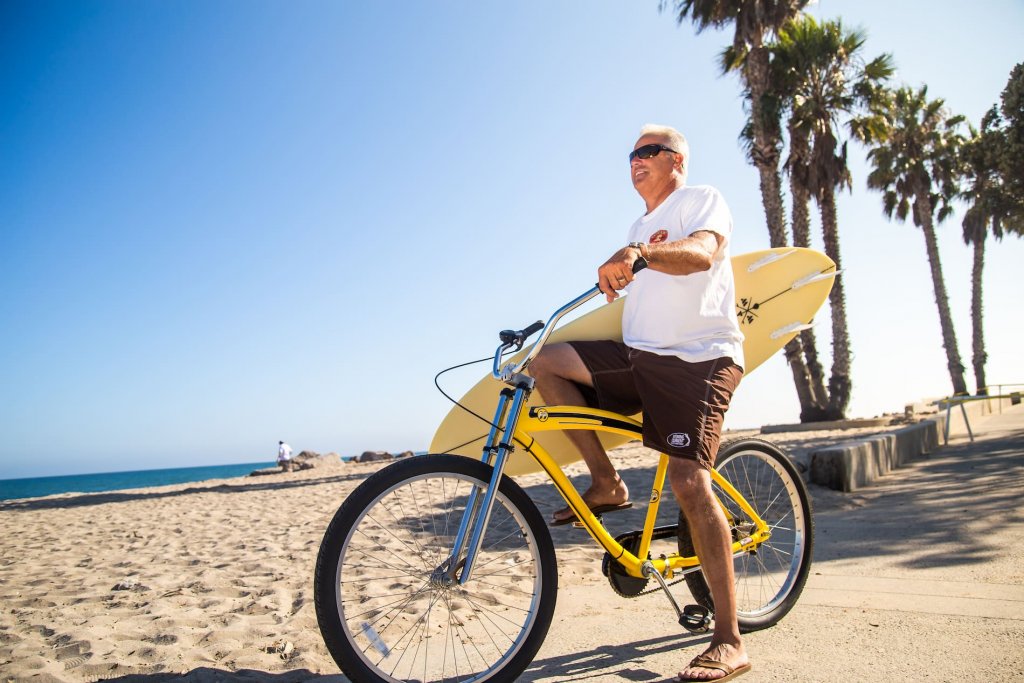 Ventura has every kind of cycling, from easy rides for families to climbs and descents that will challenge the most experienced cyclists.
Just out of town you'll find road rides and mountain bike trails to challenge the strongest riders. The neighboring Los Padres National Forest serves up excellent mountain biking trails with stunning views over Ventura, the Pacific Ocean, and the Ojai Valley. Road riders love the Lake Casitas loop, which begins in Ventura and heads through Ventura Canyon before looping around the north shore of Lake Casitas and steep climb up over Casitas Pass. Your reward? A swooping 2,000-foot descent to the ocean.
If you're with your family, or just looking for a beautiful easy ride, Ventura offers two safe and scenic bike paths, both of them easily accessible from Downtown Ventura and suited for any level, including kids (though, also true, the kids sometimes dust you). Starting at Emma Wood State Beach, the Ventura Pacific Coast Bikeway stretches along the open coast for a smooth, flat 12 miles to Carpinteria, with an ocean view all the way. Another paved bikeway, the Ojai Valley Trail (19 miles one way), weaves along the shady Ventura River to Downtown Ojai (you don't have to go that far), with a view of the surrounding Los Padres Mountains the whole ride.
Keeping it simple and scenic, you can just ride along Ventura's beachfront Promenade.
For an innovative cycling option, take a self-guided mural tour of Ventura's street murals. In Ventura, inspirational street art is everywhere. Think of Ventura as The Louvre, but without a ceiling and unamused security guards.
Bike rentals — and lots of great riding advice — are available at the Ventura Bike Depot. You can also rent bikes from Wheel Fun Rentals
. They're ideally located at the foot of the Ventura Pier, allowing you to start and finish your ride at the best place in the world. The beach.
Find Your Empty Beach (Ventura's specialty)
From empty beaches where you can hear yourself think, to surf beaches where you can watch your child catch their first wave, beaches are what Ventura has always done. We have miles upon miles of sand and surf — and, happy plus — plenty of free parking beside it.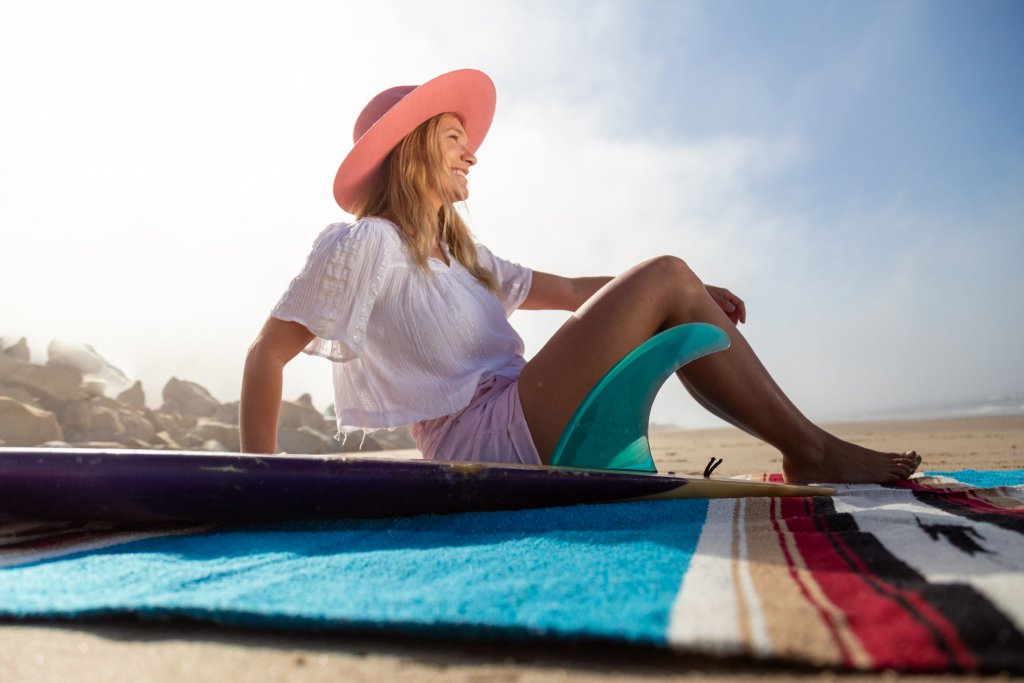 Yes, our beaches are the perfect playground (if it sounds like all we do in Ventura is play, well …); surfing, boogie boarding, kite-surfing, kayaking, stand-up paddleboarding, volleyball, and on and on. Or (highly recommended) you can just plain loll in the sand. Got kids? Lucky you. There are beach playgrounds beside the Ventura Pier and at Marina Park
(Marina Park also has a large grassy area with picnic tables, grills, and bathrooms).
Harbor Cove Beach
(also known as Mother's Beach), near the mouth of Ventura Harbor, is good for children too; tucked behind the harbor breakwater, it offers calm, safe waters.
And as any beach lover knows, beaches also provide the perfect opportunity to just disappear. Want to get away from everything? Head south along the beach across from Ventura Harbor. Walk beside the drum of the Pacific toward the Santa Clara Rivermouth. Feel the world fall away.
Inside tip for you beach connoisseurs who are willing to go a little farther. Santa Rosa Island (one of the five islands that comprise Channel Islands National Park) has empty, sugar-sand beaches as lovely as any in the world.
Hiking Ventura's Hills and Glens
Ventura has plenty of places for empty hikes — some of them right in town. To get a great lay of the land, start with a walk around Grant Park. Grant Park
sits above Ventura (just above City Hall) and it offers the finest seascape view, with a Ventura of toy town buildings spread beneath you and Anacapa and Santa Cruz Islands on the horizon. No place better for a
sunset
. Just below Grant Park, the
Ventura Botanical Gardens
offer a stunning wander among the loveliness of five Mediterranean climate zones (some 160-plus species). There's a small Mediterranean pine forest (about 60 trees), a small Eucalyptus forest (7 species), coastal sage scrub, chaparral, and the same spectacular ocean panorama that Grant Park offers. Mid-week, you might have the Gardens to yourself.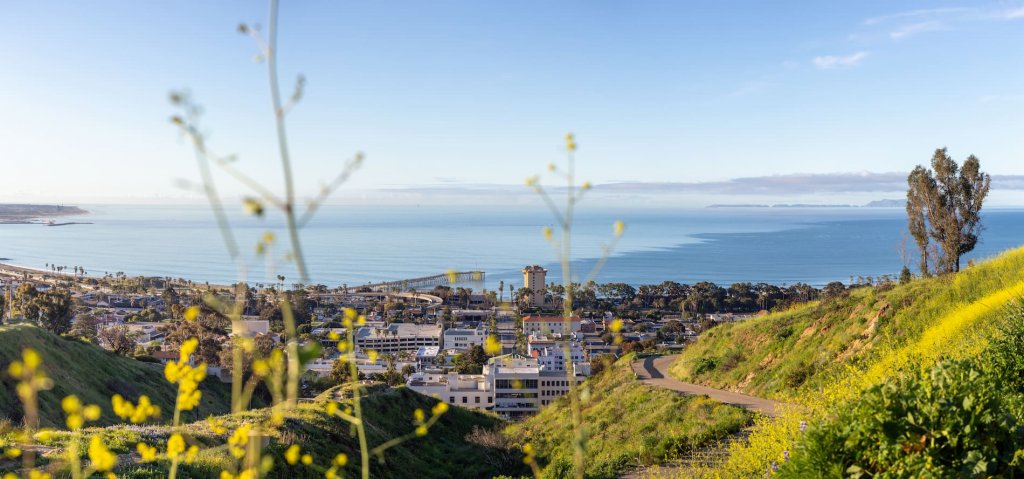 You can also head for the equally panoramic hills in Arroyo Verde Park. Arroyo Verde is a local favorite, some 132 acres of land where it's easy to find a pensive moment alone. Start in the grassy area and then head for the hills for more seascape panoramas. And on the northern edge of Ventura, just back from the Pacific and edged by the Ventura River, the Ventura River Estuary is a special place. Here the world is nothing but dappled shade and the whisper of leaves applauding the briny wind. Hike the trail beside the Ventura River. Stand in the sunshine and watch Great Blue Herons pick their way across the mudflats like fussy, unhurried grandmothers. You'll finish that hike on a near-empty, if not empty, beach.
And, last but not least, Ventura's newest hiking (and mountain biking) gem, offers lovely, and wholesale, escape. Harmon Canyon is the first large-scale, publicly accessible hillside nature preserve in Ventura, a 2,100-acre (and growing) pastoral heaven of gnarled oaks, downy grasses, and wind-kissed vistas. A place to hear the things that matter.
Ventura's Wide Open Waters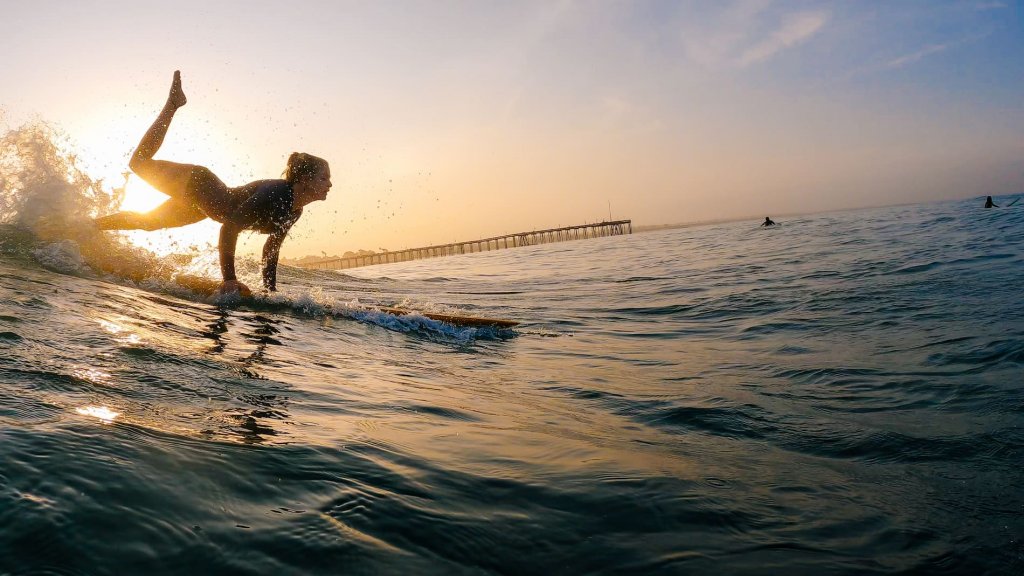 We ARE water. The Pacific Ocean is Ventura's favorite playground — and, if you're wise in the ways of fun, yours too. Let's start with world-class waves, from surf spots ranging from C Street (California Street), to the Santa Clara Rivermouth, to Rincon (yes, Santa Barbara claims it, but it's inside the Ventura County line). Start here with a few tips for beginners.
Ventura's waters are also a kite surfing epicenter (and, assuming you know what you're doing, kite surfing opens up great swaths of ocean emptiness). There's also serene kayaking in Ventura Harbor, with lots of room to move (rent a kayak from Ventura Boat Rentals
). Or perhaps a slightly wilder (and emptier still) rendition out at the Channel Islands; Santa Cruz Island has some of the best sea cave kayaking you'll find anywhere, and
Santa Barbara Adventure Company
offers guided tours.
Discover More
Get to know Ventura, and discover the best things to do around the city.
Ventura Partners With