Camping on the Channel Islands
Camping on the Channel Islands is the ultimate escape. A day life of leisure (no boat to catch) and nights filled with floods of stars. On some islands, at night from your campsite, you can look across the water to the pinprick lights of civilization, several world's away.
If you really want to connect with the heartbeat of the Channel Islands, camping is your best choice. Each of the Channel Islands has an established campground. The most popular campgrounds are Scorpion Ranch on Santa Cruz Island, Water Canyon on Santa Rosa Island, and the campground on east Anacapa Island. But that doesn't mean the others (Santa Barbara and San Miguel) should be neglected. The Channel Islands National Park website is a great place to start for a look at camping options and what you should bring.
For an extra touch of wilderness and adventure, campers may also choose backcountry camping at Santa Cruz or Santa Rosa Islands. On Santa Cruz Island, backcountry campers hike past a historic ranch trail through canyons and ridges up to Del Norte campground, nestled amidst island oak trees 700 feet above sea level with beautiful views of the coast. August through December, the pristine beaches of Santa Rosa Island are also available for backcountry camping. With 55-miles of secluded and undeveloped coastline reminiscent of days gone by, campers can experience the sense of discovery that Island Chumash and Spanish explorers may have felt.
There are a few tips to remember that will make camping run smoothly. First of all, it's important to pack light since all campgrounds require some walking from the boat landing areas and all gear needs to be carried by campers. There is no transportation available on the islands. Packing gear in backpacks or containers with handles makes carrying them a lot easier. Island Packers requires that single items (backpacks, plastic containers) weigh no more than 45 pounds. Waterproof gear is also recommended and hiking boots are a must. Please click here to see Island Packers guidelines on how to pack for your camping trip.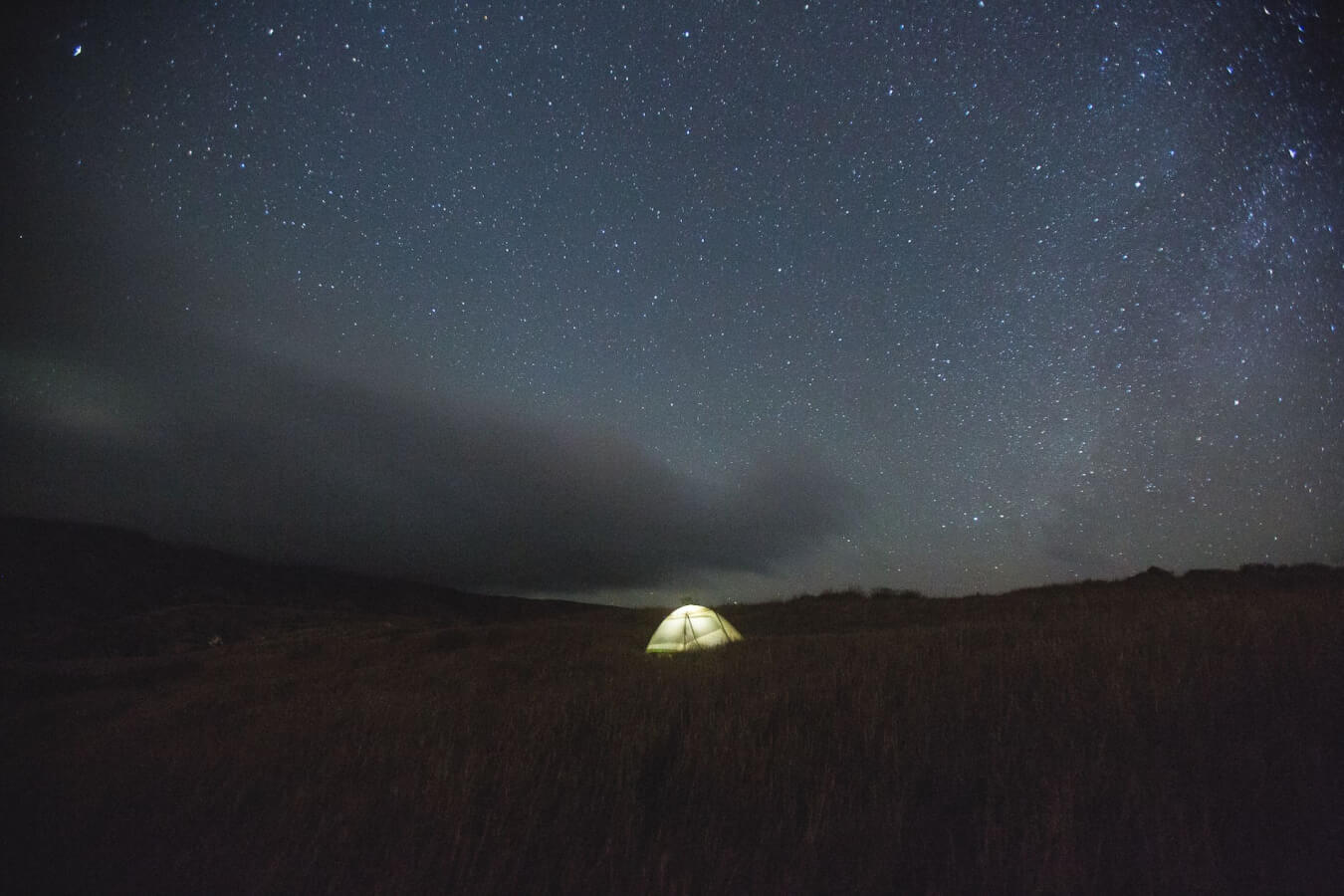 Although camping conditions on all of the islands are primitive, all sites are equipped with picnic tables, food storage boxes, and outhouses. However, no supplies or equipment are available on the island. Campers should bring all of their supplies, including water and trash containers, since there are no trash services on the islands (pack it in, pack it out). Also critical to know, no fires are permitted on any of the islands and only enclosed gas camp stoves may be used. While on the island, campers are asked not to feed wildlife and to keep food and drink in animal- and bird-proof containers. This is especially important at the Scorpion Ranch on Santa Cruz Island where clever island foxes and ravens have mastered the art of opening zippers. A disheartening sight to see a raven flying off with your car keys (they like bright objects). So be advised to take extra precautions by securing food and trash using safety pins, twist ties, or paper clips.
There are no entrance fees to visit the park but it is important to plan your trip in advance. Reservations for transportation to the islands with Island Packers should be planned prior to making camping reservations with Recreation.gov. Island Packers' trip schedule is available on their website. A great place to start your booking is right here.
Camping reservations must also be made in advance for any overnight stays through Recreation.gov. They can be made by calling (877) 444-6777 or online at Recreation.gov.
The islands often enjoy sunny and temperate weather during the day, but campers should prepare for a huge variety of weather conditions as weather can change very quickly, especially on the northernmost islands of Santa Rosa and San Miguel where strong winds and/or fog can make things uncomfortable for the unprepared. Sun exposure is also something to consider since many of the campgrounds lack shade. In case weather conditions do change and sea conditions inhibit boats from picking up campers, campers are encouraged to bring supplies for an extra day. However, in case of any emergency, park rangers are there to help.
A bit of thorough research, noodling around on the Channel Islands National Park website, will be of invaluable help.
Discover More
Get to know Ventura, and discover the best things to do around the city.
Ventura Partners With