Channel Islands Kayaking Near Ventura, California
Kayaking inside the dripping sea caves of Santa Cruz Island is like entering the innards of some great sleeping beast.

Welcome to Channel Islands National Park, your chance at a beautiful and mesmerizing sea kayaking adventure. 

A world of adventure awaits in the waters surrounding the five islands that comprise Channel Islands National Park. Over thousands of years, geological events and the ocean's unending waves have created sea caves perfect for adventurers seeking a touch of adrenaline; most notably on Santa Cruz Island which boasts some 77 miles of craggy coastline and the highest density of sea caves in the world, including Painted Cave, one of the largest and deepest sea caves in the world.
Painted Cave is 160 feet tall and 1,300 feet deep– that's nearly four football fields long.
Within Painted Cave there are multiple chambers, each narrower with less light, like descending into a beautiful puzzle. Colorful lichen and algae give Painted Cave its name.
A paddle through sea caves, combined with a paddle out under the sun — with glorious views of high cliffs, swaying kelp forests, and wide skies makes for an unforgettable kayaking experience.
There are three options available for kayaking at Channel Islands National Park.
All guided kayaking adventures must be booked in advance as space is limited. All transporting of kayaks on Island Packers boats must also be booked in advance because kayak space is limited.
To help you decide which island to visit, specific island information is available here. Each of the islands is truly wild. All water, food, and snacks must be brought with you to the island you visit – and any trash and containers brought onto the island must be taken home with you. Pack it in, pack it out.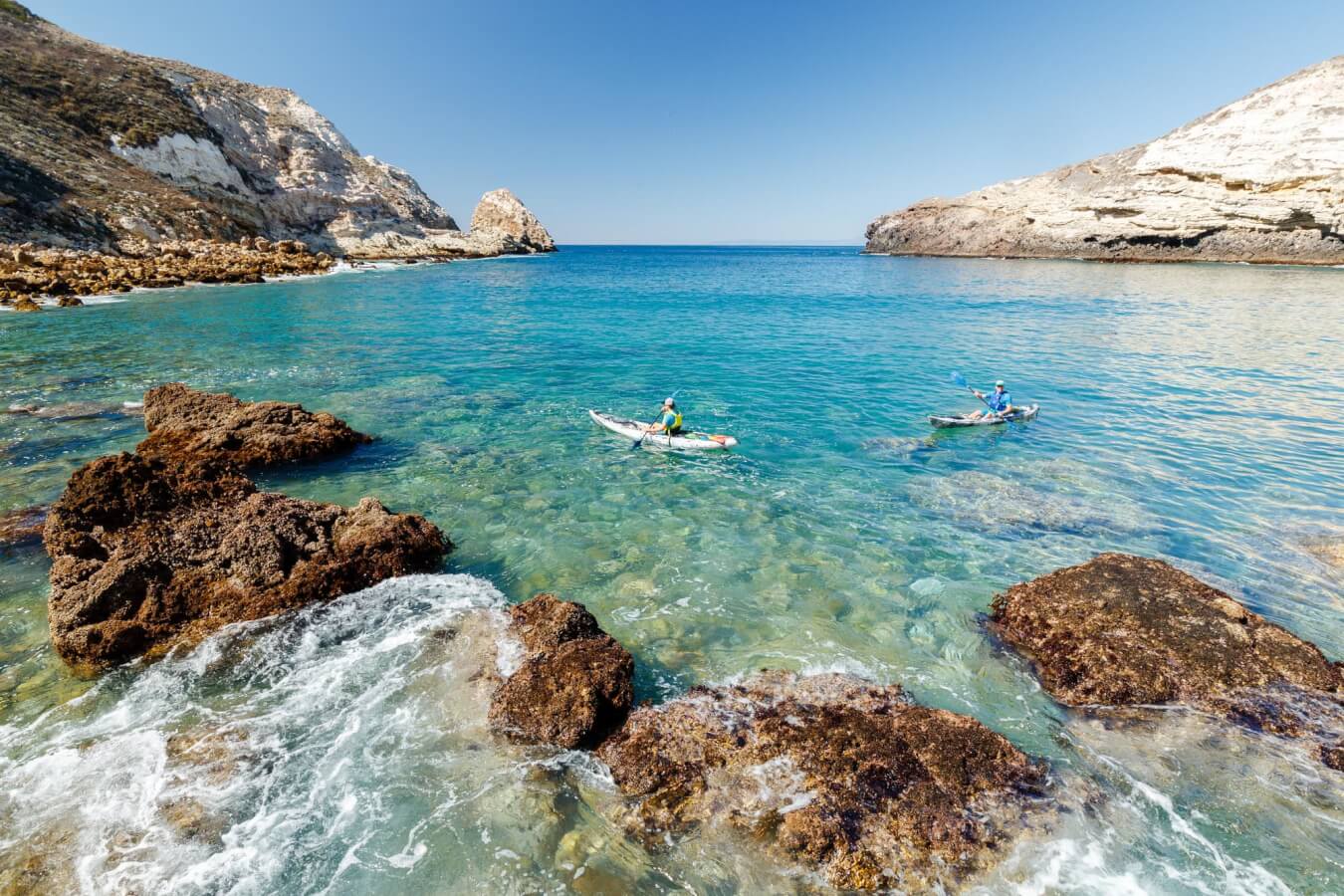 The most convenient (and safest) option for visitors wishing to explore the waters of Channel Islands National Park and Marine Sanctuary by kayak is via guided tour. Here's what a guided tour with Santa Barbara Adventure Company in the waters of Santa Cruz Island would look like.
After an hour-plus boat ride from Ventura Harbor on a comfortable Island Packers
boat, paddlers arrive at Scorpion Anchorage on Santa Cruz Island and meet their kayak guides on the island. The guides provide each paddler with a wetsuit (sized according to information provided during the reservation process), safety helmet, personal floatation device, and booties, before kayaking. Guides also provide a brief demonstration of basic kayaking skills for a safe adventure. Belongings may be stored in on island storage lockers for safekeeping from curious island foxes and ravens. Helpful hints… You might want to consider using the restrooms aboard the Island Packers boat just before landing at Santa Cruz Island (everyone using the on island port-a-potties before the kayak tour slows the process of getting in the water). Also, a good idea to wear your bathing suit under your clothes so you don't have to look for a place to change before you put on your wetsuit.
Once everyone is suited up, it's time to explore the kelp forests and sea caves near Scorpion Anchorage. In addition to being skilled kayak paddlers, the guides are trained naturalists, pointing out wildlife, unique plant species, and rock formations. They also share fun facts about the island's geology, ecosystem, and cultural history – when they're not guiding paddlers through the sea caves and arches. Entering the sea caves is optional. It's also subject to sea conditions; sometimes the guides opt not to take their charges in. It's a decision based on experience. Sea cave kayaking is an adventure — but a safe one.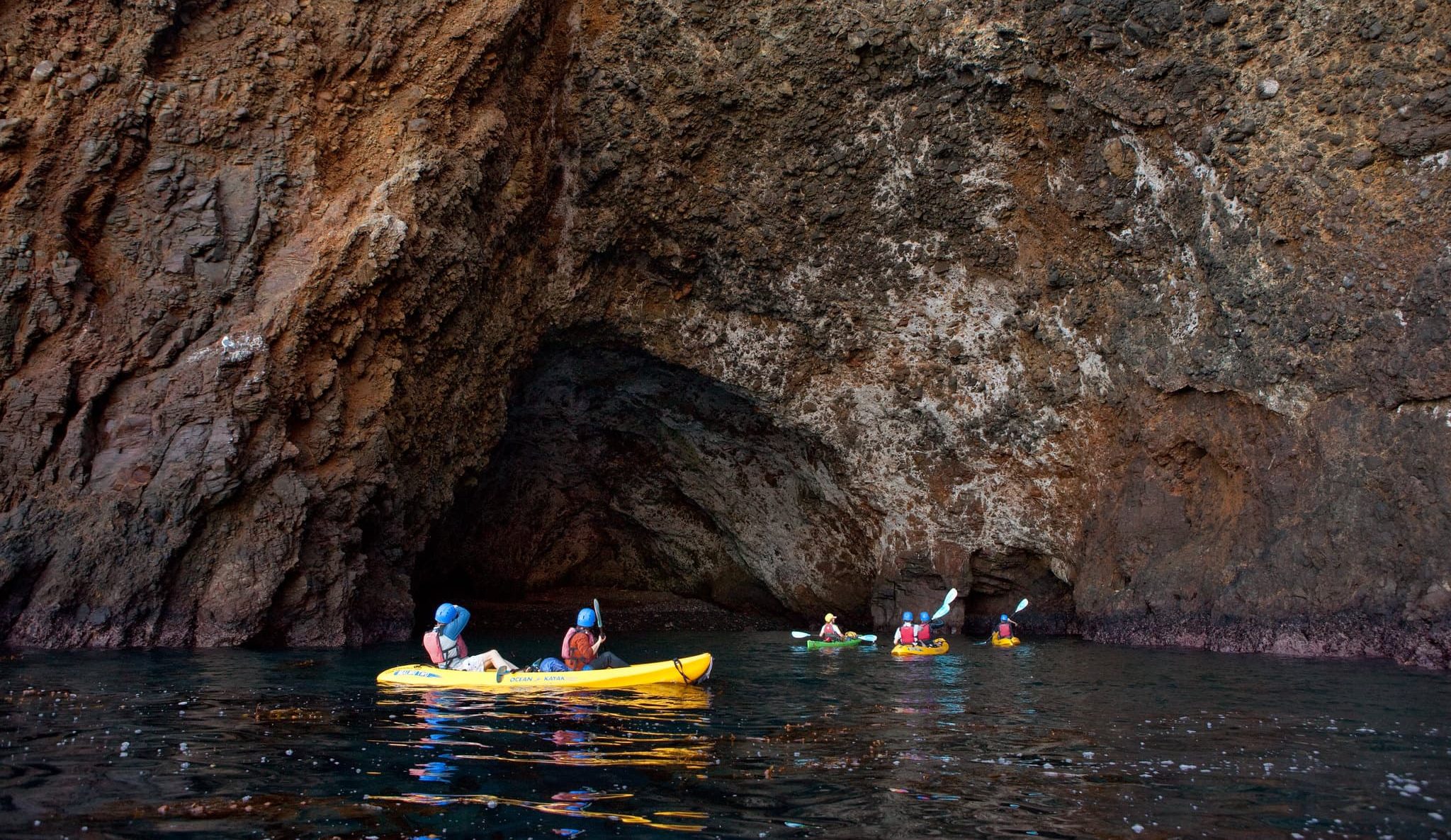 After kayaking, those who want an even closer look at the park's underwater world are welcome to stay in their wetsuits and add snorkeling gear. Snorkelers often see various species of fish, urchins, octopus, and other wildlife near Scorpion Anchorage beach. Or you can choose to go for a hike before the Island Packers boat departs for Ventura. The hike to Cavern Point is a fun, scenic, roughly 45-minute loop that showcases spectacular views of sea cliffs, Anacapa Island, the mainland, seabirds, and, yep, occasionally, whales. There's a short, relatively steep ascent to the top of the bluff and then the remainder of the hike is relatively flat.
And you'll look down on sea kayaking waters now happily familiar to you.
Discover More
Get to know Ventura, and discover the best things to do around the city.
Ventura Partners With