Posted: Tuesday, Oct 9th, 2018
Paddle Painted Caves at Channel Islands National Park
Top image by Doug Mangum
Kayaking inside the dripping sea caves of Santa Cruz Island is like entering the innards of some great sleeping beast. Half-light and near darkness, the serene lullaby of moving water. It's an odd and bewitching feeling, floating half-weightless in a throaty, dripping chamber, perhaps a bit like drifting inside Nature's consummate organ as it plays the song of the sea. Sea lions lay slick, splendid and loud on a carpet of rocks.
You flick your flashlight and take it all in.
image by Heliconia
Freshwater seeps through cave walls, giving life to the colorful lichen and algae that give Painted Cave its name.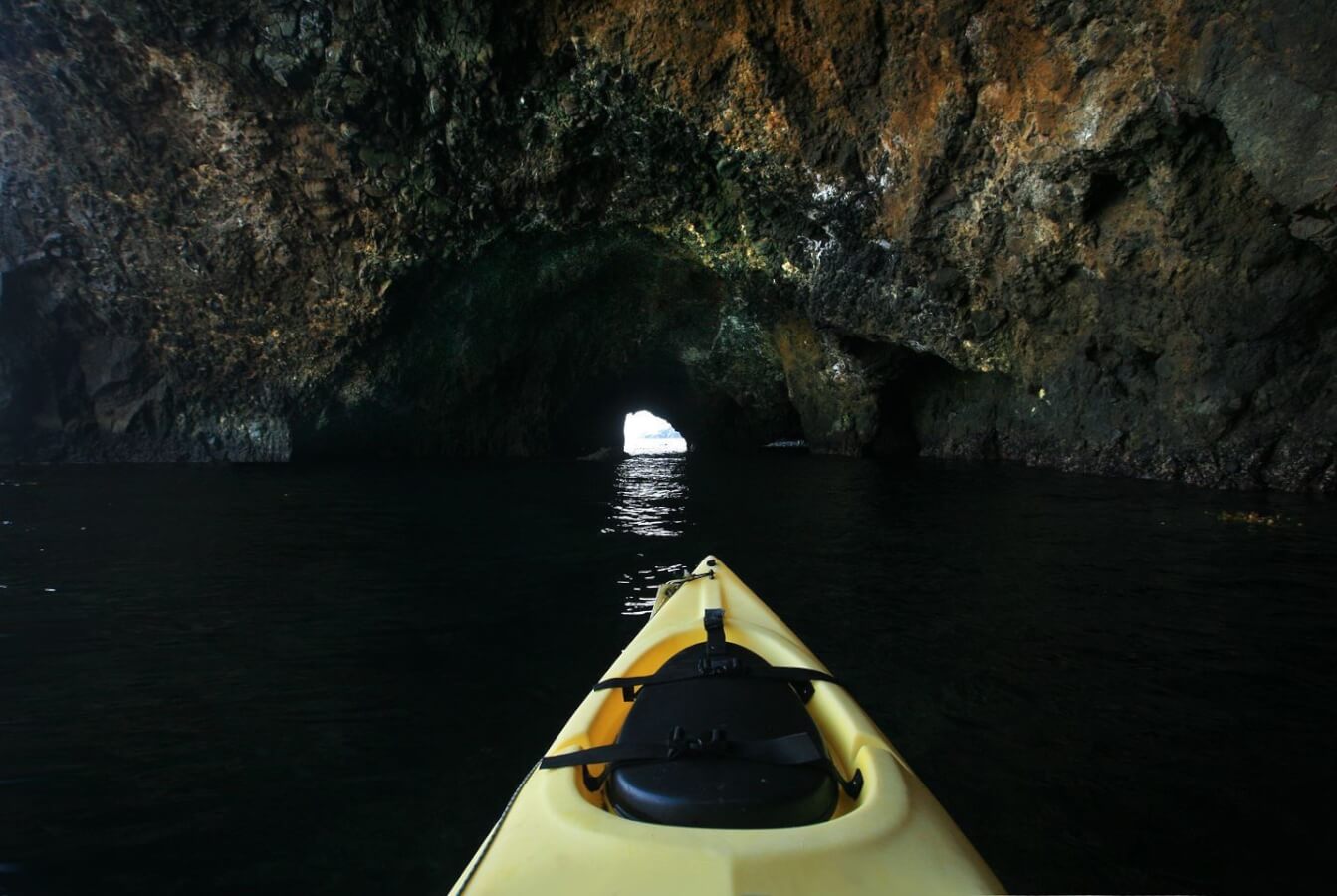 image by Doug Mangum
Santa Cruz Island boasts 77 miles of craggy coastline and the highest density of sea caves in the world, including Painted Cave, one of the largest and deepest sea caves in the world.
The cave is 160 feet tall and 1,300 feet deep– that's nearly four football fields long.
There are multiple chambers, each narrower with less light, like descending into a beautiful puzzle.
Whether you're hiking, diving, camping, or kayaking, Channel Islands National Park never ceases to supply the perfect escape. Island Packers will take you there. And first-rate outfitter Channel Islands Adventure Company will guide you into some of Santa Cruz's smaller, but no less magical, sea caves (as of September 2021 their kayak tours of Painted Cave are currently on hold indefinitely).
A memory that will stay with you forever.
But if you want a glimpse of Painted Cave, you still have an option. Conditions permitting, Island Packers nudges their boats into the opening of Painted Cave. For a cavernous view.
For more great stories, request our FREE inspiration guide right to your door!
Check out upcoming events!
Discover More
Get to know Ventura, and discover the best things to do around the city.
Ventura Partners With