Posted: Monday, Feb 24th, 2020
Escape to the Channel Islands National Park
Hit the reset button with a day trip to the Channel Islands… My favorite part of a Ventura sunset is the purple silhouette of the Channel Islands on the horizon. It adds a layer of mystique below the glassy oranges and yellows, a bit of depth that reminds you there's more out there.
"More" is an understatement — what's out there is a breathtaking natural treasure, a wild and wondrous place where you can find serenity and respite and also a spectacular adventure. I'd heard of Channel Islands National Park & Marine Sanctuary, often called "the Galápagos of North America" for its diverse array of native plants and animals. But I'd never been. Turns out, an easy Ventura day trip can take one a world away.
I decided to embark on a manageable day of activity: sea kayaking and hiking on Santa Cruz Island. The island is the largest in California and the closest to Ventura Harbor, boasting 77 miles of coastline and the highest density of sea caves in the world. While I'm no kayak pro, I was tempted by the thought of paddling through brilliant blue water to ancient caverns with walls in a kaleidoscope of colors. I booked a half-day guided kayak tour with Channel Islands Adventure Co., which amplified my excitement.
"Kayaking through the sea caves is just an incomparable activity," says company president Michael Cohen. "It is a geologic wonder that you can kayak underneath a national park."

Wonder sums up my whole day on Santa Cruz Island. After a roughly one-hour cruise across Santa Barbara Channel aboard a ferry operated by Island Packers Cruises, the only transport to and from all of the Channel Islands, I arrived and found my kayak guide. I'm not particularly adventurous, so taking on the waves of the Pacific was daunting once I actually suited up (Channel Islands Adventure Co. trips include wetsuits, helmets, and all of the other gear you'll need). Luckily, this is a likable, easygoing team; after a brief orientation, I was well equipped and feeling excited. Out on the kelp-studded water, my group soon approached Elephant Belly Cave, a rocky arch that looks just like an elephant with its trunk in the water. We navigated nooks and crannies, braved windy waves, and delved into the deep, dark depths of a few tunnels. Some caves were so narrow I wanted to hold my breath; others were as vast as cathedral arches.
"The sea caves and incredible rock structures, incredible vistas, turquoise crystalline waters, it is paradise," Cohen says.
I kept pinching myself, revved up on adrenaline from the sheer natural beauty of both land and sea.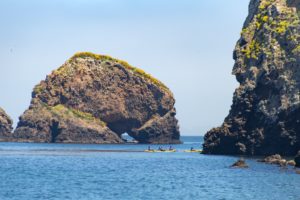 After three hours of paddling, I sought the opposite perspective: the view from above. Back ashore, I immediately hopped onto the closest hiking trail, Cavern Point Loop. The two miles were scenic and not too vigorous, perfect for stretching out my legs after a morning in the kayak. And the sweeping ocean views were mesmerizing.
By late afternoon, I'd lost track of time in that magical, completely unplugged way. The beauty of spending a full day on Santa Cruz Island is having the time to disconnect from the world and reconnect to the earth. I wandered to the visitor center, located in the historic Scorpion Ranch house, and learned about the island's rich cultural history. (It was home to native Chumash communities for more than 10,000 years and later to various ranchers in the 19th century.) I watched the small brown island foxes scamper about. And just like that, it was time to board the 4 p.m. ferry back to Ventura Harbor.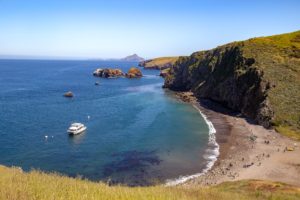 Sailing away from the island, I looked back to savor my final views of this enchanted place. Seemingly on cue, a pod of dolphins frolicked in the wake of the ferry. It seemed too good to be true, the perfect wildlife viewing experience to cap off a perfect day. But it is true, and it all took place on an (above) average weekday off of work.
With endless options for exploration, unparalleled beauty, and ridiculously welcoming vendors to guide the way, it's hard to find a reason not to visit the Channel Islands soon.
A life-changing memory is right across the water.
Channel Islands Checklist
For more great stories, request our FREE inspiration guide right to your door!
Check out upcoming events!
Discover More
Get to know Ventura, and discover the best things to do around the city.
Ventura Partners With