Who We Are
The staff of the Ventura Visitors & Convention Bureau is here to help make your trip to Ventura, California a success.  Whether you're planning a vacation, a group travel experience, a meeting, or a reunion, we have everything to make your trip a memorable one.
Ventura is just an hour's drive from Los Angeles, located along the scenic southernmost part of half-hidden California's Central Coast. Year-round daytime temperatures average 70F. Day or night, Ventura has a casual soul, with a pulse that quickens and slows with its unique offerings: art, music, rich food trends, and rare combination of ecological wonder, colorful diversity, and storied history.
Come here. Stay here. Love it here.
Let us help you get into Ventura!
The Ventura Visitors Center is located at 101 South California Street in Ventura's Historic Downtown Cultural District.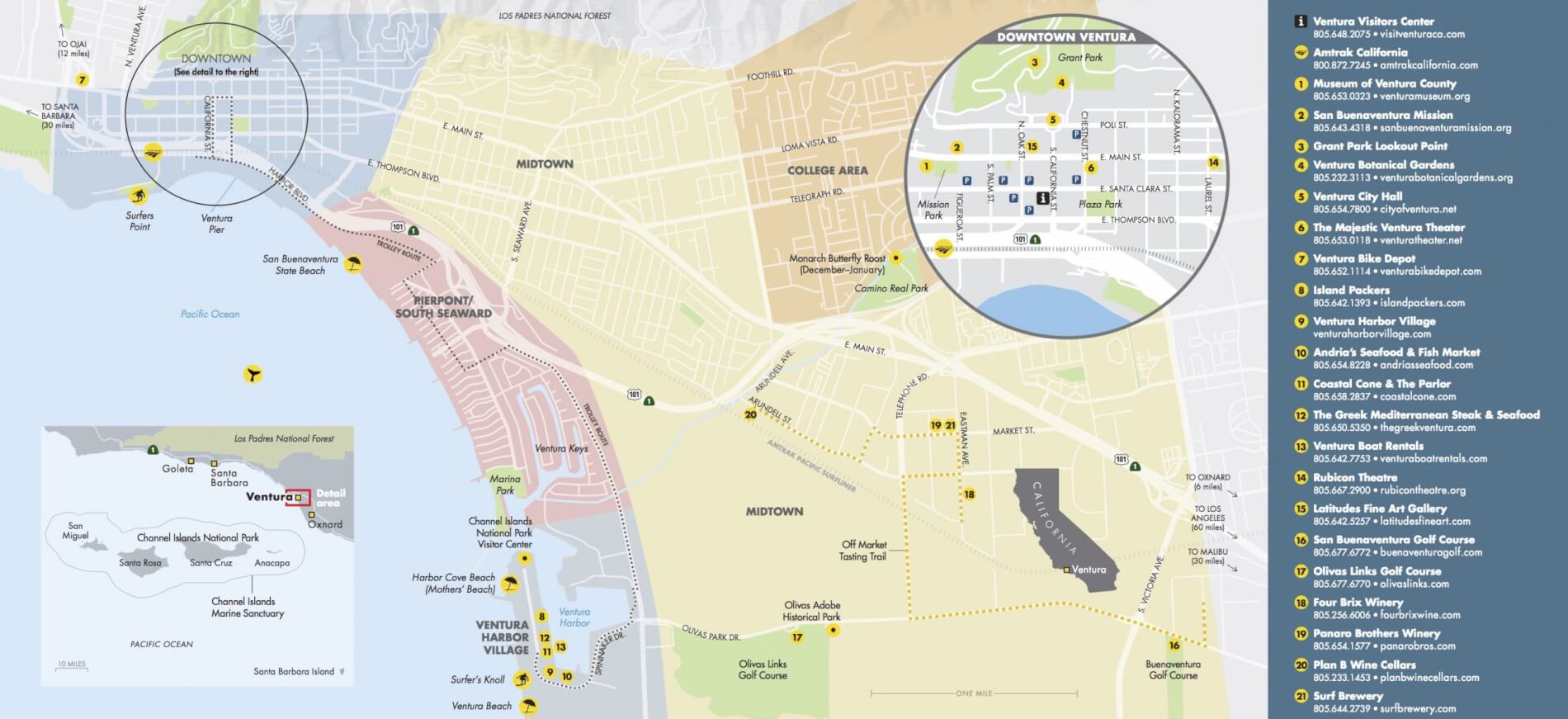 Visitors Center Hours of Operation beginning July 12th, 2021:
Mon – Wed.: 10 AM – 4 PM 
Thur-Saturday: 9 AM – 5 PM
Sun: 10 AM – 4 PM
Mission Statement
Visit Ventura is responsible for promoting our coastal community as an attractive leisure and business travel destination and enhancing its public image as a dynamic place to live, work and visit. Tourism supports a more sustainable Ventura by promoting travel to our natural resources, hotels, and local businesses; we strengthen the economic vitality and help sustain and increase the quality of life for our community. Through tourism marketing, we strengthen the economic position that increases business and sales tax revenue and creates jobs.
About Us
Ventura Visitors & Convention Bureau (VVCB) works diligently to promote the City of Ventura by capturing its spirit and showcasing the city's best attributes every single day. Specifically, VVCB works to strengthen positive exposure and awareness of the City of Ventura as a convention and visitor destination in hopes of increasing local business revenue and stimulating economic growth and development for the community. It has a growing ability to favorably impact economic development in the City of Ventura, and a commitment to building stronger more diverse partnerships both locally and abroad that celebrate Ventura.
It's through tourism that VVCB helps build a vibrant, healthy economy and community for Ventura. Check out the latest Tourism Matters PDF for numbers and stats for the city of Ventura.
Community Outreach
VVCB's popular point of contact in the community is the Visitor Center, whose accomplishments merit special attention. At a time when many other Visitor Centers around the country are decreasing in visitation and some even closing in the face of increasingly digital societies, Visitor Center staff and volunteers welcomed thousands of visitors from all over the world. Tourists and locals alike come to the Visitor Center to find Ventura-inspired gifts, souvenirs, apparel and more. This growth has allowed the Visitor Center to expand its community relationships and it now features 35 local vendors, 10 more than last year. VVCB is proud and honored to promote our local artists and entrepreneurs, many of whom have celebrated their very first sale at the Visitor Center.
VVCB also reaches out to over 40,000 people every month through its popular monthly consumer newsletter, as well as fosters community partnerships and involvement through its monthly partners newsletter. The success of these engagement efforts show in numbers through substantial growth in social media followers and continues to grow. VisitVenturaCA.com attracts 40,000 visitors on average every month. This significantly increases opportunities for positive coverage and awareness of the City of Ventura that, with time, builds international and intercultural rapport.
Community Support
VVCB makes a continuous effort to support a diverse variety of community groups and events in Ventura. The Visitor Center serves as a venue for the Art Walk and sells tickets to several community events. VVCB staff also participate in community groups at several capacities including as Past President of the Central Coast Tourism Council, Board member of Ventura County Lodging Association, Past Co-Chair of the Ventura Loreto Sister City Committee, Ambassadors of the City of Ventura's 150th Anniversary Celebration, liaisons to the Ventura Chamber of Commerce, Downtown Ventura Partners and Ventura Neighborhood Councils, as well as Marketing Committee Chair for Supervisor Bennett's bi-County Bicycle Tourism Committee, Cycle Cal Coast.
Promoting Ventura
The success in Ventura's tourism expenditures on lodging, retail goods, meals and beverages and other taxable items continue to bring millions to the City of Ventura. This demand and the benefits it brings to the community stem from increased awareness of Ventura as a visitor and convention destination. VVCB's dedication to sharing the Ventura story and promoting the Ventura experience has resulted in growing interest and positive coverage of the community in California, the USA, and internationally. In the past, VVCB has partnered with press from Dubai, Chile, South Korea, the United Kingdom, Mexico and Brazil to promote Ventura abroad. VVCB has also hosted travel writers and social media influencers from across the USA and successfully ascertained coverage such as the Huffington Post's "America's Most Scenic National Parks," The New York Times' "Peek at a Protected Island," and the Men's Journal's "10 Best Cities to Live".
Community Benefits
The benefits of VVCB's work are largely reflected in the community through increased awareness of Ventura's unique traits, informed tourists exploring beyond traditional tourist hotspots, and local economic boosts both at the Visitor Center which showcases local vendors and exclusive Ventura souvenirs, as well as in the community through taxable tourist spending on retail, food and beverage, lodging, etc., where according to VisaVUE's Travel Report, tourist spending in Visa transactions amounted to over $375 million in Ventura County in the second quarter of 2015, up 7.9 percent from last year.
VVCB drives demand for the Ventura experience in order to develop new and increased revenue for businesses as well as increased sales tax and Transient Occupancy Tax (TOT) that contribute to the City's general fund. The funds generated through the tourism industry support project developments that provide education and entertainment opportunities, and sustain diverse jobs. The industry continuously stimulates fresh revenue streams for hundreds of small- and medium-sized locally owned businesses throughout the city. By doing so, the industry also helps fuel significant increases in tax revenue that is invested back into the community toward improved neighborhoods, parks, city infrastructure, and community programs. Without these funds, every Ventura resident would have to contribute an additional $2,400 annually to the general fund in order to maintain the same level of services the City of Ventura currently provides.
All of VVCB's efforts are executed for the sole purpose of benefiting Ventura and celebrating all it has to offer. VVCB manages to do so all the while strengthening and diversifying partnerships locally and abroad, and favorably impacting economic development. The organization brings countless benefits to locals and ensures that visitors feel welcomed and prepared while they are here. Its growth and accomplishments over the past year demonstrate that VVCB is of great value to the community.
Awards
At Visit Ventura, we think outside the box. And we have been kindly recognized for it. We've won a wide range of awards, from really fun ones (the California Travel Association's Great Workplace Award), to really big ones (HSMAI Golds typically go to major powerhouses like Hilton Worldwide, Visit California and Royal Caribbean International). Making us something of a "little engine that could" fairytale brought to life.
But, while we appreciate the recognition, we don't dwell on awards. Sure, they're nice. But mostly we just love what we do.
2022
Hospitality Sales & Marketing Association International (HSMAI) Adrian Award: Gold
Division: Public Relations
Category: Corporate Social Responsibility
For: The Next Right Thing To Do
2021
Pacific Coast Business Times – Central Coast Best Places to Work
2020
Pacific Coast Business Times – Central Coast Best Places to Work
2019
Hospitality Sales & Marketing Association International (HSMAI) Adrian Award: Gold
Division: Public Relations
Category: PR Campaign; New Experiential
For: Painting the Town
Pacific Coast Business Times – Central Coast Best Places to Work
Destinations International WOW Award: Most Creative
CalTravel Great Workplace Award
2018
Hospitality Sales & Marketing Association International (HSMAI) Adrian Award: Gold
Division: Public Relations
Category: Special Event
For: Pit-Stop Serenades Celebrate Awesome Moms
Hospitality Sales & Marketing Association International (HSMAI) Adrian Award: Silver
Division: Digital Marketing
Category: Social Media Campaign
For: Destination Storytelling Through Music
Pacific Coast Business Times – Central Coast Best Places to work
2016
Hospitality Sales & Marketing Association International (HSMAI) Adrian Award: Gold
Division: Public Relations
Category: Special Event
For: A Memorable Welcome for the Tour of California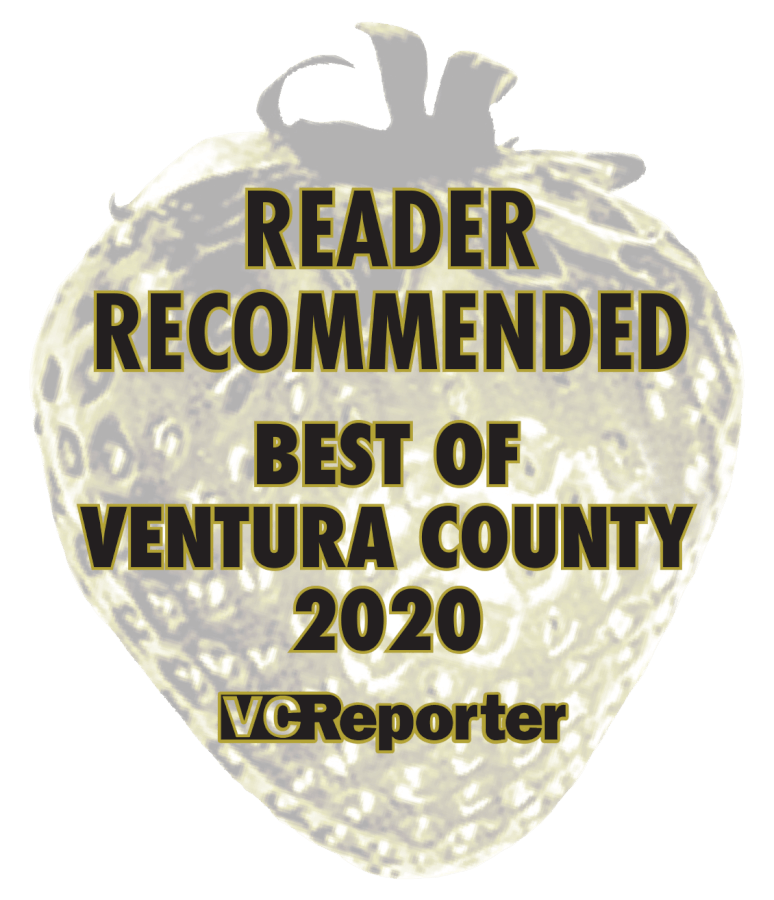 Ventura Partners With