Posted: Thursday, Nov 19th, 2020
The Ventura Visitors Center Celebrates the Holidays in a Big Way
by Visit Ventura
At the Ventura Visitors Center, the Holidays mean the world to us, and we always celebrate them in a Big Way. This year — starting right now — we'll be offering 20% discounts in the weeks leading up to Christmas, on distinctive gifts you won't find anywhere else. And discounted — or just every day affordable — the Ventura Visitors Center has dozens of unique holiday gifts; a wide selection of coastal-inspired items, including Ventura branded apparel (Patagonia vests, jackets and sweaters), accessories, jewelry, artwork, and lifestyle gifts. Lovingly laid out around the Christmas tree, there are gifts, small and large, that you won't find anywhere else, from local artisans like Patagonia, Steve Cook paintings, Blue Ridge Honey, Naturally Wild, and Walden Surfboards. Yes, you can buy that surfboard in the window.
Our Weekly Holiday Specials…
Through the Holidays we'll be offering 20% off select items each week before Christmas, online or in-store.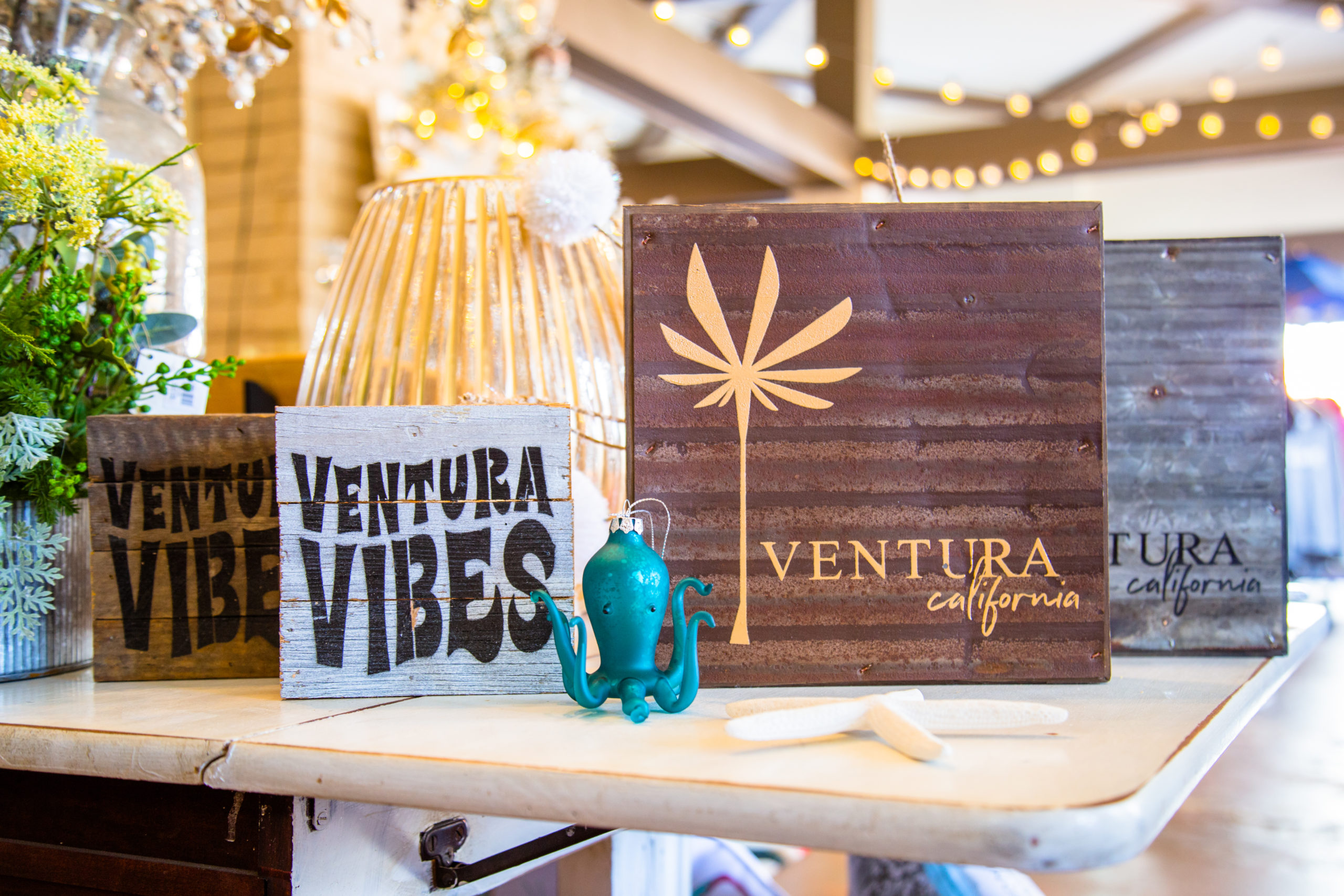 November 25 through December 1st, beachy wood signs – $12.50 and metal signs – $21.
December 2nd through December 8, cozy faux fur pom pom beanies – $29.50 and Ventura-branded scarves – $24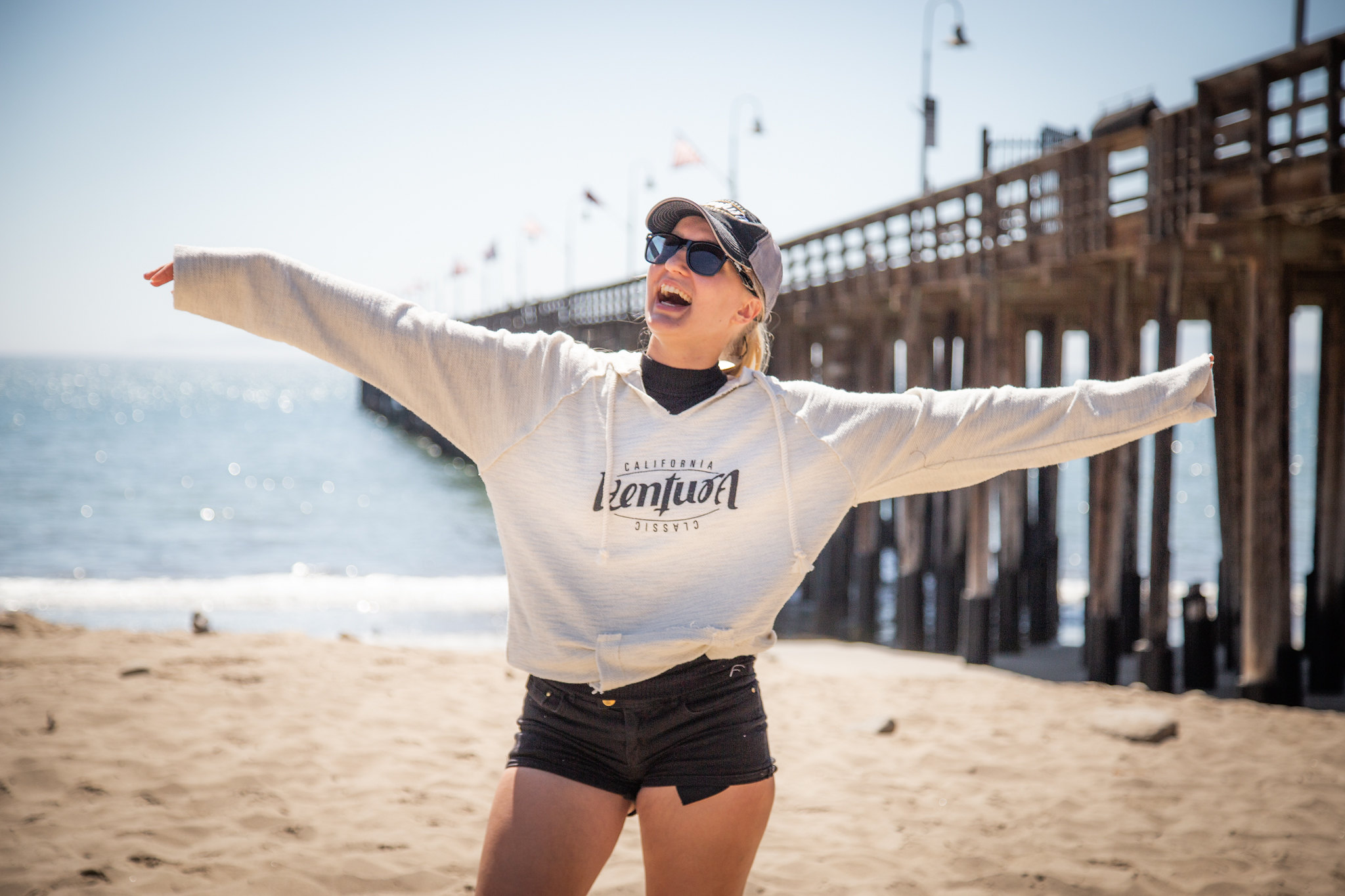 December 9th through December 15th, Baja Hoodies – $47 and Loop Fleece Hoodies – $44.50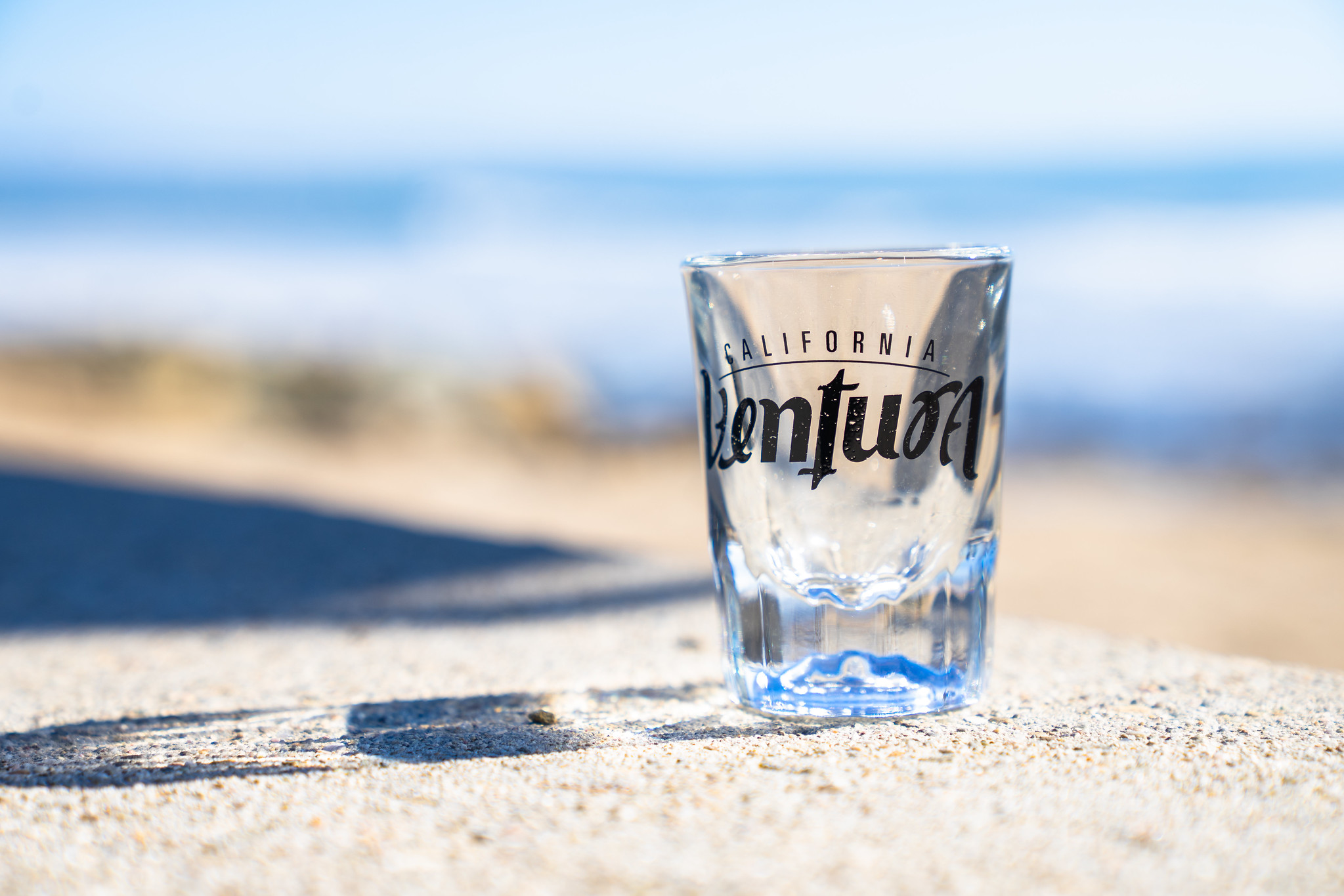 And, in the final "week" before Christmas, December 16th through December 24th, we'll be taking 20% off a bucketful of fun gifts and an eclectic collection of fun stocking stuffers, including wind chimes – $11.50 and $20.50, sunglasses – $5.50, tea towels – $9.50, colorful Christmas ornaments – $4.50 through $12.50; in-store only, Ventura-branded shot glasses – $5.50, mugs – $8 and redwood keychains – $5.50. Bringing the best things in life closer to free.
Need two more (Big) incentives?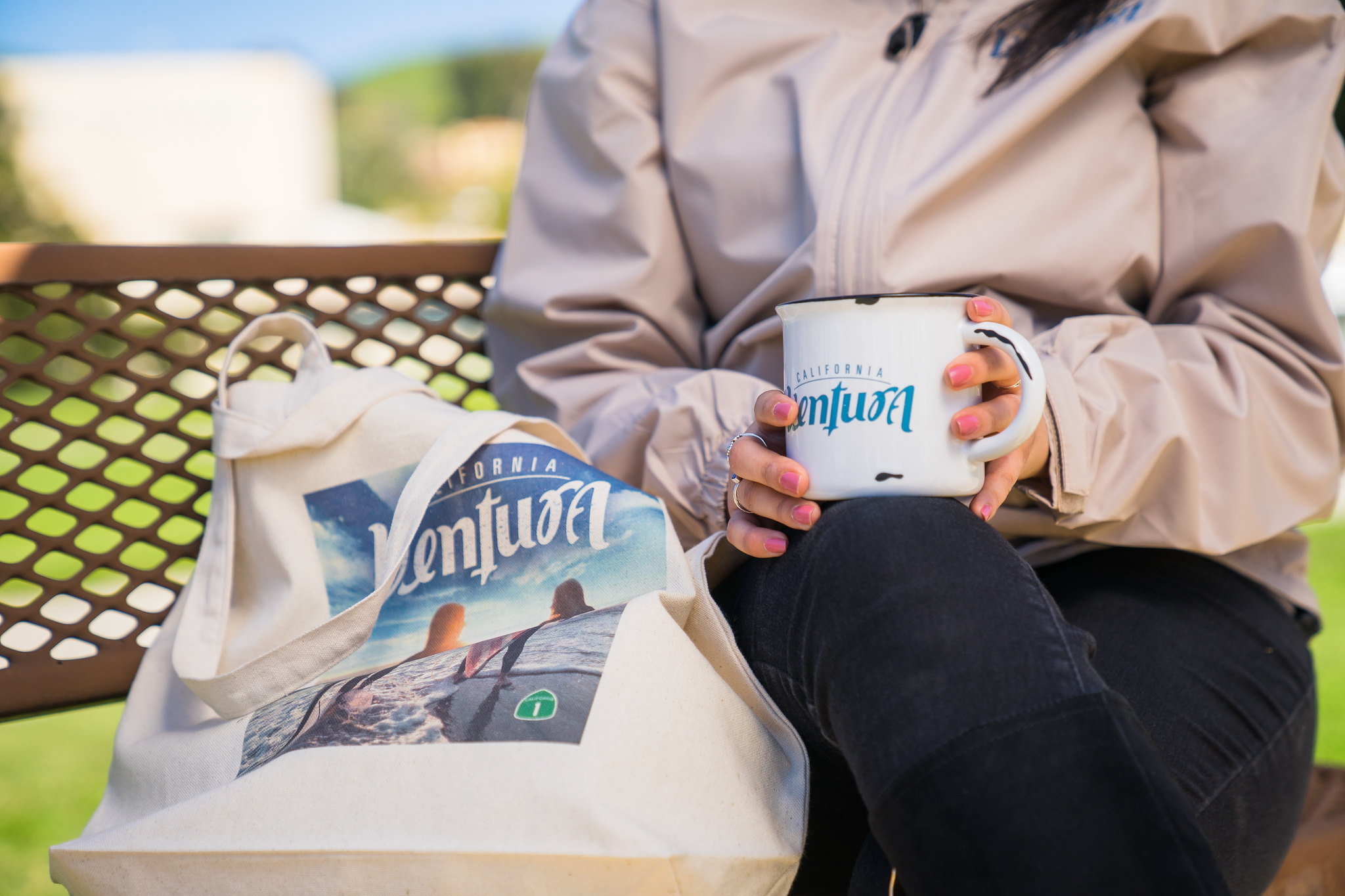 From the moment you read this, through December 31st, the Visitor Center is offering a FREE Ventura tote with every $25 purchase. Yes. you can get multiple totes, each of them emblazoned with a beautiful, iconic Ventura photo. Like everything in our store, they're made of high-quality material; you'll be, well, toting them through months of errands and grocery shopping. Annnnnd we're giving away a FREE Ventura Serape with every $250 purchase through December 31st (in-store only). And we always have free Ventura stickers.
Looking for gifts you don't need to try on?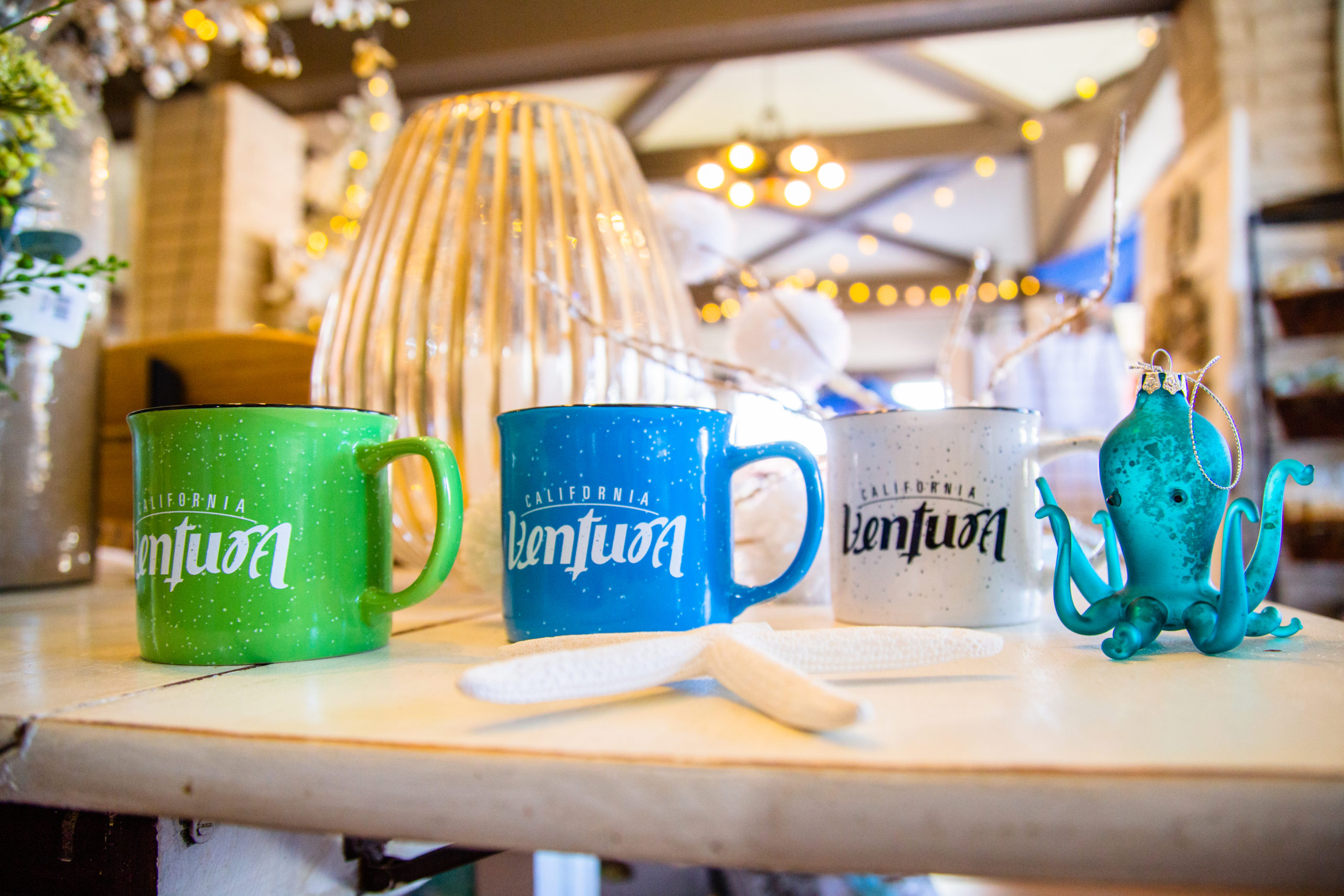 Our Ventura water bottles, embossed with our eye-catching ambigram, are always popular gifts; big enough to keep you plenty hydrated, sleek enough to fit in your bag, and bright enough to stand out in the sand. Ventura sunglasses also make for great gifts for both men and women. And who doesn't love a hearty ceramic mug? Our ceramic mugs are at the top of the Visitor Center's best-seller list and they come in a variety of easy-on-the-eye colors. Another perennial best selling gift, our colorful, cozy serapes (Latin shawl or blanket) with 'Ventura, California' embroidered or sewn on patch options in white. And, happy coincidence, those serapes are discounted from November 18th through November 24th. So hustle in.
Shop in a place that feels like home.
Last but not least, when you shop at the Ventura Visitors Center you'll be shopping in a store that feels like you're home. Why? Our friendly volunteers. Yes, their local knowledge is extraordinary (some of their families go back four generations), and yes, they have smiles that light up the town. But most of all, they have an easy manner and they genuinely care about each and every customer. They'll take the time to help you find exactly what you need.
A final caring word.
Yes, it's the Holiday shopping season. But this season, it's about something more. Supporting Local if you can — not just the Ventura Visitors Center Store, but all our Ventura stores. Most of Ventura's stores are locally owned — our friends and neighbors — and all of them can use your kind help. So thank you for being big-hearted and Supporting Local.
Discover More
Get to know Ventura, and discover the best things to do around the city.
Ventura Partners With