Posted: Wednesday, Nov 24th, 2021
The Ventura Visitor Center Has Unique Holiday Gifts — and Head-Turning Holiday Discounts
Holiday happiness is in full swing and here at the Ventura Visitor Center we love to contribute to happiness in every way we can. So, happy news. From the moment you read this and running through December 31st, we'll be offering weekly 20% discounts — in store and online — on distinctive gifts you won't find anywhere else. That's two gift items discounted each week! In addition to our specials, we have dozens of unique holiday gifts in-store and online; a wide selection of coastal-inspired items, accessories, jewelry, artwork, bath and body products, coastal fragrance candles, and lifestyle gifts. Plus, we are the only place to find clothing featuring Ventura's unique ambigram logo, including new t-shirt designs that, in a few colorful strokes, encapsulate Ventura's happy vibe of surf and sun. And to make things easy, we have pre-wrapped gifts, topped with sparkling ribbons, so you can leave the store gift-ready.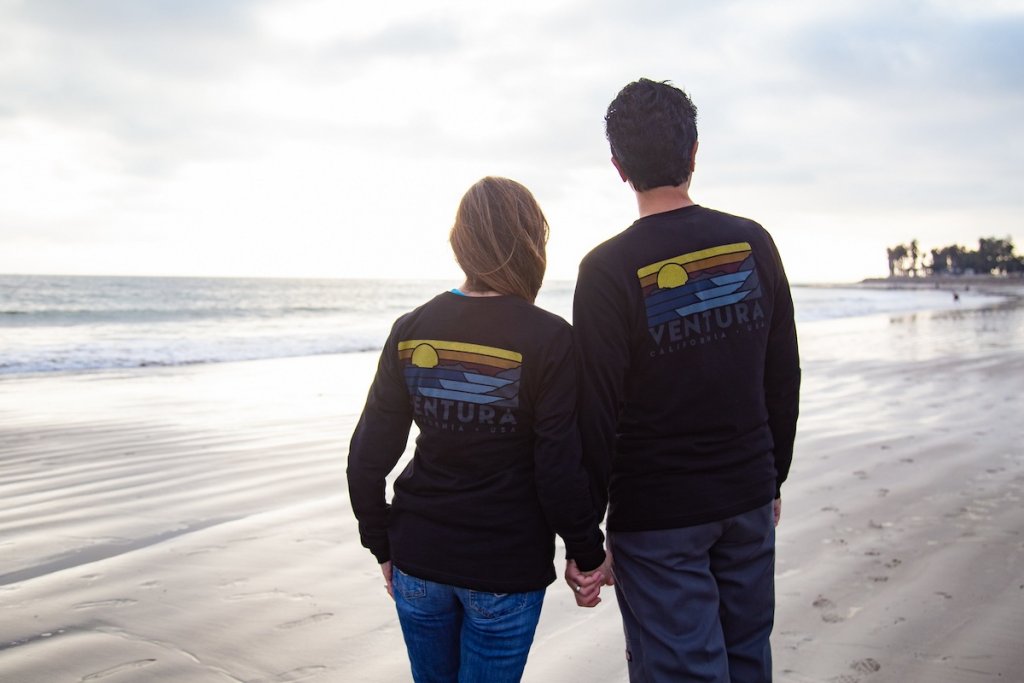 Our Weekly Holiday Specials…
Through the Holidays we'll be offering 20% off these great gift items
November 17 – November 23, Ventura Serapes.
November 20 – November 26, Octopus Wall Art
November 24 – November 30, Sea Glass Notecards, 20 count
November 27 – December 3, Faux Fur Pom Pom Beanies
December 1 – December 7, Men's and Women's Flannel Shirts
December 4 – December 10, Trucker Hats
December 8 – December 14, White Zip Hoodies
December 11 – December 17, Ventura Branded Scarves
December 15 – December 21, Fleece Crews
December 18 – December 24, Dad Caps
December 20 – December 26, Enamel Look Mugs
December 22 – December 28, Ventura Palm Signs
December 27 – December 31, Bamboo Cutting Board
Limited budget? We can help. We've got lots of affordable gifts, including our top-selling Ventura branded coffee mugs ($11.50), redwood keychains ($7.99), coastal tea towels ($12), and holiday ornaments starting at $10. Add in some free Ventura stickers and you have a thoughtful gift with a friendly price tag.
Looking for uniquely Ventura stocking stuffers?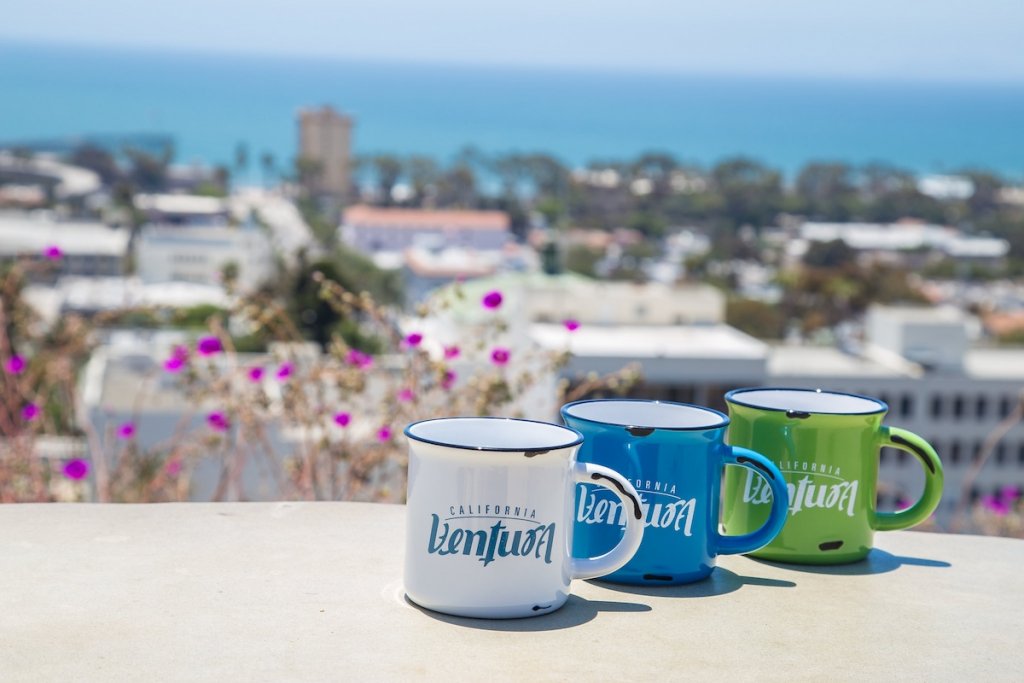 Our Ventura water bottles, embossed with our eye-catching ambigram, are always popular gifts. Ventura sunglasses also make for great gifts for both men and women. And who doesn't love a hearty ceramic mug? Our ceramic mugs are at the top of the Visitor Center's best-seller list and they come in a variety of ocean-inspired colors. Looking for more fun stocking stuffers? How about holiday ornaments (in-store only), Ventura-branded shot glasses, coastal tea towels, or — for those who are always misplacing their keys – a distinctive key chain
We do shopping pressure-free and down home friendly.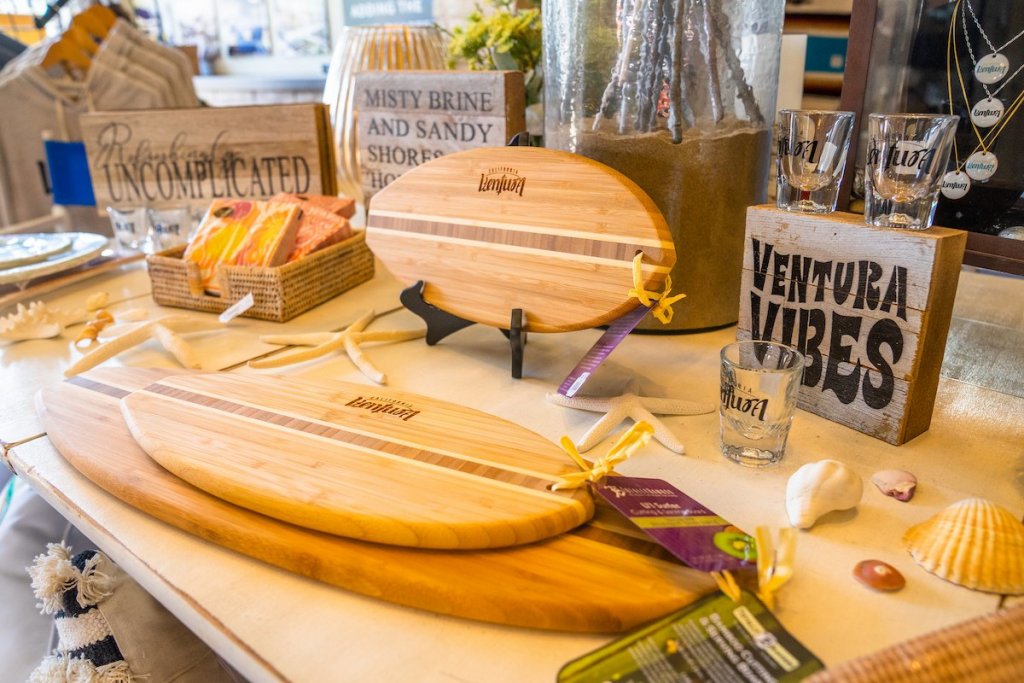 When you shop at the Ventura Visitor Center you'll be shopping in a store that feels like you're home. Why? Our friendly volunteers. Yes, their local knowledge is extraordinary (some of their families go back four generations), and yes, they have smiles that light up the town. But most of all, they have an easy manner and they genuinely care about each and every customer. They'll take the time to help you find exactly what you need. If you don't find exactly what you need, they'll tell you where to find it. Because that's how we are.
A final word of heartfelt thanks
Yes, it's the holiday shopping season. But in these ongoing tough economic times, it continues to be about something more.
Heartfelt thanks for Supporting Local — not just the Ventura Visitor Center Store, but all our Ventura stores. So many of our stores are locally owned — by our friends and neighbors — and all of them can use your kind help.
Community and caring in this and every season.
Discover More
Get to know Ventura, and discover the best things to do around the city.
Ventura Partners With