Posted: Friday, Nov 17th, 2017
Ventura Holiday Gift Ideas and a Free Ventura Tote!
by Visit Ventura
It's that time of year and everybody is looking for the perfect gift. If the
Ventura Visitor Center
isn't on your shopping stop list, it should be. For starters, our Visitor Center is about a lot more than shopping. Imagine a place where the
volunteers
wear floral print shirts and ear-to-ear smiles, where happy music blares (maybe Ventura Highway), where the chime of our front door elicits the kind of warm welcome you get when you step into whatever place always makes you smile.
We're like no town — or Visitor Center — you've ever seen.
At the Visitor Center we are about fun — and dozens of distinctive holiday gifts you won't find anywhere else, from lovingly hand-crafted jewelry to high-quality Patagonia jackets with our Ventura brand. Very rare for Patagonia to allow someone else's brand on their product, but they're headquartered here and our entire town works together to make your experience in Ventura unforgettable; shopping included. But it goes beyond shopping. There are stories behind the products, and, should you buy, you're buying into the story.
Patagonia
, for instance, contributes one percent of its sales to support environmental organizations around the world (their Mission Statement is as straightforward and it is decidedly unbusinesslike:
We're in business to save our home planet
). In a very real sense, you're buying a gift for everyone.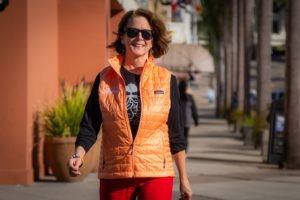 Looking for gifts you don't need to try on?
Our Ventura water bottles, embossed with our eye-catching ambigram, are always popular gifts; big enough to keep you plenty hydrated, sleek enough to fit in your bag, and bright enough to stand out in the sand. Ventura sunglasses also make for great gifts for both men and women, as so our vintage metal or wood Ventura signs. One of our most colorful gifts is a cozy serape (Latin shawl or blanket) with 'Ventura, California' embroidered in white. And, since there can never be enough fun, we have some clever items too. How about flip flops that leave 'Ventura' impressions in the sand?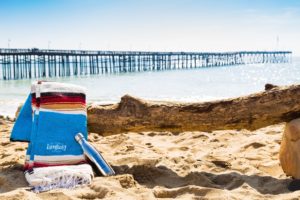 And who doesn't love a good mug?
At the top of the Visitor Center's best-seller list are "distressed" ceramic mugs in a variety of easy-on-the-eye colors. It's a cool look. "Distressed" is a bit of a misnomer — it just means the mug looks like an old friend.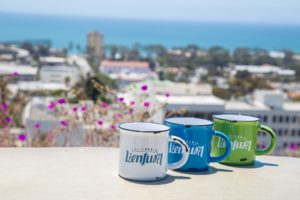 Not to mention Ventura-branded baseball caps, tea towels, scented candles and linen sprays (take a whiff of sea-salt-surf), cutting boards, t-shirts, baby onesies, backpacks, breathtaking photos and much more.
Weekly Specials:
Inside tip — through the Holidays we'll be offering special promotions, 15% off select items each week before Christmas.
November 29th through December 6th, we're taking 15% off our serapes.
December 7th through December 13th, take 15% off any of our rustic beachy wood signs and wind chimes.
And, in the final "week" before Christmas (12/14-12/24), we'll be taking 15% off a bucketful of items, from Ventura-branded fleece jackets from Eddie Bauer to an eclectic collection of fun stocking stuffers, including dog leashes, colorful Christmas ornaments, and Ventura-branded enamel keychains and jewelry. Bringing the best things in life closer to free.
Need one last incentive?
From November 29th through December 31st the
Visitor Center
is offering a FREE Ventura tote with every $25 purchase. The bags are emblazoned with a beautiful, iconic Ventura photo. Like everything in our store, they're made of high-quality material; you'll be, well, toting them through months of errands and grocery shopping. Yes, it's about gift shopping. But it's about something more. Stop by the
Ventura Visitor Center
and take a piece of Ventura home — in your hands, and in your heart.
Discover More
Get to know Ventura, and discover the best things to do around the city.
Ventura Partners With