Posted: Thursday, Nov 7th, 2019
Patagonia is Changing Your World in Surprising Ways
Patagonia continues to be a source of inspiration and activism for the Ventura community…
by Aidan Pilgrim featured image by Josiah Roe
Patagonia is a pride point for Venturans — rarely does a small town boast such a
well-known and impactful resident
. Since its inception in 1973, Patagonia has been a shimmering thread in the colorful fabric of Ventura, a dynamic influence in the community its
corporate office calls home
. Of course, when it comes to community, Patagonia's vision is large, massive, global. Activism and progress are at the forefront of this brand's philosophy, as evidenced by
Tin Shed Ventures
, Patagonia's venture capital fund whose purpose is to invest in startups that offer solutions to environmental issues.
One such startup is Bureo.
A local company that has devised a tangible solution to the issue of discarded fishing nets, which comprise an estimated 10 percent of the
18 billion pounds of plastic
that enter our waterways each year.
How do they do it?
By working with local fishermen in locations like Chile to collect fishing nets that are no longer usable, recycling them into a nylon material, using that to design cool, functional products and then selling those products via distribution channels such as — you guessed it — Patagonia. Bureo's first product was skate decks, and the brand has since created sunglasses, surfboard fins, and even a Jenga set. Talk about a unique keepsake to take home…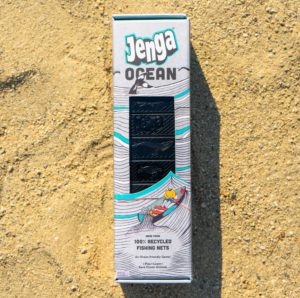 Another of the brand's exciting new initiatives is Patagonia Action Works.
An online platform that helps people find local environmental nonprofits and take action to help save the planet. Patagonia's uncompromising ethos and longstanding relationships with many of these environmental nonprofits take the headache out of identifying and vetting the best group to align with. And getting involved is as easy as visiting the website and entering your zip code. You'll be provided with a list of local Patagonia-supported environmental nonprofits — click through to find out what events are on the horizon, and if there are any petitions and local action items you can get involved in, even if you're only visiting for a weekend. Although Patagonia Action Works is a nationwide initiative (and expanding to Europe), the local Ventura offerings are robust due to relationships built over 45 years in town, making it an excellent way to meet like-minded people and get a glimpse into the lives and passions of local Venturans. Indeed, Patagonia is deeply involved in the local community. During the Thomas Fire, Patagonia Ventura was a central point of connection — offering 50 percent off to all firefighters. Currently, the store plays host to a number of local events (often free) that are open to Venturans and visitors.
Surfrider Foundation
a nonprofit dedicated to protecting the world's oceans through activism hosts its local chapter meetings there on the first Tuesday of each month from 6:30 to 8 p.m. The event is open to the public, and everyone is invited to come learn about what's happening locally, from where the best waves are (calling all surfers) to the most pressing environmental causes. Often, Surfrider brings in guest speakers and bonuses: They usually offer refreshments. For yogis on the loose, the store also hosts a free all-level yoga class every Wednesday from 6:30 to 7:30 p.m. And while you're there, sneak a peek out of the store's back windows at the Tin Shed, a part of Patagonia's own rich history. Before Yvon Chouinard, founder of Patagonia, launched the brand as we know it, he worked as a blacksmith building rock climbing hardgoods out of a little tin shed that happens to still be there. An homage to vision, passion, and tenacity, it serves as a reminder that small initiatives can become bigger than life.
For more great stories, request our FREE inspiration guide right to your door!
Check out upcoming events!
Discover More
Get to know Ventura, and discover the best things to do around the city.
Ventura Partners With