Posted: Wednesday, Jul 20th, 2022
Where Can I Hike in Channel Islands National Park?
Hiking at Channel Islands National Park
Welcome to Channel Islands National Park, a wild and wondrous world where housecat-size foxes scamper through fields of Seuss-like flowers, and moon and sun shine down on, well, nothing.
And, no surprise, home to breathtaking hiking.
A Few Channel Islands Basics
We know you've heard this before — about any and all manner of things (cars, hamburgers, insurance policies), but a single day of hiking on any one of the Channel Islands can change your life. And a day trip out to the islands — whether it be Santa Cruz, Santa Rosa, Anacapa, or San Miguel — is a great way to get the best out of the Park's untouched wilderness without committing to the logistics (though they are worth it!) of an overnight camping stay. Also good to note that the easiest-to-reach hiking is on Anacapa (though Anacapa is currently closed for dock repairs) and Santa Cruz – just a little over an hour boat ride from Ventura Harbor with Island Packers Cruises

. More happy news, weather permitting, Island Packers runs trips from Ventura Harbor out to Santa Cruz and Anacapa all year long. Please consult Island Packers' website for trip and boat schedules.

While there are plenty of moderate and easy Channel Island hikes, including scheduled guided tours, be aware that some Channel Islands hikes are strenuous and only appropriate for physically fit individuals and experienced hikers. Even if you're experienced, the buddy system is highly recommended on all trails — because, and this is the beauty of the Channel Islands, more often than not you'll find yourself completely alone. A few more wise preparations; wear sturdy hiking boots, bring plenty of water, snacks, sunscreen, and a hat, and think about planning your hike in advance.

This will help you with that.
Bowl You Over Beauty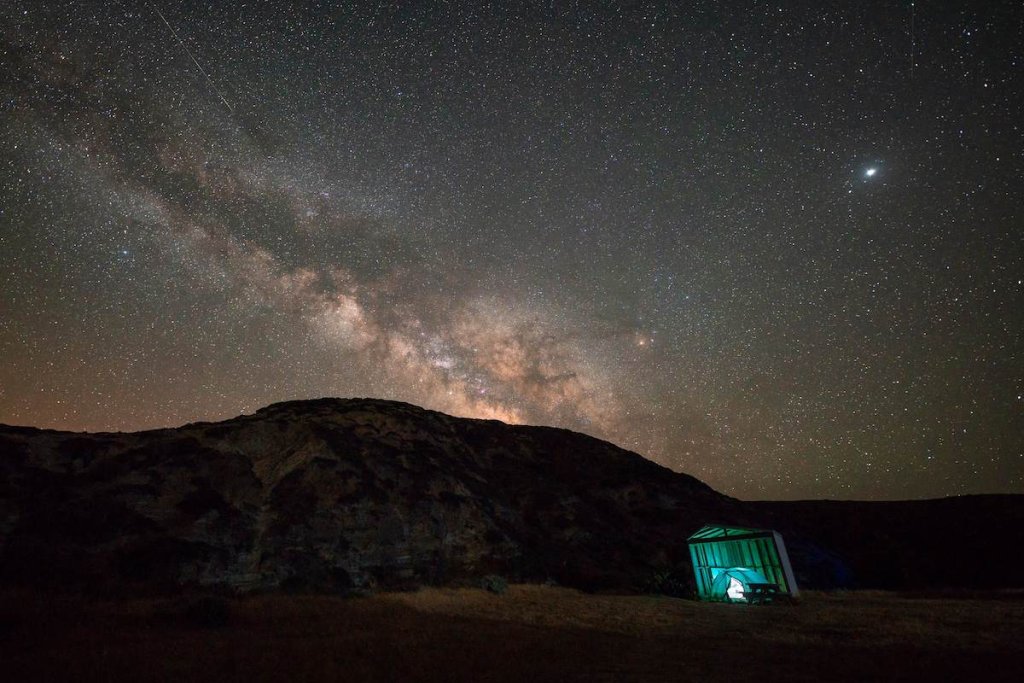 On any of the Channel Islands hikes, you'll encounter spectacular views. Like a miniature, untouched California wildland, the cliffs, hills, mountains, grasslands, canyons, and valleys on each island are like a step back in time; a walk through a California that once was. And then everywhere — often all sides — there's the Pacific Ocean; a deep, pristine blue on clear afternoons, a dramatic, moody grey on misty mornings. With untouched beaches, sheer cliffs, and hundreds of unique plant species and wildlife to spot, these world-class hikes — just a short boat ride from Ventura and several worlds away — shouldn't be missed.
Hiking on Santa Cruz Island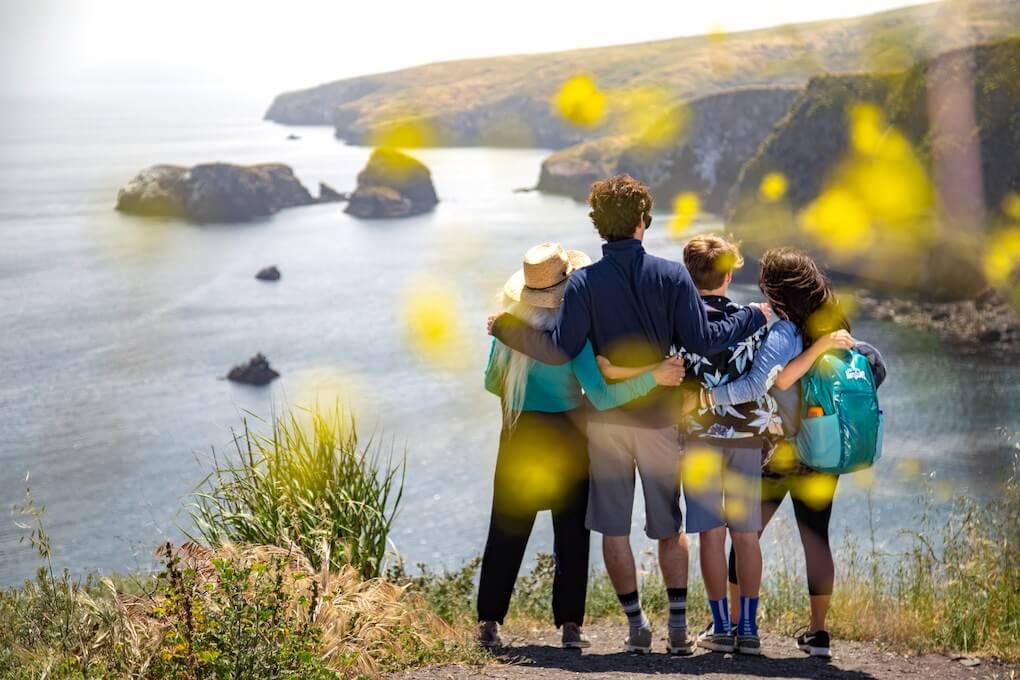 As the largest, closest, and one of the most geologically diverse islands, Santa Cruz is the most popular stop on the Channel Islands National Park docket for good reason. At 93 square miles in size, with two mountain ranges, a central valley, and miles of cliffs and rugged coastland, this island offers epic hikes from trailheads starting right at the boat drop-off at Scorpion Beach, including multi-day backpacker trails for the adventurous spirit. Santa Cruz is also one of the most popular islands for kayaking tours, scuba diving, and camping.
But for the day-hiker, with a round-trip ferry ticket and desire to explore the National Park in a pair of walking boots, oh boy, are you in for a treat.
Smuggler's Cove – 7.5 miles roundtrip – Strenuous (Optional: Yellowbacks – add 3 miles; Smuggler's Canyon – add 2 miles)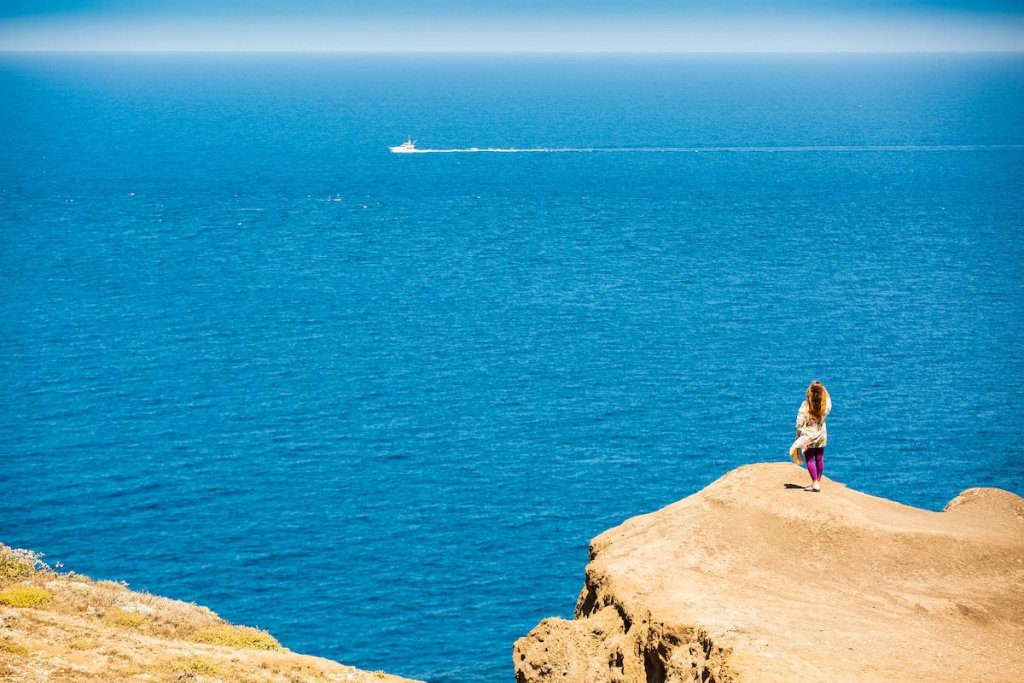 This popular, world-class return hike fits perfectly into a full day's trip between Island Packers

' morning drop-off and late afternoon departure at Scorpion Beach. The hike from Scorpion Beach to Smuggler's Cove (and back) will give you a little taste of everything the island has to offer: spectacular views of the Pacific, beaches, mountains, valleys, grasslands, and a very good chance of seeing native plants and wildlife, including island foxes, lizards, ravens, and, in springtime, wildflowers.

This hike climbs steeply right away, levels off for a time, and then drops steeply down before ending at a tree-covered picnic area and pristine, rocky beach at Smuggler's Cove. While plenty of food and water will need to be packed in (and out), there are toilets and picnic benches at Smuggler's Cove. Spend some time relaxing at the beach (or in the cool shade), or keep on exploring via a rugged add-on trek (Yellowbacks, Smuggler's Canyon, or San Pedro Point trails; check the map or ask a park ranger for details), before heading back the way you came to Scorpion Beach.

The return hike mirrors the outbound hike, beginning with the steep upward incline leaving Smuggler's Cove, followed by a flat, rolling walk, and finishing with a steep downhill trek on the fire road that returns you to Scorpion Beach. It's an incredibly rewarding hike, but it is strenuous and you will need food, water, sunscreen, a good level of fitness, and a hiking partner.
Cavern Point Loop – 2 miles roundtrip – Moderate
This shorter, moderate hike is perfect for most hikers and the relaxed day-tripper who still wants a brisk walk with breathtaking views. This hike's intensity can be further moderated by selecting which direction to take the loop: hike clockwise from the campsite to avoid a steep upward incline, or hike counterclockwise to include it. Be advised that the downward incline may still be strenuous for some hikers.
But the up and down is worth it, for this hike rewards you with rolling grassland vistas, pristine ocean views from dramatic cliffs, and even whale watching at certain times of the year–so be sure to bring binoculars! While drinkable water is available at the Scorpion Beach campsite near the trailhead, be sure to bring plenty of water for the hike, and pack out all food and trash (there are no trash receptacles anywhere on the island).
Scorpion Canyon Loop – 4.5 miles roundtrip – Moderate/Strenuous
This is the perfect day-hike for those who crave a rugged Channel Islands trek but also enjoy taking their time. This medium-effort trail — with some difficult sections — is a hilly, inland trek that fits easily into the time between morning drop-off and late afternoon pick-up at the dock. It has the added benefit of being a loop, so you won't see the same thing twice. Hike clockwise to avoid a steep upward climb, and keep an eye out for the rare Island Scrub-Jay — found nowhere else in the world.
Historic Ranch – 0.5 miles – Easy
This short, flat walk from the Scorpion Pier where the boat lets you off allows you to explore the historic Scorpion Ranch and is perfect for little ones, the elderly, or hikers without the ability to undertake steep climbs and descents. This short loop is an adventure in itself, as it passes by the ranch complex (and old farm machinery) dating back to the 1800s. Stop in at the Scorpion Ranch Visitor Center and learn about man/woman/children's history (yes, children lived on the island). Imagine what it was like to live both remotely and in a different age as you encounter a blacksmith shop, farm tools, the nature kiosk, and the historical visitor's center while you stroll through the miniature valley that is home to Scorpion Ranch.
Hiking on Anacapa Island (temporarily closed – but good for future reference!)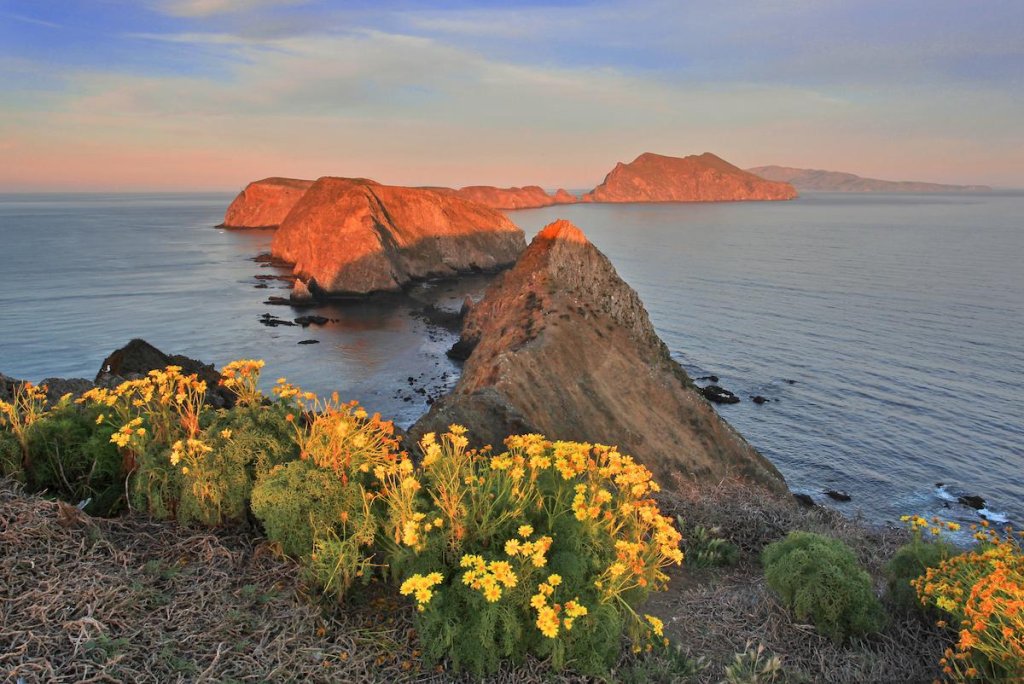 Just over a one-hour boat ride from Ventura Harbor, this is an ideal day trip experience for hikers. East Anacapa Island being less than one square mile, you'll get the satisfaction of exploring an entire islet from tip to tip. Though small, Anacapa boasts truly stunning views and easy trails, making it ideal for day-hikers seeking an untamed wilderness experience combined with minimal physical exertion. Camping is available for those seeking a longer stay at this remote location. Be advised that unlike Santa Cruz and Santa Rosa Islands there is no drinkable water available anywhere on this island, so adequate amounts of water, as well as food and sun protection, must be packed in and out.
Featuring a leisurely 2 miles of trails, you'll inhale dramatic views as you hike along the island's rolling slopes. In late winter and spring, the hills are often painted with wildflowers, and wildlife viewings are common throughout the year both on the island and from the boat, including great masses of sea birds, seals, and sea lions. Note that the two other islets that make up Anacapa Island, the Middle and West Islets, are not available for hiking, but their preservation as wildlife sanctuaries are what makes wildlife viewing on East Anacapa so spectacular.
The trails on Anacapa Island make a rough figure-eight loop. Key (and impossible to miss) sights along the way, include the spectacular vista at (aptly named) Inspiration Point, sea lion sightings at Pinniped Point, the beautiful rock formations at Cathedral Cove, and the historic Lighthouse, the last built one on the West Coast. Along the way, stop for lunch or a snack, and be sure to take a very long moment to absorb the serenity of simply being away from mankind's things.
Hiking on Santa Rosa Island
The second-largest island in the Park, Santa Rosa Island offers much of the geological variation of Santa Cruz Island — with some notably unique exceptions. Black Mountain, whose peak reaches over 1200 feet above sea level, is one of the only true mountain treks on all the islands, offering views of the rest of the archipelago and the mainland on clear days. In addition, this more remote and less populated island features pristine white sand beaches, water-filled canyons pinned in by sandstone walls, and is home to the rare Torrey pine, making it one of the last places on earth that this once populous tree from the Pleistocene grows.
As the boat ride to Santa Rosa Island from Ventura Harbor is 2-2.5 hours each way, consider booking an overnight round-trip for a multi-day campout to really explore this island, or be sure to plan your hikes in advance to make the most of your day. As with all the islands, it's vital to bring enough water, food, and sun protection as there are no amenities on the island. Water Canyon Campground does have spigots with potable water, as do the public restrooms in the Historic Ranch area.
Black Mountain – 8 miles roundtrip – Strenuous
This is a must-do trail for experienced hikers. While the hike up this loop trail is a rugged, strenuous climb, hikers are rewarded with astonishing views of the Pacific Ocean, the surrounding Channel Islands, and, on clear days, even Ventura on the mainland. Rolling scrublands and oak woodlands roll away from this unforgettable hike. As there is little shade and no potable water past the trailhead, be sure to bring sun protection and plenty to eat and drink.
Torrey Pines – 5 miles (along the Coastal Road to the base of the pines) – Moderate – or 7.5 miles (via the loop trail from the Coastal Road) – Strenuous
For those who wish to admire the rare Torrey Pines (and you should; they are beautiful), there are two options. The moderate version of the hike, doable for most hikers, follows the flat Coastal Road along the base of the pines. To add stunning views of the Torrey Pines, backed by the Pacific Ocean and a crescent sweep of beach, you'll have to hike a little farther, following the loop trail to the west, hiking up over the top of the grove, and ending up by hiking eastward back to the Coastal Road.
Water Canyon – 3 miles (to the canyon mouth) – Strenuous
Despite the short 3-mile trail to the mouth of Water Canyon, this hike is longer than it appears because the canyon itself continues for another 6 miles, ending near Soledad peak. The hike into the canyon can be steep, and, once inside, hikers are off-trail, following natural animal paths and the streambed, so this trek is recommended for experienced hikers only. However, for the effort and adventure, hikers are rewarded with a walk through a pristine sandstone canyon, with native vegetation growing along the steep walls, and water flowing in the streambed almost all year. The trail is rugged. Great idea to bring a friend, plus food, sun protection, a map, and water.
Water Canyon Beach – 3 miles (to the beach entrance) Easy (if the wind is moderate)
Be sure to check the weather or talk with a ranger before heading down to this beach as strong winds (and the winds on Santa Rosa can be — understating it — appreciable) can make the walk difficult. But on still or moderately windy days, this pristine white sand beach is a once-in-a-lifetime beach stroll. On a clear day, sparkling blue-green water presses against the shore. Better than any photograph, this one forever in your mind's eye.
Lobo Canyon – 9 miles (one-way to Canyon mouth) – Strenuous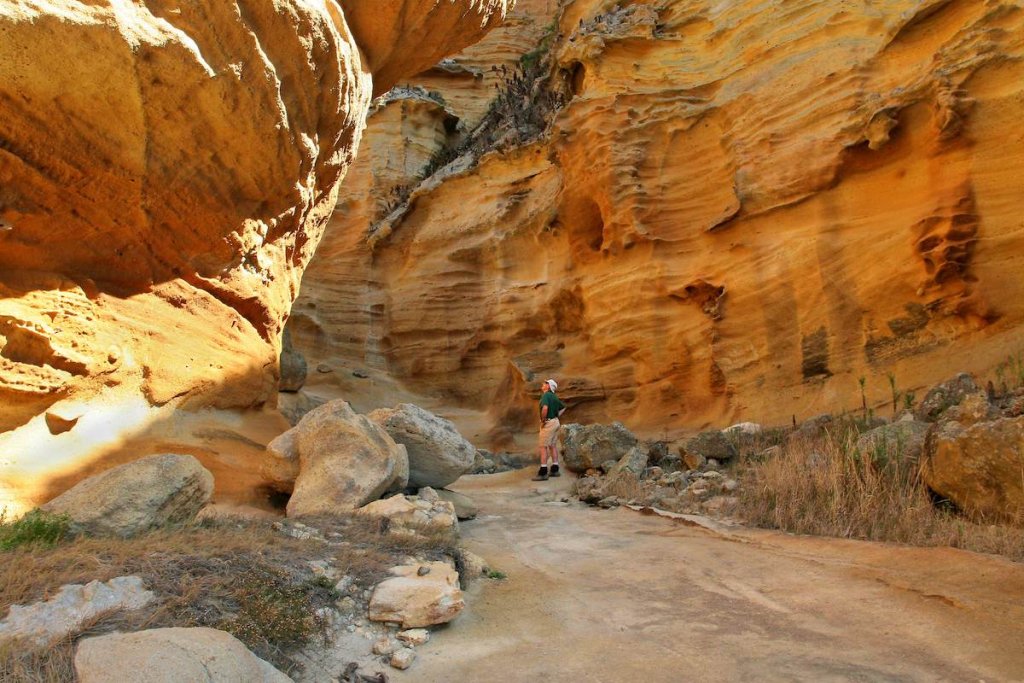 If you want to experience a geological wonder, this hike is worth every ounce of effort. At 9 miles from the Pier to the Canyon Mouth (so another 9 miles home), this trek is recommended for experienced hikers. You'll need to start early (it's a full day), and bring lots of food and water, and, yes, at least one other hiking partner. The hike begins by passing over rolling hills and natural scrubland. That trail ends at the mouth of Lobo Canyon, a natural canyon framed by grooved and pocketed sandstone walls, shaped by wind and water, and hung with a peace that is beyond words. Take some time to enjoy the Canyon before heading back.
Hiking on San Miguel Island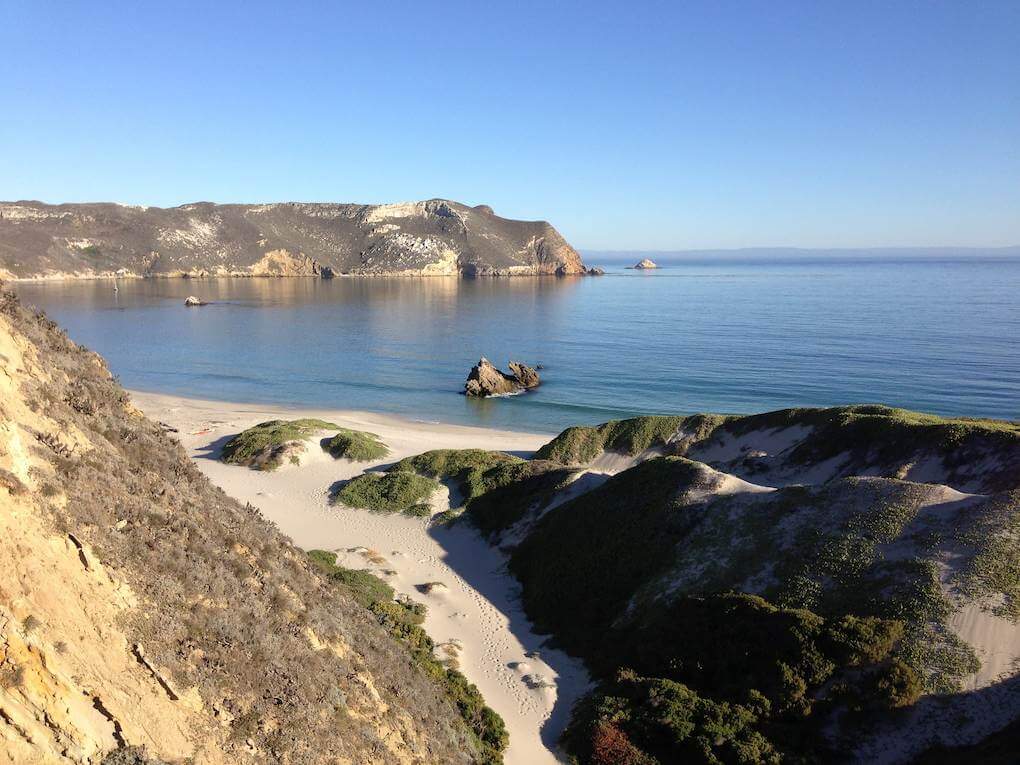 Much of San Miguel Island is closed to the public to protect wildlife, fragile plants, and rare geology, but there's still plenty of space for mind-blowing hiking. The most remote of the Park islands, that very remoteness lends San Miguel splendor. San Miguel does come with some stipulations – all looking out for your safety. For starters, all hikers have to stay on the designated trails. Why? The island was a former bombing range, and it's possible there is unexploded ordnance. For that same reason, hikers have to be accompanied by a ranger beyond Cuyler Harbor Beach, Nidever Canyon, the Cabrillo Monument, and the Lester Ranch site. For more details click here.
Cuyler Harbor Beach – 2 miles (round trip from Cuyler Harbor where the boat drops you off) – Easy
You don't have to be escorted by a ranger. You can just wander one of the prettiest white sand beaches you'll ever see, stopping only when the beach runs into rock. Inside tip: if it isn't windy, look for tiny Island Fox prints in the sand.
Cardwell Point – 6 miles (round trip from Cuyler Harbor) – Strenuous
Yep, the ranger has to go with you, but that's great because you'll learn so much from them. The hike to Cardwell Point offers spectacular Pacific Ocean views with the blue loveliness of Santa Rosa Island looming in the distance. But it's Cardwell Point that steals the show. San Miguel, in short, is a pinniped sanctuary, a haven for honking hordes of California sea lions, harbor seals, elephant seals and more, who arrive on San Miguel throughout the year to breed, birth, and belch. The beach at Cardwell Point is lovely on its own, a sandy arrowhead of beach whose blunted tip disappears beneath emerald green waters that leap and froth. If the beach is littered with pinnipeds, the show is all the better.
Point Bennett – 16 miles (round trip from Cuyler Harbor) – Strenuous
Again, the ranger goes with you. Again, the pinniped payoff can be extraordinary. Point Bennett itself is a desolate outcropping of white beach and dark rock, where you might also glimpse the distant spouts of gray whales. Yes. A place awash in wilderness. It just feels good.
Discover More
Get to know Ventura, and discover the best things to do around the city.
Ventura Partners With