Posted: Friday, Jul 9th, 2021
Six Things to Know About Ventura's Harmon Canyon Preserve
Ventura is a pathological liar's dream of outdoor play. In June of 2020, thanks to the efforts of the Ventura Land Trust, that playground reached a new level with the opening of Harmon Canyon Preserve, a 2,123-acre expanse of natural beauty made for play — and the things that matter too.
Opened to the public in June 2020, Harmon Canyon Preserve features spectacular hiking and mountain biking trails just on the edge of town (i.e. easy to get to). Harmon Canyon offers the first large-scale, publicly accessible hillside nature preserve in Ventura, a sea of gnarled oaks, downy grasses, and wind-kissed vistas where you can see ocean and rolling landscape (almost) forever. A place to hike and mountain bike, yes (sorry, horses are not allowed). But also a place of soul-healing solitude, where you can do the important things like watch shadows creep down the hillsides.
The Ventura Land Trust's former Executive Director, Derek Poultney, was instrumental in acquiring Harmon Canyon Preserve and opening it to the public. He sums it perfectly. "It transforms you back in time to an early California: beautiful oak groves, coastal sage hillsides, tree-lined creeks, expansive scenic views, peace, and quiet. And it's free for everyone to enjoy from dawn until dusk every day. There are so many things about Harmon Canyon that bring me joy, but seeing people enjoying it excites me the most."
Current VLT Executive Director Melissa Baffa makes a second thoughtful point.
"The preservation of open space is vital not only to the human population of Ventura County, but for its wildlife as well," says Baffa. "Wildlife cameras at Harmon Canyon have captured evidence of deer, coyotes, bobcats, raccoons, skunks, badgers, a bear, and more! VLT is proud to protect this important habitat on their behalf – alert visitors to the preserve, especially near dawn and dusk, might catch a glimpse of some of these wild neighbors."
A handful of handy Harmon things to know
Things to Do


Family Fun

Parking
Outdoors


Biking & Hiking Trails
Entry fee?​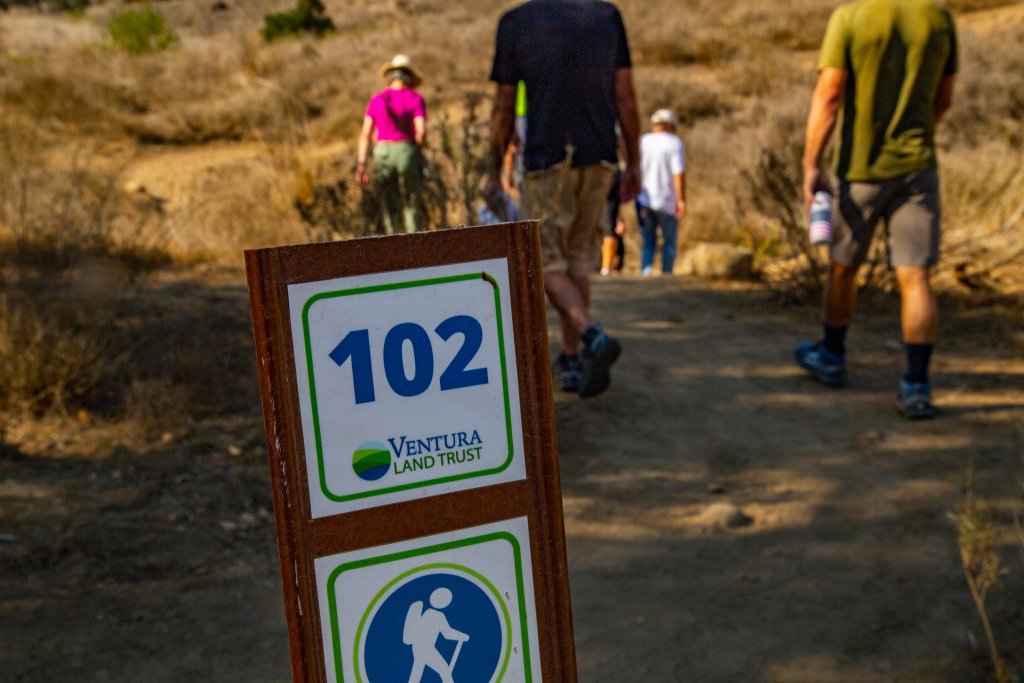 Nope.
The Ventura Land Trust's aim is selfless and simple. Those future generations will know the joy of quiet places and wide skies.
Bring water and be prepared for heat​

Yes, it may be 75 degrees at the parking lot trailhead, but that trailhead is still touched by ocean cool. Bike/hike/run a short distance inland and the temperature can jump 15 degrees. In the upper hills, shade is scarce. Sturdy hiking shoes are also a fine idea.
Leashed dogs are welcome, up to a point​
Leashed dogs are allowed on the main road into the canyon, up to about 1½ miles. Bobcats, black bears, mule deer, and mountain lions have been seen in the preserve, and, in warmer weather, rattlesnakes are not uncommon. It is a wilderness preserve.
There's a new multi-use trail… and it's a stunner​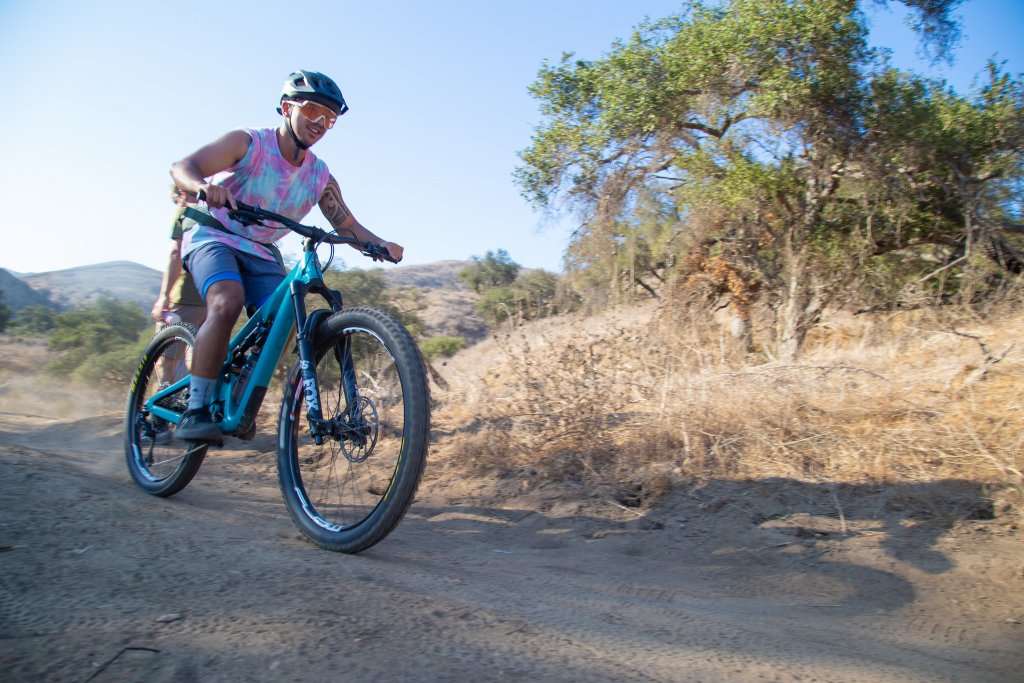 Farr Family Trail winds up to a place where the world becomes wind and sky, with stunning miles-long views stretching off to the Channel Islands, and the Santa Monica and Topa Topa Mountains. The International Mountain Bicycling Association has developed a conceptual trail map of some 30 miles of planned singletrack and some of those swooping, rising, dipping trails already exist. Another wonderful community player — Sage Trail Alliance — is designing and building those trails; bringing more and more trails to fun life as you read this.
Bringing us neatly to​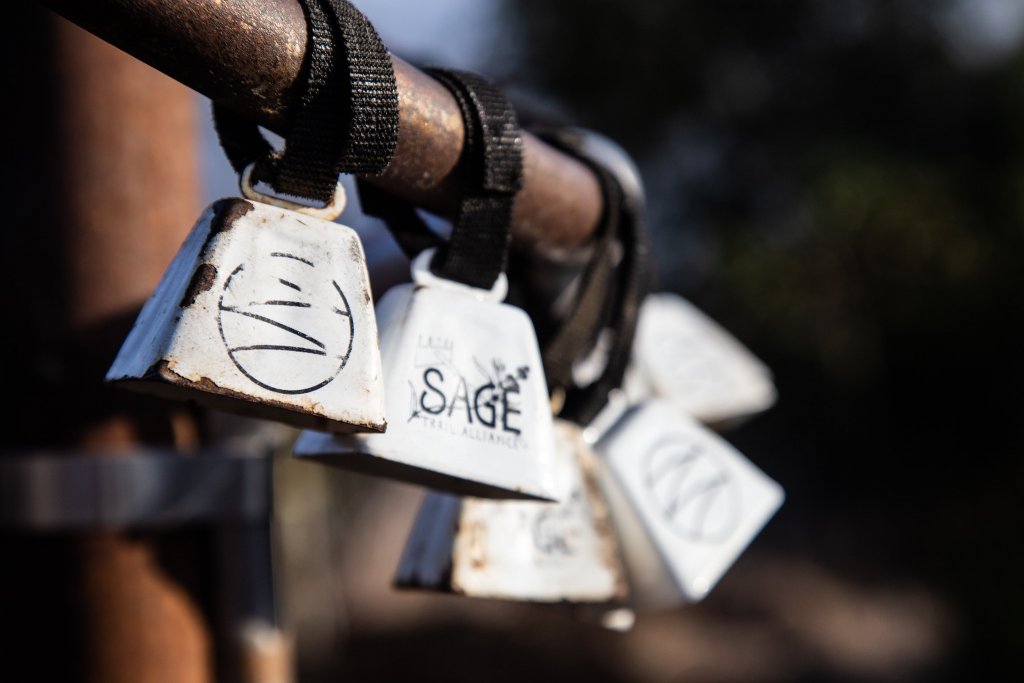 Harmon Canyon's lovely trails are shared. There are some blind curves. No sense in having mountain biker meet runner/hiker suddenly. There is much (understandable) tendency to reverie, but stay reasonably alert. Bikers are asked to grab one of the miniature cowbells at the trailhead and use it liberally when hikers come into view.
How you might become a part of the Canyon and ensure something very important ​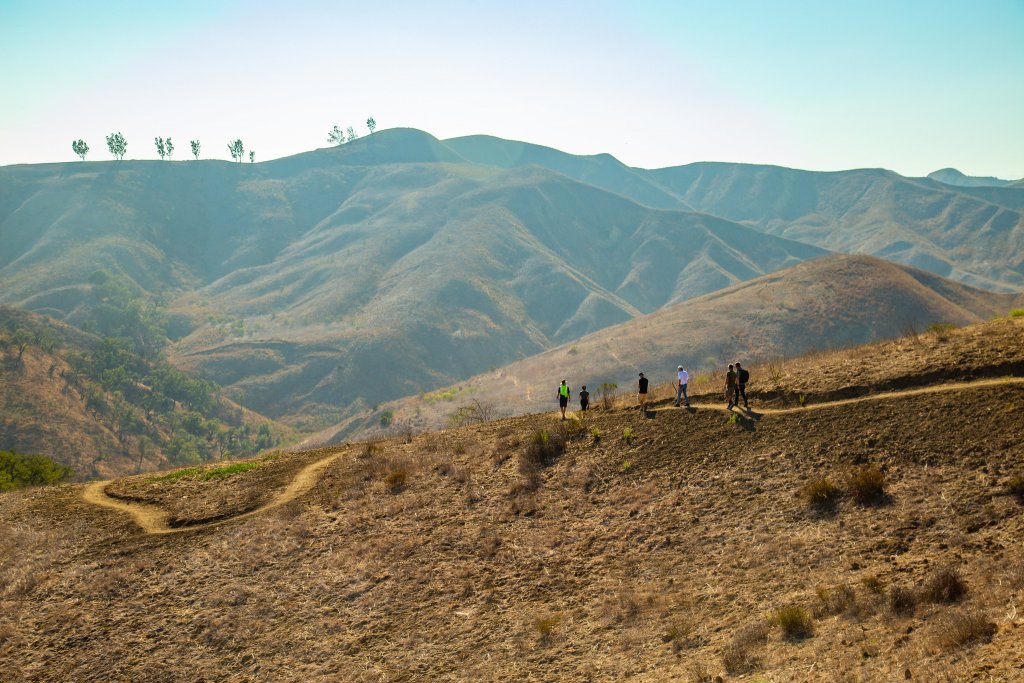 The Harmon Canyon Preserve has no entry fee, but the Ventura Land Trust does have substantial costs (continuing to build new trails for starters). They can always use volunteers and donations to continue their simple, selfless aim.
To ensure that generations will enjoy these lands as nature intended—free of charge, forever.
To hear the things that matter.
That would be nothing.
Discover More
Get to know Ventura, and discover the best things to do around the city.
Ventura Partners With