Posted: Wednesday, Aug 30th, 2023
Outdoor Activities in Ventura County: Ways to Get Active Hiking, Biking, and Swimming
Ventura Hiking Trails with a View: 3 Hiking Trails/Nature Walks to Check out
Most of the time, it's about the journey, not the destination. Luckily for you, hiking trails in Ventura have both. At each twist and turn of the path, you'll find a breathtaking ocean view or the scent of fresh wildflowers. And at the end of the journey, you're rewarded with a beautiful view. With a variety of distances and difficulty levels, you can find the right hiking trail for you anywhere in Ventura. Here are 3 Hiking Trails in Ventura you should wander on.
Harmon Canyon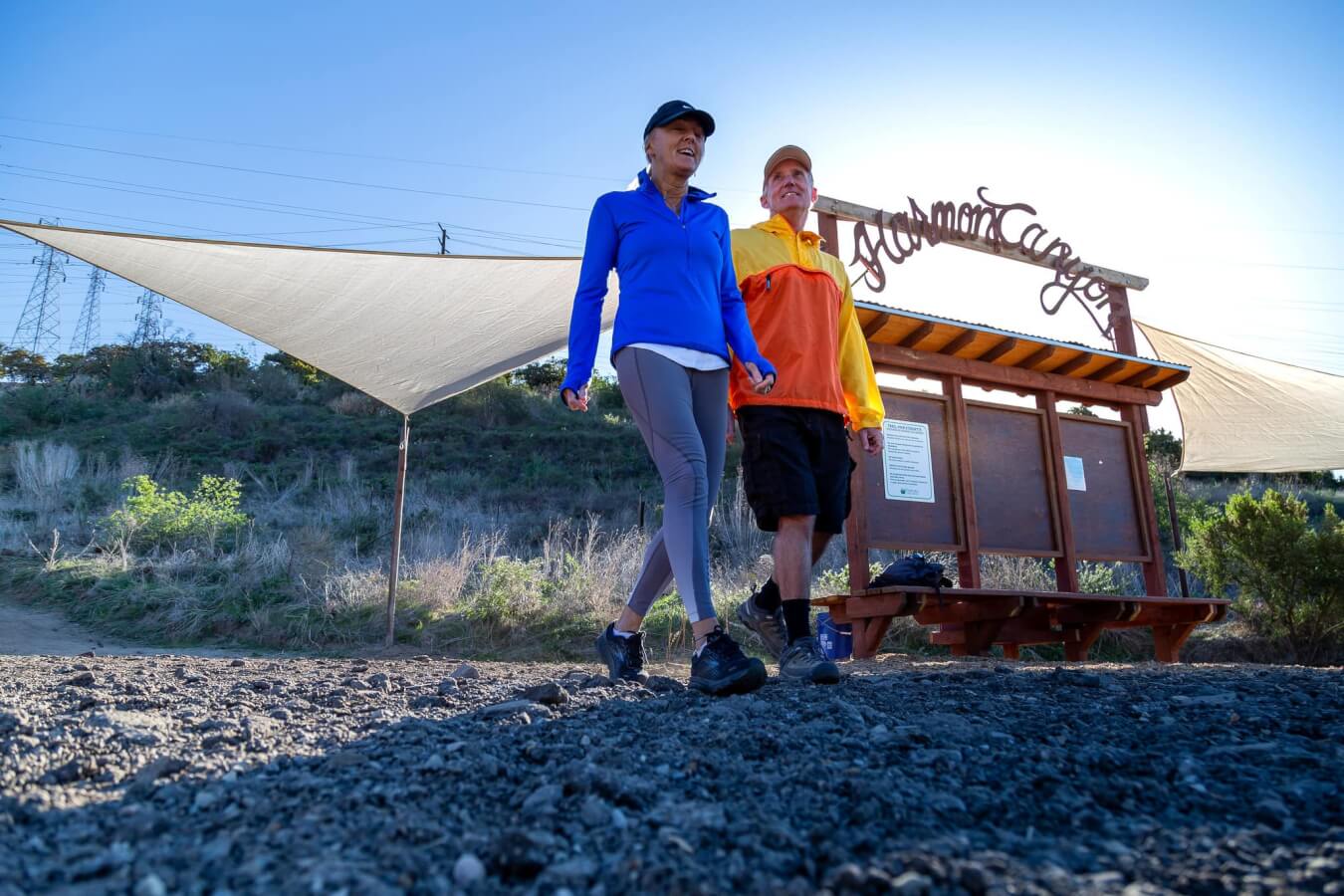 Hiking in Ventura has never been more beautiful. At 2,123 acres, Harmon Canyon

transports you to old California: sprawling mountains, larger-than-life oak trees that line the path, wildflowers native to the soil filling your eyes with magnificent colors.

The main trail up to the uphill path is 2.5 miles uphill with a difficulty level of easy/moderate. There are five additional trails (more or less) that break off from the main 2.5-mile trail, varying in moderate to difficult levels (some steep and narrow trails to be aware of!). Whatever journey you decide to take at Harmon Canyon, you'll be in awe of the preservation efforts taking place in the canyon.

Parking is free at Harmon Canyon but get there early on the weekends— parking is often full! Dogs on leashes are permitted to join you on your hike up until the 1.6-mile mark.
Arroyo Verde
A local favorite park, Arroyo Verde

is home to Ventura's first all-inclusive play area for youth of all abilities. With BBQ stations, plenty of green grass to sprawl and have fun, six hiking trails, and baseball diamonds, a day at Arroyo Verde means a day of fun while you're hiking in Ventura.

The main hiking trail, the Arroyo Verde Park Loop, is 2.3 miles around with a lot of other trails forking off of it. It varies from easy to difficult at different parts of the trail with plenty of ups and downs. Bring sunscreen and a hat as there's not much shade on this hike. Plus, wear sturdy boots you're not afraid to get dirty. Dogs on leash are welcome.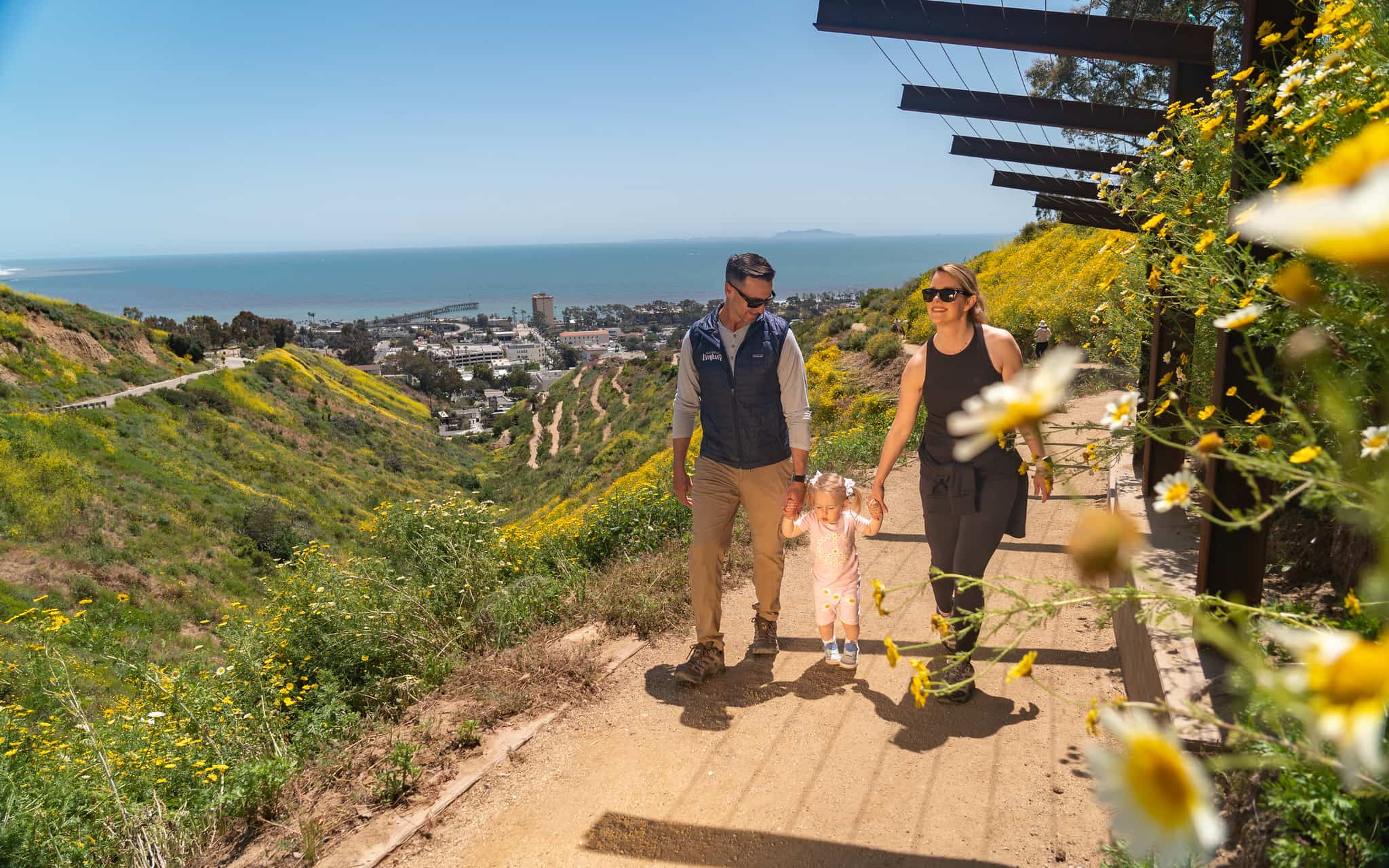 Take a beautiful nature walk through thousands of different botanicals, representing the five Mediterranean climates. Starting behind Ventura City Hall, the main trail is about 2 miles with smaller trails branching out. Difficulty level is easy to moderate but we guarantee you'll be too preoccupied with the beautiful view of the Pacific Ocean beyond and the glittering city below.
Parking is free, but limited. Admission is free on Fridays and $7 admission otherwise. The gardens are closed on Mondays. Leashed dogs are welcome Wednesdays and Fridays! Happy trails friends.
Find more hiking trails in Ventura County HERE.
Top Biking Trails Near Ventura
Bet when you came to Ventura you didn't expect the city to be framed by big beautiful mountains. Those mountains are calling your name to be explored. Mountain biking and bike paths are aplenty. Wondering where to bike in Ventura? Hit the trails and read on to learn about the top biking trails in Ventura.
Rincon Bike Trail
One of the most beautiful bike paths in California (yes we dare to say it!) is the Rincon Bike Trail

. 13 miles/21km is filled with the magical views of the blue ocean. You'll start at the Ventura Bike Depot and head north towards Rincon Beach. Plenty of opportunities for dolphin sightings, we wouldn't blame you if you took a break to take in the beauty and maybe even jump into the ocean. Talk about a fun detour!
Lake Casitas Loop
A real classic bike trail, the Lake Casitas Loop

is popular amongst the locals. A 40-mile trail, you'll start in Ventura, head up Ventura Avenue through Ventura Canyon and then loop around the north shore of Lake Casitas via a challenging climb up over Casitas Pass. It's a beautiful descent to the ocean and then back down the Rincon Trail to Ventura. A sense of adventure and a set of strong legs is required! The Lake Casitas Loop is a great bike trail in Ventura County.
Ventura Promenade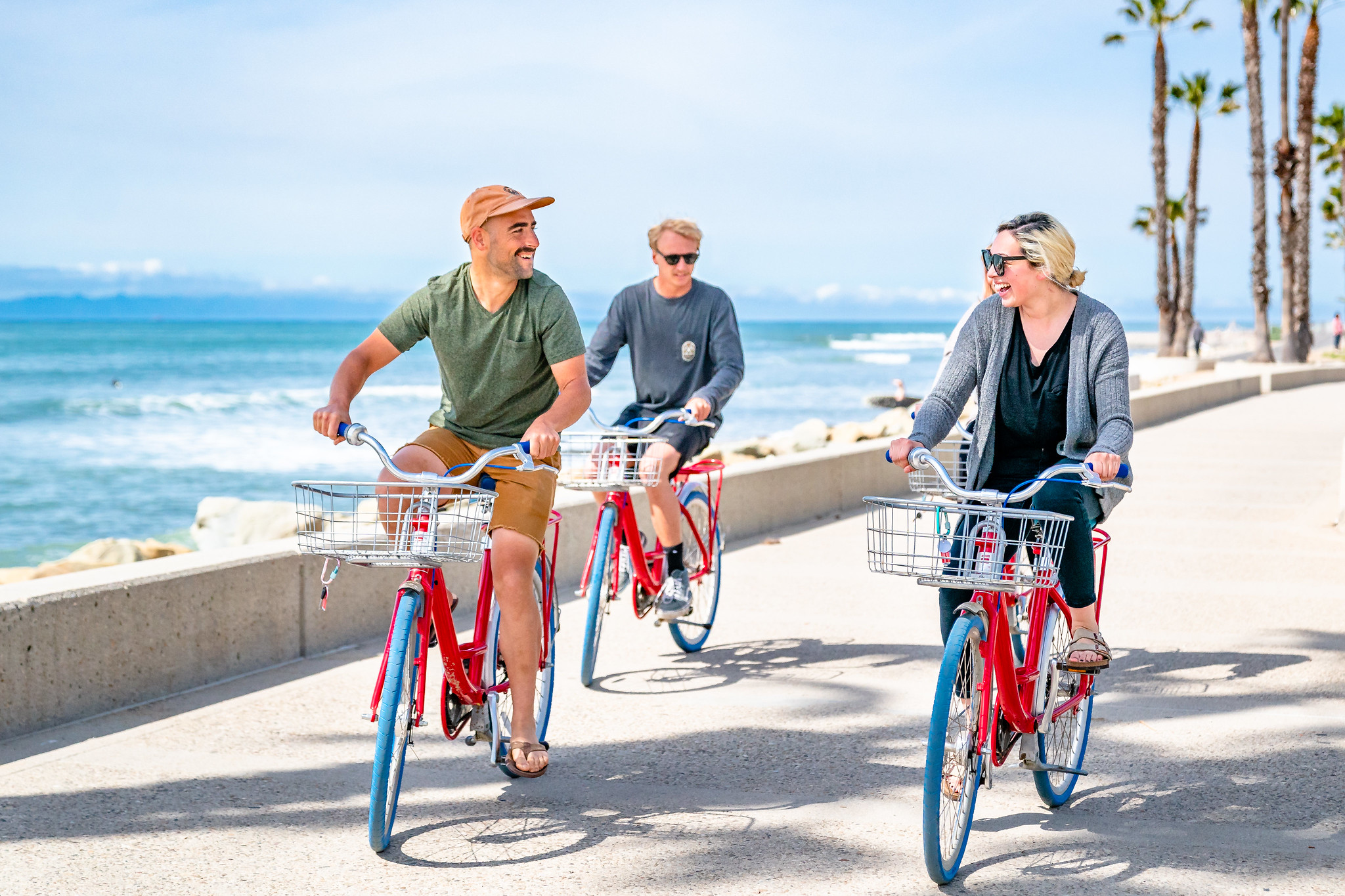 Looking for something you can bring the small kiddies along? The Ventura Promenade

bike path follows the ocean and is a flat and easy ride. About 4 miles, slowly ride along the paved road starting at the Ventura Bike Depot and ending at Pierpont/Seaward. A true experience of biking in Ventura with coastal views.

Find more biking trails/paths HERE.
Ventura Surfing and Swimming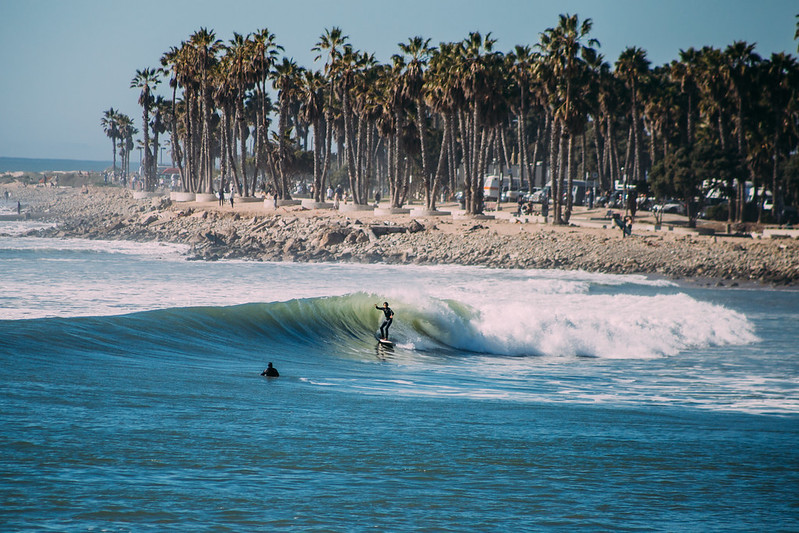 Ventura isn't known for being one of the best places to surf in the entire state of California for nothing. Our surfing history runs deep in our DNA and we're proud of it. In fact, the first professional surfing competition was hosted right at C-Street in 1965.

There are plenty of beaches in Ventura where you can catch a wave and surf in Ventura— some of the most popular spots and the best beaches to surf in Ventura include C-Street/Surfers Point and Rincon Beach.

The best part about swimming in Ventura? Our beaches are largely uncrowded and clean— that means there's plenty of space for you to lay out your beach towel and find a place to lay in the sun. Some beaches worth mentioning for optimal swimming are San Buenaventura State Beach

, Mondos, and Harbor Cove Beach.
Channel Islands National Park: Kayaking, Snorkeling, Hiking, and Camping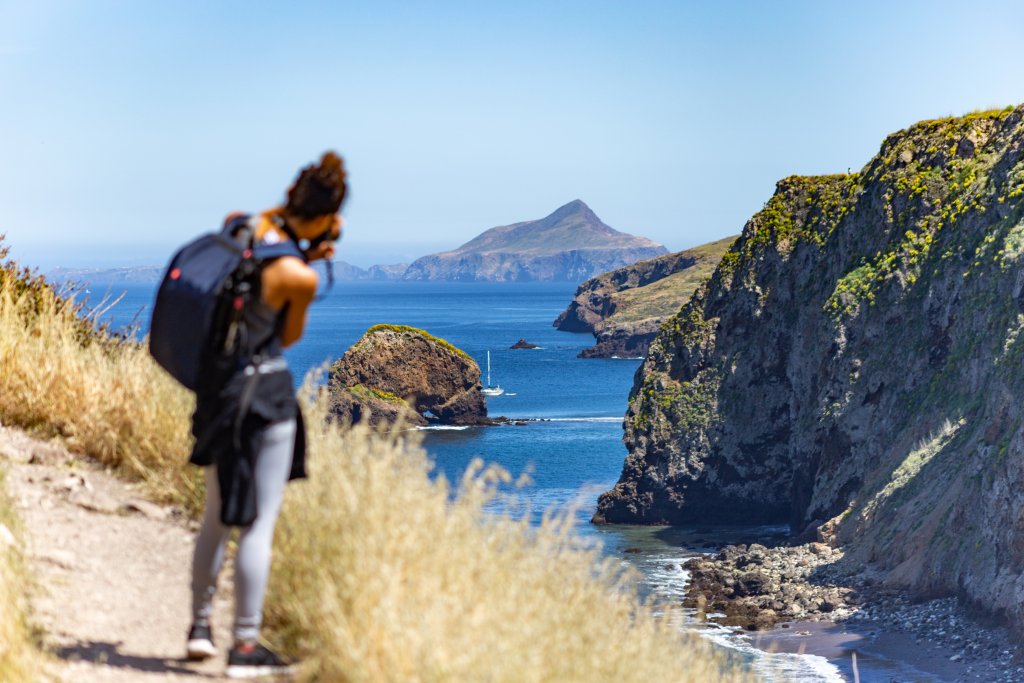 Just an hour's ferry ride from the Ventura Harbor

is one of the least visited national parks in the country. Explore where the wild things are at the Channel Islands National Park. Unplug and reconnect with raw nature.

Comprising five remarkable islands, you may find yourself going to Santa Cruz Island, the largest of the five. Here, you can sea cave kayak, rent snorkeling gear, or say hello to cute island foxes on the hiking trails. Whatever activity on Santa Cruz Island you choose, you're guaranteed to have breathtaking views and a serene experience.

Learn more about the Channel Islands National Park HERE.
Best Places for Running and Walking in Ventura
Aside from the amazing hiking trails in Ventura mentioned above, there are so many parks and green spaces that make it a great place to run or walk in Ventura. Take Ventura Community Park

or Camino Real Park (take a pit stop in the dog park to let your furry friend have some fun!) for example. Or, walk along the Ventura Promenade where you'll never lose sight of the ocean. Take a stroll along the Ventura Harbor where you'll watch boats come in and out of the harbor and may see some harbor seals as well!
Where to Skateboard in Ventura
Skateboarding in Ventura is as natural as breathing. Kids grow up calling skateparks in Ventura their second home. Ventura's skateboarding culture is widely known to locals as a "do-it-yourself mentality." Skateboarding in Ventura is gritty, real, and perfectly Ventura.
The way our local skaters are known to shred in the bowl and turn any bench, curb, or railing into something worthy of skating on gained some worldwide attention. In 2023, Ventura hosted the X Games finals weekend at the Ventura County Fairgrounds. Thousands of X Games fans flocked to Ventura to attend the first in-person, full-scale X Games competition since 2019. Records were broken, incredible memories were made, and local Ventura love was celebrated.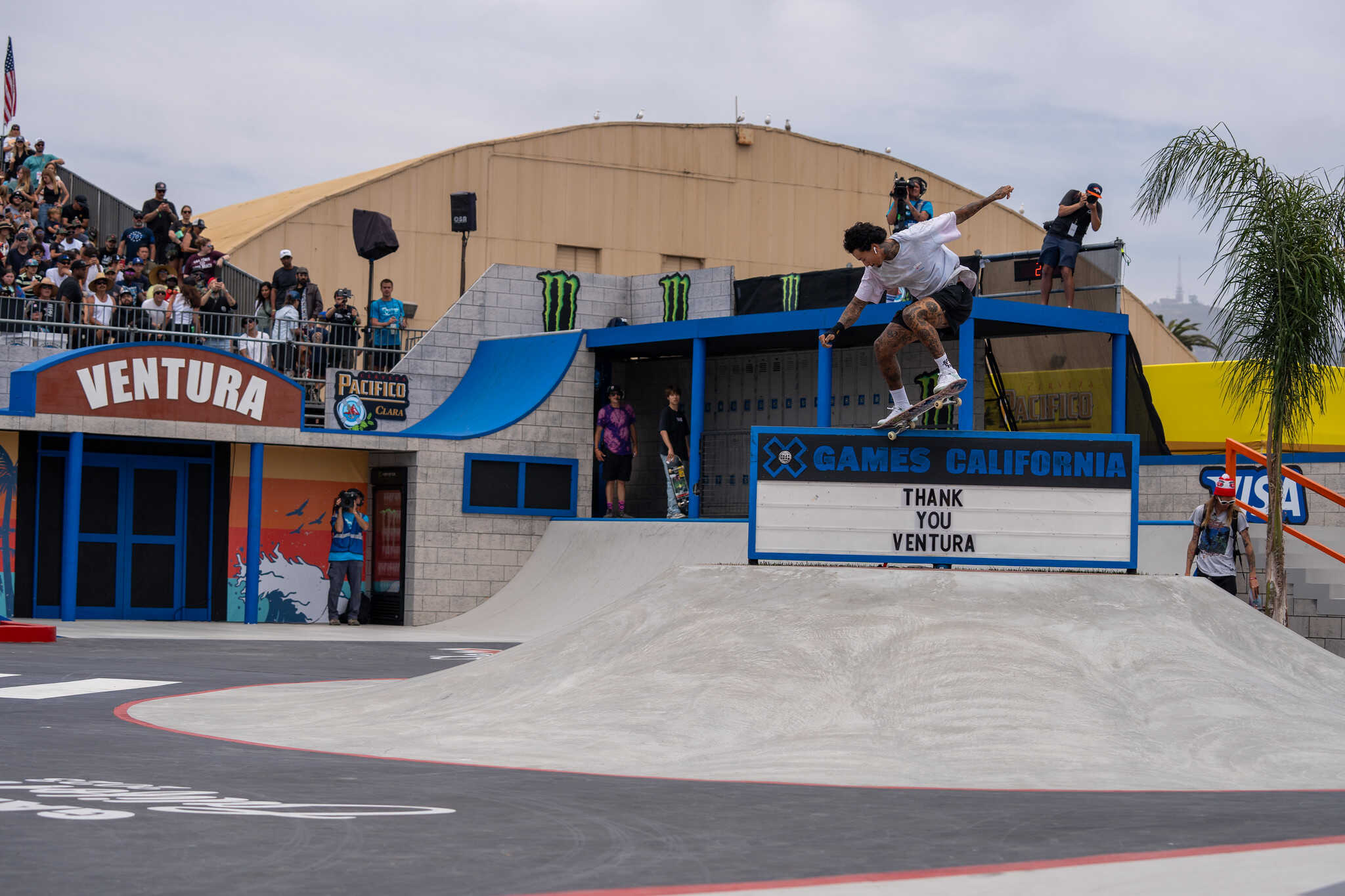 Maybe you'll be the next X Games rising star. Ventura has three skate parks that you can check out and practice at.
Hobart Skate Park
Perhaps an underrated skate park and park in general, Hobart Skate Park is located on the East End of Ventura and is a perfect hidden gem. A small but well-maintained skatepark, Hobart is open to beginning and experienced skaters alike. With an intimate vibe, practice skateboarding on the rail or just chill and hang out.
Westpark Skate Park
Undergoing a major expansion project in partnership with Grindline Skateparks, the Westpark Skatepark is located on the Ventura Avenue. Westpark Skatepark is in the heart of a major skateboarding hub in Ventura and locals and visitors alike will be excited to hear that the current expansion plan will expand the park to 20,000 square feet. Skaters can practice on the park's snake run, multiple bowls, and street features for beginners to intermediates. Skateboarding in Ventura at the Westpark Skakepark will be like nowhere else.
Pacific Skate Park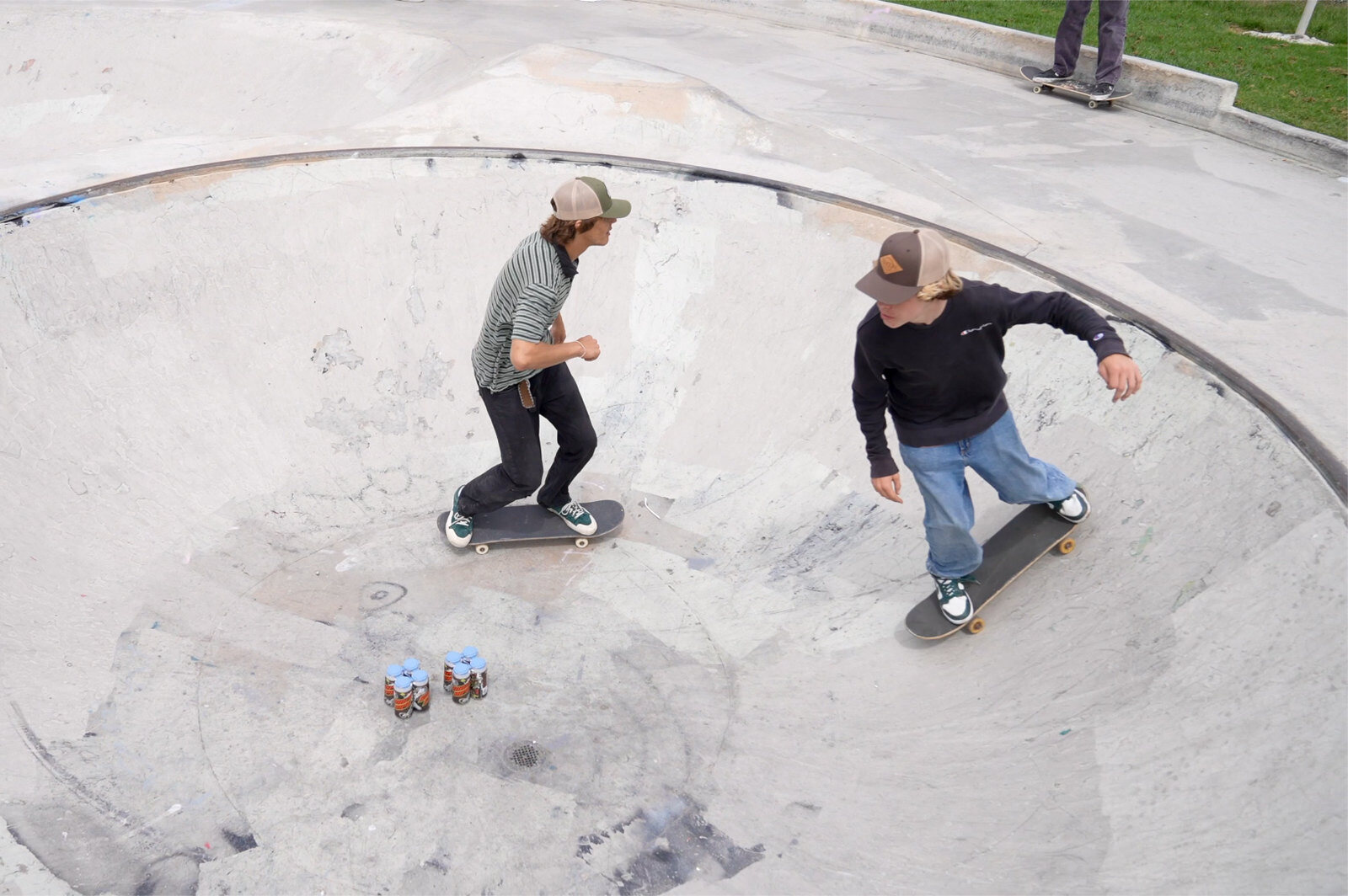 Located in the hub of midtown Ventura, Pacific Skatepark is incredibly accessible thanks to public transportation nearby. Coping lines the edge of the bowl which is moderately sized. After an afternoon of skating, grab a bite to eat at the Pacific View Mall and other to-go eateries nearby.
Where Can I Do Yoga in Ventura? Yoga Studios in Ventura
With sea salt air and a calming ocean breeze, you can lay out a yoga mat anywhere near the beach and experience a great yoga flow. But maybe you're wondering about where you can catch a class at a yoga studio in Ventura. More yoga studios have been popping up in town in recent years along with new vegan, vegetarian and health-conscious restaurants opening.

Where to start? Grassroots Yoga offers a 1 Week Travel Pass ($60) for out-of-towners which includes a yoga mat and towel rentals. Both Bodhi Salt Yoga and Portside Yoga offer similar deals for those visiting Ventura ($65). You can join a single class for $20 at Yoga Jones

and also drop in a single class at Firehouse Hot Yoga for $30.
Where Can I SUP or Stand Up Paddle Board in Ventura?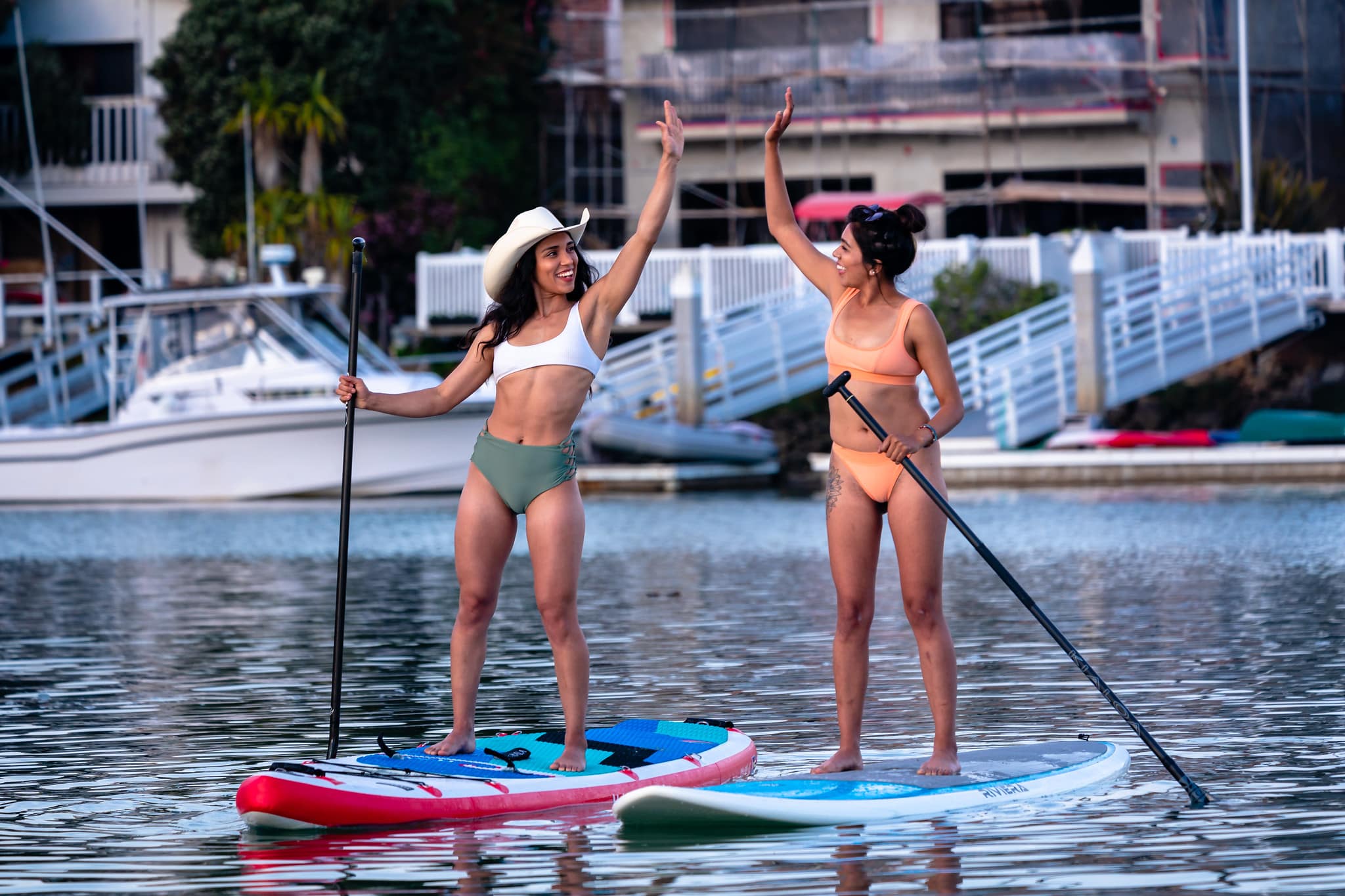 Wondering where you can stand up paddle board in Ventura? Easily, the most popular place to SUP in Ventura is at the Ventura Harbor.

Notorious for being deceptively harder than it looks, stand up paddle boarding in Ventura is a great way to get outside and have a moment of peace out on the water. Head over to the Ventura Harbor where you can make use of the public launch ramp to spend some time on the harbor waters.

Don't have a paddle board? Focus Hawaii Ventura is your one-stop shop for rentals, SUP Yoga classes, guided paddle boarding tours, and buying SUP gear. Channel Islands Kayak Center

and Ventura Boat Rentals also offer SUP rentals and some classes.

Things to Do


Family Fun

Hotels

Parking
Outdoors


Beaches & Surfing

Biking & Hiking Trails

Bird Watching
Discover More
Get to know Ventura, and discover the best things to do around the city.
Ventura Partners With