Welcome to Ventura, GRC friends!
Before we tell you everything you might want to know, we'd first like to thank you for kindly choosing our town for your conference. We're so very happy and grateful you are here!
Let's Get Started (with the fun)
In Ventura, we pretty much major in fun. There's Ventura Harbor Village, Ventura's historic Downtown, the adventurous Channel Islands National Park, and Ventura's fun off-the-beaten-track options. Or maybe you'd like to explore our burgeoning and unique craft brewery and winery scene . There's something for everyone here. We hope you can enjoy some activities during your downtime. Possibly see it as your uptime.
We Can Help
Not to undermine anyone's work ethic, but life is about work and fun. So when you check-in at either the Ventura Beach Marriott or the Four Points by Sheraton Ventura Harbor Resort, think fun and look for Visit Ventura's volunteers on Monday. They'll be manning a table in the lobby. They'll provide you with any information you need — and answer any questions you have. You can also call (or visit) our Visitors Center (805-641-1400; 101 South California Street).
Ventura Is Play
In Ventura, outdoor play is what we do. You should join in. The Ventura Botanical Gardens are right behind City Hall,

and there is plenty of free parking. A lovely display of stunning plants is rivaled by a high-in-the-hills panoramic ocean view. The Gardens are closed on Monday, and there is no entry fee on Fridays. The rest of the week they are open from 9 am to 5 pm, and the entry fee is $7 for non-members. GRC organizers, the Botanical Gardens has kindly offered free tours for your groups. Tours can be set up based on the availability of docents. All docent-led tours are free as long as they have been scheduled in advance. The Gardens folks will need to know how many people are in your group, the date and time you would like, and how long a tour you would like. They would also like to know if you would like a Botanical Tour or a General Overview Tour. Please email info@venturabotanicalgardens.com to arrange your tour. You won't be sorry! Also, individual GRC members, if you go to the Gardens on Tuesday between 1 pm and 3 pm, they will discount the admission fee from $7 to $5. And Fridays are always free!

Just above the Botanical Gardens, Grant Park

(easily identifiable by the large wooden Cross) also has amazing panoramic views.

And, on the East end of Ventura (about a ten-minute drive) there's the brand new Harmon Canyon Preserve, the perfect place to escape to the things that matter — like solitude and silence.

Looking for a walk with a few less hills? Anywhere you walk around Downtown will have a historic backstory. Take your own Walkable Self-Guided Historic walking tour; just come by our Ventura Visitors Center for a brochure.

Just a few blocks from Downtown there's the Pacific Ocean, in all its glory. Wander along the Ventura Pier and Promenade. The Pier, now a local place to see the sunset, was once the center of Ventura's commerce. Try the MadeWest Taproom at the foot of the Pier — their beers have won global awards and you can't beat the view.

Bike Rentals:

You can also rent bikes at Ventura Bike Depot

and no one knows the roads and trails better. They can point you to some beautiful rides. They also rent electric bikes if you like things just a little bit easier.

Think About a Visit to the Channel Islands (or a whale watching tour):

If you have time, or an extra day, seriously consider a trip to the Channel Islands with Island Packers Cruises. The islands have been dubbed the Galapagos of North America and, frankly, that's underselling them. World-class hiking, sea kayaking, diving, or just plain Nature-absorbing is only an hour's boat ride from Ventura Harbor and Oxnard-Channel Island Harbor. Depending on which hotel you're in, and which harbor, the harbors are either a five-minute or a fifteen-minute drive.

For more information on Island Packers Cruises, please click here. For a schedule of their whale watching trips, please click here. Please know that if you opt for a Wednesday whale watching trip, the return time of the boat (5 pm) will put you in late for the 4 pm poster sessions. Please click here for more information.
How About Some Ventura Harbor Village Fun?

0.8 miles from Four Points by Sheraton
2.7 miles from the Ventura Beach Marriott
Ventura Harbor Village is easily walkable and, as you can see, close to your hotel — added plus, lots of free parking.
Activities
The harbor carousel and arcade

will help you embrace your inner child. Take a break and grab your friends because the only limit to your fun will be when you run out of tokens. Who said you can't be a kid?

Haven't gotten enough thinking in? Puzzle your way out of The Ultimate Escape Rooms

at the Harbor. There are usually 8-10 folks trying to escape. You can either fill the room with your friends or join a group. If you would like to make reservations for your group call ahead. (805) 256-6600. Make sure you arrive 15 minutes before your scheduled escape and anticipate spending approximately an hour trying to get out – maybe:)

Near the end of the harbor, the Channel Islands Visitor Center

is the perfect place to learn about the glories of Channel Islands National Park and Marine Sanctuary without making a day trip out to the islands. Featuring a terrific movie (see if you can recognize the narrator's voice), a tidal pool, educational lectures, and even a replica of the pygmy mammoth skeleton found on Santa Rosa Island in 1992.
Retail
Plenty of cute shops in Ventura Harbor Village. Check out super wacky socks at Lost in Socks

and see which one of your friends can find the silliest. Crazy sock day has the potential to be every day with the right attitude.

Try on exaggerated hats at Hats Unlimited

and take selfies as a pirate, or maybe buy a cute sun hat. The Harbor Hatter will greet you at the door and you won't even have to fall down a magic rabbit hole to get there!

Shop for souvenirs at Casa de Regalos or Ventura Harbor Gallery and Gifts to take home with you to make sure you never forget about your memorable trip to Ventura.
Dining
You've got lots of choices at the harbor, but you'd be remiss to neglect the delicious seafood. Lots of seafood options. Andria's Seafood Restaurant and Market

is a local favorite; incredible clam chowder served in a sourdough bread bowl. Right across the parking lot, Brophy Bros also has delicious seafood (and great Bloody Marys). Plenty of sweets too. Don't walk by Top This Chocolate or Coastal Cone. with the famous fish-shaped waffle cone. Fratelli's Pizza and Brew is also another fun dining option right by the water.
Downtown Ventura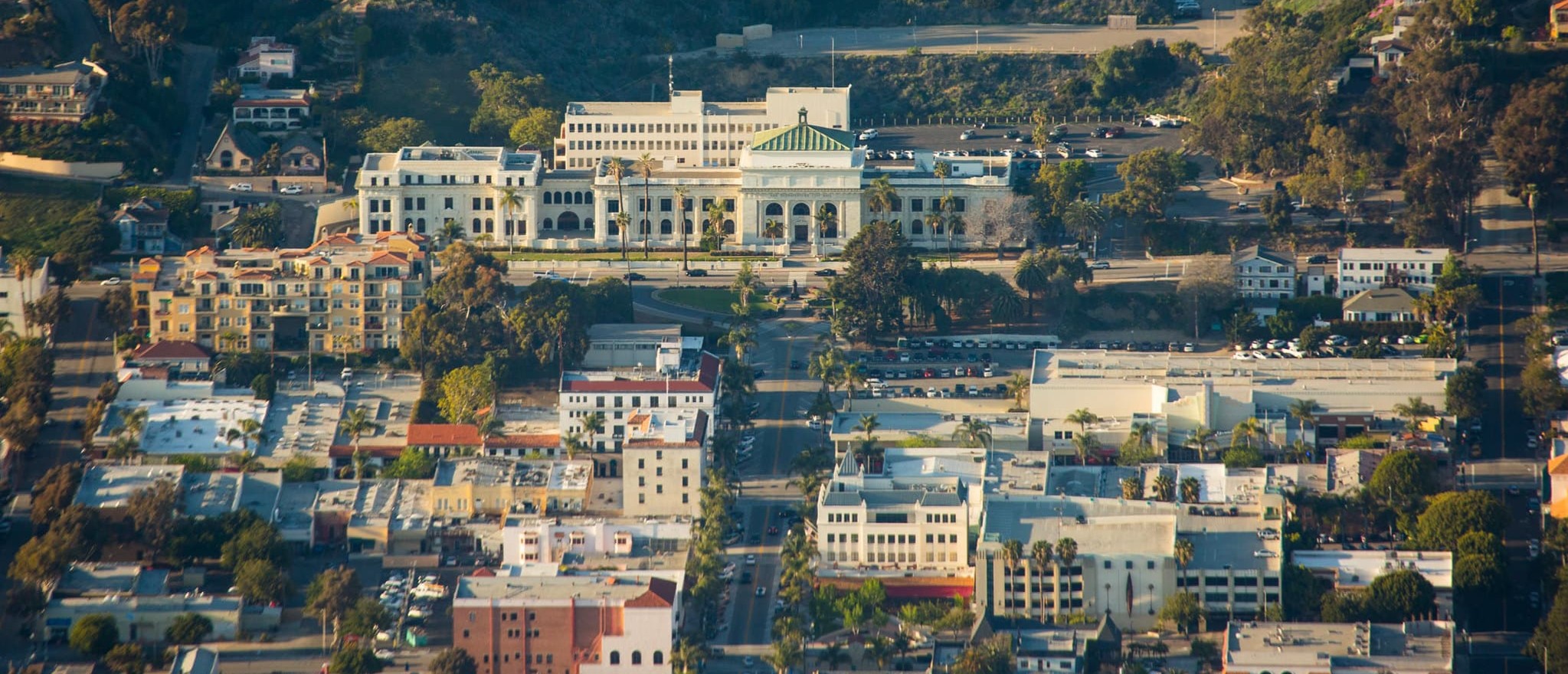 2.0 miles from the Ventura Beach Marriott
3.8 miles from Four Points by Sheraton
Historic Downtown San Buenaventura is extremely walkable. Just a few blocks from Main Street is the beach. Free parking lots are located all around the downtown area.
Retail
Walking along Main Street is its own experience. You get the uniquely eclectic Downtown lined with local retail businesses and locally owned (and diverse restaurants). Over 90 percent of the stores and restaurants downtown are locally owned — and that friendly face behind the counter is likely the owner. Our businesses in Ventura may be physically small, but they are huge-hearted.

Looking for unique sea glass jewelry? Betty Belts

is located just above the Polynesian restaurant and bar, Ventiki ( a fine place for a drink).

Up and down Main Street, you'll dozens of thrift and antique stores. People from all over the country and world come to browse these stores for finds. And, with finds in mind, step through the door of the Calico Cat Bookshop

and into a world of literary magic and hard-to-find books. Shop for souvenirs to remember your time in Ventura at our Ventura Visitors Center. Everything from free stickers, to distressed mugs, shirts, and even water bottles with our iconic Ventura ambigram logo.
Dining
Our walkable downtown is filled with a wide variety of restaurants. Maybe Nature's Grill

for something healthy and light (try their smoothies). Spencer Makenzie's is a local favorite. Try their fish tacos (and order them Brooklyn Style with a side of Sweet Chili Sauce). The outdoor patio at Rumfish y Vino is as lovely as it gets. Honestly, so many options. Click here for a deeper look at restaurants on and off the beaten track.

One last — very important — edible note. On the West end of town, Ventura Avenue has some of the best real deal Mexican food you'll ever taste. Referred to as the Taco District, with 12-plus family-owned Mexican restaurants as authentic and flavorful as you'll find. Looking for takeout? Johnny's Mexican Food

never disappoints. Dining in? Taqueria Tepatitlan has bountiful plates with micheladas that pair perfectly with their specialty dishes.

Things to Do


Music & Nightlife

Pet Friendly
Outdoors


Biking & Hiking Trails
Food & Drink


Restaurants

Outdoor Dining

Happy Hours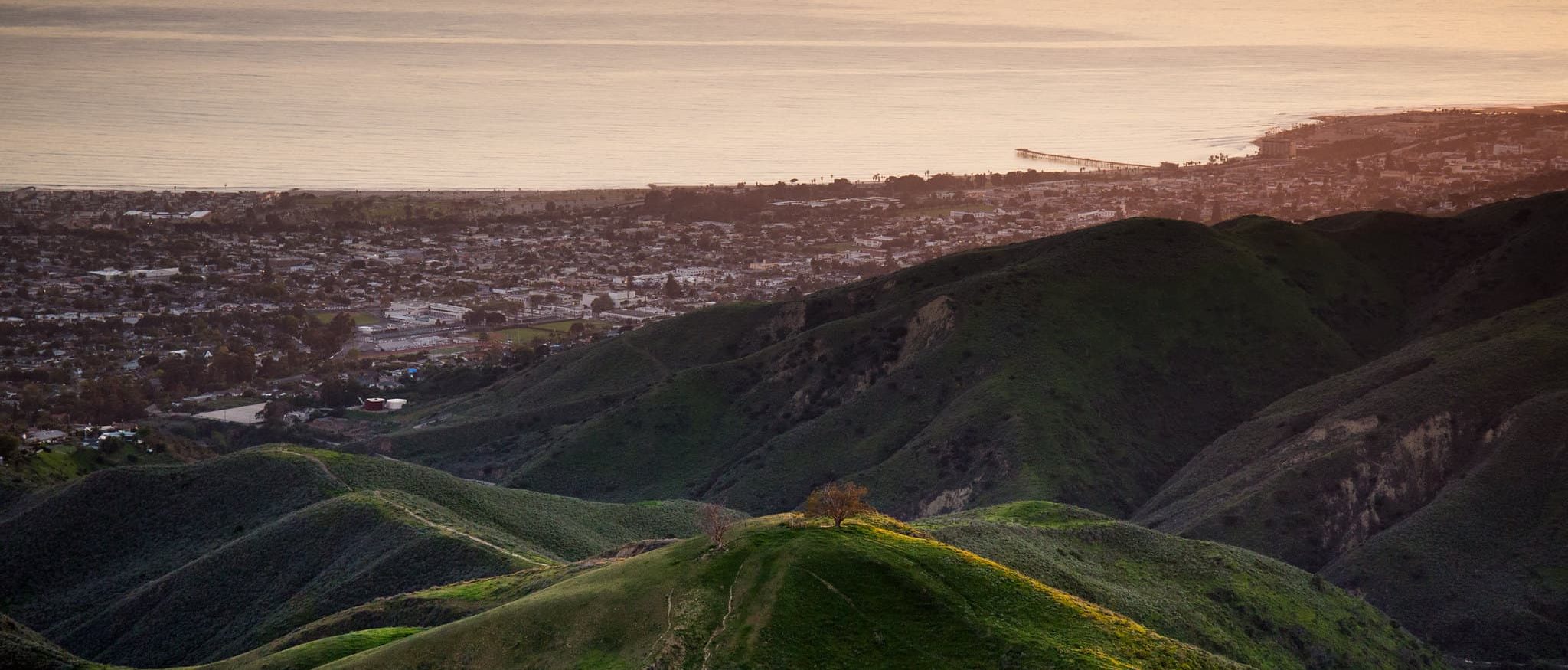 A Last Liquid Word
Last but not least, do not neglect Ventura's beer & wine scene. Keeping it short, in the past ten years, there has been a happy explosion of craft breweries and wineries, a liquid symphony, perfectly blended and played on your tongue, courtesy of brewers and vintners who relish the word experiment. They are pouring those delicious tastes all over town.
Ventura Partners With