Posted: Thursday, Aug 10th, 2023
A Small-Town Story of a Big-Time Event: the journey of X Games 2023 coming to Ventura
The dust has settled, the ramps have departed, and the sounds of motocross engines and wheels hitting the concrete have dissipated from the air. It moved in as quickly as it left but the effects of hosting the X Games California 2023 finals weekend will be felt through our community for years to come.
And we did it. Ventura did it. We brought the world's biggest extreme sports event to our small town. The world watched as the planet's best extreme athletes – and their thousands of fans – thrilled to it all in a small seaside town. Because we are, at heart, a small community. And that, as we know, is our power.
It truly is a story of underdogs and small-town bravery and determination. It's a story centered around locality, the magic of our ocean shores, streets, and people who love this town like no place else in the world. And that's really what attracted the X Games to our coastline in the first palace. Ventura is unlike anywhere else — and we know how to embrace an event like none other.
So really, while this is a timeline and breaking down the journey of bringing the X Games to Ventura, it really reads like a story. A story of a small town and its community hosting the world's biggest extreme sporting competition. It's a story of a small town's triumph and a big event's record-breaking weekend.
Ventura Announces the X Games Will Land in Town
Ventura Mayor Joe Schroeder perhaps put it the best way: "Ventura offers the ultimate playground for extreme sports enthusiasts. Our surf and skate culture is a key part of our community's ethos and naturally compliments the energy and excitement of an international competition like this."
On May 3, Visit Ventura and the City hosted a media event to announce that the X Games will land in Ventura summer 2023. It was Ventura's first press conference to announce a destination event — and this would be just the beginning of many firsts. You can watch the full media event here.
The day was one of excitement and a sort of cathartic relief. In reality, the prospect of the X Games coming to Ventura has been a years-long dance — dating all the way back to 2019. May 3 represented a groundbreaking event for not only the city but one that represented a triumph and accomplishment of dreams coming finally true.
X Games Ventura Traffic Plan: A Partnership For Sustainability
Starting from the very beginning of 2023, Visit Ventura worked hard to explore ways having the X Games in Ventura could be a sustainable and eco-conscious event for visitors and locals alike. Building off of a close partnership with the LOSSAN Rail Corridor Agency (which manages the Amtrak Pacific Surfliner), Visit Ventura started conversations about how encouraging fans to take the Pacific Surfliner to the X Games might work, and, as a result, have a positive impact on our community.
After all, train travel is 46% more efficient than car travel and one train has the potential to carry 16,000 passengers that would otherwise be on the freeways.
The result? 10 trains traveled up and down the California coast, as far south as San Diego and as far north as San Luis Obispo, to take fans right to the action. The X Games finals weekend brought a jaw-dropping 482% increase in ridership compared to the same weekend last year in 2022 — and this is just a preliminary data point. Anyone could tell you that trains were full of people choosing to travel sustainably to the X Games. It's easier than most think.
Plus, X Games ticketholders got 15% off their train fare using a special promo code, further incentivizing folks to hop aboard and leave the car keys at home.
Another first that came out of the X Games/Ventura partnership? The first ever two-car train wrap with LOSSAN on Pacific Surfliner trains. The imagery of popular X Games athletes and Ventura's name alongside it could be seen all along the California coast in the month leading up to the Games. Even greater news? The wrap will stay on the train until the end of the year even though the Games have concluded. Next time you hear the train, keep your eyes open for the wrap!
Plus, some local organizations stepped up to the plate. Bike Ventura and Revolution Surf and Skate provided free bike and skateboard valet to the locals who chose to bike or skate to the X Games. Close to 1,000 bikes were checked over the three-day weekend and around 700 skateboards were checked! Talk about the community being part of the solution and traveling green.
Beer, food, cocktails, and more — oh my! Local Businesses Embrace X Games
When it comes to local, Ventura is all over it. That's why we were determined to embrace the X Games as much as the X Games embraced us as their home for the finals weekend. We knew the event wouldn't be like anything Ventura has ever seen in its history. What better way to make an international extreme sporting competition our own than truly make it our own?
We asked our local business owners to show up and show out and they did just that. Over 40 locally operated businesses answered the call and created X Games-themed or inspired products to demonstrate their enthusiasm and support for this larger-than-life event.
Eight local breweries created a special release beer in honor of the X Games, complete with original and creative artwork, a cool name inspired by skateboarding, BMX, and Motocross or a mixture of all three. Two of the beers road the rails and were sold on the Amtrak Pacific Surfliner for the first time ever. You can read more about the special beer series here.
Businesses all around town from Downtown to Midtown to the Ventura Harbor jumped in and created an X-shaped burger, X Games nail art, a huge chocolate skateboard, and other creative products to celebrate the X Games. 15 different food and other products were dreamed up for the event by our small business owners — you can read about them here!
Last but not least, fans and locals alike were able to cheers to the X Games coming to town with 17 different cocktails in our local bars and restaurants. Names like "The 900" and "Moto Mocktail" were served on menus to fans' delight. Not only were they delicious but they were art in itself. And some of the craft cocktails were so popular that they'll stay on the menu permanently! Read a full list of cocktails here.
Inspiring the Younger Generation: X Games Athletes Speak at ATLAS Elementary School
Picture it. A perfect summer day with 200 kids laughing and screaming in delight as two X Games athletes do kickflips, ollies, and spins. On August 18, just ahead of the finals weekend, pro skateboarders Ruby Lilley and Bryce Wettstein spoke in a panel at a local elementary school before doing a demo of tricks, much to the students' delight (and the adults!).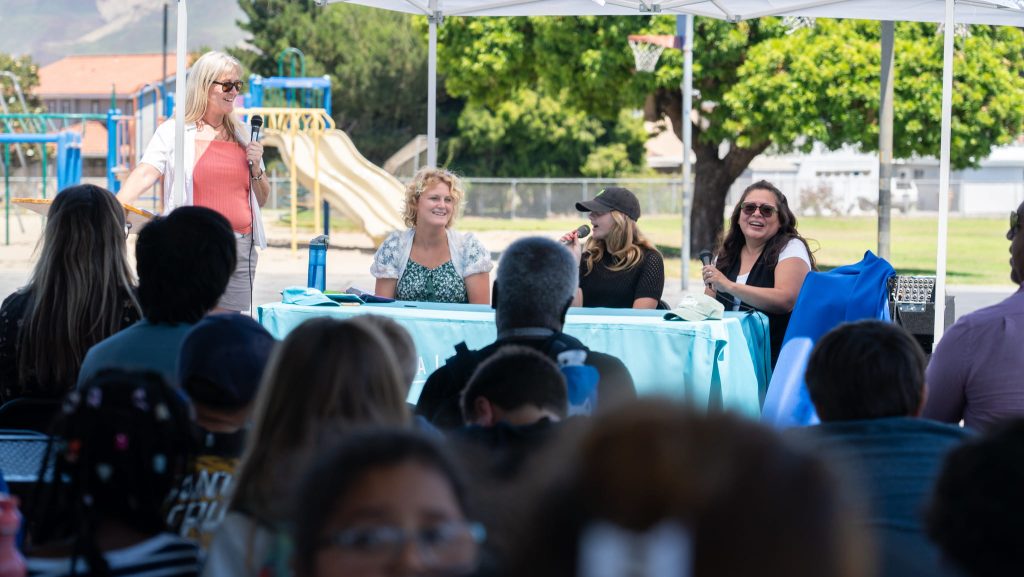 Spending time to show students how to skateboard and sign autographs was a major community event highlight. Bryce's mom smiled as she watched Bryce show a little girl her skateboard and explained that this is what Bryce lives for— getting the chance to talk to the younger generation and get them excited about skateboarding or anything else they set their heart on.
Thursday X Games Kick Off: Skate Jam, City Hall Light Show, and Visit Ventura Drone Show
It all began on Thursday night, July 20, in Downtown Ventura. Hosted by BlackHole SkateShop, the evening was just about as Ventura as it could get. Dozens of local skateboarders jumped on the homemade skateboard obstacle course to show off their skills. Visitors and community members stood by to watch and get in on the action in an evening full of local celebration and pride. X Games athletes stopped by for autograph signings and photos. Music played and the ocean breeze blew through the air. It was an evening that Ventura won't forget any time soon.
Just as the sun set, the lights went on. First up was the Visit Ventura Drone Show. 400 drones took flight on July 20, 21, and 22 to amaze and dazzle Ventura community members and X Games fans for the city's first-ever drone show. Launching on the debut night behind Ventura's City Hall, images of skateboarding, motocross, BMX, dolphins, and, of course, the iconic Ventura Logo shimmered in the night sky as it danced along to America's "Ventura Highway" song.
Directly following the Visit Ventura Drone Show as the City Hall Light Show, equally as fun and impressive. Classic and nostalgic Ventura vibes were projected on the early 20th-century building atop California Street.
X Games California 2023 Finals Weekend: record-breaking moments
The question is not which records were broken during the X Games California 2023 finals weekend but rather which records weren't broken? The list goes on and on… But here are the highlights:
X Games Day 2, Saturday, July 22 was sold out. History was made — this was the very first time X Games had ever had a sold-out crowd
Due to an unprecedented partnership between Visit Ventura, X Games, Amtrak Pacific Surfliner, and Ventura County Coast, two train cars were wrapped in X Games creative for the first time
X Games' merchandise sold out for the very first time. Official merchandise was sold onsite and also at the Ventura Visitor Center
X Games California 2023 witnessed the competition's first Chumash blessing in which three Chumash tribe members performed the welcoming in front of athletes and media
The Visit Ventura Drone Show was the first drone show in the city's history. A few thousand attendees raised their eyes to the skies on Thursday, July 20 for the drone show's first night in Downtown Ventura
Reese Nelson, 10, set a record for youngest X Games medalist of all-time at X Games California 2023 finals weekend with her silver medal in Women's SKB Vert
Arisa Trew, 13, smashed a record previously held by Shaun White for 20 years: youngest-ever X Games double gold medalist. Trew won gold in Women's SKB Vert and Park
A new youngest-ever average podium age record was set: The average age of the Women's Skateboard Vert podium was 13 yrs., 6 mos.
16 hours of content across ABC, ESPN, and ESPN2, experienced a viewership increase of nine percent versus X Games 2022
Telecasts averaged 459 thousand total viewers, up nine percent versus X Games 2022 and a 10 percent increase versus X Games Minneapolis 2019 (the last event with fans in attendance)
X Games was streamed live on YouTube, Twitch, and Caffeine.Tv with the addition of bespoke interactive content for a total of 4,623,302 combined views. This is a 427% percent increase from 2022 when X Games only streamed on YouTube
Discover More
Get to know Ventura, and discover the best things to do around the city.
Ventura Partners With