Posted: Wednesday, Jun 28th, 2023
Ventura Community Celebrates the X Games: cocktail series
Visit Ventura is excited to introduce to you, in collaboration with more than 13 different local cocktail restaurants, a special project for you to sip and enjoy. "Ventura Community Celebrates the X Games: cocktail series" celebrates the X Games coming to Ventura July 21-23 with over 16 unique and refreshing cocktail drinks. Each drink ties in the spirit of the X Games with Ventura flair.
All drinks are available NOW! Head out for a happy hour (or two). Cheers!
Check back frequently for more cocktails!
Cheers to the X Games coming to Ventura with Hazard-X, a specialty X Games-themed cocktail at Rumfish y Vino. Hazard-X is the first specialty cocktail as part of our "Ventura Community Celebrates the X Games: cocktail series"
Like the X Games, this cocktail can be hazardous! With multiple layers of heat, it threatens to be 'Hazard-X' to your palate. But, truth be told, the only threat is that you can't have just one! Hazard-X balances the heat with Italicus (a bittersweet citrusy liqueur), charred pineapple, a touch of smoky mezcal, and the perfect amount of cool fresh citrus to make this a fun in the sun, 'Hazard-X' kind of drink.
⁠
Made with Siete Misterious Mezcal⁠, Muddled charred pineapple, jalapeño, and fresh orange⁠, Italicus Bergamot Liqueur⁠, Ojai Habanero Apricot Jam⁠, Rumfish Belize made habanero lime bitters⁠, Fresh squeezed lime, and orange⁠. Shake- double strain over big cube- served with a charred pineapple wedge and their house-made tajin⁠
Cheers to the X Games coming to Ventura with Steezy Breeze, the second specialty cocktail from our Ventura Community Celebrates the X Games: cocktail series.
A sweet and tangy summertime drink, a sip of Steezy Breeze at Fluid State will have you dreaming of cool ocean breezes and X Games athletes soaring over your head.
A little poem to say in your head as your sip and enjoy Steezy Breeze:
In Ventura, land of sun and sea,
Where X Games come, to thrill and get busy,
A land of flips(flops) and tricks,
Where athletes soar, pulling daring picks,
A drink was born, with colors bright,
To refresh the riders, day, and night.
The Steezy Breeze, what a sight to see,
A concoction made, both wild and free,
We first take a glass, clear as the sky,
And fill it with ice, piled up high,
With a twist of lemon, and fresh passionfruit,
And pineapple rum, oh, what a beaut.
What about balance? We're not yet done
Fresh brewed tea, as bright as the sun,
Some Kentucky Bourbon, so dark and foreboding,
To elevate the flavor and keep the fun rolling.
Rounding it out, Ventura Spirits Limoncello,
Bringing a hue, and a sweet citrus mellow,
A nice touch of mint, sways in the Breeze,
Puts a smile on the face, perfecting the Steez.
In Ventura, where the ocean breeze blows,
We made the Breeze Steezy, tropical smell on the nose.
X Games in Ventura, where dreams come alive,
Grab a Steezy Breeze and let the stoke thrive!
The XtroVERT & Moto Mocktail at 📍Peirano's
Cheers to the X Games coming to Ventura with the XtroVERT, the third round of specialty cocktails from our Ventura Community Celebrates the X Games: cocktail series at Peirano's. But there's more! Bring your kids for drinks and they can have their own Moto Mocktail.
Sit and sip your drinks out on their patio with beautiful views of the San Buenaventura Mission and sparkling tiled fountain. The XtroVERT draws inspiration from the X Games' spirit of adventure and Ventura's unique blend of coastal charm. And inspired by the thrilling world of motocross and Ventura's vibrant energy, the Moto Mocktail is family-friendly. It gets an extra kick with a Monster energy drink float, symbolizing the adrenaline rush of extreme sports.
The Moto Mocktail is a refreshing tribute to the high-flying daredevils of the X Games.
The XtroVERT is made with 4 Roses Bourbon, Cinnamon Infused Peach Puree, Muddled Mint, Lemon Juice, Agave Syrup on the rocks
The Moto Mocktail is made with Basil Simple Syrup, Strawberry Lemonade with a Monster Float over ice
Tokyo Smokeshow, the fourth round of specialty cocktails from our Ventura Community Celebrates the X Games: cocktail series at Finney's Crafthouse is a visual delight with flavors that'll make your taste buds happy.
The cocktail will blow you away…Make sure you have your cameras ready for a photo-op!
Finney's Tokyo Smokeshow, much like the X Games, is an X-treme experience that will bring fun and excitement to everyone at the table. The drink is placed in a cocktail dome and filled with citrus and rosemary smoke for an X-treme presentation with aromas that'll make you want more.
Made with: Toki Japanese Whisky, yuzu, raspberry, Ventura Spirits Amaro Angeleno, lemon, smoked rosemary, egg white, and citrus smoke
Bird House & Project Plane at 📍Stout Burgers and Beers
Stout Burgers and Beers pay respects to the iconic and legendary skateboarder, Tony Hawk.
Stout Burgers and Beers is a new burger spot in Ventura. With killer burgers and a side of fries, the refreshing taste of Bird House or Project Plane will be the perfect way to end a meal.
The names Bird House and Project Plane give a humble nod to Tony's skateboard brand Birdhouse and his popular video game Project 8.
Project Plane is made with Corbin Cash rye whiskey, Amaro Nonino, lemon juice and Campari
Bird House is made with vodka, peach schnapps, prickly pear syrup, and Monster Energy drink garnished with a mint leaf
Things to Do


Ventura Shopping

Music & Nightlife

Arts, Culture & History

Pet Friendly
Outdoors


Biking & Hiking Trails
Food & Drink


Restaurants

Outdoor Dining

Wineries, Breweries & Distilleries

Farmers Markets

Happy Hours
The Twist on Main's "The 900" is the next specialty cocktail from our Ventura Community Celebrates the X Games: cocktail series.
The featured cocktail is inspired by and named after Tony Hawk landing a 900 in 1999. To make the drink stand out like Hawk's famous trick, the Twist lights it on fire! The cocktail mirrors Hawk's career with the baby steps of learning how to ride a skateboard, and then step by step building into something never seen before.
Enjoy live music at The Twist on Main with local bands and performers. The Twist's cool, rock-n-roll vibe is the perfect environment to relax and have some fun!
Made with Vodka, fresh lime juice, grenadine, splash of 151 rum, and Monster energy.
Get ready for the deliciously x-treme flavors! Bank of Italy: Cocktail Trust's "FrontSide Hurricane Stall" is the next specialty cocktail from our Ventura Community Celebrates the X Games: cocktail series.
The drink is an ode to a classic skateboarding trick that propels you into an explosion of rum punch goodness. Kick-flip your taste buds into a citrus-forward hurricane crusher with Cocktail Trust's special X Game drink.
Made with a trio of rums, blood orange, lime, tropical fruit blend, absinthe
This bright and tantalizing cocktail is designed to celebrate the BMX industry and have you catch some air into the X Games. A gimlet riff, "Baltan Barspin" will have your taste buds buzzing!
The cocktail spot is one of the newest bars in town. With a cool moody vibe, you can enjoy Japanese-inspired appetizers as you begin your night. Strange Beast's "Baltan Barspin" is a drink you can't miss out on!
Made with your choice of gin or vodka, yuzu sake, citrus, absinthe
Cheers to the X Games coming to Ventura with Water's Edge's "1080", the next specialty cocktail from our Ventura Community Celebrates the X Games: cocktail series. Get ready for this cocktail's color-changing magic
Inspired by skateboarder Gui Khury, the first person to land a 1080, the "1080" is true to its name. Watch the drink change color before your eyes! Mix the cocktail 3 times for the pretty light purple color to fill your glass.
The specialty cocktail is a delicious (and beautiful) drink to sip on as you hang out on Water's Edge's patio and watch the sunset in the harbor.
Made with gray whale gin, bee ginger simple syrup, Ventura Spirits limoncello, fresh lemon juice, Butterfly pea tea gentlemen's ice cube, fresh muddled cucumber. Garnished w/ lemon twist
Blood in a Half Pint at 📍The Six
This cocktail's daring name and equally daring flavor profile perfectly fits in with the X Games vibe. You'll be delighted with the overall light, fruity flavor during an evening out with friends and family.
Check out "Blood in a Half Pint" at the Six for a refreshing take on the X Games spirit. And don't forget to order appetizers while you're chilling at the Six. Known for live music and a hip environment, cheers to the X Games in between competitions at this local bar and restaurant.
Made with Neft Vodka, house-made blood orange simple syrup, Lemon juice, Averna amaro, and topped with Fever Tree Blood Orange ginger beer
B.T.X., Pat Casey "Double Decade Backflip", and MotoXross Mimosa at 📍Rocks and Drams
Good things come in threes! Cheers to the X Games coming to Ventura with not one but THREE specialty cocktails at Rocks and Drams: B.T.X., Pat Casey "Double Decade Backflip", and MotoXross Mimosa. These three drinks will immerse you in the true X Games spirit!
Rocks and Drams share their inspiration behind each drink:
1. B.T.X "Blanco, Tequila, Xtra Ginger Beer" It was watching ET that made me want a BMX as a young kid. We played outside in the streets until the lights turned on, building ramps from spare wood and nails lying around. We just wanted to fly in the air and race around town. This drink reminds us of the good times. The cherry with liquorice, anise and orange zest balances perfectly with El Tesoro Tequila Blanco. Just like when I was a kid I wanted my Cherry Red BMX bike to shine when stunting, peg wheeling or soaring in the air.
2. Pat Casey "Double Decade Backflip" This drink was created in honor of Pat Casey, who died June 6th. Pat Casey was the first BMX rider to ever pull off the "decade backflip" and "double decade backflip" in competitions. Casey medaled at both 2012 and 2013 editions of the X Games before earning his first gold medal at the X Games in 2021
3. MotoXross Mimosa – this one is extra special to Bar Direct Kris: Motocross has always been a sport that both men and women can be great at. There is a thrill of riding on the edge, of performing at one's peak potential and beating another racer to the checker flag. When he met his wife, she owned two dirt bikes, and two very fast sports bikes. He grew up riding cruisers and dirt bikes. Riding for sport or for enjoyment has always offered freedom and equality to all, that goes the same for Mimosa. The idea was to grab the iconic Mimosa and balance the drink with beer, bourbon and what would be an italian spritz. The Mimosa name itself is a kind of plant that can have bright yellow flowers, the color of the Mimosa drink when made with equal parts orange juice to champagne (I prefer Cava), resembles the Mimosa plant color. While creating MotoXross Mimosa he did a deep dive into Italian spritz and learned the Mimosa plant has been a symbol of women's movement since the 1940's, it is said to represent resistance and solidarity. The belief is that a bartender at the Ritz Hotel Paris in 1925 invented the cocktail for movie director Alfred Hitchcock. We feel the MotoXross Mimosa represents the uniqueness of Hitchcock, the wild thrill and sometimes craziness of strapping yourself to the perfection of two wheels and a fast motor!
B.T.X "Blanco, Tequila, Xtra Ginger Beer" is made with Peychaud's Bitters, El Tesoro Blanco, Lemon, Antica Sweet Vermouth, Fever Tree Ginger Beer
Pat Casey "Double Decade Backflip" is made with El Tesoro Blanco Tequila, Absinthe, Cucumber, House Pineapple Shrub, Lime, Sugar Cane
MotoXross Mimosa is made with Makers Mark 46 Bourbon, Luxardo Aperitivo, Passion Fruit, Lemon, Tarantula Hill Liquid Candy
The party's at Bombay! Make a stop at Bombay to try their special X Games cocktail, the BIGFLIP. Best way to describe the drink? Refreshing, summertime, and delicious. This drink is great for a hot day, especially after watching your favorite extreme athletes compete at the X Games at the Ventura County Fairgrounds.
Looking for some fun after a day at the X Games? Head over to Bombay where the party never stops! An indoor dance floor plus space in their outdoor patio makes Bombay a great stop for fun with friends.
BIGFLIP is made with Drake's organic vodka, Fresh house made watermelon juice, muddled cucumber, muddled mint, and mint sprig garnish
The Xtreme Cocktail is a 21st-century take on the Whiskey Sour. Incorporating the flavors inspired by the X Games, but keeping in line with what Winchesters is known for, the Xtreme Cocktail is one to try.
Sit a spell and hang out at Winchesters. The local rustic spot in town is known for awesome live entertainment and a down-to-earth vibe. On a warm sunny summer day, laughing with friends on Winchester's outside patio is the best way to spend lunch. And don't worry– you'll stay toasty warm when the night gets a little chilly with their patio heaters too!
Made with Four Roses Bourbon barrel aged in-house for at least 6 months, served over ice with fresh lemon juice, a splash of soda, and a charred lemon wheel.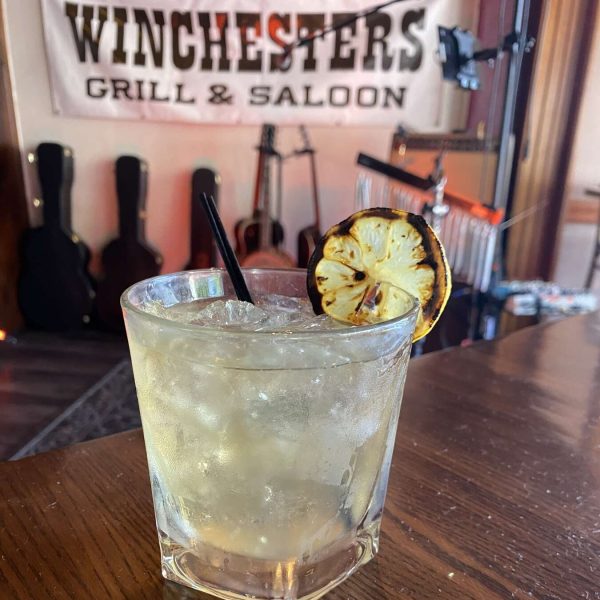 Check out Barrelhouse 101's cocktail to celebrate the X Games coming to Ventura! The Melon Grab is for those who work hard and play hard, thanks to the incorporation of Monster Energy in the cocktail.
The drink is available in regular and slushie form for maximum thirst quenching and energy!
Barrelhouse 101 is just blocks away from the Ventura Pier and is the ideal spot to hang out with friends and family. With 101 beers on tap, you can take a guess how the local staple got its name. The space invokes old-school cool with its barrels and rows of beer taps on the wall.
Make sure to grab one of their killer burgers on the menu (don't forget the onion rings!)
Made with Monster Energy Green, Midori, & Reposado Tequila.
Nollie Inward Heelflip at 📍VenTiki
The "Nollie Inward Heelflip" tastes like a tropical paradise and will transport you to our beautiful Ventura beaches with sunshine on your face. A delicious drink, VenTiki does it again. Make sure you head over to taste this cocktail in between the competitions!
VenTiki's tiki longue vibe makes it one of the most unique bars in town. A true staple to any bar-hopping adventure or lunch out with friends, you have to check VenTiki out while you're in town for the X Games!
Made with lemon juice, pineapple juice, pineapple syrup, hibiscus iced tea, Soggy Dollar Rum, Lemon Hart 1804, and a dash of bitters.
Invert at 📍Aloha Steakhouse plus X Game Burger
Cheers to the X Games with Aloha Steakhouses's specialty X Games cocktail "Invert". An upside-down Pacifico beer in a mug with a shot of tequila, the Invert is simple but encompasses the X Games vibe to the core.
Plus, the Invert is a great pairing with Aloha's bonus burger which is shaped like an X! Topped with cheese, fried jalapenos, bacon, and avocado (along with their secret skate sauce), the burger is a sight to behold! Each ingredient is totally shaped in an X — it doesn't get more X Games than this!
So you have a cool X Games-themed cocktail and burger…what else is missing? A view?
Look no further than Aloha Steakhouse. It is an oceanfront restaurant, offering stellar views of our historic Ventura Pier and our beautiful coastline. Serving delicious seafood and other steakhouse classics, you can dine inside or outside on their patio to feel the ocean breeze through your hair.
Happy hour is Monday-Friday from 3:00 pm to 6:00 pm.
The Dark Side Rail Slide and Back Side Black Cherry at 📍 The Benchwarmer
The Benchwarmer is back with two special X Games cocktail drinks! Enjoy The Dark Side Rail Slide and prepare to enter the dark side and enjoy this rum-inspired refreshing summer cocktail! Plus step inside and have a Back Side Black Cherry Grind a light and citrusy cocktail.
Discover More
Get to know Ventura, and discover the best things to do around the city.
Ventura Partners With