Posted: Friday, Nov 3rd, 2017
Celebrate Everything the Holiday Season is about with Holidays at the Plaza
by Skylar Ryan-Grant
We Central Californians often get teased by our friends and loved ones in chillier climes for our mild Winters. But, we ask, what's better than a barefoot beach walk on New Year's Day? Beautiful, clear Winter nights? Christmas Eve bike rides? Christmas Day hikes? And yet, as the Northern Hemisphere moves closer toward the solstice, we the get the same long, dark nights and short, chilly days that make us crave light and cheer. And as many of our favorite holidays come around, we might not see the snow, but we still love a good hot chocolate and all the traditions that make this time of year feel so close to many of our hearts. Of course, it only makes sense we would do it in classic California fashion. For the first time this year, Downtown Ventura is starting a new winter tradition, one that's inspired on so many of the traditions of old: Holidays at the Plaza. This yearly winterfest will temporarily transform
Downtown's Plaza Park
into a
Candy Cane Forest
, covered in fully decorated and illuminated Christmas trees. With the intention of celebrating Ventura's rich community and spreading good vibes, these fresh-cut trees will be sponsored and decorated by local businesses, nonprofits, and families around Ventura.
If you'd like, you can sponsor one, too
! Join us Downtown for a walk in the forest and this completely free, family-friendly, all-faiths festival between December 8th and January 2nd. Holidays at the Plaza will also be hosting free events, including an
outdoor movie screening
of
How the Grinch Stole Christmas
and Tom Hank's
The Polar Express
. Bring your serapes and fold-out camp chairs, and we'll provide the hot chocolate.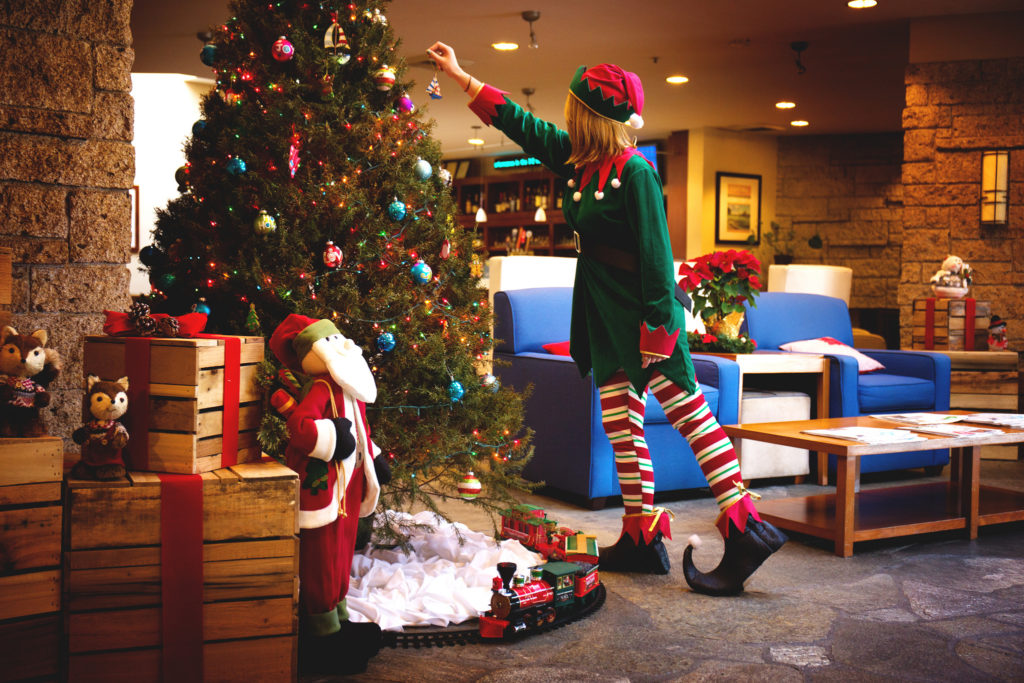 Continuing to take advantage of our iconic mild Winters, an outdoor
silent disco
will take place on Friday the 15th. Pick a DJ of your choice and dance with your friends under the lighted trees, enjoying the
beer garden
provided by Ventura Coast Brewing Company. Local yoga studio Pop Up Yoga will be hosting a donation-based
Yoga with Santa
for you to pause from all the inevitable holiday craziness and take a few deep, calming breaths of that nostalgic fresh pine on the 10th. Speaking of Santa, stop in at
Santa's Workshop
on the 9th, and be a Christmas elf for a morning or afternoon. This all day craft fair has tons of art projects and activities for the kids (and the kid in us all). Be sure to book your tickets for the following weekend, too, where you and the little ones can catch
Breakfast with St. Nick
. Expect a total of
twelve possible Santa sightings
over the course of the celebration, so be sure to keep your phone charged or pack a camera whenever you visit the Plaza this year. There are plenty of non-Santa related events to honor the season, too. On the 5th day of Hanukkah (Monday, December 18th), Temple Beth Torah will be hosting a
Menorah
Lighting and welcomes anyone who wants to learn what the Menorah and this special holiday are all about. On the 22nd, the Ventura Interfaith Ministerial Association will be dedicating a
Peace Pole
in the Veteran Peace Garden as a communal celebration of love, hope, and peace around the world. And on Sunday the 17th, the Unitarian Universalist Church of Ventura will host a
Remembrance Ceremony
to keep those we have lost close to our hearts at this often bittersweet time of year. All three events are open for people of all faiths to come, learn, express, and celebrate the spirit of the season in all its wholeness together as a community. And community is what this festival is all about. Visit Ventura is excited to be a part of this winterfest, intended to bring our local community together to have fun, and celebrate everything special this season represents. Be sure to stop by our Christmas tree, and we'll see you there, with a pair of sunglasses, a Patagonia fleece, and cup of hot cocoa in hand. Maybe afterward we'll take a barefoot beach walk, too. For more information, visit
holidaysattheplaza.com
.
Discover More
Get to know Ventura, and discover the best things to do around the city.
Ventura Partners With