Posted: Monday, Sep 28th, 2015
Ventura Autumn Bucket List
VENTURA AUTUMN BUCKET LIST
Fill up your Ventura Autumn "Bucket List"…before the season kicks the bucket!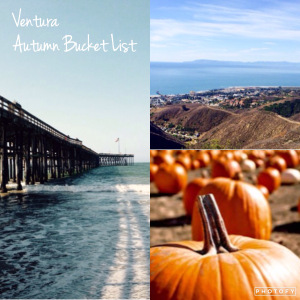 Make the most of these next 90 days (Sept 23-Dec 21) by picking and choosing from this fun list of local activities right in our own backyard!
---
LEARN THE "THRILLER" DANCE
You know you want to! Not only is it the coolest thing you could ever do, but it's also a great workout! Molly Brown Hill has been teaching the dance for years to both men and women of all ages. Drop-in at classes any time that fits your schedule. Look on the link for the YouTube video that breaks the dance moves down.
Ventura (between Winco and Burlington)
$5.00/class
Ages 6 and up
Classes-1 hr
Join the FitZone Ventura in learning the Thriller Dance
After you get those zombie dance moves down, dress like a zombie and do the Thriller dance with a big group on "Thrill the World" day…OR come out and just watch!
THRILLER DAY
Ventura Harbor
---
PICK YOUR OWN PUMPKINS
Nothing says Autumn like visiting a field and plucking a pumpkin right off the vine! It's way more fun to pick from a patch especially from those who grow their own!
Popular local patches:
McGrath Street Pumpkin Patch
Great Pacific Pumpkins
McGrath Brothers
5100 Olivas Dr
Ventura
Open everyday in October
---
We are fortunate to have 3 wonderful Farmers Markets in Ventura. Grab some seasonal bounty and whip up a hearty meal! (Article on Ventura's Farmers Markets coming next!)
Pacific View Mall
Main St (near Red Robin)
Ventura Community Park 901 South Kimball Road
Downtown
Santa Clara Ave. and Palm St.
Can't get to the Farmers Market?
Check out…
A & F Country Market
It's the big red barn storefront where Telephone Rd meets Olivas. They stock local produce daily! Super friendly service too!
---
WANTED: TREASURE HUNTERS!
Seeking collectibles and secondhand treasures? You're in luck! We have thrift stores galore and two awesome flea markets at the Ventura Fairgrounds!
EVERY
Wednesday
. Come hunt for treasures, antiques and wares. Bonus: it just costs a buck!
$1
RG Canning Flea Market is every other month (next one is THIS 
Sunday, Sept 27
). RG Canning brings this  little gem (a smaller and intimate version of the famous Rose Bowl in Pasadena. A MUST for treasure hunters.) to our seaside town on the
2nd
Sunday
of every month.
(Early bird entry 
6am-9am
$10)
---
We'll have a FULL HARVEST MOON
Always FREE
Werewolves unite! Be sure to look up and enjoy the fullness!
---
TIDE POOLING!
Negative Low Tides
---
WATCH THE SUNSET
We are spoiled with the most amazing sunsets during Autumn. Best spots to watch: from the beach or The Cross at Grant Park.
Sunsets: 6:45ish (October to 6ish (November).
---
HARVEST FESTIVAL
Artisans and crafters from all over sell their handcrafted wares at this popular annual event.
Harvest Festival
Ventura Fairgrounds
(Closes at
5pm
on the 4th)
Adult $9.00
Senior 62+ $7.00
Youth 13-17 $4.00
12 & under free when accompanied by an adult
(FREE ADMISSION goes to the first 100 attendees each day. One ticket is good for all three days!)
---
PIER UNDER THE STARS
In its 26th year, the
best of Ventura County restaurants, wineries and breweries come out for this fab event under the starry sky benefitting our historic Pier (maintenance and beautification). Music, dancing and this year adds…a tiki bar!
Pier Under the Stars
Ventura Pier
$75 (get your presale tickets before it sells out!)
https://www.pierintothefuture.org/pier_under_the_stars.html
---
***Volunteers Needed***
Ventura Harbor Beach (at end of Spinnaker)
A wonderful day at the ocean (surfing, beach obstacle course, tandem surfing, body-boarding, kayaking, SUP and outrigger canoeing) for our Special Needs kids/adults. Give back by donating your time and put a smile on someone's face!
---
ROCKY HORROR PICTURE SHOW with the Letter Follies Burlesque
The one and only iconic RHPS!
Ventura Theater
$10-$20
18 & over
---
SEASIDE HIGHLAND GAMES
Three days of Scottish Heritage fun! Game competitions on the 
Oct 10 & 11
.
Ventura Fairgrounds
$14-$25
---
THE COLOR RUN
Gather your buddies and participate in this fun and colorful run! Sign up ASAP!
---
FULL MOON
---
DAYLIGHT SAVINGS
Fall back
---
TOUCHDOWN!
Support our local School teams. Go to a Ventura College or a High School (Buena, St Bonaventure, Ventura) game. Wear school colors! Don't forget to tailgate!
Put this one on the calendar:
Buena HS vs Ventura HS
at Ventura High Stadium
(The whole town shows up for this cross town rival matchup!)
---
GO HIKE!
Our charming seaside town is blessed with mountains that meet the sea! Hit the dirt trail and take in some nature with stunning views! We have 3 popular trails that are easy to moderate.
1) Ventura Botanical Trail:
Our newest gem that is still growing! Trailhead is behind City Hall (Poli and California St.). This easy trail is switchbacks with benches, local flora and stunning views of Downtown, The Pier, The Channel Islands. A few options: A) Cross the road at the top and continue to the 91 stairs that leads to the top for the granddaddy of views. 2) Follow the road to the left to Grant Park. Take the dirt path above "The Cross" and go up! 3) Cross the road and go right to the big parking lot for a nice plateau offering a more panoramic and unobstructed view.
2) Arroyo Verde Trail:
at Arroyo Verde Park (Foothill and Day Rd) which is a system of trails upon trails in the hills surrounding the park. There are so many options! Go easy and stay on the lower trail or take the higher trails for more of a challenge. The views of the Channel Islands on a clear day are spectacular.
3) "V" Hike:
Trailhead starts at top of the hill. Take Chrisman to top and go left on Sunset until you see a clearing and water towers on the right. Park along the street. Go up! It's private property, but they welcome considerate hikers! Pass through the locked gate and visit our "V" landmark. Continue on the dirt path straight up or to the left for the most stunning views of our hills behind and Two Trees to the South. Longer and more challenging hikes go to the Towers above on the hill to the North.
Check out our fledging suds and grapes scene! Visit their tasting rooms during harvest season:
-Wine:
-Brews:
Our breweries whip up awesome craft beer using our local seasonal ingredients!

Ready, Set, Let's ROAM…in the 805!
Discover More
Get to know Ventura, and discover the best things to do around the city.
Ventura Partners With