Posted: Thursday, Nov 14th, 2019
The World's Smallest Fox on one of the Largest TV Shows
by Visit Ventura featured image by Heliconia Press
Yes, our very own
Channel Islands
' island fox made the Big Time,
appearing on the Today Show
(not that island foxes are much for taking a bow). More important, the Today Show's excellent story highlighted one of the fastest recoveries of an endangered species ever. Here, someone does deserve a bow — namely the many hands that plunged in to see to this near miracle; diligent, caring, anonymous hands most of the world will never know (though you'll see a few of them in the video). The Today Show did an excellent job of describing the fall and rise of the island fox, so we'll let you listen to them. But it is always good to see the big picture — what can happen when all those caring hands, well, lend a hand. Summed Dr. Scott Morrison, lead scientist for The Nature Conservancy (one of the many organizations involved in the recovery process):
"This recovery is a terrific example of what can happen when people roll up their sleeves to restore an ecosystem."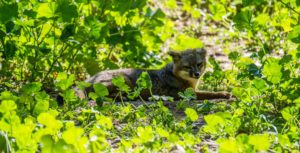 A few fun island fox facts (should you find yourself suddenly interviewed by the Today Show)…
A descendant of the mainland gray fox, the island fox is the largest of the Channel Islands' native mammals. That's not saying much. At 12 to 13 inches in height, and weighing in at 4 to 5 pounds, it's about the size of your cat.
The island fox is found on six of the Channel Islands just off Ventura's coast, including the three largest islands in Channel Islands National Park (Santa Cruz, Santa Rosa and San Miguel islands). Island foxes also live on San Nicolas and San Clemente islands (both owned by the US Navy), and Santa Catalina Island. Each island population is recognized as a separate endemic or unique subspecies. They are found nowhere else on Earth.
The island fox is the only carnivore unique to California.
They can live up to 15 years.
Unlike nocturnal gray foxes, which hunt exclusively at night to avoid predators, island foxes have no natural predators, so they are active during the day. This makes it a lot easier for visitors to see them, and they are an impossibly cute sight. Big burly men have been known to make cooing noises.
Book a trip to
Channel Islands National Park and Marine Sanctuary
with
Island Packers
and have a look for yourself. Coo if you want. Everyone will understand.
For more great stories, request our FREE inspiration guide right to your door!
Check out upcoming events!
Discover More
Get to know Ventura, and discover the best things to do around the city.
Ventura Partners With