Posted: Friday, Oct 25th, 2019
7 Fall Events in Ventura You Won't Want to Miss
by Visit Ventura featured image by Ventura Harbor Village
Ventura's Fall is here, with crisp, penny-bright blue days, star-bright nights, and crimson and gold sunsets that will drop you to your knees.
How to celebrate Fall's glory in Ventura?
Post up for Fall's stunning sunset showcase. The
Ventura Pier
offers the perfect front-row seat for Fall's sunsets. Enhance Fall's glories by gazing at the colors through the happy warp of golden liquid at
MadeWest Brewing Company
on the Pier. Or bring your own beverages to salute the sunset from high atop
Grant Park
. Ventura's cool Fall mornings pair perfectly with cozy sustenance, from warm racks of pan dulce at Herrera's Bakery on Ventura Avenue (Panaderia Herrera on the sign outside) to
Cafe Du Suro's
maple bacon croissant. Or both, if you recently re-upped your gym membership. Cool nights cry for the same culinary comfort. Ventura has a host of
warm soups
at its' spoon tip, from the deservedly famous clam chowder at
Andria's Seafood Restaurant
(appearing on more top ten lists than Ed Sheeran), to the albondigas soup (meatballs with vegetables) at
Taqueria Tepatitlan
, to pretty much any soup at
Kao Ramen by Mama
. Skip through a field of pumpkins.
The Great Pacific Pumpkin Patch
on Olivas Drive has zillions of pumpkins, a hay maze, and tractor-drawn hayrides.
Visiting? Don't despair.
Small pumpkins are the perfect way to wedge the jumbled luggage in your trunk. There are also produce stands along Olivas Drive — great places to pick up local Fall produce, often grown right next to the produce stand.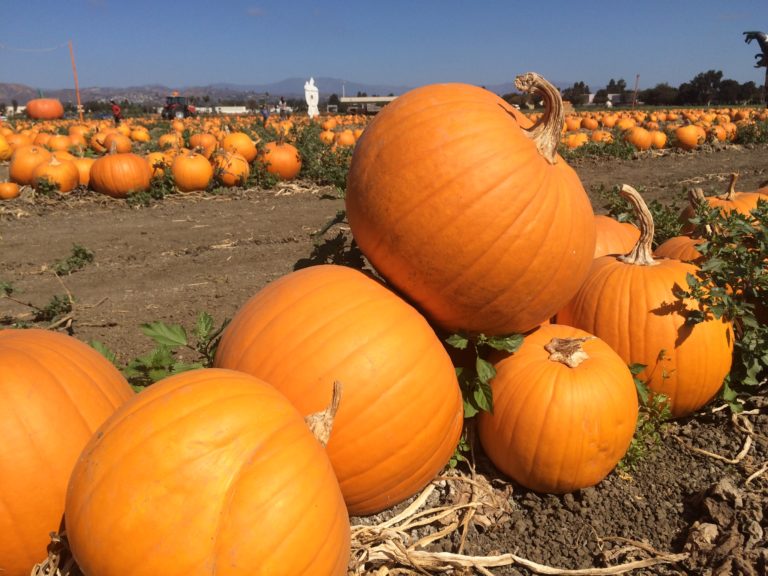 See a high school football game. Why not? It's a fun way to really get to know Ventura. Should you happen to be here on October 25th (7 pm VHS Stadium), you can watch a doozy. Ventura High School plays Buena High School, and pretty much the whole town shows up for the rivalry. Plus, there's a killer — and cheap — snack bar. And yes, Halloween looms, and Ventura celebrates in a big way. Halloween lets you be you — or the complete opposite of you. Grab your Spidey mask and celebrate the glorious weirdness this Saturday (October 26th) at any/all (just bring a deep bag) of these cool events.
Haunted Housing Run/Walk
Get started early. The Haunted Housing Run/Walk offers both a 5K and a 10K (both start at 8 am). Run beside the ocean along the beautiful Ventura Promenade. Post-run, there's plenty of family-friendly fun, from face painters to a jolly jumper.
Howl-O-Ween Dog Costume Contest
Yes, the dogs dress up — and their owners do too — and there's no limit to what they dream up. Hundreds come to watch, but you and your four-legged buddy should sign yourselves up. There's no entry fee, but Ventura Harbor Village only accepts a maximum of 100 dog entries, so please pre-register to secure your spot. The show begins at 11 am.
Kids Seaside Trick or Treat
Also at Ventura Harbor. The Harbor sets up over 15 treat stops at participating Harbor boutiques and restaurants. An afternoon of Halloween sweets, face painting and family fun! And it's free. Bring your own bag (but they'll have extra in case you forget). 1pm-3pm.
All-Ages Costume Contest and Downtown Ventura Trick-or-Treating
This year's costume contest starts at 3 pm in the Main Street Mini Park next to SPARC, between Oak and Palm. Afterward, businesses along Main Street will open their doors to trick-or-treaters (4 pm–7 pm).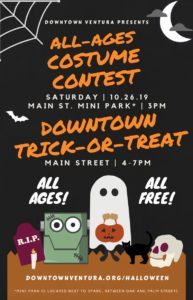 Ghost Hunt and Seance at the Historic Dudley House
Ventura has a storied history of hauntings, and no one knows them better than Richard Senate. Join Senate and his team of Ghost Hunters as they investigate the historic Dudley House, home to a special history and, yep, rumors of paranormal activity. The tour concludes with a séance. $35 entry fee.
Dia de Los Muertos at Limon y Sal
A week should give you enough time to recover — the following Saturday (November 6th), you can celebrate spirits again at
Limon y Sal's
Dia de Los Muertos party. Honor those ancestors and loved ones who have passed and be grateful you're still here honoring their legacies.
View this post on Instagram
The Color Run
Sport the way it should be. In this un-timed 5K run (who cares?), fun-loving participants are doused in all the colors of the rainbow at each kilometer. All the colors of Fall, Dr. Seuss-style, and one-of-a-kind finish line fun with music dancing and, yep, more color throws.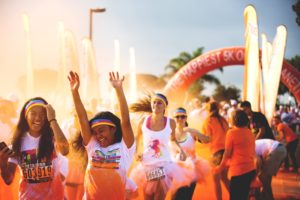 For more Halloween fun — and fun in every season — please see our
events page
.
Happy Hours
, salsa dancing, trivia nights, it's all there. Why short yourself on fun?
For more great stories, request our FREE inspiration guide right to your door!
Check out upcoming events!
Discover More
Get to know Ventura, and discover the best things to do around the city.
Ventura Partners With