Posted: Thursday, Jan 30th, 2020
Annual Ventura Events You Won't Want to Miss
by Visit Ventura
Ventura sees itself simply. We like to have fun, and we like to see everyone else having fun too.
We host events for foodies, surfers, beer lovers, wine lovers, art lovers, music lovers, tall ship lovers, mechanical bull lovers (you read that right), cornhole lovers and, in the interests of space, just plain lovers of life.
So here's a list of the Big Fun Stuff unspooling in Ventura through the year. Tuck it in your planning pocket. We've kept it lean and clean.
Some of these events don't have specific dates yet. See this listing as your generic "what's up?" If you have questions about a specific event, please call the
Ventura Visitor Center
and we will do our best to help you. You can also check
our events page
for a more detailed listing. And you can
order an Inspiration Guide
, which is filled with things to do. Because fun is what Ventura does. And there can never be too much of it.
Year-Round
The First Friday of every month, enjoy a fun evening (6-9 pm) discovering Ventura's art scene. Fine art spaces in downtown and midtown Ventura offer a variety of special entertainment to compliment the collectible artworks on display. Demonstrations, lectures, music, and performance provide an opportunity for everyone to share in a unique Ventura cultural experience. Start at the
Bell Arts Factory
and explore from there.
February
National Clam Chowder Day at Ventura Harbor
Fun fact — the word "chowder" possibly descends from the Latin "calderia," or cooking pot. Important fact — on February 25th, restaurants at
Ventura Harbor
are doctoring up a multitude of handcrafted chowders so that you can celebrate in style.
March
Mermaids are mythical creatures, created in the imaginations of ancient civilizations across the globe. They were believed to be wielders of great power, immortal and able to see the future. Unimaginative historians claim what the mariners likely saw were manatees (sea cows).
Through March, Ventura Harbor Village celebrates many things mermaid, with games, mermaid items and, yep, mermaids.
St. Patrick's Day Parade
Lovers of fun, and all things Irish (pretty much one-in-the-same), line Main Street to enjoy floats, dancers, and bagpipes. The parade, hosted by Ventura's Elks Lodge, starts at 10 am and it's an old-time, fun-time slice of Americana.
April
Spring Wine Walk
First, the free Street Fair (11 am until 6:30 pm) on Main street, with vendors and live entertainment. Then the afternoon/evening wine walk champagne, wine, and craft beer samplings in downtown businesses.
May
Ventura Surf N' Suds Beer Festival
Over 200 different beers, wines, and ciders to sample, alongside live music; all on
San Buenaventura State Beach
. Nothing like a sea breeze with a cold craft brew. And when it's time to move on, you're within walking distance to
restaurants
on South Seaward or in
Ventura's historic downtown
.
Surf n' Suds Beer Festival was voted in the top 10 beer festivals IN THE USA!! by BeerYeti.com.
Ride your bike and enjoy complimentary bike valet service.
Mountains 2 Beach Marathon
26.2 miles (there's also a half marathon, a 5K, and a Kids 1K) takes you from the lovely mountain-enveloped town of Ojai down through the Ventura River Valley to the pristine beaches of the last great surf town. That would be Ventura California.
The finish line is an extravaganza of live bands, beer gardens, arts & crafts, food, and fun.
June
Ventura Harbor Pirate Day
Pirate shows, treasure hunts, a pirate costume contest, even sword fights (don't worry, staged). Be inclined to acquiesce.
July
Fourth of July Street Fair
Hundreds of visitors and residents cheer a happy Push-em Pull-em Parade that welcomes everyone to participate. Plus, over 200 artisans displaying along Main Street, live entertainment, and yummy food.
Fourth of July Fireworks & Family Festival
Ventura's Rotary Club puts on a stellar old-school fireworks show at the
Ventura College
(think the joy of small-town community). The theme varies each year, but every year features a booming fireworks show, live music, a huge Kids' Fun Zone, food, and the friendliest hometown picnic in America!
Music Under the Stars
This popular concert series is held over roughly Saturday nights through the summer at picturesque
Olivas Adobe
under, yes, the stars. Salsa, rock, country, Cajun. Bring your own picnic dinner, and dancing shoes. Or indulge in the full beverage service & gourmet food right there. The venue is intimate, seating is limited, and concerts regularly sell out: avoid disappointment at the door by making reservations early.
Ventura Music Festival
Just three words, until you read this. Judy Collins. Chris Botti. Branford Marsalis. Herbie Hancock. Itzhack Perlman. Herb Alpert and Lani Hall. All of them, Ventura Music Festival performers. Close your eyes and hear their notes. So many variations on the loveliest theme. The universal song we call music. For 25 years
the Ventura Music Festival
has brought some of the world's finest musicians to Ventura. And, in Ventura style, those musicians, more often than not, have played in small, intimate venues. Producing something between indelible memory and pixie dust.
Surf Rodeo
Surfers competing in vests and cowboy hats (and you never know who they'll be; 11-time world champ Kelly Slater has shown up), greased pig paddles, hay bale obstacle races, mechanical bulls, and musical stages scattered across the beach. The simple truth, there's nothing like the two-day
Surf Rodeo festival
. Started by Ventura local John Drury as an antidote to all things serious, the Surf Rodeo has succeeded wildly at being wildly askance. Oh right. Jack Johnson also showed up — and played.
Here in Ventura, one of the world's finest pairings is thriving. Bands, dancing, and plenty of the smoothest tequila and savoriest tacos. Post festival (or pretty much any time of year), you might want to explore Ventura's
Taco District
.
You won't find better, more authentic tacos anywhere.
August
Ventura County Fair
The timeless poetry of
the Ventura County Fair
returns every summer to the
Ventura County Fairgrounds
. Carousel kisses, exhibits (art to agriculture),
concerts (Styx to Daughtry; free with paid admission)
, professional rodeo, 4-H livestock, rainbow fireworks,
the smells of fried dough and cinnamon
, happy shrieks and memories made on the sea breeze.
The Fair dates back to 1875 when the offerings consisted of horse races and evening gala balls.
Hosted by local restaurant favorite
Spencer Makenzie's
, this end of the summer block party and three-day tournament has become the largest cash cornhole tournament in the world. Several hundred teams compete. There's bands, drink, and fun. You can sign up, or just watch.
If you've never seen good cornhole players (and you probably haven't), you'll be amazed.
September
California Street Surf Classic
Yes, the annual California Street Classic Surf traces its roots back to one of the first professional surf contests held in California (Tom Morey's 1965 Nose Riding Contest drew California legends like Mickey Munoz and Endless Summer's Robert August). Yes, it's open to anyone who wants to sign up for the short and longboard competitions. Since 1986, the money raised has gone to support local Ventura County surf and beach (environmental) related charities. It's often held in conjunction with the Aloha Beach Festival (see below).
Aloha Beach Festival
Tasty food, beachy vendors, music (rock, reggae, ska), hula, frisbee exhibitions (you have to see it to believe it) and good vibes along the Promenade at Surfer's Point/C Street. A
community event
in the best sense of the words.
Entry fee? Nada.
The Louvre comes to the sidewalks of Ventura Harbor Village. Seriously. The chalk art is impossibly beautiful and stirring. Some 45 artists also sell original art.
Artwalk Ventura
Super fun and pretty much free, this self-guided tour of dozens of galleries, studios, pop-up venues and transformed PODS Containers in Ventura's Westside Cultural District and Downtown will make you glad artists see things the way they do.
October
Hundreds of artisans descend on the Ventura County Fairgrounds. Photography, fine jewelry, blown glass, wood art, metalwork; you name it, it's probably here. And plenty of fun (live entertainment, a Kid Zone) and food too.
The premier Scottish event on the Central Coast. Ageless Celtic pastimes are honored, pipes play tunes handed down through the ages, large men throw very heavy things, Scottish entertainers, clan tents, Scottish food, Highland dancing, reenactments, darts, Scottish Fiddling Competition and more at the Ventura County Fairgrounds right beside the sea. There is an admission charge.
Howl-O-Ween Dog Costume Contest & Trick-Or-Treat
Yes, the dogs dress up — and their owners do too — and there's no limit to what they dream up. Hundreds come to watch, but you and your four-legged buddy should sign yourselves up. There's no entry fee, but Ventura Harbor Village only accepts a maximum of 100 dog entries, so please pre-register to secure your spot. Harbor stores and restaurants also set up over 15 treat stops for kids.
November
Learn about what's on your plate and Ventura County's rich agricultural offerings in a simple, effective way; by hopping in your car and touring 20-some local farms that open their doors to the public on one special day.
December
Holiday Tree Lighting
Choirs sing and dancers dance, and Santa leads the countdown and, poof, a sea of lights turn the San Buenaventura Mission's two towering (120-foot) Norfolk pines into a neck-cricking, sparkling spectacle of ooohs and aaahs. And then, perhaps by magic, snow will fall.
Who says a Southern California beach town can't do Winter?
Ventura Winter Wine Walk & Holiday Street Fair
The free Holiday Street Fair runs from 12 pm to 8 pm along Main Street, with vendors and live entertainment, and, yes, snow falls (generally from 6:45 pm to 8 pm). Artists, crafters, non-profit organizations, commercial and food vendors, they all have booths. Ventura's Winter Wine Walk showcases world-class wineries, and happily, breweries too. Your ticket provides you with a tasting cup and a map of the participating tasting sites — local businesses in downtown Ventura.
Each tasting site has a designated area set up for Wine Walk guests to sample whatever amazing wine or beer they are serving. The tastings generally run from 4 pm to 7 pm.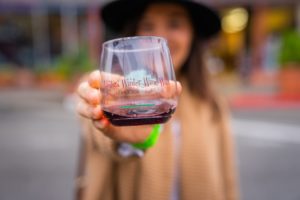 Ventura Harbor Holiday Parade of Lights
There's magic in lights (and fireworks) mirrored in the water. Boaters dock their boats to the nines, then parade their shimmering creations on Friday and Saturday night, the visual extravaganza capped each night by fireworks. Just bring a blanket, chairs and maybe some hot chocolate and have a seat along the sidewalk. You can also watch the Parade from the water, courtesy of
Island Packers'
Parade of Light Cruises.
Island Packers offers fun Holiday cruises and tours of Ventura Harbor throughout December. Island Packers' "
Caroling Cruises
" bring the yuletide spirit to life. Slowly cruise the lovely waterways of Ventura Harbor, a sparkling kaleidoscope of decorated boats and homes. You can sing along (or not), but you do need to make reservations. Caroling cruises start at 6:30 pm. Please see
Island Packers' for specific days
.
Ventura Harbor Winter Wonderland
Held right before Christmas, here you'll find all kinds of Christmas joy and fun. Carolers, scavenger hunts, free kids crafts, Santa and Mrs. Claus, real live reindeer.
Yep, even snow. And plenty of unique stores if you've possibly put off your shopping.
For more great stories, request our FREE inspiration guide right to your door!
Check out upcoming events!
Discover More
Get to know Ventura, and discover the best things to do around the city.
Ventura Partners With