Posted: Friday, Dec 3rd, 2021
What's happening in Ventura in December?
Featured Image by Surfers Point Live
Ventura continues to navigate cautiously, but the fun hasn't stopped. There's still plenty happening in Ventura in December. A wine walk. A Harbor Parade. A chance to see Santa stand up paddle (and join him). Sparkling Christmas trees, spouting whales, farmer's and fishermen's markets heavy with local largesse and snow. Yep, snow.
All this fun, while continuing to do the right thing to protect all of us. And continuing to Support Local — helping the Ventura businesses we all love.
So let's launch into a fun December…
Good Tidings Market
Date: Saturday, December 4th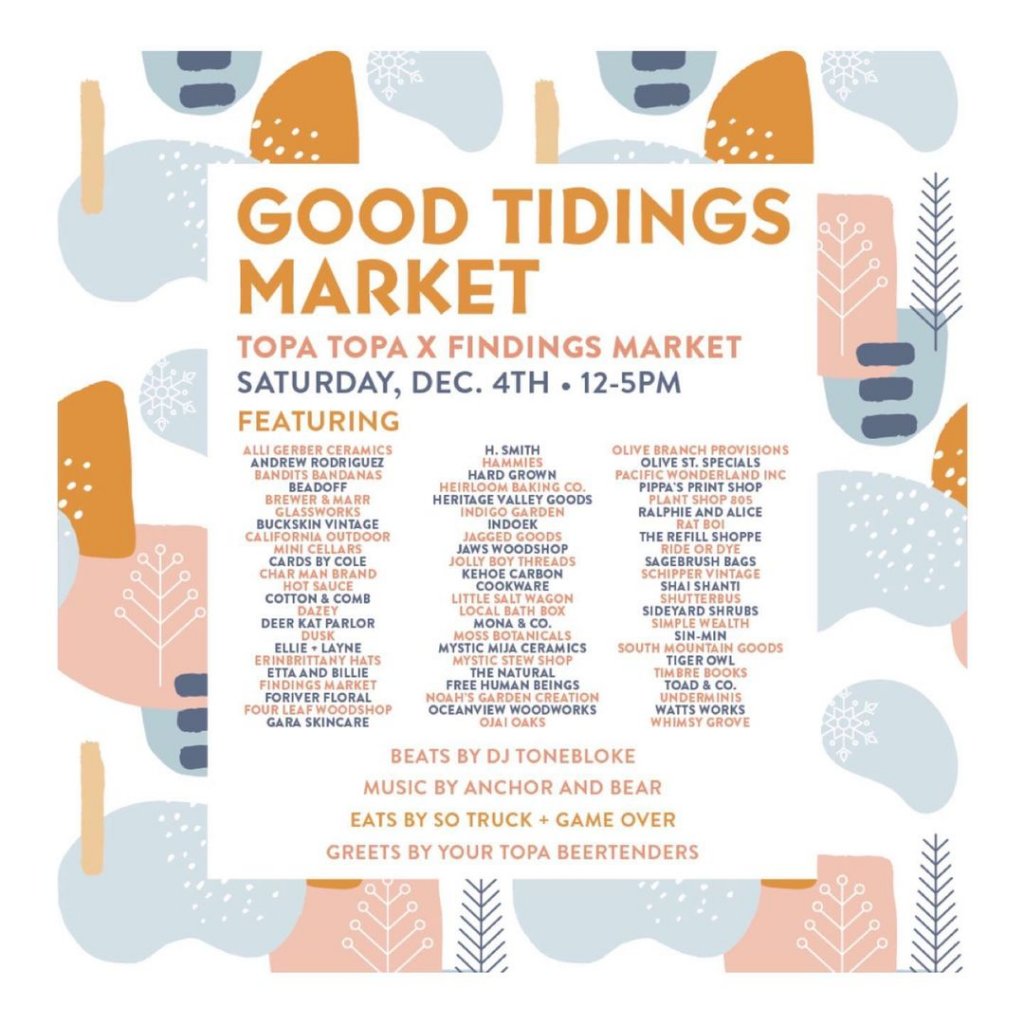 Topa Topa Brewing is teaming up with Findings Market to put on the best kind of community event. Over 60 merchants — spanning the realm of creativity and then some — will be outside at Topa Topa's brewery at 4880 Colt Street for noon to 5 pm. Happy coincidence, there will also be some of the best beer you've ever tasted.
Bell Arts Outdoor Holiday Market
Date: Saturday, December 4th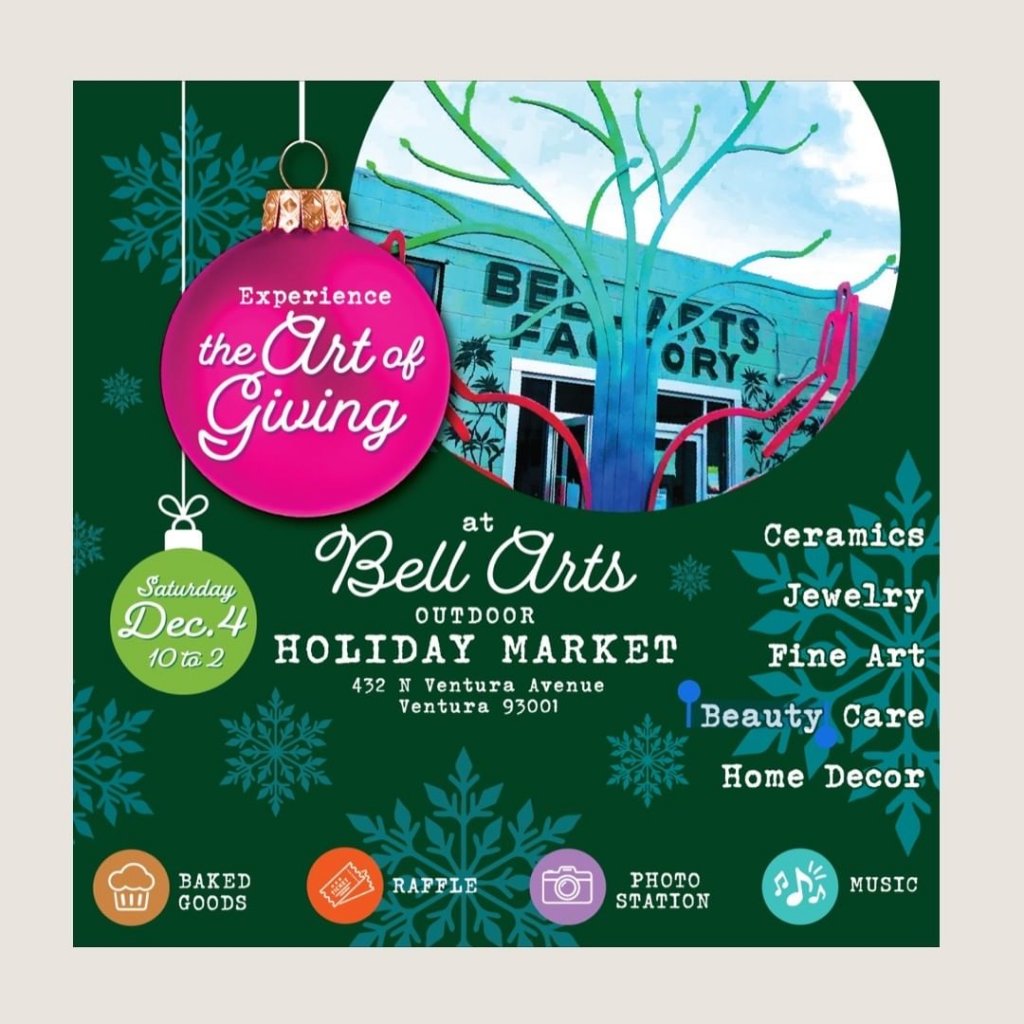 Cleverly and aptly put, Bell Arts Factory's "Experience the Art of Giving" will have live music, raffles, baked goods, and lovely unique ceramics, jewelry, fine art, and home decor. From 10 am to 2 pm at Bell Arts Factory (432 North Ventura Avenue).
Date: Saturday, December 11
Who says a Southern California beach town can't do Winter? Ventura's downtown Main Street is closed to traffic and bands play and elves dance and vendors sell their wares and, yes, over 80 tasting sites pour wine, sparkling wine and craft beer. Note to self — most of the pours are local, and some you won't find outside Ventura. Additional note to self — several Ventura wineries and breweries have won national and international awards. And then, as the evening deepens, it's time to hold your face up to the snowfall. Yep, snowfall. Wine Walk tickets are almost sold out, but the free Fiesta Street Fair — artists, crafters, food vendors — runs from 12 pm until 8 pm in Downtown Ventura.
Stay and make it a weekend. It's what memories are made of.

And perhaps consider the words of Ernest Hemingway.

"Wine is one of the most civilized things in the world and one of the most natural things of the world that has been brought to the greatest perfection, and it offers a greater range for enjoyment and appreciation than, possibly, any other purely sensory thing."
Winter Wonderland & Holiday Marketplace at Ventura Harbor Village
Date: Saturday, December 11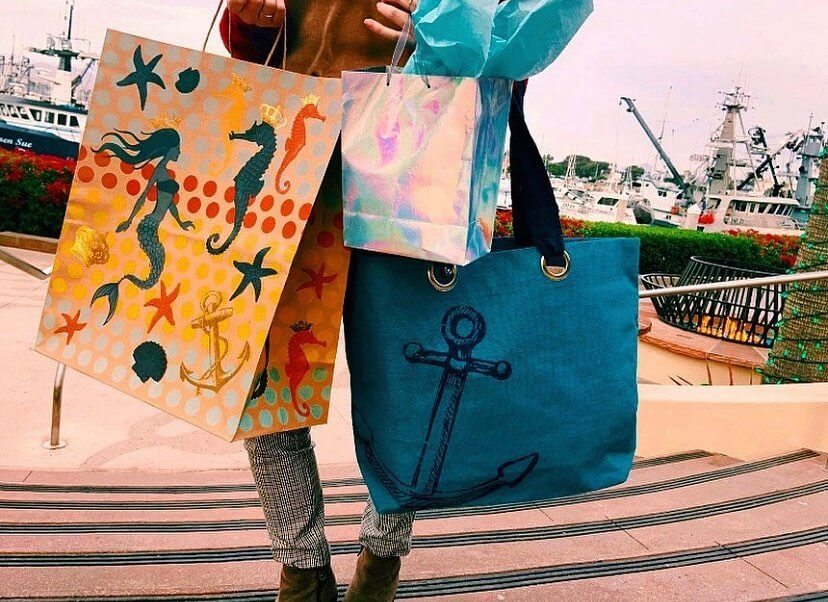 From noon to 4 pm everyone who is anyone Holiday will be at Ventura Harbor Village, including Santa and Mrs. Claus, live reindeer, faux snow flurries, and carolers clad in traditional costumes and specials at many of the Harbor stores. And let's not forget the other side of giving. The Harbor is hosting a Canned Food Drive benefiting Food Share Ventura County; bring ten cans and receive a free reindeer antler headband (maybe a fun stocking stuffer?). There will also be a Sock Drive benefiting the Ventura Rescue Mission. So easy to donate, and socks are the item most often requested by shelters during the winter.
Stand up Paddle with Santa
Date: Saturday, December 11th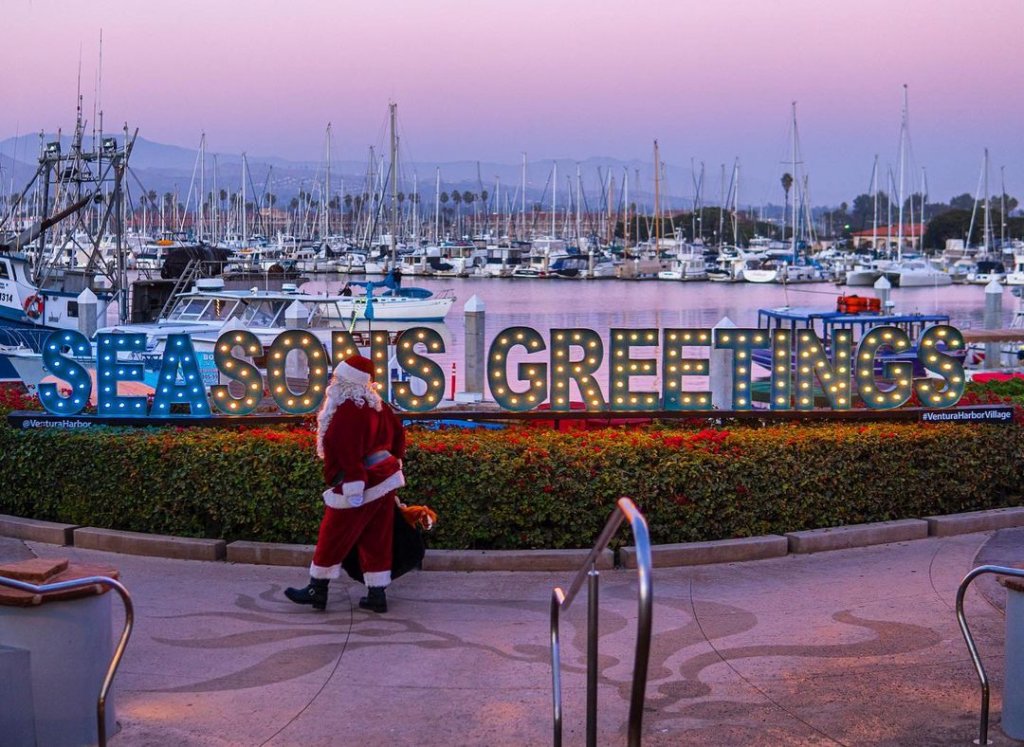 Well, it is a Southern California Christmas. Ventura Harbor Village hosts its annual Santa Paddle on Saturday, December 11th at 11 am. Bring your own SUP or kayak — or rent one from Ventura Boat Rentals

(which is where the parade starts) — and join Santa on a scenic one-hour paddle to the Channel Islands National Park Visitor Center. Santa Paddle participants can launch at the "C" dock in Ventura Harbor Village. Santa will be dressed to the nines and participants do the same.
Date: Saturday, December 11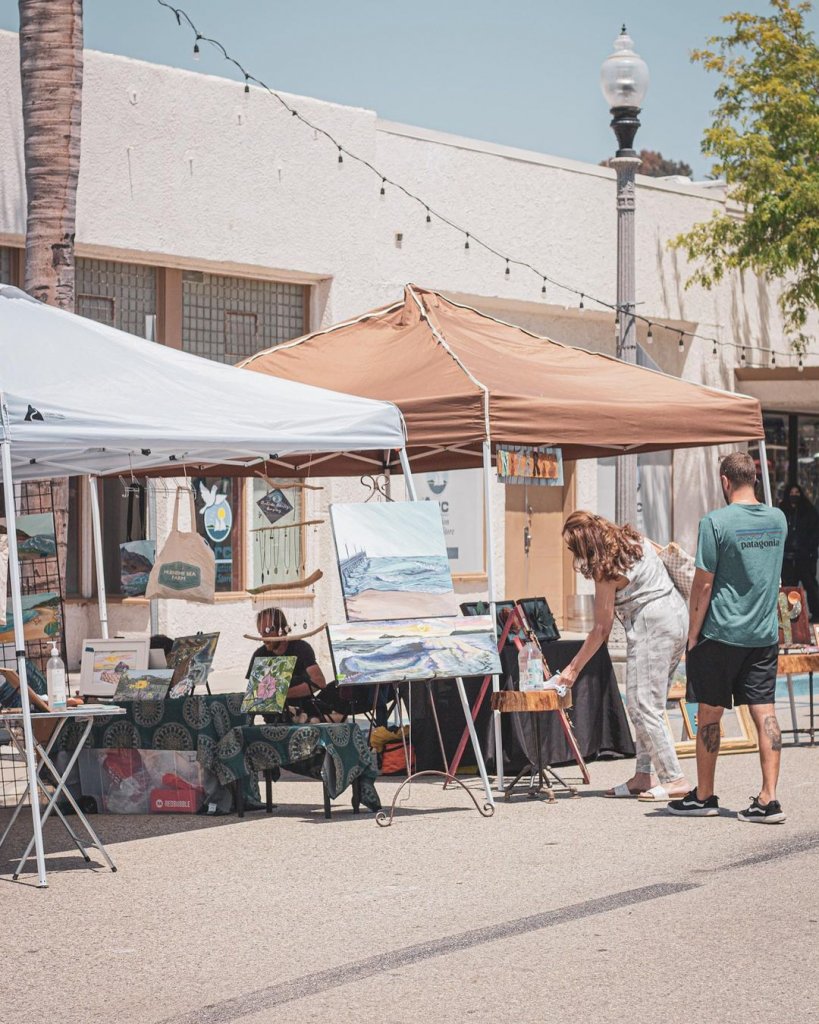 It's a small but lovely local affair. The VC Art Market takes place on the second Saturday of every month in Figueroa Plaza (198 East Main Street downtown Ventura, next to Mission Park on Main Street). A collection of local artists showcase their work, from all genres of art. Think outdoor art gallery. A chance to both shop local and support the arts.
(Free) Comedy at Topa Topa Brewing Company
Date: Tuesday, December 21st
Topa Topa calls it "Colt Street After Dark: Comedy Night," and what better pairing than innovative craft beverages and tears-streaming-from-your-eyes laughs? The comedy, presented by James Frey Comedy, will be ongoing, but you can start with the next show on Tuesday, December 21st from 7 pm to 10 pm. Yep, the show is free for anyone 21 and over, but please click here to let them know you're coming (4880 Colt Street).
Enjoy a Harbor Lights Cruise with Island Packers
Date: December 8th through December 23rd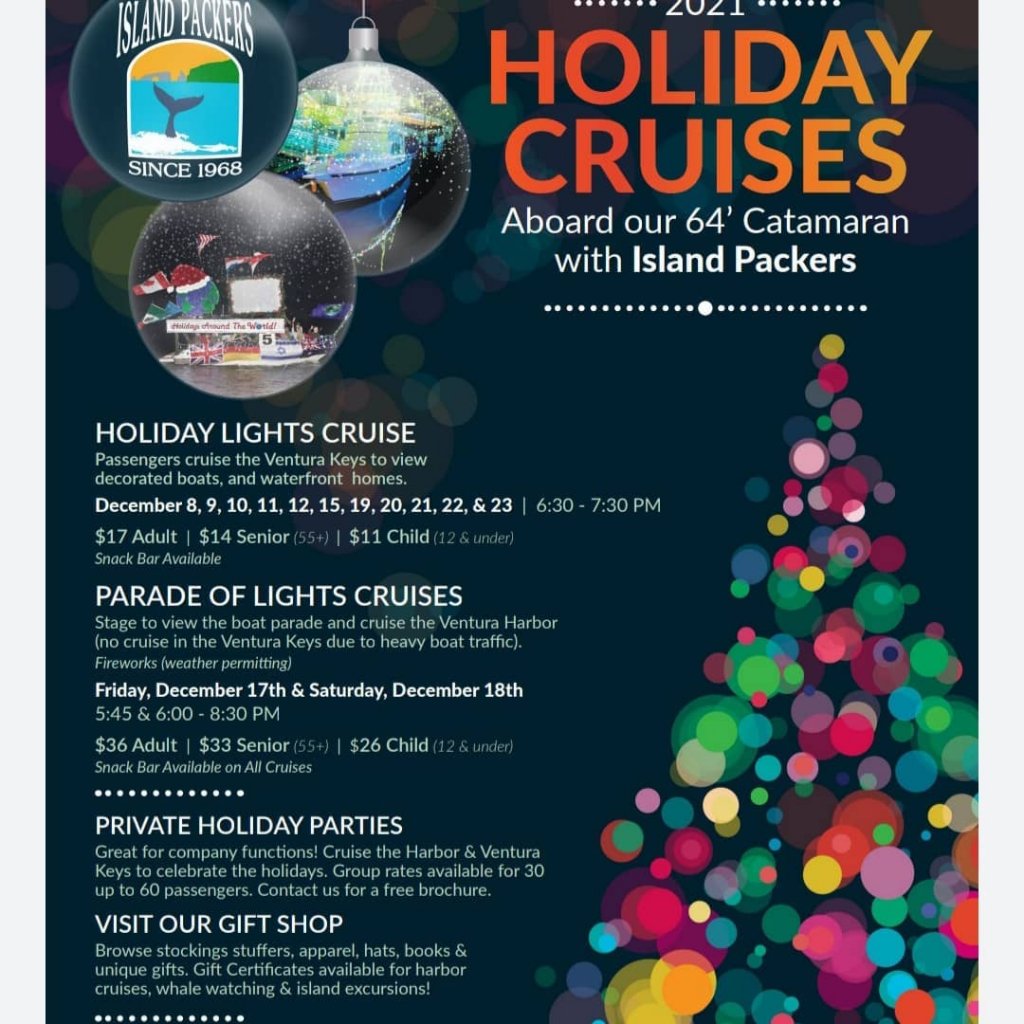 Witness the lovely Holiday beauty of Ventura Harbor's decorated homes and boats from the best vantage point of all — the water. Island Packers is offering one-hour cruises (6:30 to 7:30 pm) so you can experience that exact Holiday magic. Nothing like a crisp, star-filled Ventura night on the water. Visit Island Packers' website for more information. Book advance reservations by calling 805-642-1393 or visiting www.IslandPackers.com
Want to see the Parade of Lights (see below) and the Parade of Lights fireworks cap from the water? Hop aboard Island Packers Parade of Lights Cruise. The cruises start at 5:45 and 6 pm Again, Island Packers website has all the information.
Take a Private Holiday Light Boat Tour through Ventura Harbor
Dates: December 10th through December 31st.
Every December, boaters in Ventura Harbor drape their boats in a flood of Holiday lights. This year will be no exception, and there's no better place to see the lights than from the water. Ventura Boat Rentals

at Ventura Harbor Village is taking bookings for private one-hour Holiday Light Tours for up to 24 passengers. The nightly 75-minute private charters are offered December 10-16, December 19-23, and December 26-31 from 5:45 -7:00 pm and 7:30 – 8:45 pm. Cruise through Ventura Harbor and past decorated homes in the Ventura Keys, watching the lights dance on the water.
Ventura Harbor Parade of Lights & Fireworks
Dates: Friday, December 17th and Saturday, December 18th
The Parade of Lights is back ("Back to Seality" is the theme)! And with it, all the child-like magic of spectacularly decorated boats throwing their lights across the water. The parade starts at 6:30 p.m. Powerboats and sailboats draped in glittering lights and decorations cruise the Harbor. On dry land, there are kiddie rides, sweet treats, warm drinks, and waterfront dining throughout Ventura Harbor Village. Fireworks light the sky both Friday and Saturday at approximately 8 pm (weather permitting). Keeping in the spirit, the event and parking are free.
Take a Whale of a Ride on the Wild Side
Date: through December
It's world-class whale watching, without doubt. The waters of the Santa Barbara Channel and the (protected) Channel Islands National Marine Sanctuary are filled with life, much of it very, very large. When some of the largest creatures on this planet roil to the surface (and sometimes leap free of it), the result is stunning and the memory is lifelong. From roughly mid-December through mid-April, Pacific Gray Whales migrate through our waters, swimming down from Alaska on their way to Baja California, Mexico. Island Packers will provide a front-row seat. They leave right from Ventura Harbor. You can see exactly what they've been spotting here.
Date: Wednesdays and Saturdays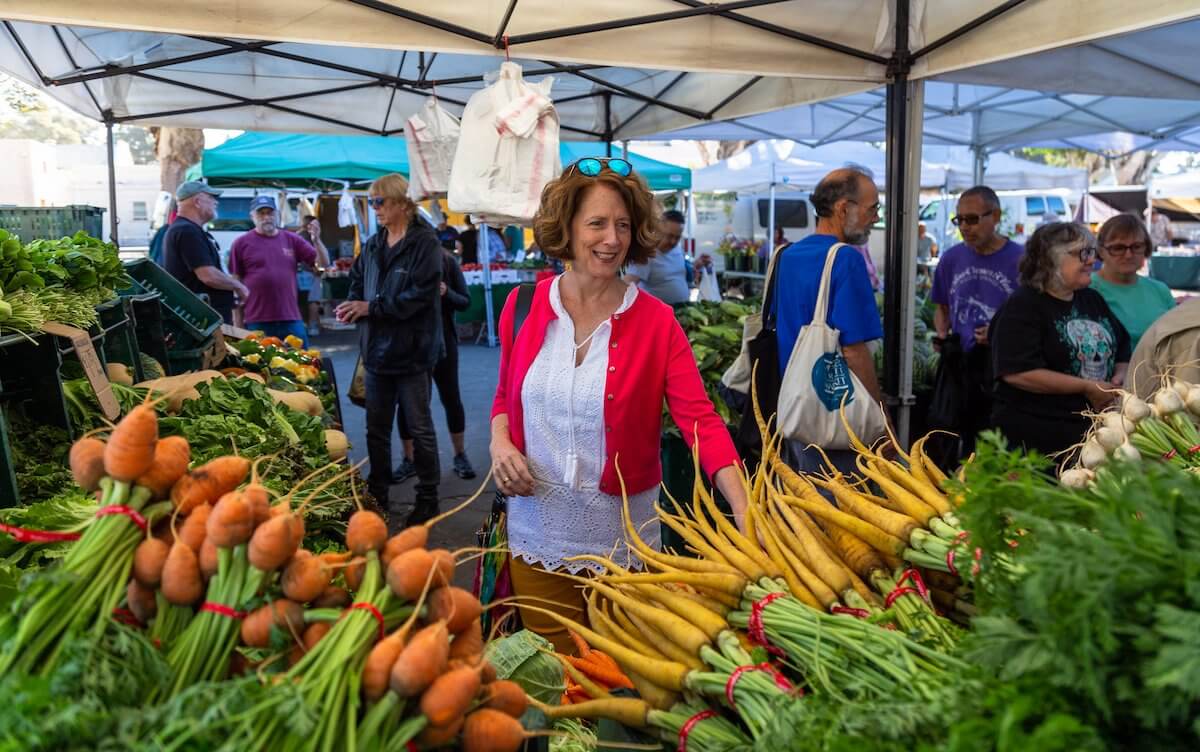 Local farmers bring the freshest fruits, vegetables, herbs, honey, eggs, nuts, cheese, olive oil, fruit juices, jams, and jellies (among other items) you ever laid taste buds on. Oh, right. Also freshly baked bread and tasty ethnic foods, ready to go. The Midtown Ventura Farmers Market is held Wednesdays from 9 am to 1 pm at the Pacific View Mall (3301 North Main Street, West parking lot, near Red Robin Restaurant). The Downtown Ventura Market — part of Ventura since 1986 (running without interruption) — is open Saturdays from 8:30 am to noon at the corner of Santa Clara and Palm Streets (but not on Saturday, December 26th). Yes, they have modified their operations for your safety. Please click here.
Date: Saturdays, 7:30 am to 11 am (weather dependent)
You won't find fresher seafood because it comes right off the boat and onto the small pier behind Andria's Seafood Restaurant & Market (1449 Spinnaker Drive). The official word is the Market runs from 7:30 am to 11 am, but the unofficial word is to get there early — because they often sell out. Inside tip; you can also order the catch online ahead of time. Learn about online ordering — and Ventura's hardworking fisherfolk — here.
Annnnnnnd on the horizon …
Date: Sunday, February 27th
Yep, February is a long way off. But by definition — and distance — this one requires a little advance planning. After all, we are talking 26.2 miles. Start now, and you'll have enough time to train for what might just be the run of your life.

Why? Well, for one thing, running a marathon is something very special. As cardiologist/philosopher/writer Dr. George Sheehan once said, "Of all the races, there is no better stage for heroism than a marathon." Also, the Ventura Marathon course is F-A-S-T. Much of the course runs from Ojai down, quite literally, to Ventura — a long, gradual downhill (along a safe, traffic-free path). Not so steep a downhill to shock your legs — but maybe more than enough to shock the clock.

Don't feel like running a marathon? There's also a 5K through downtown Ventura.

Oh, right. And a Brewfest held the day before the race at Ventura's Mission Park

from 12 pm to 4 pm.
Discover More
Get to know Ventura, and discover the best things to do around the city.
Ventura Partners With