Posted: Thursday, Dec 16th, 2021
Five Fun Things To Do In Ventura This Weekend
Why just five fun things in Ventura, a town that swims in fun? It's called a teaser. And really, it's more fun to keep coming back for more. And we'll offer you more.
Later.
On a serious note, when you opt to do any — or all — of these things, you are, in one way or another, kindly Supporting Ventura Local, and we thank you from the bottom of our hearts.
So here's a taste of Ventura fun for this weekend — and beyond. Drive here and stay so you can get it all in; from cool, wide-open beaches, to cold craft beer, to a walkable small-town downtown with unique shops and restaurants, most of them locally owned.
For life is short, and there can never be enough fun.
Harbor holiday lights, fireworks, free comedy paired with delicious craft beer …
Read on…
Ventura Harbor Parade of Lights & Fireworks
Dates: Friday, December 17th and Saturday, December 18th
The Parade of Lights is back ("Back to Seality" is the theme)! And with it, all the child-like magic of spectacularly decorated boats throwing their lights across the water. The parade starts at 6:30 p.m. Powerboats and sailboats draped in glittering lights and decorations cruise the Harbor. On dry land, there are kiddie rides, sweet treats, warm drinks, and waterfront dining throughout Ventura Harbor Village. Fireworks light the sky both Friday and Saturday at approximately 8 pm (weather permitting). Keeping in the spirit, the event and parking are free. Inside tip; bring chairs and get there early.
Want to see the Parade of Lights and the Parade of Lights fireworks cap from the water? Hop aboard Island Packers Parade of Lights Cruise. The cruises start at 5:45 and 6 pm. Island Packers' website has all the information.
Enjoy a Harbor Lights Cruise with Island Packers
Date: December 8th through December 23rd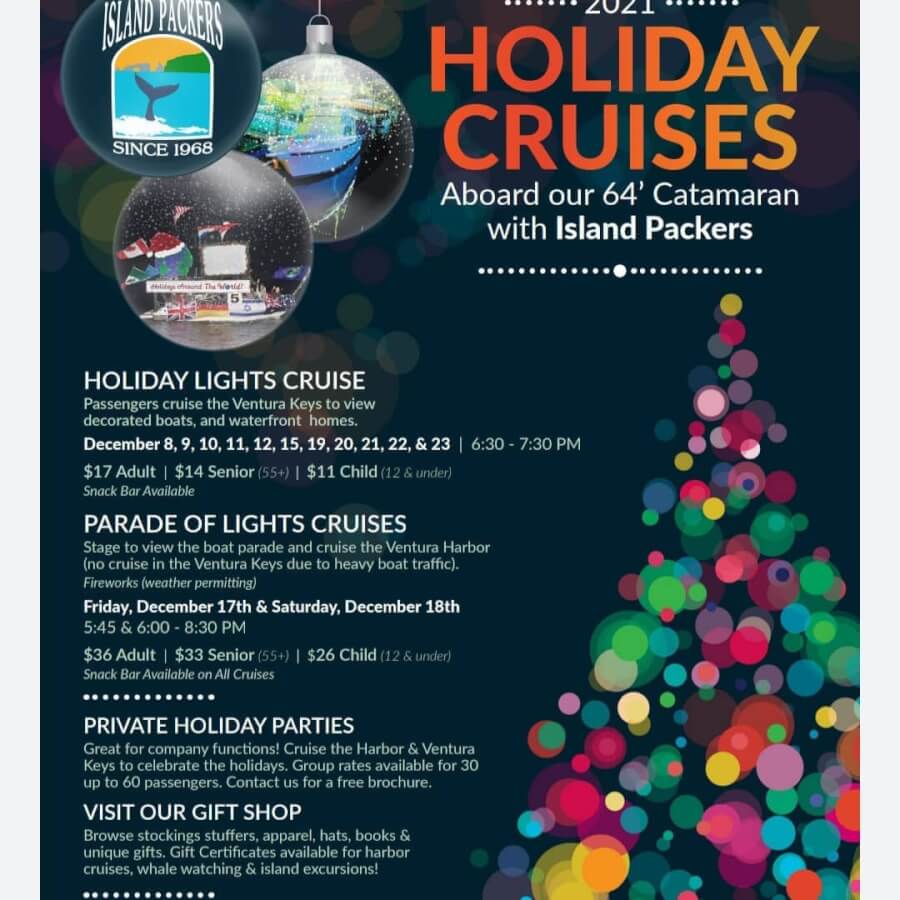 Witness the lovely Holiday beauty of Ventura Harbor's decorated homes and boats from the best vantage point of all — the water. Island Packers is offering one-hour cruises (6:30 to 7:30 pm) so you can experience that exact Holiday magic. Nothing like a crisp, star-filled Ventura night on the water. Visit Island Packers' website for more information. Book advance reservations by calling 805-642-1393 or visiting www.IslandPackers.com
Take a Private Holiday Light Boat Tour through Ventura Harbor
Dates: December 10th through December 31st.
Every December, boaters in Ventura Harbor drape their boats in a flood of Holiday lights. This year will be no exception, and there's no better place to see the lights than from the water. Ventura Boat Rentals

at Ventura Harbor Village is taking bookings for private one-hour Holiday Light Tours for up to 24 passengers. The nightly 75-minute private charters are offered December 10-16, December 19-23, and December 26-31 from 5:45 -7:00 pm and 7:30 – 8:45 pm. Cruise through Ventura Harbor and past decorated homes in the Ventura Keys, watching the lights dance on the water.
Date: Tuesday, December 21st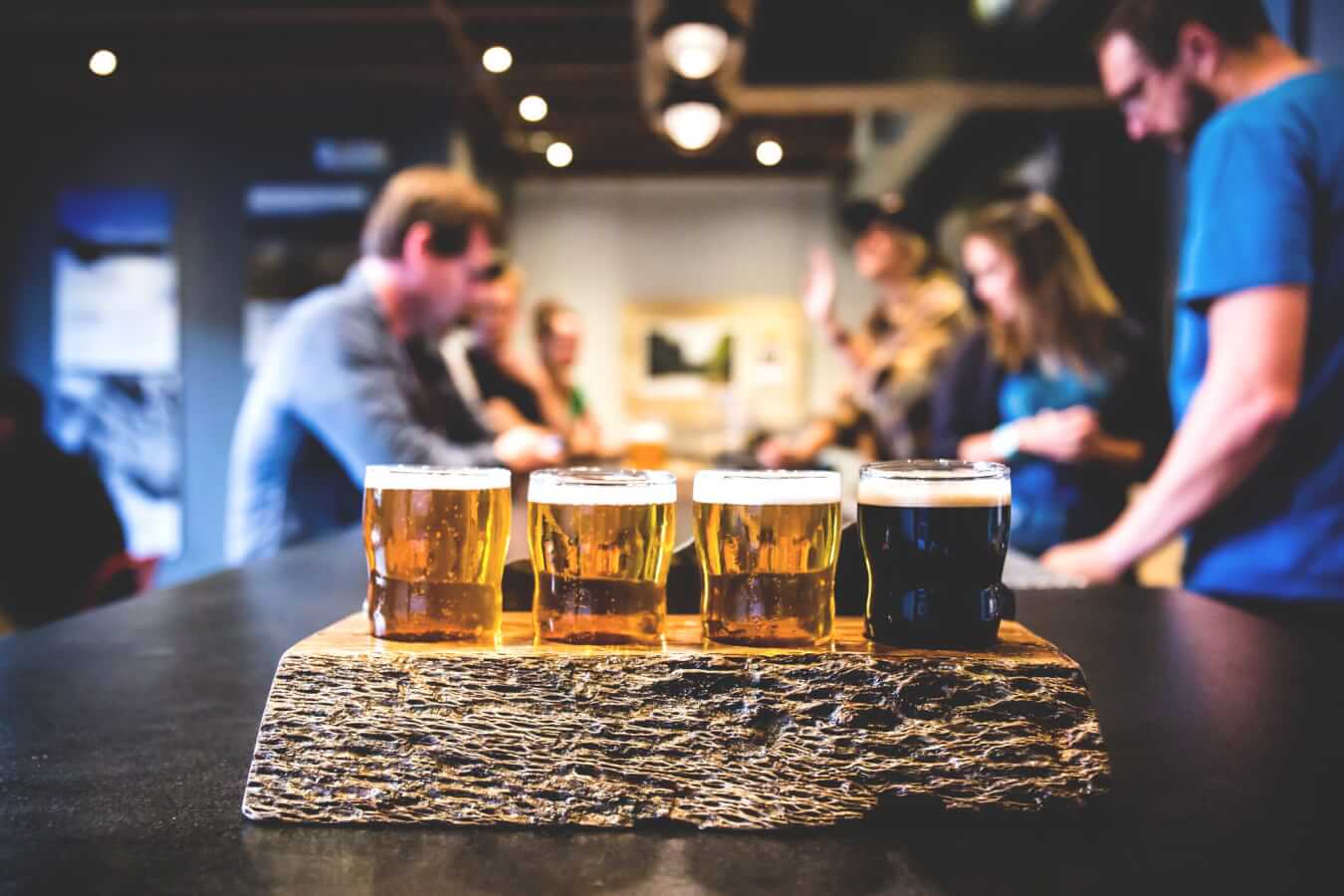 Topa Topa calls it "Colt Street After Dark: Comedy Night," and what better pairing than innovative craft beverages and tears-streaming-from-your-eyes laughs? The comedy, presented by James Frey Comedy, will be ongoing, but you can start with the next show on Tuesday, December 21st from 7 pm to 10 pm. Yep, the show is free for anyone 21 and over, but please click here to let them know you're coming (4880 Colt Street).
Take a Whale of a Ride on the Wild Side
Date: through December

It's world-class whale watching, without doubt. The waters of the Santa Barbara Channel and the (protected) Channel Islands National Marine Sanctuary are filled with life, much of it very, very large. When some of the largest creatures on this planet roil to the surface (and sometimes leap free of it), the result is stunning and the memory is lifelong. From roughly mid-December through mid-April, Pacific Gray Whales migrate through our waters, swimming down from Alaska on their way to Baja California, Mexico. Island Packers Cruises will provide a front-row seat. They leave right from Ventura Harbor. You can see exactly what they've been spotting recently here. Orca whales for starters.
Discover More
Get to know Ventura, and discover the best things to do around the city.
Ventura Partners With