Posted: Monday, Jun 22nd, 2020
Ventura: Now, the Loveliest Taste of Europe Beside the Sea
 
This new world has necessitated so many changes — and here's a happy one. Beginning in mid-June, five blocks of Ventura's downtown Main Street — from the San Buenaventura Mission up to Fir Street — were closed around the clock to motor traffic. Also included in the closure, two blocks of California Street, between Santa Clara and Poli streets. The end result? A walk-able, enjoyable, car-free downtown that is currently scheduled to run through mid-September (and quite possibly on).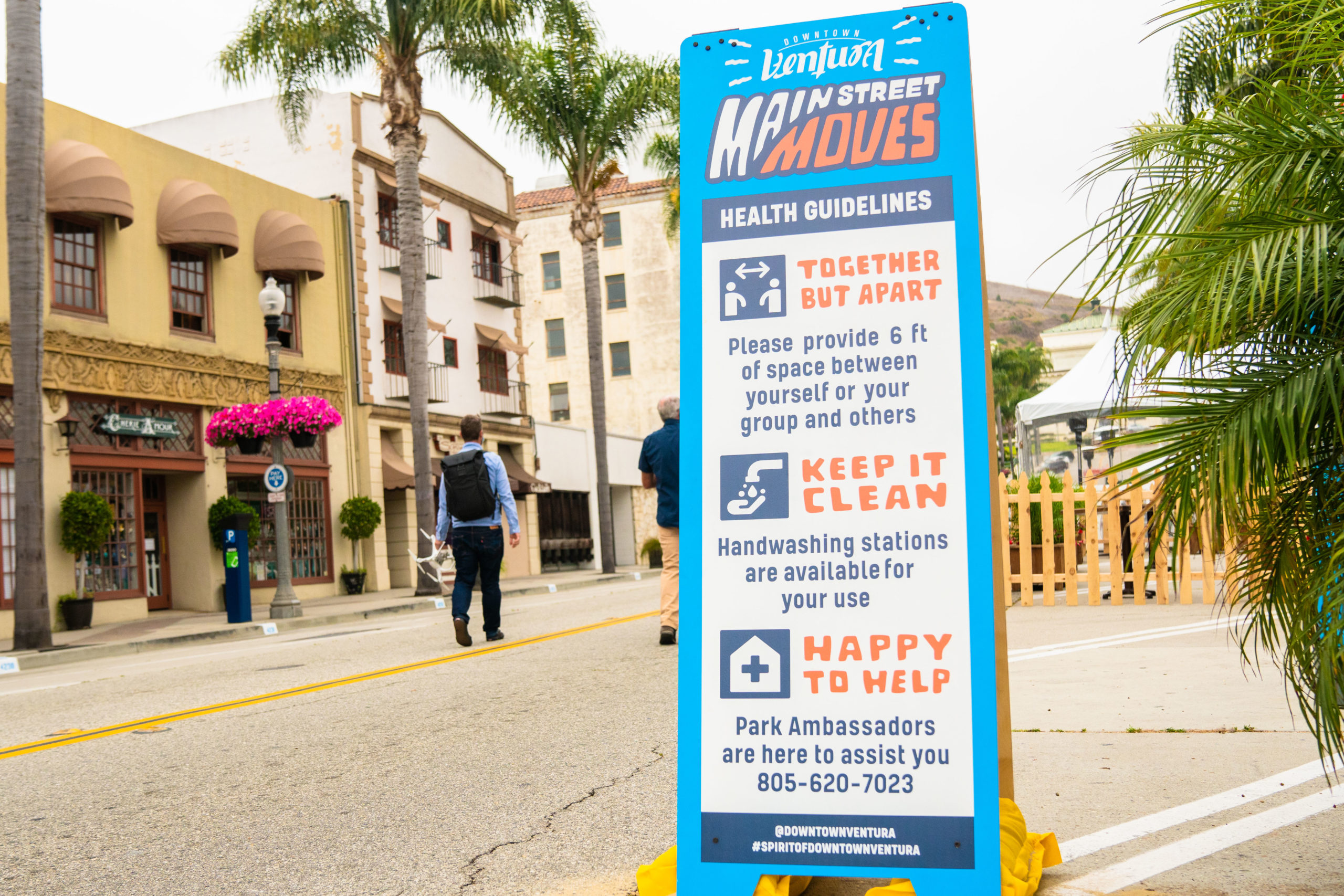 Dubbed "Main Street Moves," here's what it means in terms of practicalities. Restaurants offer outdoor seating. Retail stores have moved some of their goods out to the sidewalks so that you might browse blouses in the sunshine. There are tables (with umbrellas) here and there for — lovely — simply lounging and people watching (city workers kindly keep them clean). On occasion, there's live music. There are hand sanitation stations and port-o-potties. All of it to allow for social distancing, and the safety and comfort of our visitors and residents (And please kindly wear a mask: thank you for caring).
But life — even in these challenging times — isn't just about practicalities Here's what the closure also means. On a soft Ventura summer evening, there is a European feel in the air: strolling couples and families, store owners chatting curbside, children skipping in the street, diners and cocktail enjoyers, raising forks and glasses in the evening light. Makeshift picket fences, white roses, jaunty umbrellas; the sea breeze enjoying the walk too, playfully lifting the corners of linen tablecloths. These innovative touches have been getting some attention.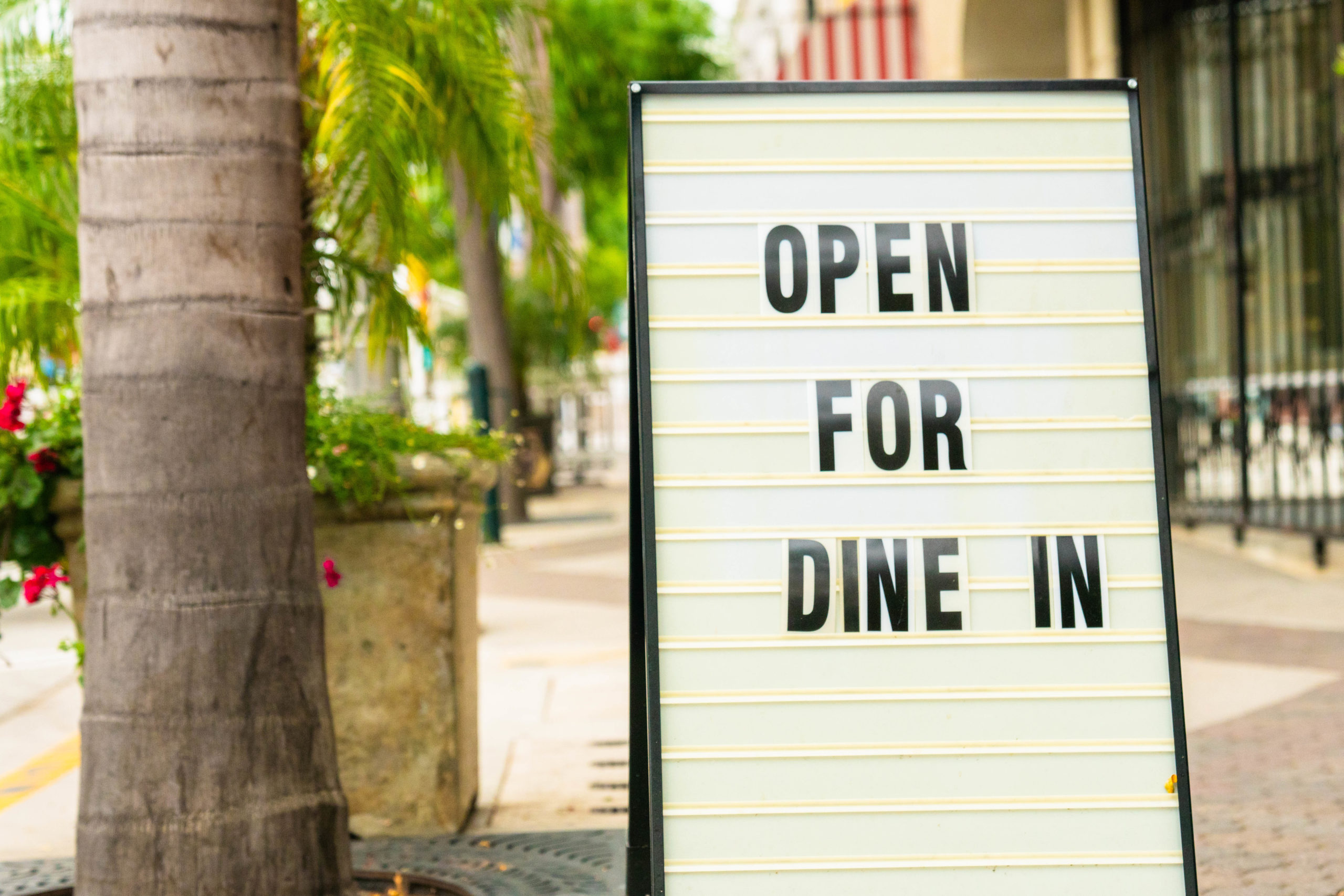 Ventura has always prided itself on being walk-able, a small town downtown where you can park for free and wander with ease, inhaling the happy din of art galleries, boutique shops, wineries, antique stores, and restaurants and music venues of every taste and chord.
Now, if you want to return to our Downtown, there will be added space to both spread out and amble. And a certain je ne sais quoi that is special precisely because you can't quite put your finger on it. And you can easily continue to amble beyond the street closures to the fun restaurants and shops that border the closures — longtime Ventura favorites like Bombay Bar & Grill, Capriccio and our very own Ventura Visitors Center. And there remains, as always, plenty of free parking in the surrounding blocks. Decidedly un-European.
And, last but not least, please note the operative word "want" in the first sentence of the paragraph above. We want you to be comfortable. Here at Visit Ventura, we promote tourism — but now we promote the safety and comfort of our visitors (and residents) first.
Just know that we are here, ambling in the sunshine, when you are ready.

(Special thanks to the talented — and community caring — Mike Love for the video above)
 
Shopping, dining, hiking, beach-going, beer-quaffing, wine-tasting, and all manner of fun in the sun (because that's what Ventura does best). Want to know (almost) everything about Ventura? Please order our FREE 2020 Ventura Inspiration Guide here.