Shopping
Ventura's Historic Downtown Cultural District is permeated by early California history. Historic homes, museums, boutiques, Mission San Buenaventura, antique shops and restaurants adorn our palm tree-lined streets. Things are also continually changing in this historic district. From recent street closures — making for a lovely walkable downtown — to new shops, restaurants, art galleries, and live music venues.
Dining
A thriving cultural district of artists and performers of all disciplines is also influencing the momentum and direction of downtown's development. The award-winning Rubicon Theatre

is attracting big name talent to its intimate auditorium set in an old church. Art galleries have blossomed and a wide, and eclectic, range of restaurants too. Thai. Italian. Fresh seafood. Farm to table. Old fashioned diners and new fangled vegan. And more than a few of Ventura's restaurants have been featured in the likes of Gourmet, Sunset, and Westways.
Nightlife
The unique merchants, one-of-kind dining experiences, and the friendly nature of the people — that friendly face behind the counter could very well be the owner (90 percent of our downtown businesses are locally owned). Downtown epitomizes Ventura's loving embrace of all things unique, as well as its sensibility in preserving California's rich heritage. Enjoy a cappuccino in a local cafe before taking in some of the breathtaking old buildings scattered throughout downtown. Shop The Downtown Ventura Certified Farmers' Market, the original Ventura County certified farmers' market with over 45 California farmers and food vendors. Intimate wine bars, breweries, and a variety of restaurants with delicious nibbles are all within walking distance. Traveling with a four-legged friend? You won't find a dog-friendlier town — or downtown.
You've got your fun cut out for you
From surfer-chill to sophisticated, nestled beneath hillsides and just off the sandy shores of the Pacific Ocean — it's only a two block walk to the beach — Downtown Ventura has something for everyone. The lot of it bathed in pretty much perfect weather (Average Ventura temperature? 72 degrees. Year-round). And small town doesn't mean lacking. With more than 65 restaurants, 110 shops, 35 salons and relaxation venues, miles of beaches and stunning hiking and biking trails, well, you've got your Ventura fun cut out for you.
How to Get There
Downtown Ventura can be easily be accessed by Highway 101 or Amtrak Surfliner.
And your adventure only just begins there.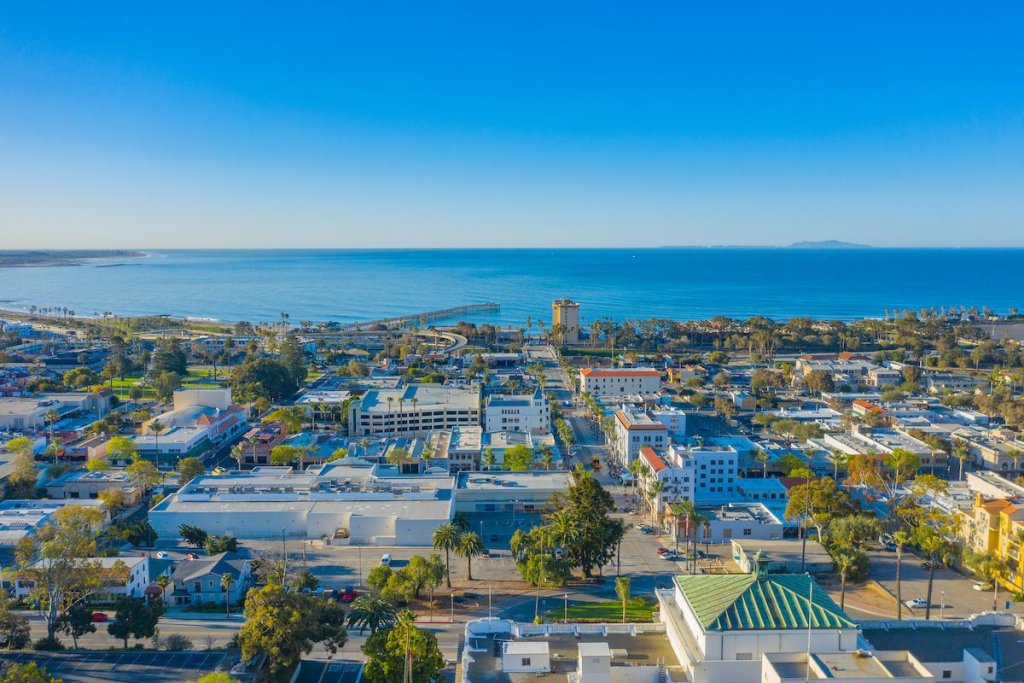 Discover Downtown Ventura
Ventura Partners With