Posted: Monday, Dec 16th, 2019
Off the Beaten Track Activities in Ventura
by Visit Ventura
Pull off the 101 freeway on to Ventura's California Street, and you'll be welcomed by a quaint Main Street, with plenty of
free parking
and
easy walkability
(pairing nicely with a wide variety of downtown
happy hours
). But there's so much more to Ventura than our bustling historic downtown, places you don't always hear about, but you should know …
Taste real-deal Mexican food (and drink) on Ventura Avenue…
Walk west toward the end of Main Street, turn right on Ventura Avenue, and you'll find yourself in the heart of the
Taco District
; aptly named, because here is where you'll find some of Ventura's best Mexican restaurants. If you're leaning toward (affordable) take out, check out
Johnny's Mexican Food
. If you're looking for an authentic sit-down restaurant with some flavorful micheladas,
Taqueria Tepatitlan
is your spot. Start with their pineapple michelada with tajin; your taste buds will tingle for more. Pair your second michelada (they have other delicious flavors) with anything on the menu; soup, Menudo, enchiladas or tacos. You won't be disappointed. Authenticity is what you'll find on the Avenue. From enchiladas con mole poblano to Menudo, to tacos; all made with love. Though it's impossible to single out a star, the Avenue's tacos might be a nominee. Served piping hot on corn tortillas with an assortment of salsas — guaranteed you'll be ordering more before you're done.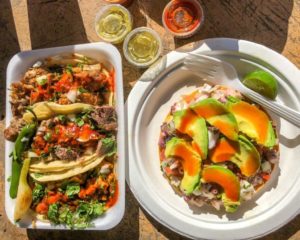 Anderson Paak dishes on a burrito and music store like no other…
Ventura local Anderson Paak, knows the town's off-the-beaten-path gems, from food to, surprise, music (he's currently nominated for two 2020 Grammy Awards; Best R&B Album and Best R&B Performance). He happily dishes on some of Ventura's best places. One of his all-time favorite places to eat is
Corrales Mexican Food
(pretty much a Ventura institution) on Thompson Boulevard (just a short walk from downtown). On the east end of town (you'll need a car for this one), Paak heads to
Salzer's Records
; the kind of record store you remember, with a sweeping collection that actually comes close to covering music's vast sweep. Added fun, there's sassy clothing and gifts. Some of it, you have to see to believe.
Play games (and possibly fall in love)…
Not far from Salzer's, you'll find
Golf N Stuff
. It's a mini amusement park crammed with a surprising amount of fun; from miniature golf to go-karts, to laser tag and an arcade. It's the perfect place for the family or a
fun date
. You'll be out tokens and possibly head over heels in love before you know it.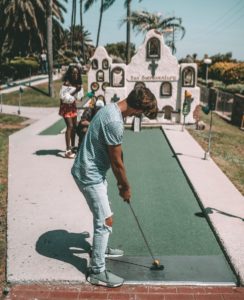 Go caving…
On the east end of town, you'll also find
The Cave
. It's not much to look at from the outside, but the wise traveler knows to never judge a book by its cover.
Step inside and you'll find a wine store with a shockingly varied collection. Almost hidden beyond the wine store is a restaurant designed to feel like the inside of a (cozy) cave.
Only a few caves house delicious small plates (and larger plates) and a wine tasting machine (buy a card, and sample what you want). And there's often live music. Another great place for a date, or a girl's night out.

From one cave to another …
Last but definitely not least, if you want to stray off the concrete path you'll want to check out the
Channel Islands National Park and Marine Sanctuary
. There are five islands in the Park and two of them (
Anacapa
and
Santa Cruz
) are only an hour from Ventura by boat. Added plus, Santa Cruz Island is riddled with
kayakable sea caves
(Channel Islands Adventure Company will
guide you through the caves
).
Want to escape (briefly) to a completely different world? Book your trip with Island Packers.
Also, check their website. Park construction projects will affect trips to Santa Cruz and Anacapa islands beginning in late October 2019, but this could work in your favor. Island Packers is offering trips they don't often offer, including daily trips to Prisoners Harbor on Santa Cruz Island, weekend winter trips to
Santa Rosa Island
, and special day trips to lesser-known island destinations. Whether you stick to Ventura's convenient downtown, stray to the east, or head across the water, Ventura guarantees unexpected adventure. Precisely what travel is for.
For more great stories, request our FREE inspiration guide right to your door!
Check out upcoming events!
Discover More
Get to know Ventura, and discover the best things to do around the city.
Ventura Partners With