Posted: Tuesday, Sep 5th, 2023
Where To Find The Best Tacos In Ventura: A Complete Guide to the Avenue Taco District
The second annual Avenue Taco Week is back again this year September 14 – 17 with a dozen different tacos for you to enjoy— and you have Thursday through Sunday to try one (or try them all). Wondering where to start? We've got you covered.
Ventura is known for a lot of things: our beautiful beaches, our expansive green spaces for biking and hiking, and our tendency to enjoy quality cuisine with an ocean view. And we'd like to emphasize the third item on that list because one of our favorite things to do is walk on the beach with a taco in hand. Can you imagine anything better? Luckily, there are plenty of taco spots in Ventura. And the Ventura Avenue is a popular area in town to have authentic, fresh, and delicious tacos in Ventura — you can find some of the best tacos in Ventura on the Avenue.
Thanks to the Westside Community Development Corporation (WCDC), a Community Based Development Organization that promotes the beauty of Ventura's Westside, we have a complete list of tacos and taquerías on the Ventura Avenue. These are locally owned and operated spots, many of which are family businesses.
Read on for a list of tacos— in no particular order— in Ventura on the Ventura Avenue. Don't worry, you don't have to try them all in one day. But we're warning you: you may be tempted to!
Maggie's On the Avenue
What you should try: Asada and Al Pastor tacos, corn burrito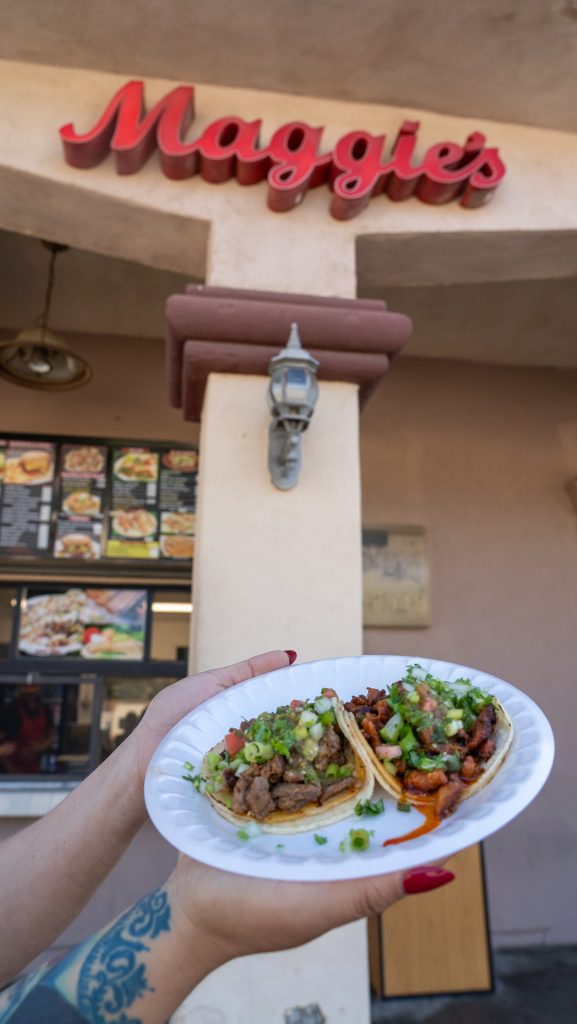 Probably the farthest up the Ventura Avenue/Avenue Taco District, you'll find an unsuspecting taco spot that really only the locals know about. Also known to be skateboard pro Curren Caples's favorite place to get a taco, Maggie's is incredibly affordable.
When you walk up to order, you'll look up to find an extensive menu with breakfast options, combo plates, many different tacos, and maybe surprisingly, burgers too. Maggie's is a to-go type of spot as there isn't any seating outside. Grab your tacos and head to the beach!
Lalo's
What you should try: Taco de Lengua
Pulling up to Lalo's, you're transported to another time: oranges, reds, blues, yellows, and greens make you feel like you're in classic vintage California. A bit drive-in-esque, Lalo's is a Ventura Avenue staple offering some delicious tacos. There's tons of space to eat outside on some cute orange tables and enjoy your food, or, head inside for indoor seating as well. Serving breakfast all day, and offering catering, you can't go wrong with Lalo's. Try their taco de lengua (aka beef tongue) for a unique taco. It's juicy, tender, and flavorful — don't get too wrapped up in the type of meat!
Taqueria Ventura Doña Raquel
What you should try: Empanada taco
A little hole in the wall, Taqueria Ventura Doña Raquel is a small taquería on the Ventura Avenue — so small you may miss it. Luckily, if you talk to any Ventura locals and ask where you should get tacos, they'll probably mention Taqueria Ventura because it's truly a local favorite and on many people's lists as some of the best tacos in Ventura. With only outdoor seating available, you'll take a seat on gorgeous tiled tables surrounded by tropical palm trees and plants which sets the perfect vibe to dig into some tacos. This taquería is known to make its tortillas from scratch and you can also order a late-night bite on Grub Hub.
Pablito's Tacos
What you should try: Birria queso taco and keto birria taco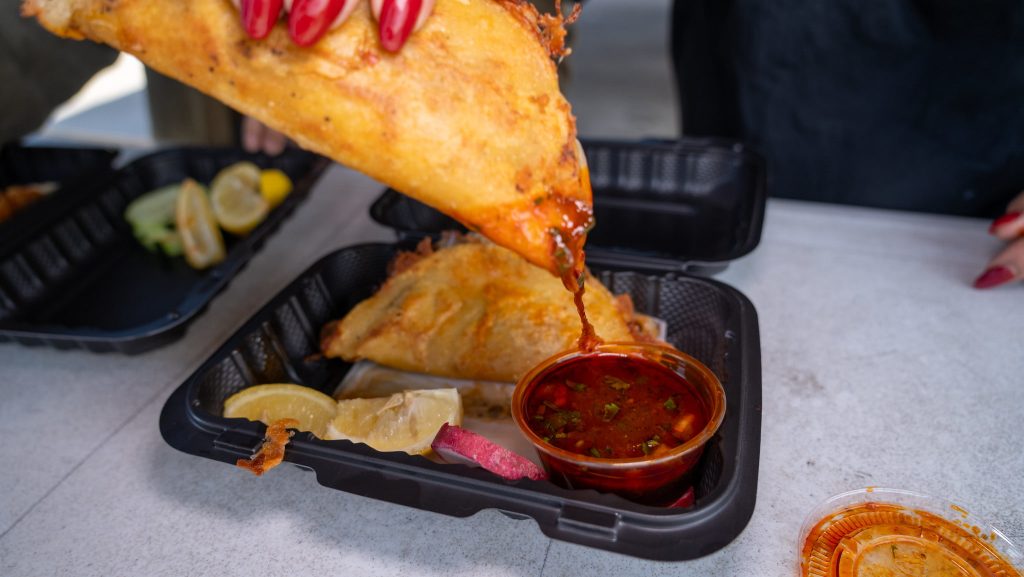 As one of the only taco trucks on this list, Pablito's Tacos packs a punch despite its small size. Nestled in between a local church and a rehabilitation center for men on the Ventura Avenue, Pablito's Tacos serves delicious food for a good cause. A co-op of sorts that benefits the rehabilitation center it's connected to, the friendly men behind the order window are working towards something bigger than tacos. Try their delicious birria queso taco or their keto birria taco. There's limited seating so you can enjoy your taco before continuing on to the beach or Downtown Ventura.
Taqueria Cuernavaca
What you should try: Veggie taco and mushrooms and papa taco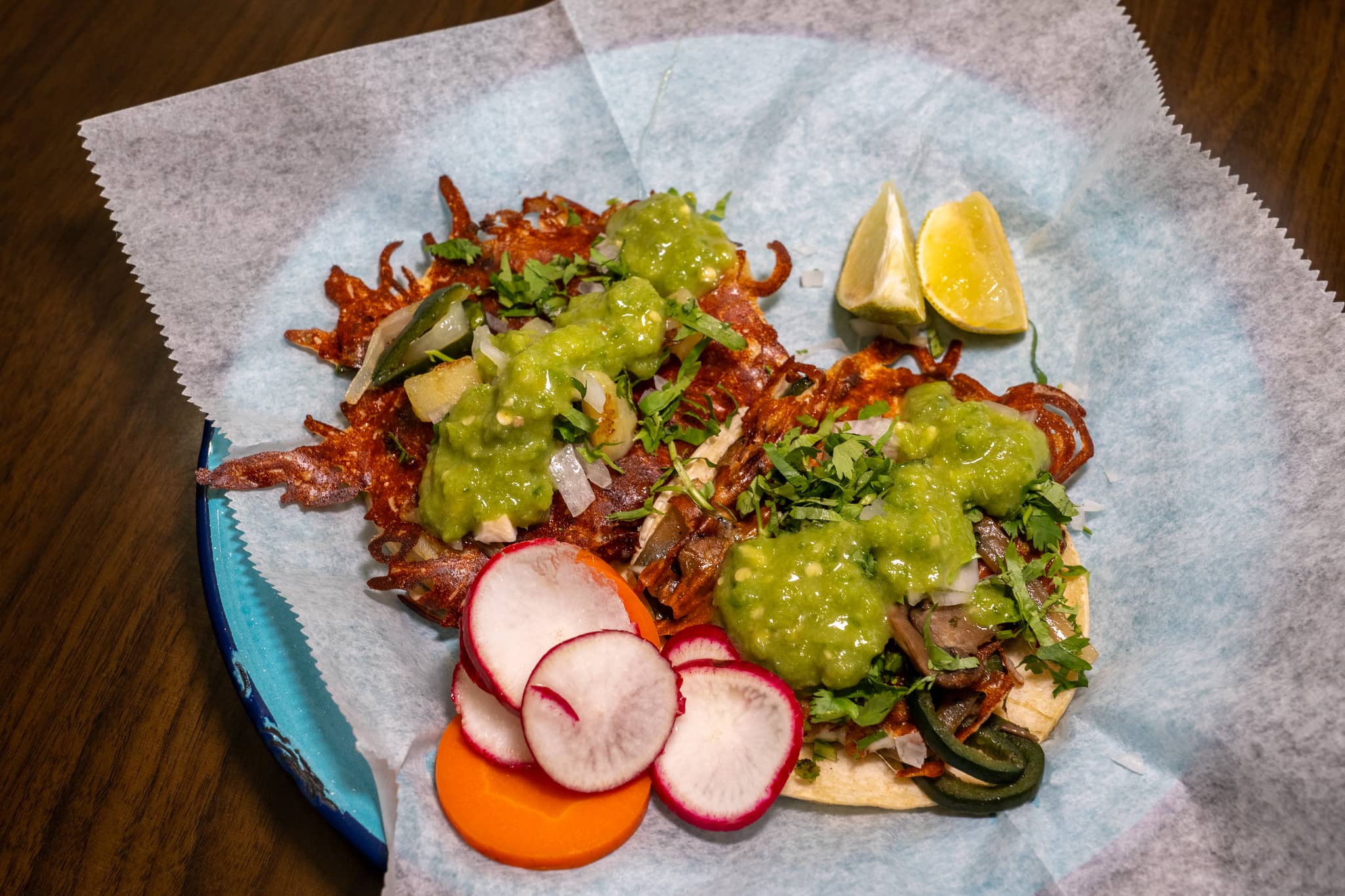 Looking for a vegetarian taco? Give Taqueria Cuernavaca's veggie taco or mushroom and papa taco a try (both amazing vegetarian-friendly taco options). With plenty of seating inside and outdoors, Taqueria Cuernavaca has a more modern aesthetic but the food tastes completely authentic.
Taqueria Tepatitlan
What you should try: fish fajita taco and a Michelada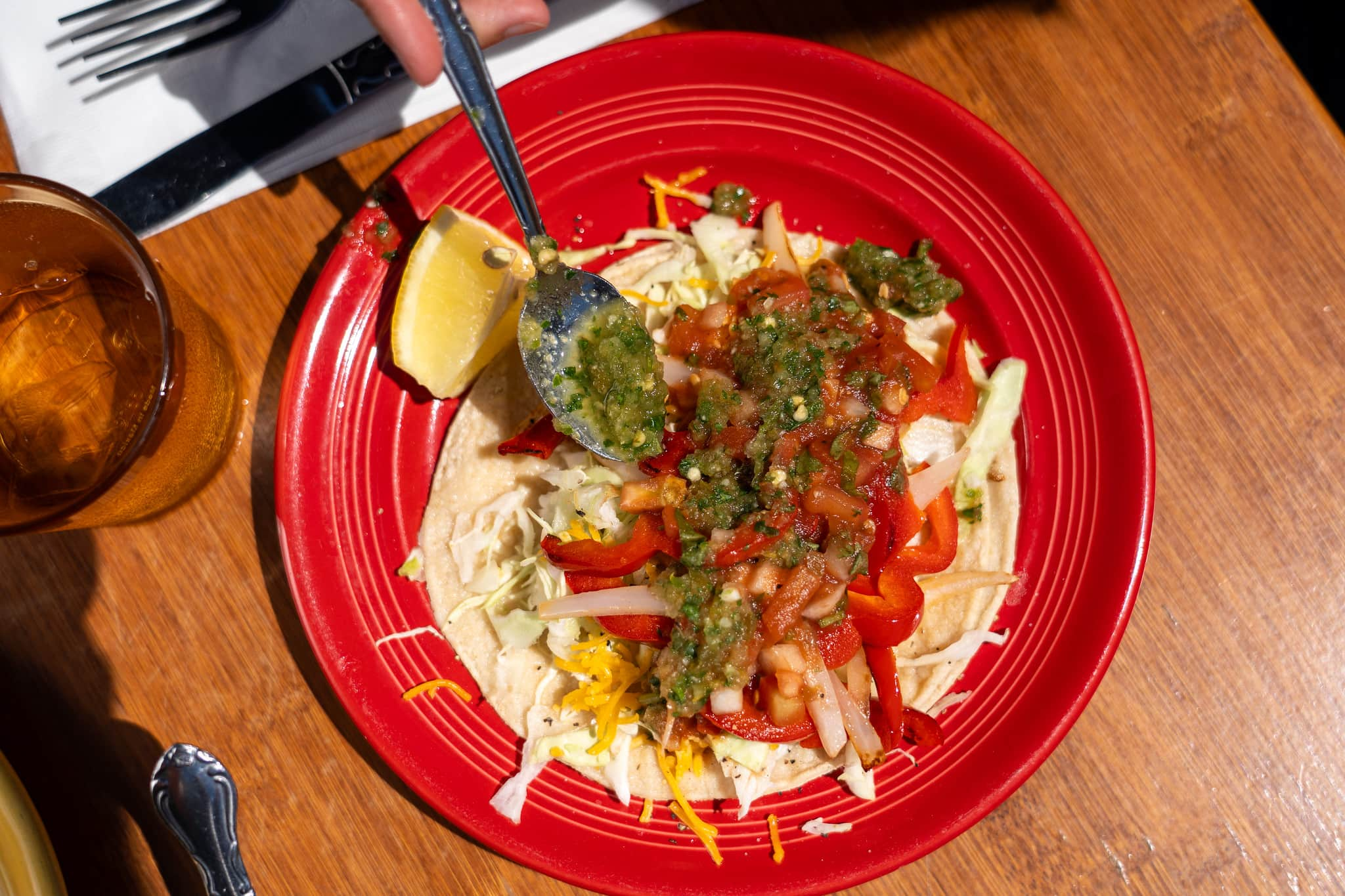 Family-owned and operated, Taqueria Tepatitlan is a local spot known for its fish tacos and known as one of the only taquerías in the Ventura Avenue Taco District with a full bar and beer on tap (try their killer Michelada!). Sit inside for a fun sports bar vibe or head outside and sit in their cute outdoor patio. Check out their daily specials for lunch or dinner and try some of the best tacos in Ventura here at Taqueria Tepatitlan.
Red Barn Market
What you should try: Carnitas and Chicharrón tacos
An unsuspecting spot to grab fresh tacos, Red Barn Market is a full-scale local grocery store on the Westside with fresh produce, a deli, and aisles and aisles of food. Grab your groceries and delicious tacos (head to the very back of the store for tacos) and even a scoop of Thrifty ice cream.
El Asadero
What you should try: al pastor queso taco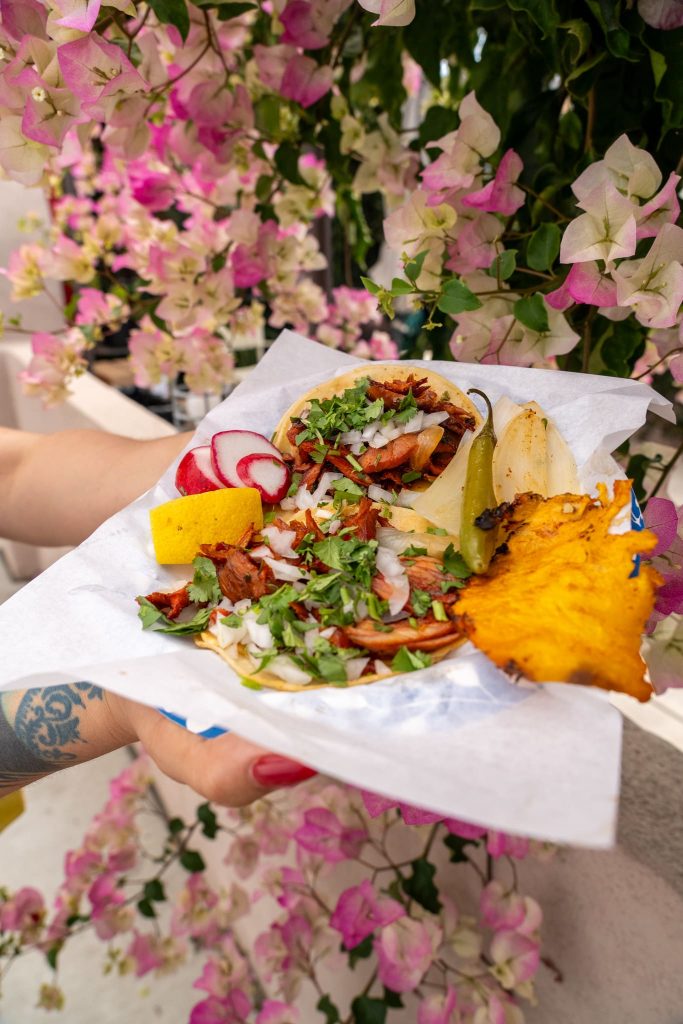 One of the only taco spots on the Ventura Avenue that is known for its trompo style al pastor (the style of al pastor that rotates around a fire), El Asadero is a classic taquería spot in Ventura's Taco District. Sit inside or enjoy the sunshine on their smaller outside patio seating surrounded by beautiful flowers. El Asadero also has an event space for parties or large gatherings (ask about having a taquero for your party).
Indian Rasoi
What you should try: Naan tacos (chicken tikka masala or chicken vindaloo)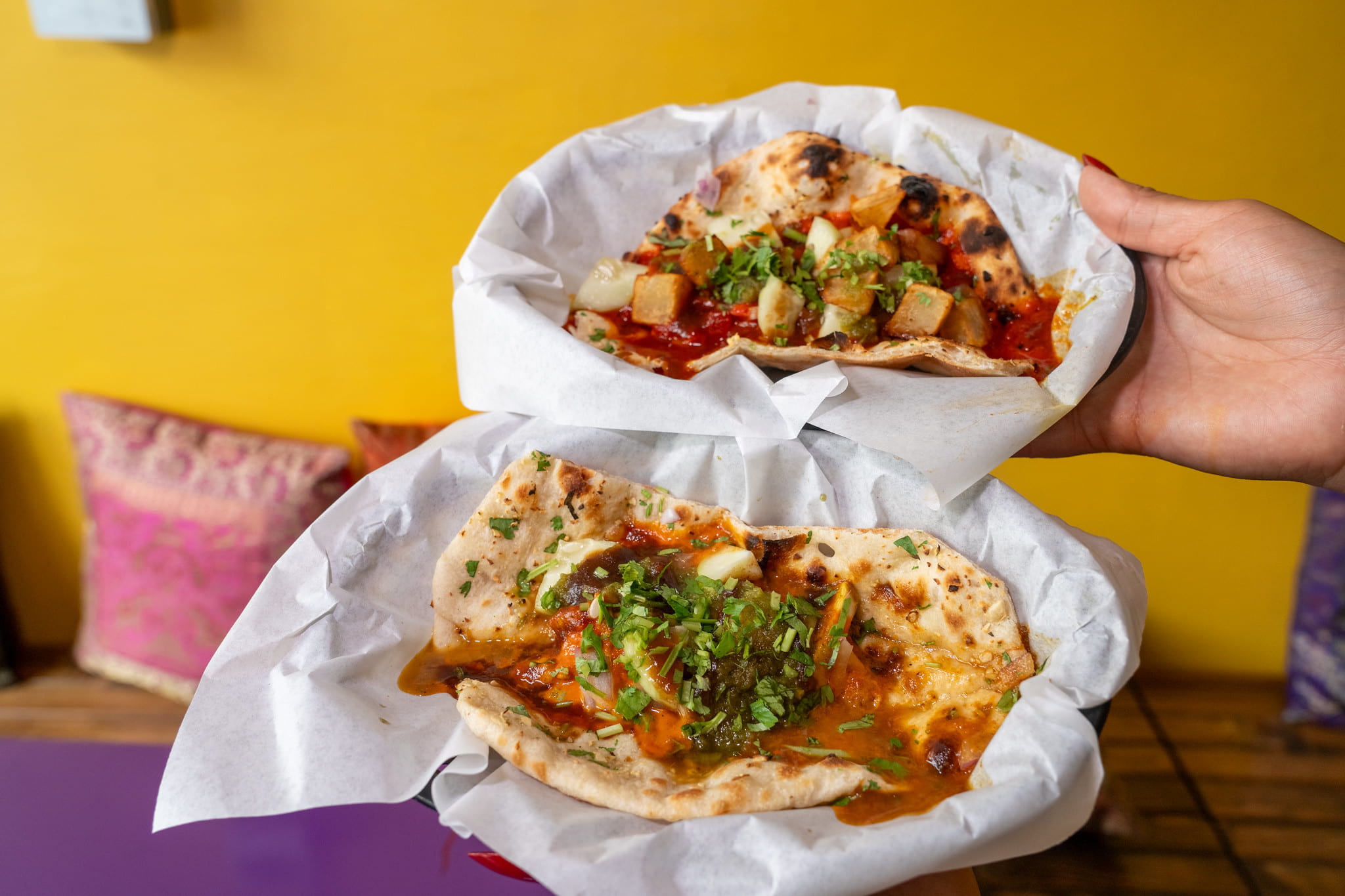 Yep, you read it right. Tacos are universal and we had to include Indian Rasoi's taco offerings. But first, let's talk about the inside: it's a super cozy vibe with beautiful chairs and seats. Want to spend lunch eating and doing some work? Indian Rasoi is the place to study and keep your stomach full of good food. You might miss Indian Rasoi as you walk along the Avenue but don't overlook what's inside. And better yet, don't overlook what you'll get to eat from Indian Rasoi. It's a family restaurant that puts a lot of love and thoughtfulness into each meal that goes on the plate.
PS. Order their ginger basil limeade to go along with your naan taco!
El Jarocho Seafood
What you should try: fried fish taco, fried shrimp taco, and grilled shrimp taco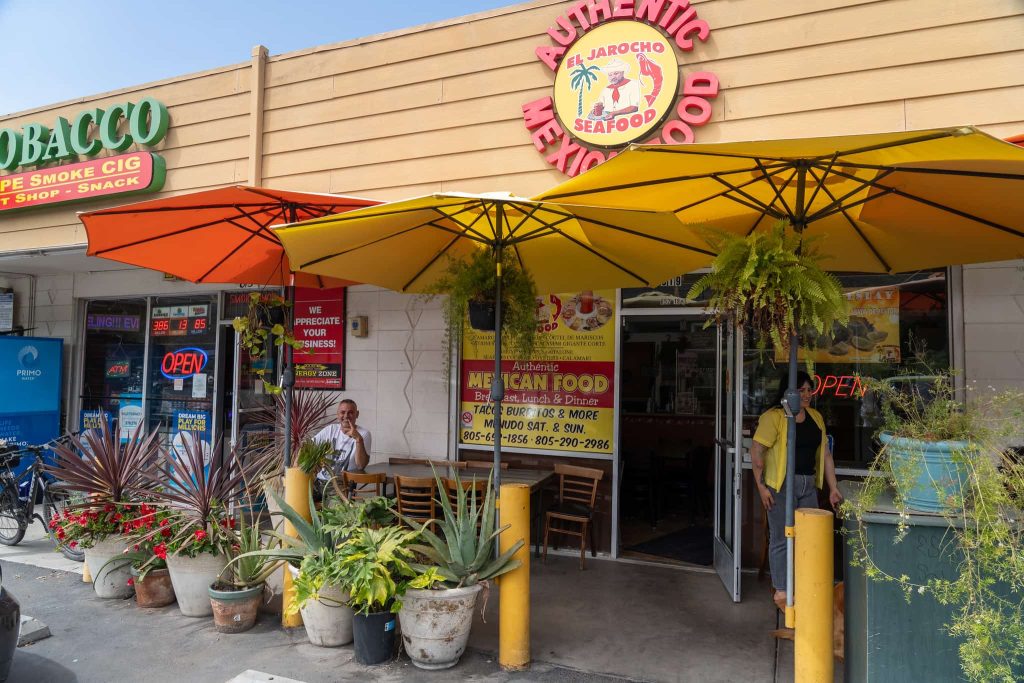 Another hidden spot in the Ventura Taco District is El Jarocho Seafood, known for its seafood inspired by the Veracruz state in Mexico. With plenty of parking in the parking lot out front and inside seating, try each of their salsas at the salsa bar (the avocado salsa is out of this world!). And, you might even be able to meet el Jarocho himself when you stop in to order.
Angie's Deli & Mexican Food
What you should try: Chicharron taco, Cabeza taco, and Asada taco
Hidden inside the Red Barn Liquor store, Angie's Deli & Mexican Food is about as local as you can get. Inside, it's a full liquor and convenience store — similar to the bodegas you might walk into in New York City. Journey to the right side of the store and order tacos you can only dream about. A great late-night spot, Angie's tacos are fresh and delicious.
Johnny's Mexican Food
What you should try: hard shell beef taco
Ask anyone who is even relatively into tacos in Ventura and they'll probably mention Johnny's as one of the places you have to check out for good old-school SoCal Mexican food. Not only is Johnny's Mexican Food one of the oldest restaurants in town (established in 1947 in Santa Paula and moved to the Avenue in 1963), it truly is a staple. Great for a quick and affordable bite to eat, you can take your taco to go and head down to the beach or grab a seat indoors/outside. Try their corn burritos and their hard-shell beef taco.
Other Taco Spots in Ventura/Taco District to Try…
Also worth mentioning are Panadería Herrera (closed during Taco Week 2023) and El Taco de Jerez. Panadería Herrera, a green business, has been family-owned and operated for 30 years and you can check out their daily specials. El Taco de Jerez, a super local spot, is known for its cheap eats and a wide variety of tacos and food. And good news! El Paraiso Bar & Grill has recently reopened for your taco cravings. And last but certainly not least, don't overlook 4 Way Market next to Kellogg Park for some good eats.
A little history of Avenue Taco Week
Avenue Taco Week was created by local resident Richard Carradine and produced with the support of WCDC, the City of Ventura, and the Westside Community Council (WCC). A chance to feature the local businesses and the beauty of the Westside is what Taco Week is all about. And it's fun that you get to fill your stomach while doing so! Though Taco Week comes once a year, every day is Taco Day in Ventura, thanks to the diverse taco spots and taquerías in the Taco District and also all across the city.
Last but not least, don't forget to add another date on the calendar to bring the Taco Week 2023 celebration to a close: In conjunction with Avenue Taco Week is the first Westside Fiesta at Kellogg Park on September 16, from 4 to 10 p.m. featuring food trucks, vendors, a raffle, live music, and bounce houses!
Things to Do


Ventura Shopping
Outdoors


Biking & Hiking Trails
Food & Drink


Restaurants

Outdoor Dining

Farmers Markets
Discover More
Get to know Ventura, and discover the best things to do around the city.
Ventura Partners With