Posted: Thursday, Nov 29th, 2018
Top 5 Holiday Celebrations SEAside at Ventura Harbor Village
Ventura Harbor Village has a dazzling array of holiday events, shopping, and dining by the sea. Ventura Harbor Village offers locals and visitors a  one-stop destination for all things sparkling on the water this holiday season. With coastal boutiques & local Ventura artisan galleries offering unique finds and wonderful stocking stuffers, to waterfront dining and nightly boat cruises to see the decorated homes and boats in the Ventura Keys canals, Ventura Harbor Village creates a relaxing spot to enjoy the holidays (California-style of course!)  with friends and family.  SEAson's Greetings – here are top 5 Holiday Picks!
1. Santa Paddle – NEW!
Kids eyes are guaranteed to light up when they spot Santa cruising by on a paddleboard! Old Saint Nick is temporarily trading in his sleigh for a paddle on Saturday, December 8 from 11 am-Noon in Ventura Harbor Village and we encourage you to come SEA! The Santa Paddle is a family fun event that's free to join in. If you are in need of rental equipment, it's a good idea to arrive early to secure your rental needs. Ventura Boat Rentals has a variety of options including kayaks, SUP's and peddle boats. Prices vary from $15 – $23 per hour depending on equipment selection. The starting point is Ventura Harbor Village bay, then on to the Channel Islands National Park Visitor Center and back (approximately 1 hour). A $40 Gift Card prize will be awarded to the most festive outfit. If paddling isn't your thing, electric boats can be rented at Ventura Boat Rental to go alongside the paddle.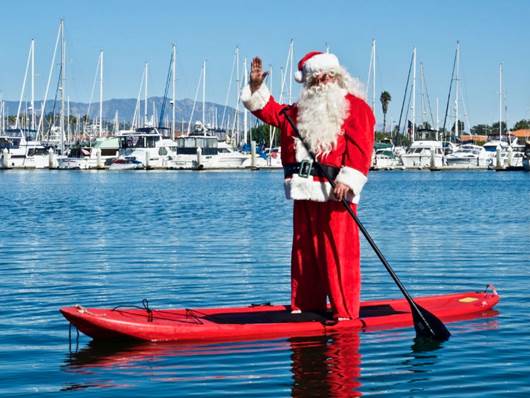 2. Nightly California Sleigh Rides on the Water
Sleighs aren't just for snow! Ventura Boat Rentals has California-style ONE HORSE OPEN SLEIGH rides scheduled December 7th – 13th and December 16th -31st, and you can choose between 5:45 pm or 7:30 pm departure times for an hour and 15-minute ride. Take a California Sleigh Ride through the Ventura Harbor and Ventura Keys! Twinkling holiday lights reflect upon the water from boats in the Ventura Harbor, Ventura Harbor Village, and the decked out homes in the Ventura Keys neighborhood. It's a feast for the eyes! A bar is available on board for guests 21+ including the famous Reindeer Milk! Reservations are required. Call (805) 642-7753.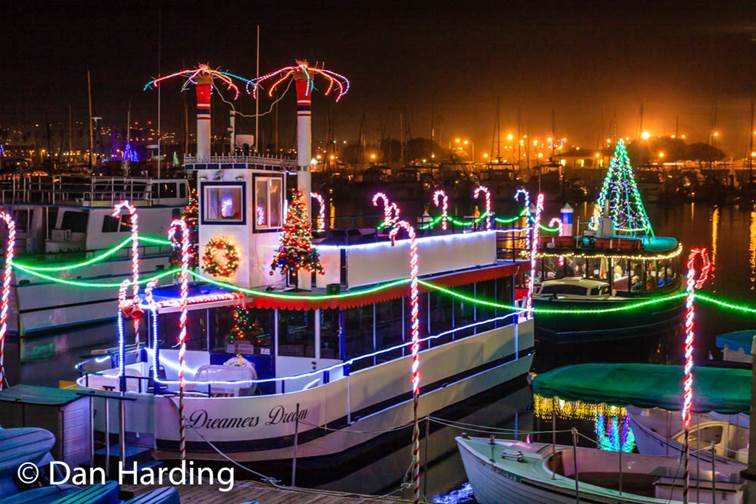 3. Holiday Caroling Cruises Ring in Season
A burst of yuletide song captures the essence of the holidays aboard Island Packers Holiday Caroling Cruises. With a breeze in your hair and song on your lips (or not, feel free to just listen and enjoy), you're sure to feel festive as the holidays are on their way! Invite friends and family for an evening on the water to view all the decorated homes along the water with a one hour Island Packers Caroling Cruise aboard a 64' catamaran. Select available dates between December 8th thru December 23rd, 6:30-7: 30 pm. Serenade families in Ventura Harbor and Ventura Keys neighborhood with joyful holiday tunes (singing not required). Advance reservations recommended and bring a scarf! For tickets, call 805-642-1393 – islandpackers.com/harbor-cruises/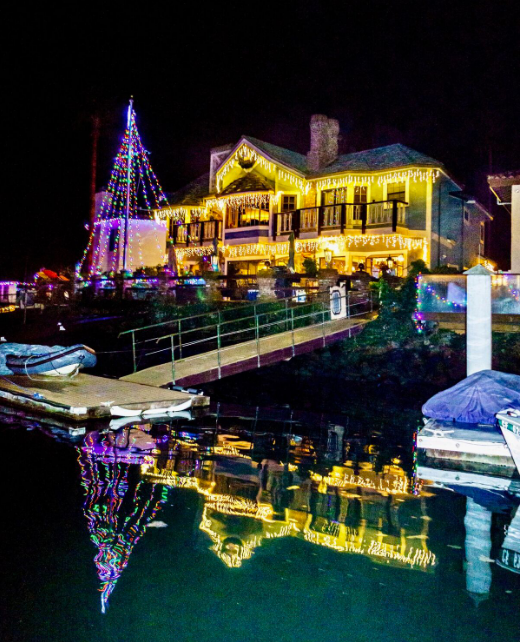 4. Ventura Harbor Parade of Lights 2018
The 42nd Annual Parade of Lights and Fireworks on Friday and Saturday, December 14-15, sets the perfect mood for the holidays with brilliant displays of boat decorations and colorful lights sparkling at the seaside. This year's 2018 theme is "Rocking on the DOCK Side of the Moon," is a nautical play on words to the timeless Pink Floyd album, "Dark Side of the Moon." The event will take your breath away with its spirit, beauty, and groovy vibes that pays homage to the 70's. We are looking forward to a very colorful, celebratory Boat Parade and Harbor Village festivities. Anticipated schedule: 5pm – Kids Carnival Rides & Ferris Wheel, 6:30pm – Boat Parade of Lights, 8pm – Fireworks both Friday & Saturday evenings. Plus, Saturday only there will be a 70's dance party in the Ventura Harbor Village at 5:15pm. Get your bellbottoms ready and get down to disco favorites before the closing night of the boat parade! Come early Saturday, December 15 for best parking and the Winter Wonderland & Holiday Marketplace event from 1- 5 pm. Make your dinner reservations in the Harbor early. All facets are weather pending.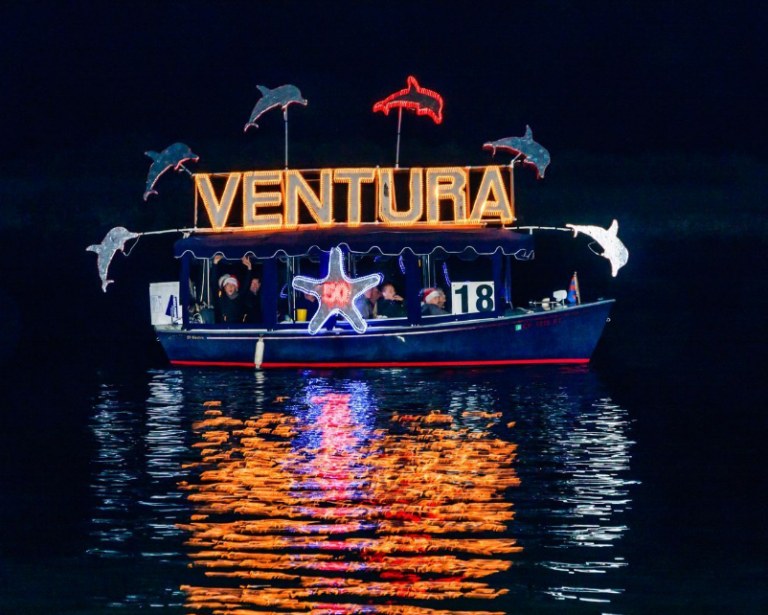 5. Winter Wonderland & Holiday Marketplace 2018
This festive seaside event harks back to traditional celebrations with complimentary Santa and Mrs. Claus photos, Santa's live reindeer, and faux snowfall, oh my! Winter Wonderland & Holiday Marketplace at Ventura Harbor Village from 1-5pm on Saturday, December 15, 2018 offers all ages the perfect setting for shopping local this holiday season. Rediscover the joy of gift giving as you wander through the Harbor's festive Village and visit more than a dozen boutiques. Every 15 minutes take a wintery selfie under the faux snowfall, visit with holiday characters, listen to Dickensian Carolers, participate in kid's holiday crafts, reminisce with a Toy Soldier Band, and much more. The Annual 42nd Ventura Harbor Parade of Lights & Fireworks follows at 6:30 pm.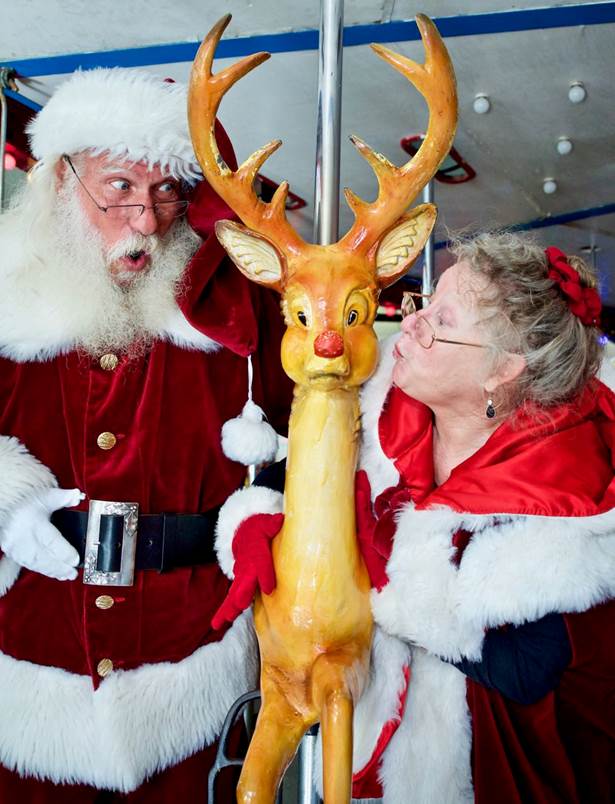 The bonus, parking is complimentary for all the events and happenings! To find more info on all of the above, please visit venturaharborvillage.com/events/
Discover More
Get to know Ventura, and discover the best things to do around the city.
Ventura Partners With