Posted: Tuesday, Dec 3rd, 2019
Ventura Holiday Events You Won't Want to Miss
by Visit Ventura featured image provided by the Ventura Harbor Village
Snow! Wine! Tacos! Who says a Southern California beach town can't do Winter?
Here in Ventura, we know that celebrating winter — and holiday magic — is merely a matter of mindset, and leaving the puffy astronaut jacket in the footlocker. Think child again, but since you have a grown-up wallet, think about
making a weekend
(or two) of it, because there's a lot going on. Ventura Winter Wine Walk & Holiday Street Fair — AND Ventura's Holiday Tree Lighting Yes, the Ventura Winter Wine Walk & Holiday Street Fair (with snow!) on Saturday, December 7th anchors the first big weekend of holiday celebration. But the child-like rapture begins the night before with Ventura's Holiday Tree Lighting, decades-long traditions at the San Buenaventura Mission. Beginning at 5:30, choirs will sing and dancers will dance. At roughly 6:45, Santa will arrive (how can you pin the man to a precise schedule at this time of year?). Santa will lead the countdown and, poof, a sea of lights will turn the Mission's two towerings (120-foot) Norfolk pines into a neck-cricking, sparkling spectacle of ooohs and aahs. And then, perhaps by magic (if you squint), snow will fall. Maybe you will be holding someone's hand.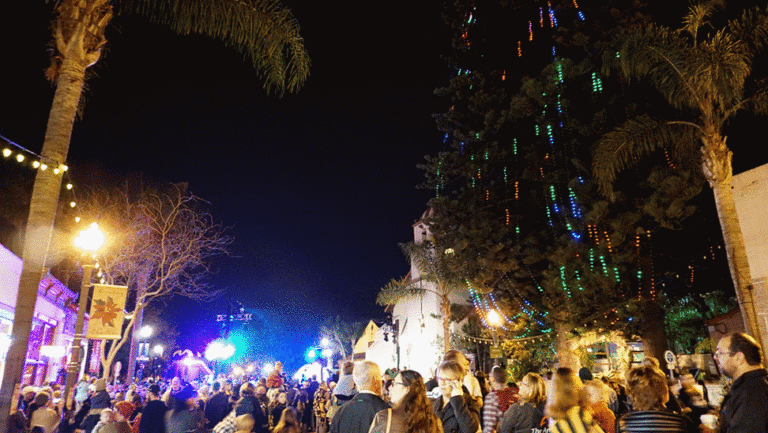 The next day, the Ventura Winter Wine Walk & Holiday Street Fair kicks off with the free Holiday Street Fair from 12 pm to 8 pm on the 300, 400 and 500 blocks of Main Street, with vendors and live entertainment — and, yep, snow will fall yet again (from 6:45 pm to 8 pm) on Main Street! Artists, crafters, non-profit organizations, commercial and food vendors, they'll all have booths. Ventura's Winter Wine Walk works simply. Buy a
ticket
and be ready to go at 4 pm. The Wine Walk showcases world-class wineries, and happily, breweries too. Your ticket provides you with a tasting cup and a map of the participating tasting sites — local businesses in downtown Ventura. Each tasting site has a designated area set up for Wine Walk guests to sample whatever amazing wine or beer they are serving. The tastings end at 7:00 pm. By then it will be time to hold your face up to the snowfall. (For additional details, please click
here
.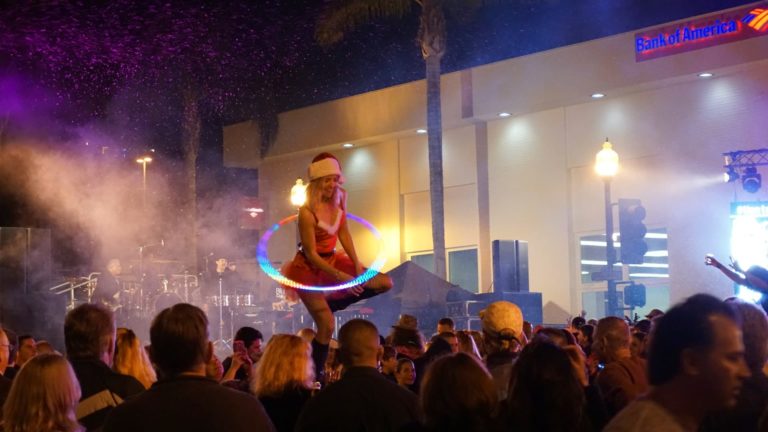 These are the things memories are made of. And your chance to be a child again.
And, from Ventura Harbor to Ventura Avenue, the Holiday celebration continues on …
Carol Cruise in Ventura Harbor all December long
Island Packers offers fun Holiday cruises and tours of Ventura Harbor throughout December. Island Packers' "Caroling Cruises" bring the yuletide spirit to life. Slowly cruise the lovely waterways of Ventura Harbor, a sparkling kaleidoscope of decorated boats and homes. You can sing along, or not, but you do need to make reservations. Caroling cruises start at 6:30 pm. Please see Island Packers' website for specific days.
Take a sleigh ride, Ventura-style
Ventura Boat Rentals
is offering Holiday Light Tours of Ventura Harbor aboard their appropriately named "Dreamer" vessels. Tours are scheduled for December 7th and 8th, and from December 15th through December 31st; they run from 5:45-7:00 pm and 7:30 – 8:45 pm. VBC is also offering Parade of Lights Tours on December 13th and 14th. All tours come with free hot chocolate and holiday cookies (a bar is also available onboard). For prices and more details, please call 805-642-7753 or visit Ventura Boat Rentals.
Join in a Stand-Up Paddle with Santa (a stand-up guy)
The Santa Paddle launches on Saturday, December 8th at 11 am from "C" dock in Ventura Harbor Village. You can bring your own equipment, or rent a kayak, pedal boat, or stand up paddleboard from
Ventura Boat Rentals
in Ventura Harbor Village (please arrive early to secure your vessel). The fun starts off the dock of Ventura Boat Rentals. Then it's a beautiful paddle to the Channel Islands National Park Visitor Center and back (about an hour). Santa will lead the group on his own SUP. You're invited to dress in the festive spirit with reds and whites, and, of course, Santa Hats. A $40 prize will be given to the most festive outfit.
Ventura Harbor Village 43rd Annual Ventura Harbor Parade of Lights and Fireworks
Bedecked boats parade their stuff on Friday, December 13th and Saturday, December 14th from 6:30 pm to 8 pm. Joyously uplifting, the procession of decorated boats is an unforgettable spectacle. Added plus, this year's theme, "SEAing is Believing," pays homage to all things imaginary and magical. There's also carnival rides for the kids (and kids at heart), sweet treats, warm drinks, and waterfront dining. Fireworks will light up the sky both Friday & Saturday at approximately 8 pm. For more information please click here. You can watch the Parade from the Harbor's edge, but you can also watch the Parade from the water, courtesy of Island Packers' Parade of Light Cruises. Tickets are $35 for adults, $32 for seniors, and $25 for children. There's a snack bar on board. For details, call 805-642-1393 or visit Island Packers.
Live music, mouthwatering tacos, a car show, arts and crafts for kids. All of this — and the lovely feel of community — on Saturday, December 21st from 12 pm to 5 pm at the Restore Garden (572 North Ventura Avenue). On, and good fun, a dunk tank, with your chance to send local luminaries into the drink. Ventura Harbor Village Winter Wonderland & Holiday Marketplace Also on Saturday, December 21th (12 pm to 4 pm); free visits with Santa & Mrs. Claus and their live reindeer, Victorian Carolers, a Toy Soldier Band, holiday characters, free craft stations, and even snowfall make Winter Wonderland a magical holiday experience for the entire family.
And, finally, looking for a unique (and easy) holiday gift?
Buy your loved ones a magical trip to the
Channel Islands
. You can buy gift certificates from Island Packers over the
phone
now through the holiday season. Make the purchase, and Island Packers will mail the gift certificate directly to your lucky recipient. Last, but not at all least, whatever you do, enjoy the magic of a very special season.
Discover More
Get to know Ventura, and discover the best things to do around the city.
Ventura Partners With