Posted: Thursday, Dec 6th, 2018
Check out Ventura's Taco District, because tacos aren't just for Tuesdays!
Ventura Avenue is known for being a wonderfully walkable, diverse, and welcoming community. With Surfer's Point at the south end, the Ventura Botanical Gardens nestled to the east of the Avenue, and the Ventura River to the west, this strip is filled with rich history and Ventura fun for everyone. What is less known about this area is that it is home to a plethora of delicious authentic Mexican restaurants.
The Taco District has organically evolved on Ventura Avenue. It consists of some 14 long-time Mexican restaurants, all belonging to Mexican immigrants. All but Maggie's (on the Avenue by Shell Road) are within a mile, all restaurants are bilingual, and each has its own specialty!
It has been said that breakfast is the most important meal of the day. Start your morning off with a smile because Angie's Deli crafts a breakfast burrito that will surely warm up the grumpiest non-morning person. Angie's Deli is a small window for counter service tucked on the side of Red Barn Liquor. They are known for their affordable breakfast burritos— packed with either chorizo, bacon, or ham, cheese, and potato, seasoned to perfection, and served with a lovely little side of homemade tortilla chips. Not to mention, Angie's salsa is killer! If you're not a breakfast burrito person, their asada torta is another fan favorite. We biked down Ventura Avenue to Kellogg Park to enjoy our feast. With mountain and vineyard views, plenty of picnic tables, and an awesome playground, this happy and diverse community was the perfect place to enjoy our Sunday morning.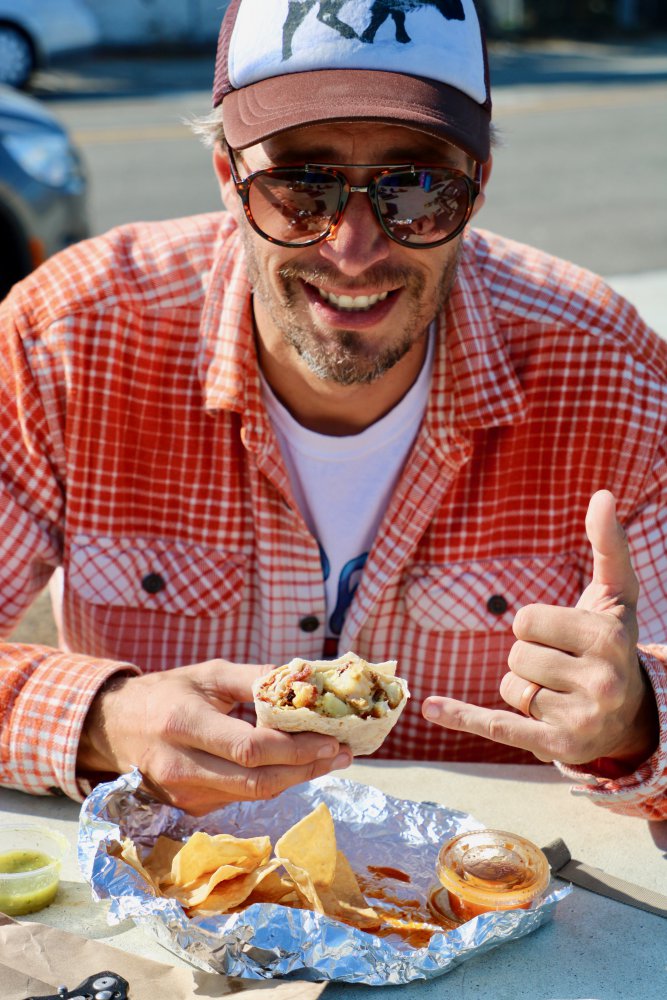 Taqueria Ventura Doña Raquel's specialty is their fish tacos; we are in California after all! With soft fresh homemade tortillas, a sublime creamy sauce, just the right amount of cabbage and cilantro filling, topped with juicy fish and a squirt of lime, Doña Raquel's fish tacos are truly divine. Packed with flavor, these seaside classics will make any taco lover's heart sing! The outdoor seating space, surrounded by planters full of palms, creates an ambiance ready for you to enjoy your favorite Mexican dish. With its chill vibe and family-friendly atmosphere, this is a stellar place for lunch or a sunset dinner.
El Taco de Jerez, also known as the Red Taco Truck, can usually be found parked at the corner of North Ventura Avenue and West Simpson Street. This is the taco hot spot! Don't be shy, and ask for their "secret menu" quesarrito, and get stoked, because oozing, cheesy, delicious, goodness, is coming your way! This joint is open until midnight, making it the spot for late-night cravings. Their tacos are beyond yummy, and priced right for you to justify ordering seconds, thirds, and fourths! There are tables set up to the side of the truck, so you don't have to worry about losing your taco contents trying to stand and eat.
Once your belly is full of tacos and burritos, Panadería Herrera, Panadería Lalas, or La Frutileta Michoacana can satisfy your sweet tooth needs with their assortment of Mexican pastries and treats.
Although we only touched on our top three Taco District finds, Ventura Avenue is full of delectable Mexican Restaurants. We highly advise you to grab some grub at all of them (check out the complete list below). Each spot will be sure to delight your taste buds with their unique offerings. The Taco District now even has their own stickers, hats, and t-shirts! Get out to Ventura Avenue, because your Taco Tuesday (or any day) starts now!
Also your happy chance to admire a host of locally painted murals that line Ventura Avenue in a child-bright parade, some as big as buildings because, well, they're painted on the side of buildings.
Discover More
Get to know Ventura, and discover the best things to do around the city.
Ventura Partners With