Posted: Thursday, Feb 27th, 2020
Ventura Avenue's Taco Trail with Ozomatli
by Visit Ventura
We tracked down the irrepressible (and kind) Gerardo Gallegos, long-time Ventura Avenue resident, community activist and possessor of a non-stop buzzsaw creative mind (see Question #1). Gerardo runs the non-profit
Restore Ventura
, which includes a community garden (to encourage healthy eating), as well as the
Avenida Surf Club
, which connects kids from Ventura Avenue with the joy of surfing. He also came up with the concept of the
Taco District
, shining (more) light on one of the tastiest assemblages (strung along Ventura Avenue, all the restaurants are within 3 miles of each other) of Mexican restaurants you'll find anywhere. That's the short version of Gerardo's efforts because we want to get to his answers. Suffice to say that Gerardo is the kind of person every community needs. He's the kind of person you can trust. So trust this. Here (as he deftly puts it) is the 411 on Ventura Avenue (and beyond). And how to better understand a community. And make it better. Visit Ventura recently toured the Taco District with Gerardo and band members (and all-around nice guys) of the Grammy award-winning
Ozomatli.
Masters of Latin, Hip-Hop, Funk and everything between, the boys in the L.A.-based band were also just plain great company, and the Westside tour was a great look at a Ventura gem — our town's oldest — and one of its most delicious — neighborhoods. The tour finished with lunch at
Taqueria Ventura "Doña Raquel,"
and fish tacos that stack up against any place on the globe. Possibly something to sing about? Stay tuned…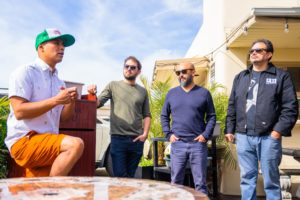 So Gerardo, who came up with the name "Taco District?"
"I was at a conference in Reno a couple of years ago, and I realized how much I love my neighborhood. At home, I could walk to 15 Mexican food establishments within minutes, and here I was in Reno running around trying to find a decent burrito. Then the light bulb turned on, and the rest was history."
Are all of the restaurants in the Taco District family-owned?
"Yes, they're all family-owned and operated. I would consider all of them to fall into the Mom & Pop category."
Where is a good place to get pan dulce in Ventura? Close your eyes and describe the taste.
"Two places I can think of… Panaderia Herrera and
Panaderia Lala
's. Think about your favorite muffin. Then think about your favorite donut. What if they had a baby? Pan Dulce!"
Why do you think Ventura's Hispanic culture is different from Hispanic cultures in some other places, for example, Los Angeles?
"Because L.A. is so big, Hispanic culture is easily influenced by other surrounding cultures. Ventura is unique because the families that call Ventura home have been in the neighborhood for generations, and all the family traditions continue to be passed down."

How is Hispanic culture celebrated in Ventura?
"
Bell Arts Factory
has a great Baile Folklorico program. They do a lot of events in our community. Most recently, a new event called Va Por La Avenida has been celebrating our culture with Aztec Dancers, Music, Art & Car Shows. This is a quarterly event. The next one is March 21st when we celebrate Primavera (Spring)."
Where would you recommend people go shopping for authentic Hispanic knick-knacks? Places like, say, La Catrina Folk Art?
"
Red Barn Market
has a few things, but honestly, on the weekends the
Ventura College Swap Meet
is the best place. That's where our community likes to shop because it has the feeling of being back home at a "Tianguis (open-air market)."
What other events celebrate Hispanic heritage in Ventura?
"Sometimes the
Museum of Ventura County
will have art exhibitions celebrating Hispanic heritage."
What advice would you offer Ventura visitors (and locals) who really want to delve into our Ventura culture here?
"Volunteer. This will give you an idea of what we are passionate about, and it will help you build relationships with others who love this city. It can also give you the 411 on things to do and places to visit."

What are the essential "to do's" on the Avenue and in and around Ventura?
"We have it all, from the beach to the mountains…
Is there anything you'd like to add?
The
Westside Community Council
is a great place to participate if you live or work on the Avenue. Meetings are the first Wednesday of each month, at 6:30 pm at Bell Arts Factory. For more on the Taco District, check the
Taco District Facebook page
and
Instagram account
. For information about Restore Ventura, and what it does for the community, please click
here
.

For more great stories, request our FREE inspiration guide right to your door!
Check out upcoming events!
Discover More
Get to know Ventura, and discover the best things to do around the city.
Ventura Partners With