Posted: Thursday, Oct 17th, 2019
5 Ways to Celebrate Hispanic Heritage (Every) Month in Ventura
featured image by Jules Hooper
Hispanic Heritage Month kicked off on September 15 (the day before Mexican Independence Day), and it runs through October 15, offering the perfect opportunity to celebrate the Hispanic roots that run deep through this country and our town. Imagine a world without Sonia Maria Sotomayor (the first justice of the Supreme Court of Hispanic descent), Cesar Chavez (labor leader), Ellen Ochoa (astronaut), Selena (musician), or our very own Mayor Sofia Rubalcava.
As a child, Mayor Sofia Rubalcava would stand in front of the colorful mural at Sheridan Way Elementary School and see it for what it is.
"It says, 'We're a beautiful spring bouquet of all colors here at Sheridan Way.'" Sofia smiles. "I really like that message. I feel like it represents the diversity that we have here in Ventura."
Spanish Revival style homes line our streets. Salsa music pours from doorways.
From mouthwatering dishes passed along generations, and given zesty life at restaurants like Taqueria Dona Raquel

, Lalo's Mexican Food, and El Jarocho Seafood (a few of Rubalcava's favorites), to artworks scattered about town, Ventura has a deep and storied Hispanic heritage. Junipero Serra founded Ventura in 1782, when he established Mission San Buenaventura.

Yes, during Hispanic Heritage Month the Library of Congress, the National Park Service, the Smithsonian, and dozens of other erudite institutions join together to recognize the importance of Hispanics in this country with much ceremony and circumstance. But here in Ventura, the Hispanic influence is a quieter thing, a day to day thing, a happier thing, that adds the very vibrancy and color to the Ventura community that the Sheridan Way mural (painted by local talent MB Hanrahan) depicts.

America will spend a month celebrating the histories, cultures, and contributions of American citizens whose ancestors came from Spain, Mexico, the Caribbean and Central, and South America. Which makes it as good a time as any to pick up the other threads that have made America, and Ventura, so culturally rich. In Ventura, everyone from the Chumash to the Chinese have made us what we are.

So when Hispanic Heritage month ends, Ventura will continue to celebrate the kaleidoscope that makes us who we are.
Five ways to get a taste of Ventura's cultural colors…
1. Eat your way through Ventura Avenue's Taco District
Strung along Ventura Avenue like culinary pearls, the offerings of the Taco District's

restaurants are the real deal. Taqueria Ventura Doña Raquel has amazing fish tacos. Johnny's Mexican Food serves an unforgettable (really) corn burrito. Angie's Deli & Mexican Food has a great breakfast burrito, and Taqueria Tepatitlan has some of the best Menudo (a beef stew with red chilis) and albondigas soup (meatballs with vegetables) you'll ever find.
To add to the ridiculous largesse, there are taco trucks too.
2. Visit Mission Basilica San Buenaventura
With its beautiful gardens and faithfully restored artifacts, the Mission is a lovely visit. You can take a self-guided tour of the museum and gardens seven days a week (10 am to 5 pm). And possibly the best crib notes in town, right in front of the Mission artist Michael O'Kelly's ceramic mural

depicts the history of Ventura. Over 100 ceramic tiles showcase the people, landmarks, and scenes that have helped make the city what it is today, from Chumash culture to surf culture.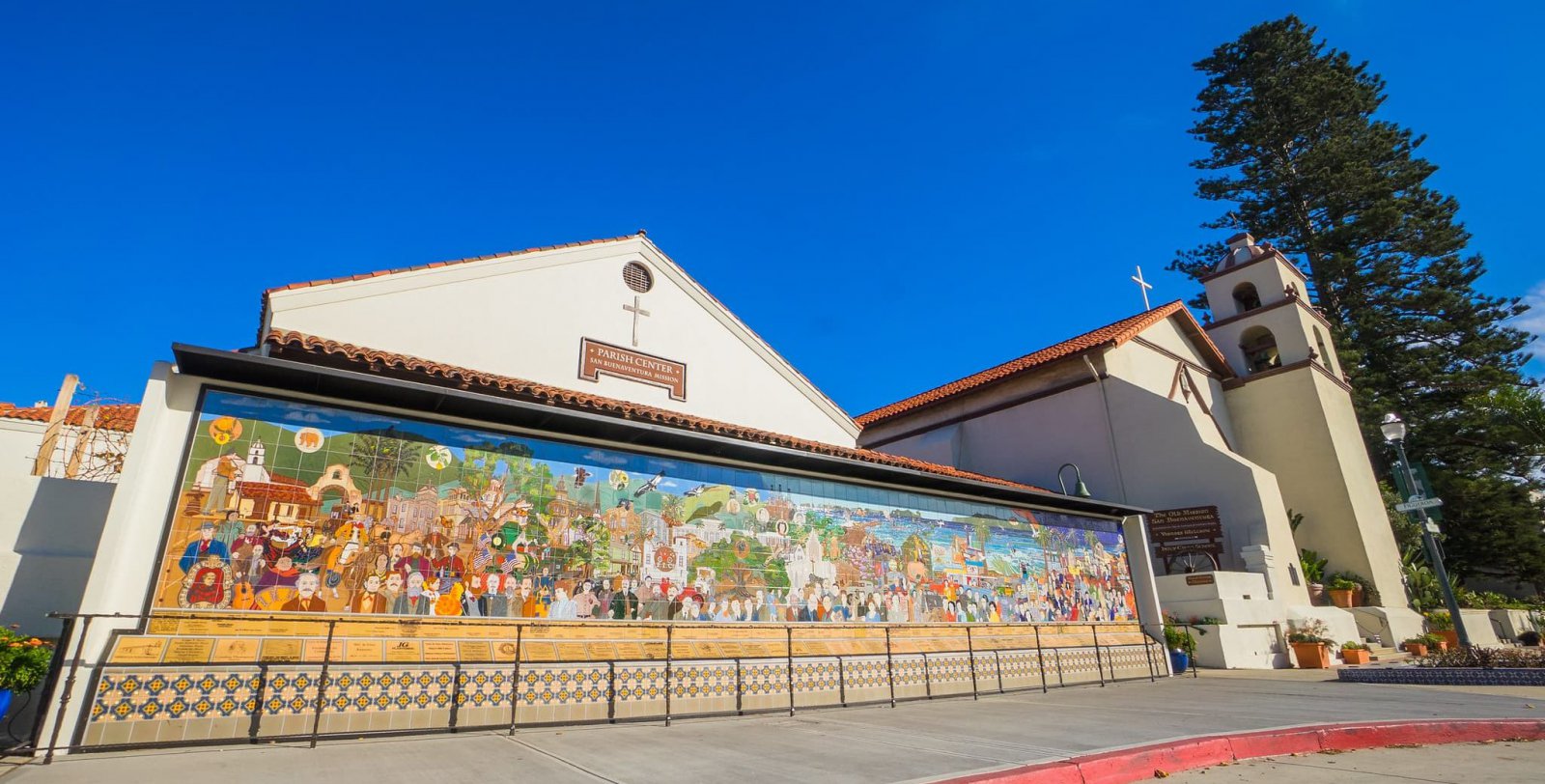 3. And, eventually, sway to salsa at Limon y Sal
Located on the corner of Chestnut and Main Street in the heart of downtown, Limon y Sal is your chance to celebrate salsa — they're known for their live Mariachi and Cuban music. In the interim, they serve delicious street tacos and an attention-getting spicy Diablo Margarita with Tajin, a spicy condiment consisting of chili flakes, lime, and salt rimming the large drinks.
Don Raymundo Olivas began ranching his 4,700-acre Rancho San Miguel in 1847, raising cattle, sheep, horses, oxen, and dairy cows. He did well. His expansive adobe home (and courtyard), the main house for the Rancho San Miguel, was one of the few two-story haciendas in Southern California. Please click here for hours, and if Olivas Adobe isn't open there's nothing stopping you from wandering the lovely grounds or having a picnic in the soft grass behind the Adobe.
On Figueroa Street, beneath the 101 underpass, artists MB Hanrahan and Moses Mora have created a striking mural commemorating Ventura's first culturally diverse neighborhood (razed in the 1950s during freeway construction). What is now in the soft shadows of the overpass was once a bustling neighborhood home to Mexican Americans, African Americans, Chumash Indians, and Dust Bowl refugees.

And we remain a kaleidoscope.
And are the richer for it.
Discover More
Get to know Ventura, and discover the best things to do around the city.
Ventura Partners With