Posted: Tuesday, May 5th, 2020
On Takeout Tuesday, Ventura's Tasty Offerings for Cinco de Mayo
by Visit Ventura
America jumpstarted the kindness with "The Great American Takeout" on March 24th. Ever since then, kind Venturans — knowing our local restaurants need a boost — have run full speed with it, celebrating "Takeout Tuesdays" in a big way.
Happy — and tasty — coincidence, today we also celebrate Cinco de Mayo, commemorating Mexico's victory over the French in the Battle of Puebla on May 5th, 1862. But, before you order, a few more fun facts — because the more we know about everyone's culture, the more we, well, appreciate everyone's culture.
So, first up, don't mistake Cinco de Mayo for Mexico's Independence Day. It's a common mistake. But Mexico's actual Independence Day is September 16th; on that day in 1810, a priest named Miguel Hidalgo implored Mexico to revolt against Spain, leading to the War for Independence, which ended (in Mexico's favor) in 1821.
Also enlightening to understand the critical importance of Mexico in Ventura's intertwined, multi-cultural roots. If you're lucky to be standing on Ventura soil, understand that at one time the land you stand on was once owned by the nation of Mexico. In 1822, California was notified of Mexico's independence from Spain, and the Governor of California, among others, swore allegiance to Mexico and passed the land from Spain to Mexico.
Mexico's roots run deep in Ventura. In the stately Olivas Adobe, the expansive adobe home and courtyard built between 1847 and 1849 by wealthy Raymundo Olivas on his 4,700-acre Rancho San Miguel; the Olivas home was one of the few two-story haciendas in Southern California, and certainly one of the most regal homes in the Santa Clara River Valley. In the smaller, more everyday living Ortega Adobe, one of the many adobes that once lined Main Street on both sides of the San Buenaventura Mission. In the Bell Arts Factory on Ventura Avenue, where the young and young-at-heart practice the art of ballet Folklorico, filling the moment with graceful sway and song. In the historical murals, peppered about town, commemorating Mexican heritage in Ventura. In the sweet bite of a jalapeno margarita at Casa de Soria. In the steam and temptation rising from the albondigas soup (meatballs with vegetables) at Taqueria Tepatitlan. In the crunch of cabbage and pop of lime in Doña Raquel's fish tacos at Taqueria Ventura.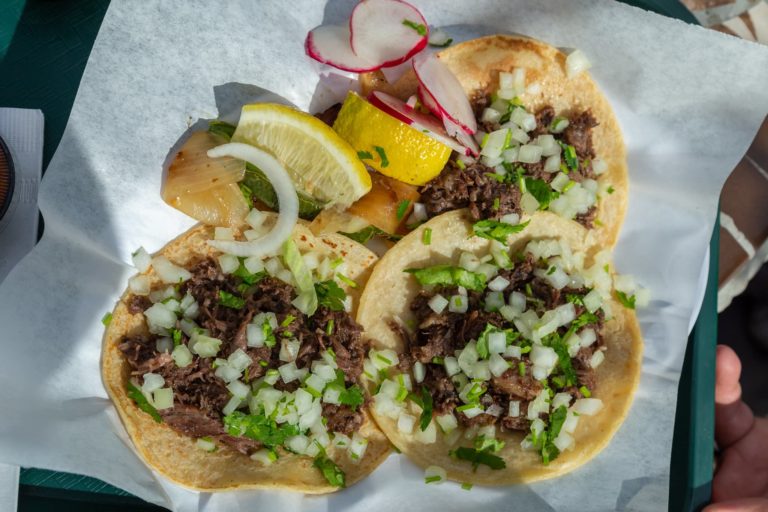 Ummmmm, hold on. Seems we've digressed.
Okay, fine. Time to order take out. Support your local businesses and, should it come up, (politely) exhibit your historical knowledge. Better yet, use it to win a bet — and maybe score a free Cinco de Mayo repast. Knowledge is power. And winning free food from a buddy is good.
One thing we all know. When it comes to Mexican food — from the Taco District to Ventura Harbor — Ventura's options are impossibly mouthwatering, make it (almost) impossibly difficult to decide. Please visit our restaurant page for more details. And there are some fun specials too; among them Casa De Soria's Patron Bottle special — featuring one of the world's finest/funniest pairings — and Social Tap's "to go" "Taco Bar." And, if you like, share a photo of your hard-won choice and tag us @visitventura.