Posted: Wednesday, Apr 4th, 2018
Roll into Ventura's Eco Fest
by Kevin Clerici
Venturans love to get outside, and Ventura's burgeoning reputation as a cycling hotspot will get a boost on Saturday, April 27 with a free, family-friendly Community Ride. The ride, which is open to all ages and cycling abilities, will begin at the Channel Islands National Park Visitors Center in the Ventura Harbor at 8:30 am and end at the Earth Day Eco Fest at Plaza Park in
Downtown.
The Eco Fest has a free bike valet, live entertainment, food, and games. So it's a great finishing point.
The 6-mile ride is appropriate for all skill levels. Most of the route is on dedicated bike lanes and within earshot of the Pacific Ocean. The ride's purpose is to connect local people with community leaders, celebrate Earth Day, communicate information about City bike paths, and advertise the
Amgen Tour of California Stage Start
at the Ventura Pier on May 16.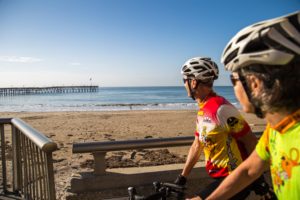 This is the first year Ventura has hosted a stage of the annual Amgen TOC, which is California's largest sporting event, drawing an international following. The Community Ride activities start at 8:30 am. There will be some welcome remarks at 9 am. The ride officially starts at 9:30 am and all cyclists will be at Plaza Park at or before 10:30 am. The award-winning Eco Fest is attended by over 5,000 people and features over 80 exhibitors. The fun lasts until 4 pm.
"If you love to get outside," said Kevin Clerici, co-chair of the Amgen Tour Local Organizing Committee. "This is a great day to get the heart pumping, get a little sea breeze in your nose and have a lot of fun."
For more great stories, request our FREE inspiration guide right to your door!
Check out upcoming events!
Discover More
Get to know Ventura, and discover the best things to do around the city.
Ventura Partners With