Posted: Friday, May 10th, 2019
A Wheel Fun P.E. Class
by Visit Ventura
The
Amgen Tour of California
is coming to Ventura (May 16th), a nearly 800-mile testament to human perseverance.
But perseverance takes many forms.
Eight years in the making, a sixth-grade bicycle education program (entirely grant funded) in the Ventura Unified School District kicked off in April. The aim is as important as it is simple; to teach some 900 sixth-grade students at Anacapa, Balboa, and Cabrillo middle schools how to be safe and wise bike riders. Boiled down to basics, it's a one to two-week PE course. The schooling goes something like this. Day one, classroom. Days two, three, and four are split between classroom and practicing skills on the blacktop (some classes are as large as 55, so they have to share the fleet of 30 bikes). The class culminates with a Friday group ride, maybe ten minutes of wheeling around the streets near the school, the kids showcasing their new skills and street wisdom.
"Everybody's communicating, scanning, signaling right turns and left turns, and having fun," says Derek Towers, City Bicycle Coordinator for Ventura. "Fun. That's a big part."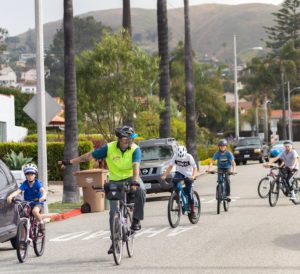 It's just sixth graders for now, but Towers says the program could eventually expand to go younger. Why sixth graders?
"It's a good age to get to kids" says Towers diplomatically.
It is. And the sixth graders have reacted with the kind of crackling, buzzsaw energy you may remember.
"It's been pretty awesome," laughs Towers. "We have them wear hair nets because we're sharing helmets, and day one everyone's moaning and complaining about the hair nets. Day two, when they're on the bikes, there's not a peep out of them. They're overjoyed to have bikes for PE."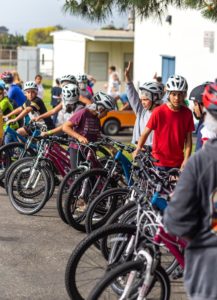 The program is a collaborative effort between the
City of Ventura
,
Ventura Unified School District
,
Channel Islands Bike Club
,
BikeVentura
,
CycleCalCoast
, and outdoor outfitter
REI
(they supplied the discounted bikes and helmets). That's a sentence full of names. Witness the magic of community.
Smiles Towers; "All of these people have come together as a bicycle community to make it happen."
For the kids.
For more great stories, request our FREE inspiration guide right to your door!
Check out upcoming events!
Discover More
Get to know Ventura, and discover the best things to do around the city.
Ventura Partners With