Posted: Tuesday, Feb 21st, 2017
Exploring Ventura's Waterfront by Bike ~ Rentals Make Family Day Trips Easy
by Andie Bridges
We drive into the parking lot, and the near constant refrain from the backseat turns from "Are we there yet?" to "Can we get out
now
?" With beautiful scenery, great parks, and varied topography, Ventura has been on my list of family biking destinations for a while, but the logistics of biking the distance from Santa Barbara with two young boys always felt overwhelming. Rentals provide an opportunity to skip the stress and focus on enjoying the ride. As I sign the rental paperwork, my husband supervises the never-ending tinkering of our sons. The boys move through the shop dinging bells, climbing onto kid-sized bikes, and twisting the crank of the old-fashioned gumball machine; the staff treats them as welcome entertainment. The family friendly atmosphere at
Ventura Bike Depot
is cultivated by owner and operator Shelley Sund, whose own son has grown up as part of the shop. Sund got into the bike business in 1984. While on a trip to Greece she saw the multi-person pedal bikes that have since become ubiquitous at touristy beach towns everywhere. "We were driving along, and I saw one of those bikes, and I said, 'We have to stop. I've got to check that out.'" Once back stateside she contacted the manufacturer and began importing the bikes from Italy. "Everybody told me I was crazy, but I had an instinct." Quick to distill things to their essence, Sund frequently comes up with short sayings, like, "Live life in the bike lane," which she put on employee shirts years ago and has since been used by other bike companies. Or, "It's not a business for wimps," which she learned the hard way by being burned by some bad deals, inevitable when you're in business for so long. Another favorite, "More butts on bikes makes everyone safer."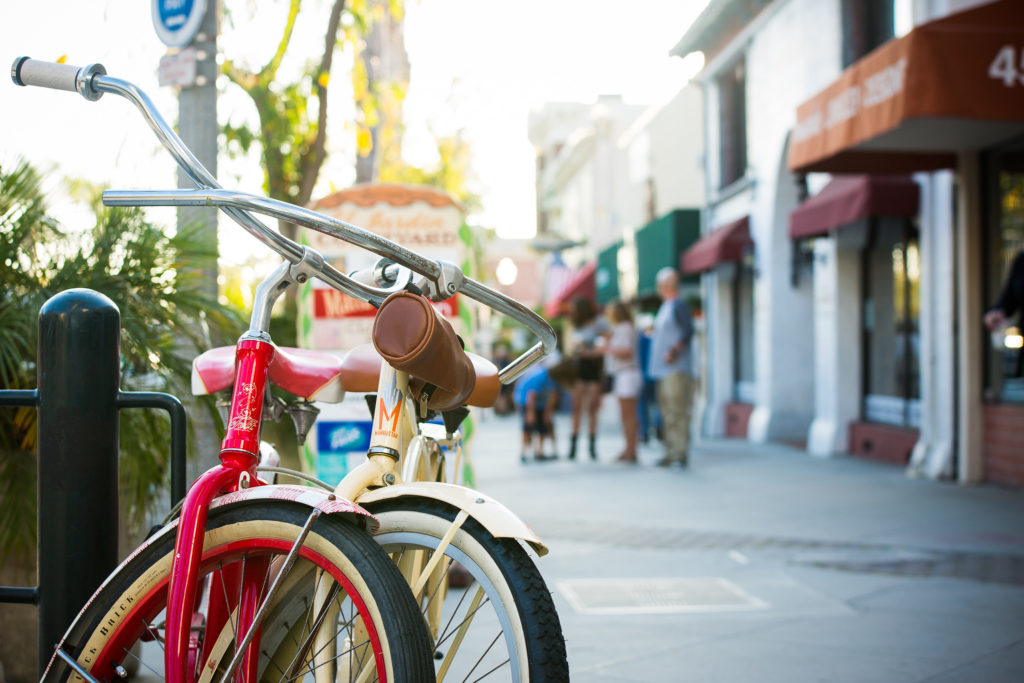 Over the years, she has helped get many people pedaling. Owning and operating six shops at one point, including locations in Santa Barbara, Oxnard, and Lake Casitas, she decided to downsize after her now-teenage son was born. "It's much more manageable now," she says. The Ventura Bike Depot has been in operation since 1995. In addition to sales and tours, the shop rents everything from beach cruisers to downhill mountain bikes to electric bikes. "It's in a perfect location," she points out, "within a mile of multiple Class 1 bike lanes." The route Sund suggests for our family starts about a block from the shop. Reminiscent of Santa Barbara's Cabrillo bike path, the Omer Rains Coastal Trail follows the beach, in a flat, unbroken stretch that is inviting to beginners, families, and those seeking a leisurely ride.
The mechanics set us up with a front-mount seat for our toddler and a trailer-bike for our 5-year-old. We travel a short distance alongside the Ventura river, admiring birds and rock sculptures, then pass over the train tracks, much to the delight of our cheering boys. Turning left we follow alongside the beach, watching surfers enjoy a winter swell. The path merges with the Ventura Promenade, and about a mile-and-a-half in we arrive at the pier. There is an impressive children's playground built directly on the sand. This would be a good stopping point for snacks, or even lunch at one of the restaurants, but the kids are content to keep moving. At about the 3-mile mark the path merges onto the street, becoming a bike lane. We continue through a picturesque residential neighborhood for a few blocks, then on to Marina playground for lunch and some seaside play. The park makes for a perfect morning distance of about 7 miles round-trip. Back at the shop, we return the bikes and let the kids slide quarters into the gumball machine. Sund says connecting with people is one of the best parts of her job. "There's always a backstory. We pay attention to people's lives, the bike is only part of their story." Then she shares her newest saying: "The family that bikes together, stays together." _ This article originally appeared in Santa Barbara Independent.
Discover More
Get to know Ventura, and discover the best things to do around the city.
Ventura Partners With