Posted: Monday, Oct 7th, 2019
Bikes N' Brews
There is something alluring about cruising through a town and passing numerous local breweries within a few blocks of one another. It is an instant sign that the town knows how to have fun!
Ventura is on the map when it comes to its craft beer scene. This, paired with its bike-friendly nature, make a casual Bikes N' Brews outing the perfect weekend activity for the Venturian or visitor alike. If you or one of your friends don't have a bike, we highly suggest renting one from Ventura Bike Depot. They even have a great array of electric options!
We started our journey from our cottage near Cemetery Memorial Park. However, if you're coming from out of town, the North California Street Free Parking Lot is a great option to embark from.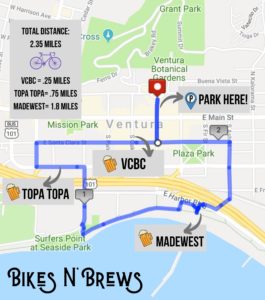 VCBC as the cool cats call it was our first stop on the tour.
Bike parking was prime, and we could even see our bikes from inside. Bonus!
VCBC has a big bright open atmosphere and we easily found a large table for our group of eight. It has a hip beerhall feel to it. The bartender was both friendly and knowledgeable.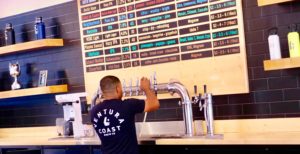 Founder and Ventura native Kyle Thille states,
"Our goal is to continuously push ourselves creatively and get ahead of what the next trend will be."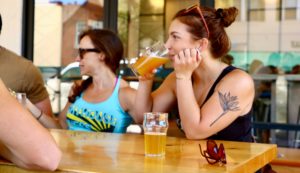 Everyone was really jazzed on some of the unique and delicious ingredients VCBC's beers had. With notes of marmalade, tangerine, and grapefruit, Plasma Sunset Hazy IPA at 7.3% ABV and 40 IBU was the fan favorite!
Ventura Coast Brewing Company also has an excellent food truck schedule.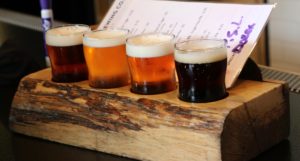 Topa Topa's Ventura Taproom has a wonderful neighborly vibe.
This makes sense because their mission statement begins with,
"We believe in the power of good vibes and great beers."
Nailed it. You could honestly tell the whole staff was happy to work here.
The group's favorite beer was the Chief Peak, an India Pale Ale with hints of tropical, dank, grapefruit. It is 7% ABV and 75 IBU.
Tony's Pizzeria, a timeless landmark, is conveniently located next door to Topa Topa, making it a popular stop after a few brews! This family-owned and operated establishment since 1959 makes a local's approved New York-style hand-tossed pizza. With dough and sauce made from scratch daily and locally sourced ingredients, it can't be beat!
There is a carefree childlike feeling that takes over your body while riding a bike. That's about to get amplified as you cruise along Ventura's Promenade while watching surfers and the occasional pod of dolphins gliding across the waves. MadeWest on the Pier opened spring of 2019, a highly anticipated event in town! The views from this taproom are like no other. From inside and out, you can look out to the Pacific Ocean, and down the beautiful San Buenaventura State Beach.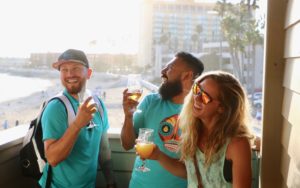 The beer of choice was the Prospect, a vanilla coffee porter. With Peruvian coffee beans roasted from Prospect Coffee Roasters, just down the street, the crew was super excited to give this a try. At 8% ABV and a little hit of java, it was the perfect beer to end our ride with!
Ventura's Downtown is a safe, fun, environment to explore. Within a three-mile ride, exclusively on bike routes, we were able to experience delicious local beer, the outdoors, and friends.