Posted: Monday, Feb 25th, 2019
Zip & Sip
Images & writing by Fresh World Press
I felt like I was in an old Western film as I mounted my steed and prepared to trek the road less traveled to Old Creek Ranch. Except my steed is a Magnum Metro electric bicycle, the road less traveled is a repurposed railway and the ranch doubles as a winery! If riding fast bikes, enjoying local wine, and spending time outdoors makes you happy, then Ventura Bike Depot has officially figured out the best way to spend Sunday, or for that matter, any day you choose.
Ventura Bike Depot offers electric bike rentals and guided tours. Grab a map and explore suggested routes, create your own adventure, or head out with an expert rider from the Ventura Bike Depot team. Tours meet at 1:45 pm on Sundays, and depart the shop at 2:00 pm. Spots must be held with a reservation. The shop is a short pedal from the Ventura River Trail, and it merges with the Ojai Valley Trail. This network of recreational paths creates access to days of local exploration!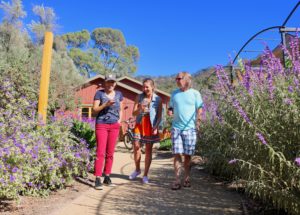 Today's suggested route and tour was to the family-owned Old Creek Ranch Winery, a speedy 8.85 miles one way, where expertly crafted wine awaits you. Old Creek Ranch is an 850-acre cattle ranch with a winery and fruit orchards. The Holguin's purchased the property in June of 2015, and they have added a magical touch to the existing natural ambiance. Guest and picnic areas with handcrafted couches and lounge chairs, lush landscaping, live music, cornhole, so many artistically cozy nooks to enjoy a locally crafted wine.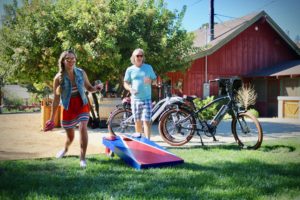 "Sip. Savor. Repeat."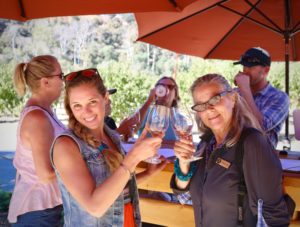 A bit about the trusty steed that transports you to wine lover's paradise: say "Hello!" to the Magnum Metro and Cruiser electric bicycles. These models have stylish, easy step-thru frames and offer pedal assist and throttle mode, running for around 6.5 hours, or 30 to 60 miles, when charged. Feel the power of Magnum! These puppies move! No worrying about being the "slowpoke" on an e-bike. You'll comfortably find yourself whizzing and zipping at 20 mph down the uniquely industrial paved trail with mountain views!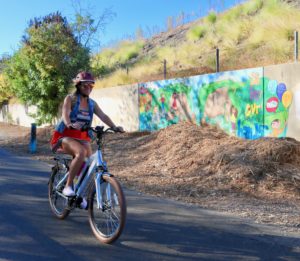 Having never operated a motorized bike of any sort, I was a little nervous when I hopped onto the saddle of the charged-up machine. Quickly, it felt familiar. Heck, some may say it's even like riding a bike! Truly though, it is exactly like riding a bike, with a lot less effort required. There is something wonderfully bewildering and wild about it. I felt almost guilty (a bit lazy) as I cranked up the Assist Level to its max of 6 and cruised along with the wind in my hair. It is an epic feeling that I'd highly recommend to anyone who appreciates traveling on two wheels! My adrenaline was pumping as I rang my bike bell and flew past friends, only for them to quietly race back up to me. I felt like a champion cyclist with superpowers, thanks to the Magnum's 500-watt boost.
Ventura Bike Depot's electric bike rentals and tours, paired with a glass of Old Creek Ranch Winery's Nebbiolo is a guaranteed good day. Experience new fun and flavors, and don't forget to pick up your free Ventura Bike Depot sticker! See you in the bike lane!
Ride your way into the 5 best cycling and mountain biking trails in the heart of the central coast. 
Check out upcoming events!