Posted: Thursday, Jul 13th, 2023
Things to Do in Ventura: A Quick Guide to Ventura's Neighborhoods
Call us biased, but there seems to be something to do in every single corner and block of this city. Take Midtown for example — it's a fun and up-and-coming neighborhood full of breakfast spots, new cute boutiques, and tons of green spaces for sunny picnic days or dog walking. Or check out the Ventura Avenue (called the Avenue by locals) where you can find panaderías, taquerías, and beautiful public murals. Each neighborhood is unique and special and they're all worth visiting. In fact, we encourage you to spend time and explore all of them across the city.
But what stays the same in each and every neighborhood are the kind smiles and warm hellos you'll receive from Ventura locals. Have fun choosing your own adventure all across Ventura because there's just so much to see. Here's a quick guide to neighborhoods in Ventura and what you can expect (but trust us, there is so much more to say!).
Ventura Avenue: Where the Locals Go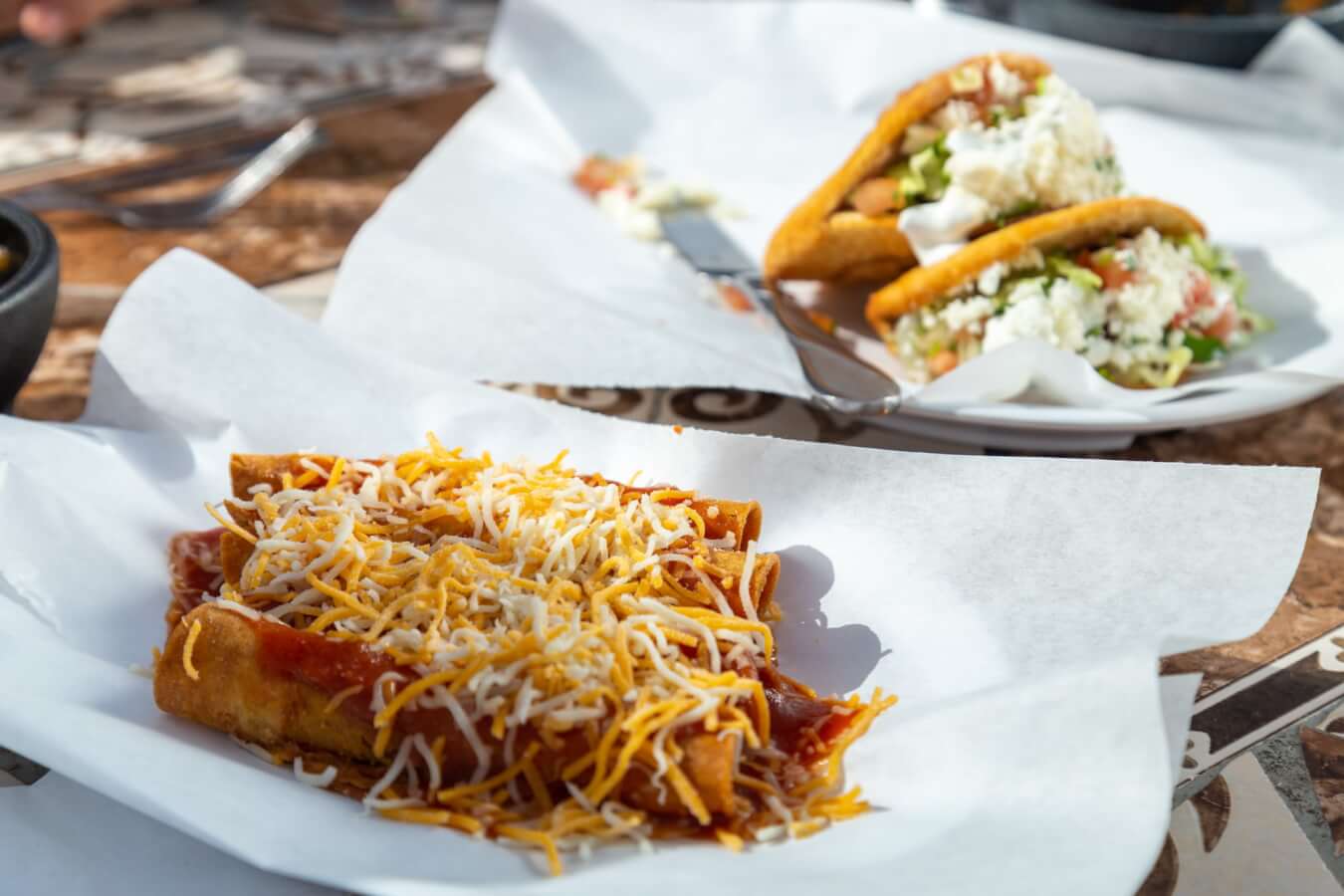 Looking for the best tacos you've ever had in your life? You're in luck. Ventura Avenue, a westside neighborhood in the city, is home to our Taco District. Some 14 different locally owned and operated Mexican restaurants serve up corn burritos, amazing tacos, enchiladas, and anything else your heart desires. Check out a local distillery in town up the Avenue for tastings and a tour. Don't forget to enjoy and immerse yourself in Ventura's many art galleries. And as you walk from taquería to taquería keep your eyes open for the numerous public art murals on the sides of buildings or walls along the Avenue — they're perfect for that Instagram photo! Last but not least, practice your latest skateboard tricks at Westpark Skatepark.
Downtown Ventura: the Heart of Ventura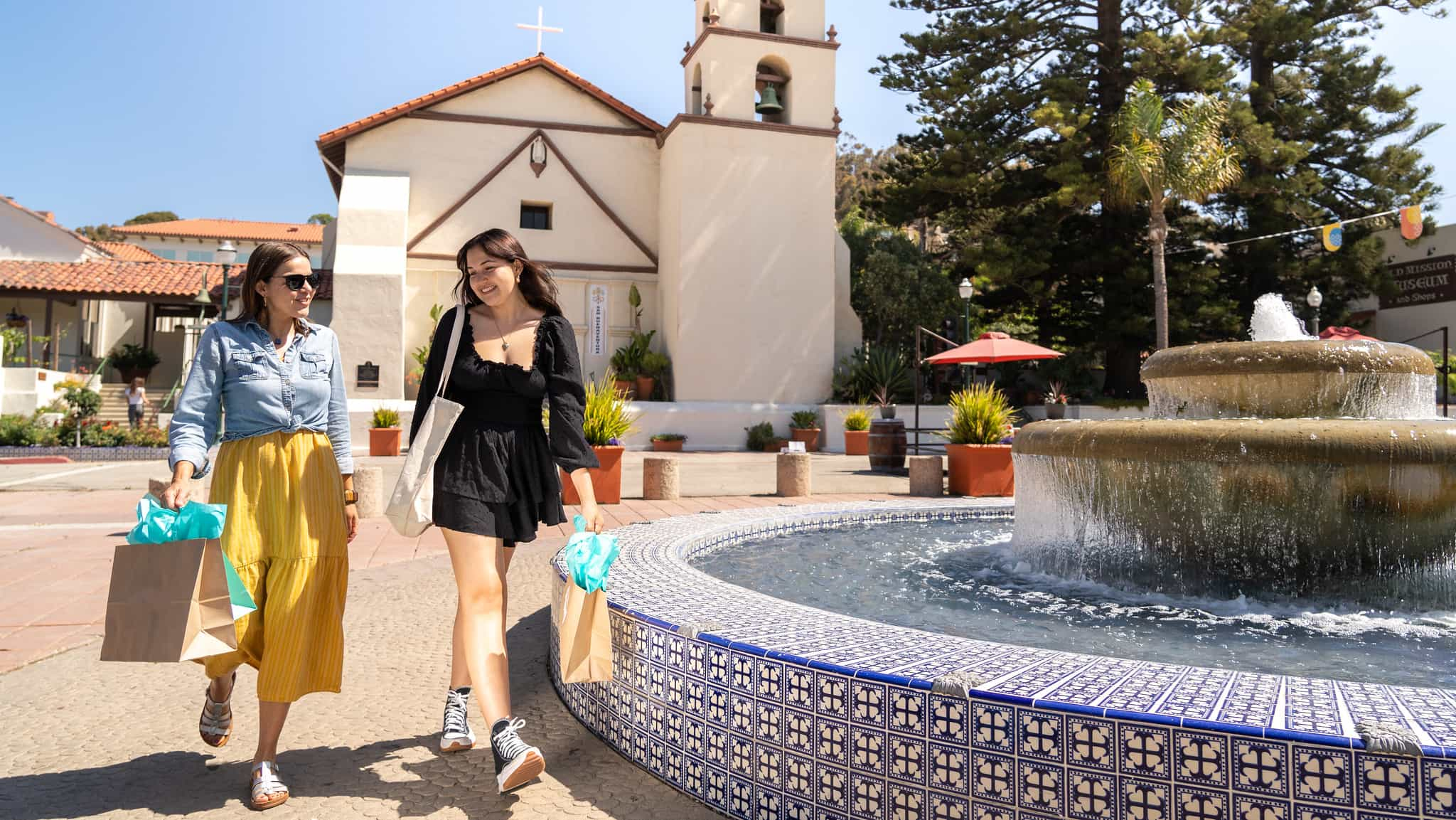 You've probably seen and heard about our Ventura Pier, the oldest Pier in California. Maybe you've surfed on our world-famous beaches like C-Street. But we hope you'll also take a moment to step into history at the San Buenaventura Mission and take a history walking tour of the town (come to the Visitor Center and we can help you!). We hope you'll watch the time go by as you browse through our thrift shops up and down Main Street (Ventura's kind of known for having the best hidden gems in our thrift stores). And we certainly hope you'll take a moment and climb to new heights by taking a beautiful walk through the Ventura Botanical Gardens where you'll get beautiful views of the city below and the ocean beyond at each turn. Grab a cold beer at a brewery or a fish taco on the Ventura Pier. But the best part about Downtown Ventura? You can walk everywhere. No need for car keys. All you need are your feet to get you from one of our independently owned-boutiques to the sandy beach just a few blocks away.
South Seaward/Peirpont: Experience Classic Ventura
Walking down South Seaward is like stepping back in time. People walking around with their surfboards, kids with a spoon full of strawberry ice cream, and happy dogs wagging their sandy tails after an afternoon at the beach. There's something about South Seaward that makes you want to blast the Beach Boys on a boombox, meet your friends for a game of volleyball on the beach, and grab a juicy burger afterward. It's a picturesque sight to see as well: South Seaward ends at the beach. No, really — walk to the end of the street and you'll find that pavement is replaced by sand under your shoes.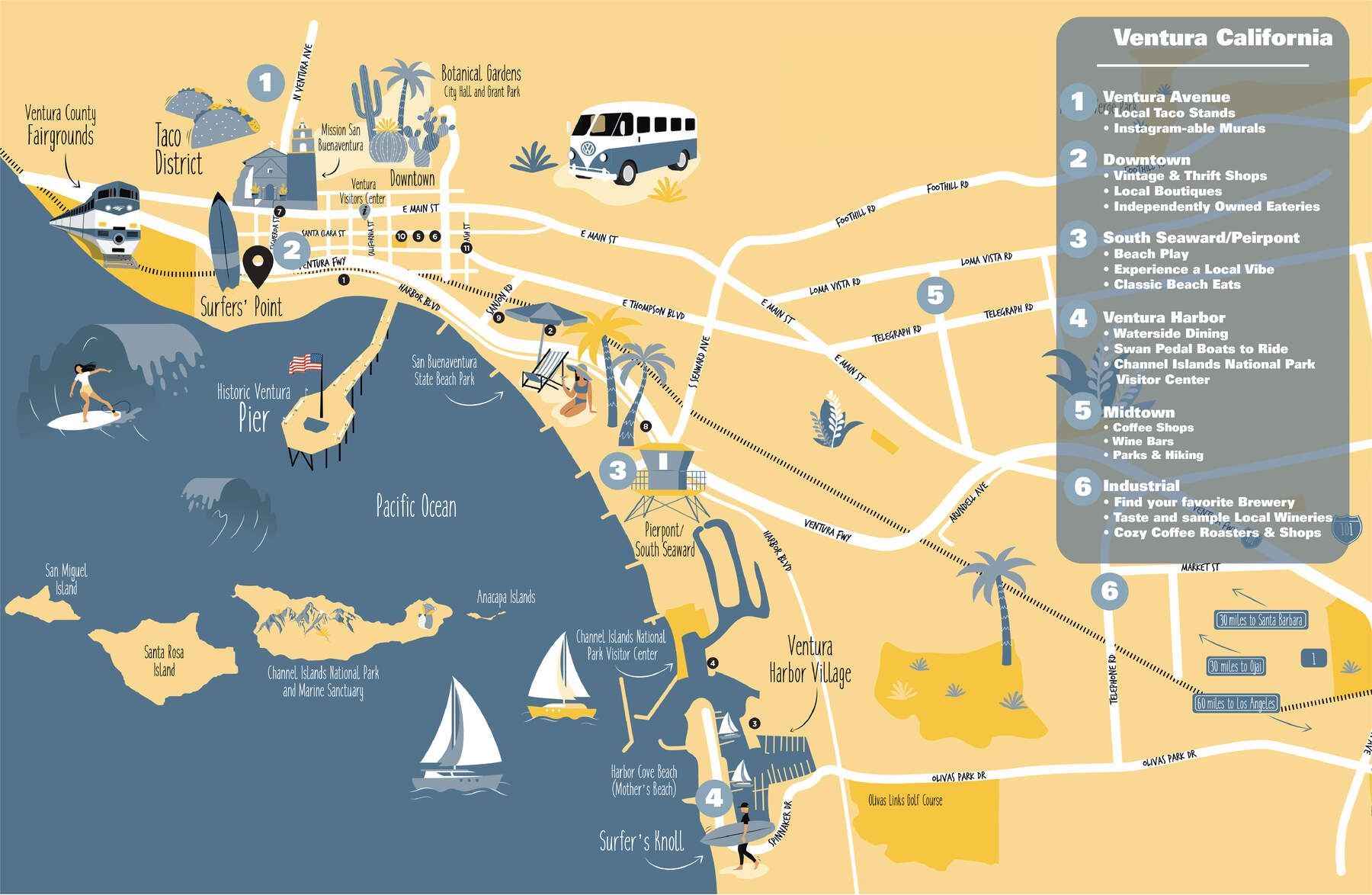 Ventura Harbor: Waterside Family Fun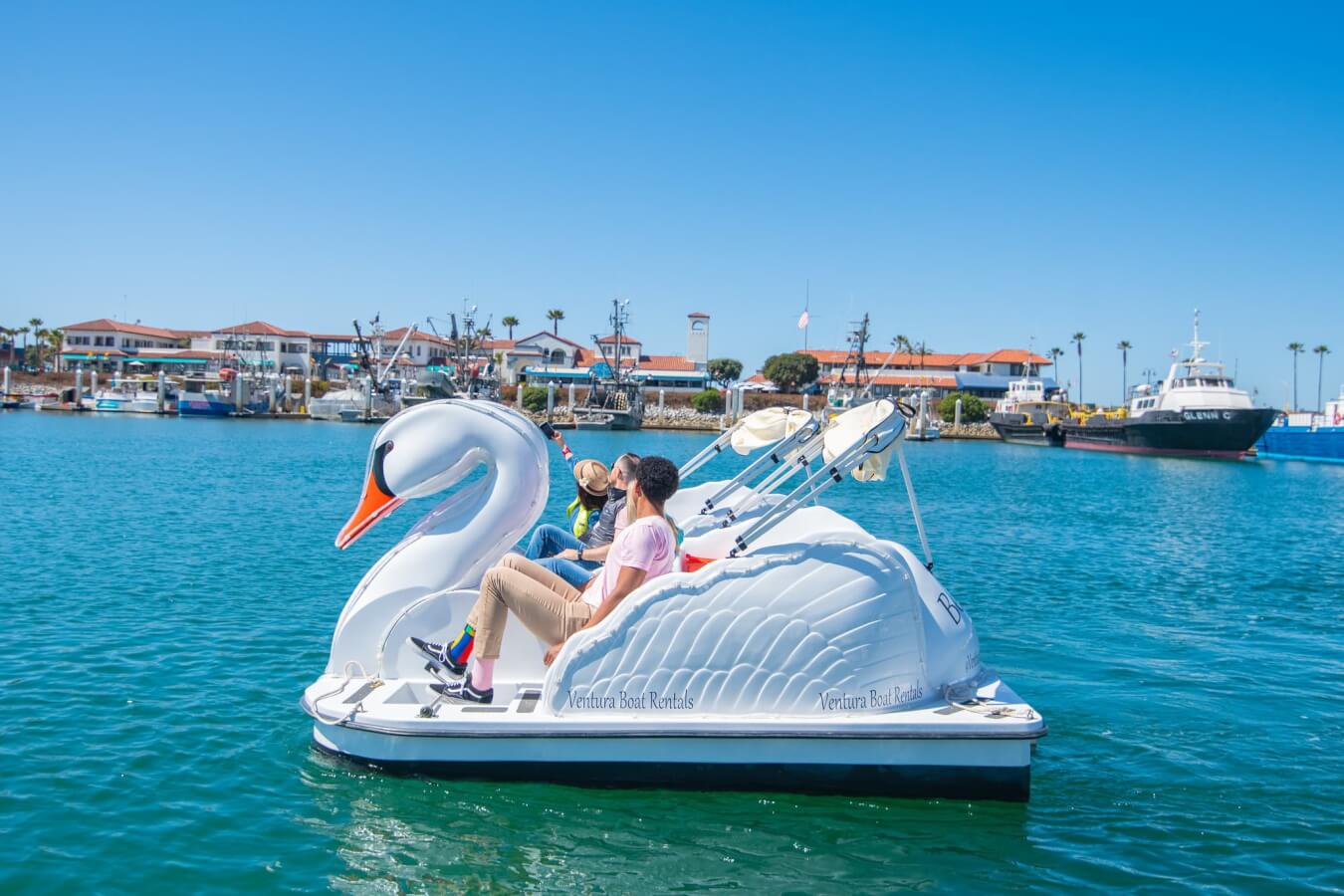 Waving hello to the cutest harbor seals and sea lions while riding a swan pedal boat? Letting the sun warm your face as you and the kids hop in a kayak and paddle around the harbor? We couldn't imagine a better place to spend an afternoon in Ventura with the kids. Ventura Harbor Village has something for everyone at every twist and turn. Rent electric boats and spend a day out on the water, dig into fresh seafood eats with a harborside view, shop in nautical boutiques for that perfect souvenir or gift, and visit the Channel Islands National Park (the Ventura Harbor is the gateway to this beautiful national park just off the coast of Ventura), walk across the street to the beach with waves that softly lap the shore, and grab a sweet treat (cupcakes, ice cream, and chocolate bars) to end the perfect day.
Midtown Ventura: Discover the Up and Coming + Get Active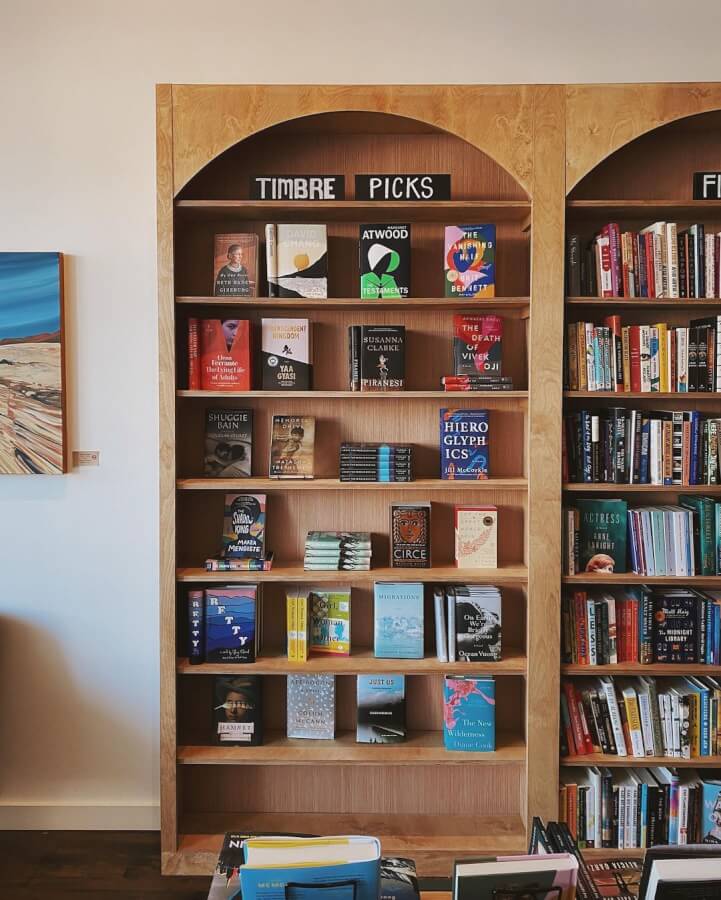 Wine bars, bookstores, coffee bars, thrift shops, iconic breakfast restaurants…all of it is happening in Midtown Ventura! In recent years this neighborhood has seen a surge of new businesses that bring a different feel to the town. Plus, Midtown boasts so many different green spaces for you and your family (yes including your four-legged furry ones) to enjoy! Check out Arroyo Verde and Harmon Canyon, north of Midtown in the Ventura hillsides. Arroyo Verde has the city's first fully inclusive and accessible playground for kids of all abilities, plus a ton of hiking trails. Harmon Canyon is known for its bike riding trails and beautiful flower blooms.
Industrial Ventura: Taste and Sample Ventura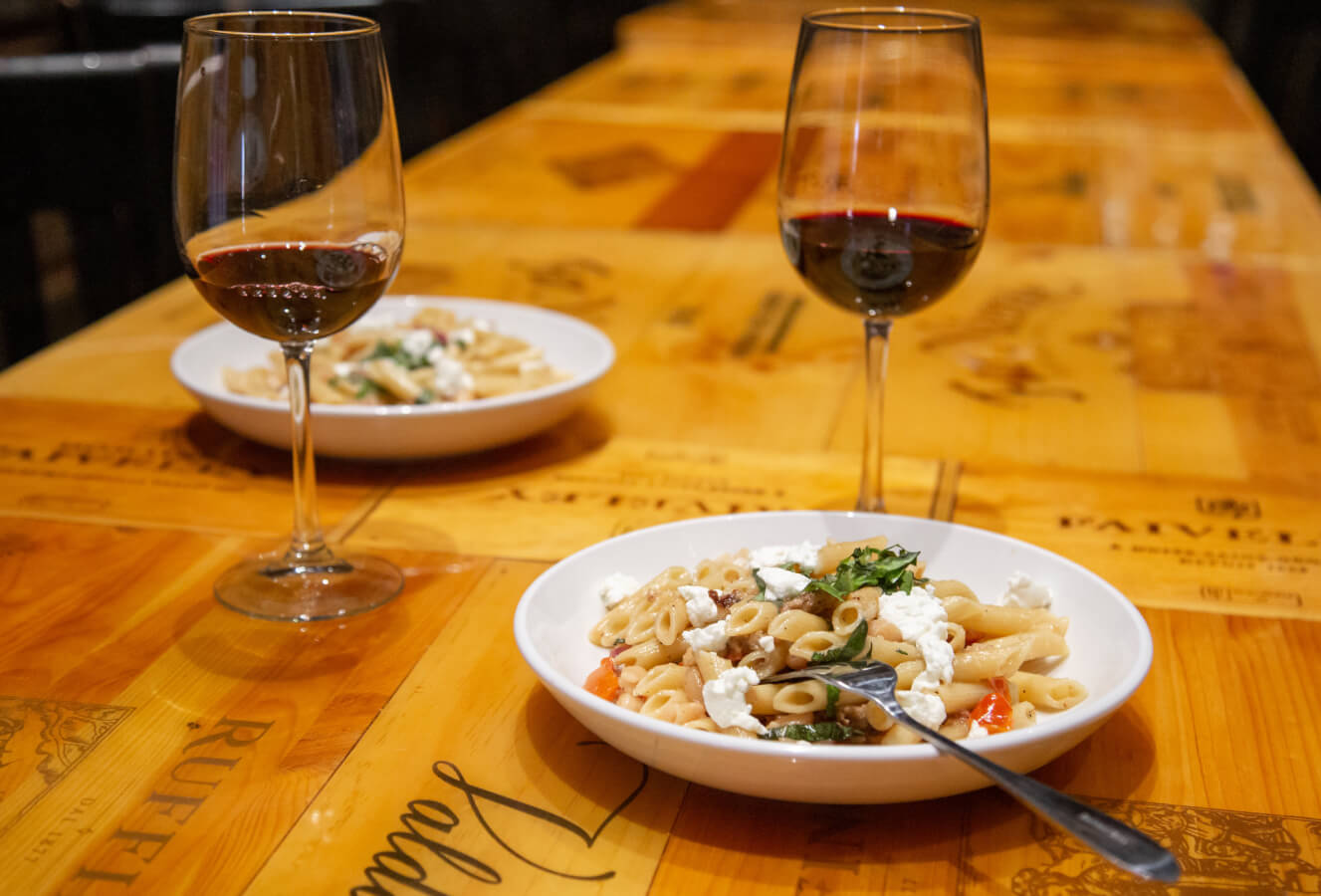 An unsuspecting part of town is the industrial area of Ventura where you'll find breweries, wineries, and coffee shops. It's a fun part of town that most visitors don't venture out to but it's worth the stop.
Discover More
Get to know Ventura, and discover the best things to do around the city.
Ventura Partners With