Posted: Saturday, Sep 16th, 2017
Top 5 Things to do in Ventura for the holidays!
by Visit Ventura
'Tis the season for holiday celebrations and there is no shortage of them in Ventura! Check out our list of the top 5 holiday happenings.
5. Holiday Tree Lighting Ceremony
December 1st, 2017 The annual Downtown Ventura Holiday Tree Lighting Ceremony enjoys a magical setting in front of Old San Buenaventura Mission. There will be pre-ceremony fun including an interactive snow globe photo booth and dancing! The ceremony includes local choirs and dancers leading up to the arrival of Santa on his very own fire truck. And as soon as the lights come on, get ready for snow!
4. Ventura Winter Wine Walk & Holiday Street Fair
December 2nd, 2017 One of Ventura's most popular events of the year is back! The Winter Wine Walk is set to take over downtown Ventura with 60 tasting locations showcasing world-class wineries and breweries in your favorite downtown businesses. Each guest receives a tasting cup and a map of participating tasting sites to do the walk at your own pace surrounded by a holiday ambiance of live entertainment, beautiful holiday lighting and snowfall from 6:45 pm-8 pm on Main Street. Ventura's Holiday Street Fair will also be up celebrating local artists and beautiful downtown Ventura. Holiday goers are invited to enjoy Main Street car-free as vendors and live entertainment line the street. This magical day is free and open to the public at noon.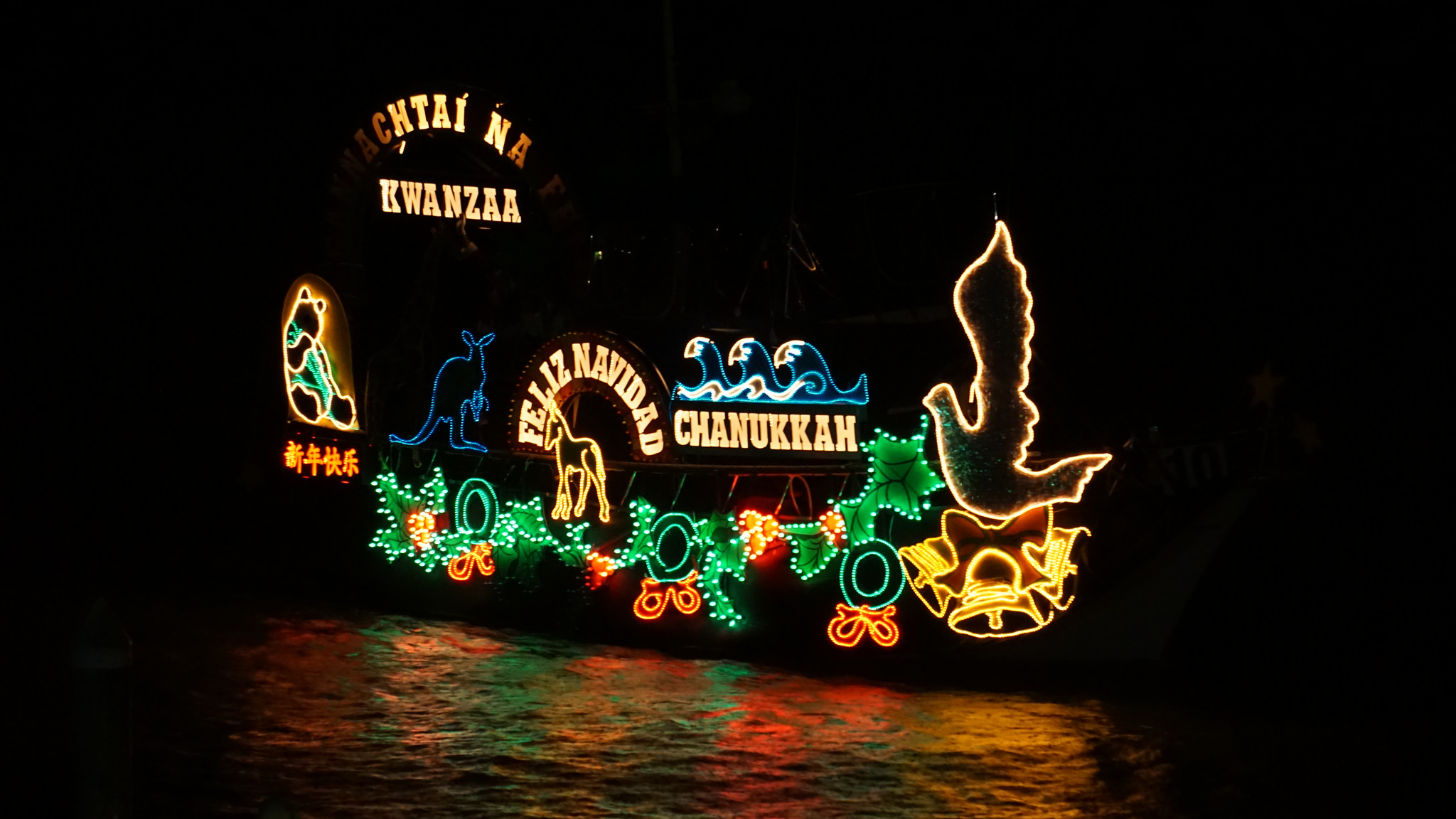 3. 41st Annual Holiday Parade of Lights & Fireworks
December 15th and 16th, 2017 Celebrate the holidays California style on a boat out on the water! Island Packers is offering Parade of Light cruises for holiday-goers to participate in the parade or watch on a nearby boat. This year's theme is "Surf, Sand & Santa -Celebrating 150 Years of Ventura." The shops in the village will also be open and restaurants will welcome you for festive seaside dining. The Main Lawn will offer free visits with Santa and carnival rides that the kids are sure to love. And don't forget to stay for the fireworks!

2. Visit Ventura's Holiday Elf Giveaways
December 2017 Have you spotted Ventura's visiting elf? Our holiday elf is full of surprises and that's why our top choice for ways to celebrate the holidays in Ventura is by participating in Ventura's Holiday Elf Giveaways! Why do 12 days of giveaways when you can do 24? That's right, 24 days of amazing giveaways for you and a friend building up to one spectacular grand prize. All you have to do is follow @VisitVentura on Instagram and tag a friend. Keep an eye out for our visiting elf. Giveaways start December 1st!
1. Holidays at the Plaza
December 8th, 2017 to January 2nd, 2018 Ventura has a brand new holiday event and you don't want to miss it! Holidays at the Plaza is a new month-long event at Plaza Park in downtown Ventura that will feature more than 160 live, decorated, twinkling trees all over the park. These trees will become the inaugural Candy Cane Forest, free for visitors to discover through the month of December and early January. The park will be open from 8am-9pm daily, and up to 11pm on weekend nights during the 12 Days of Holiday Cheer. On these days, there will be special events such as a breakfast with Santa, silent night disco, yoga with Santa, holiday pooch parade, holiday workshop, an outdoor movie screening, a peace celebration, and a Menorah lighting to kick-off Hanukkah (to name a few!). Look for more information on these events coming soon!
Discover More
Get to know Ventura, and discover the best things to do around the city.
Ventura Partners With