Posted: Friday, Nov 16th, 2018
Celebrate the Season in Downtown Ventura
Small Business Saturday
on November 24 and the
Annual Holiday Tree Lighting Ceremony
on November 30.
Small Business Saturday
Last year, we had a bit of an interruption to the holiday season. The Thomas Fire impacted our community in ways none of us could have imagined, but it also brought us closer together. And this holiday season is another opportunity to show what Ventura's all about. When you're shopping for your holiday gifts, shop local and support your neighbors! After the slow holiday shop season last year because of the fire, we have an exciting opportunity to show some love to our local stores this year. Small Business Saturday falls on November 24 this year. Head to Downtown Ventura to start your holiday shopping and score some great deals. Visit our Small Business Saturday Celebration Booth on the corner of California Street and Main to get a free reusable tote bag and a flyer showcasing all the deals Downtown Ventura's stores will be offering that day. We'll be there from 11:00 am until we run out of bags!
The Annual Downtown Ventura Holiday Tree Lighting Ceremony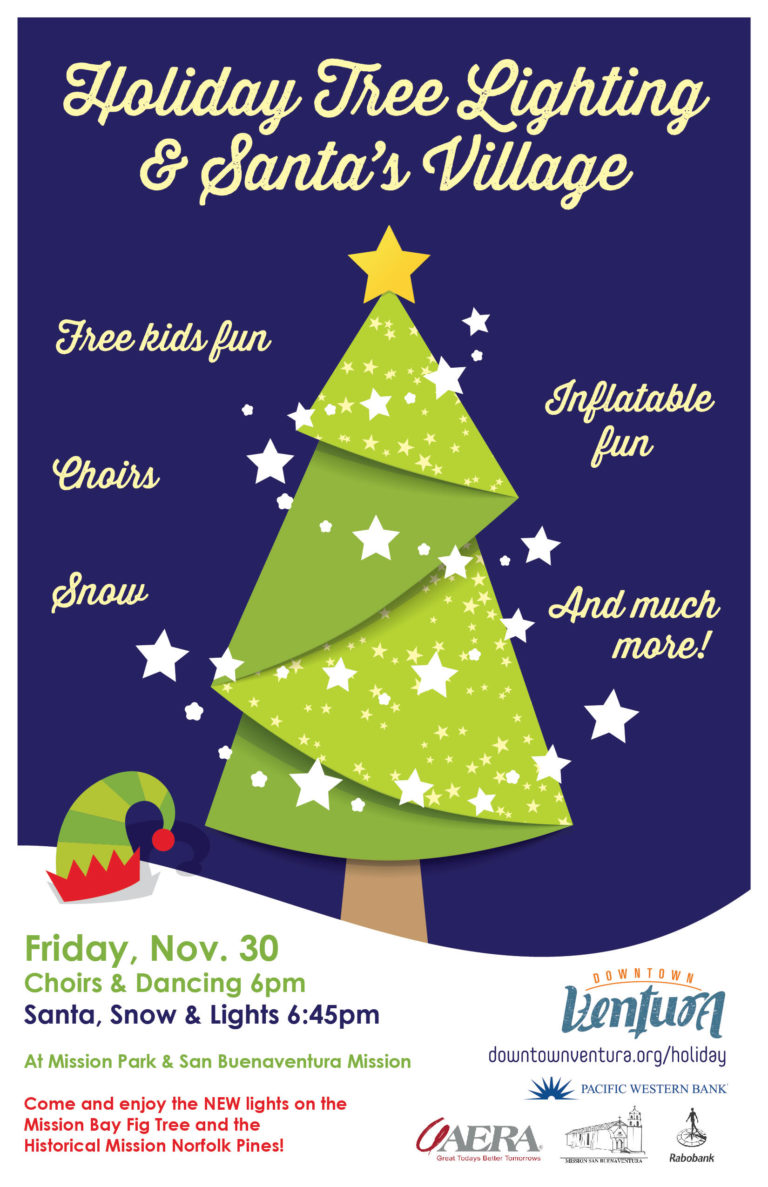 Mark your calendar and gather up the kids! It's time to head down to Mission Park for this heartwarming yearly event. This year's
Holiday Tree Lighting Ceremony
kicks off at 6:00 pm on Friday, November 30 with live entertainment, including several local choirs, dance groups, and other talented entertainers. There will also be bounce houses for the kids and fun vendors so you can buy food and hot chocolate to keep you cozy and start your holiday shopping early. Even if you're running late, make sure you show up before 7:00 pm. That's when Santa will be arriving! Then, together with the Mayor and the Mission's Father Tom Elewaut, he will light the trees. Yes, you read that right –
trees
, plural. On top of lighting the big tree in Mission Park, the two twin Norfolk Pines at the Mission will be re-lit this year. $30,000 was raised to make this possible and keep the trees lit all year, and it's sure to be a showstopper. You'll be able to see it from the freeway! Once the trees are lit, the magic will continue with that rare Ventura snowfall. If you didn't get the chance to see the snowfall at any of the Downtown Ventura holiday events last year, make sure you mark your calendar for this one. The snowfall will be the cherry on top of the sundae that is the Annual Downtown Ventura Holiday Tree Lighting Ceremony, a heartwarming evening of celebrating the season with friends, family, and our amazing Ventura community.
The 7th Annual CAN-tree Drive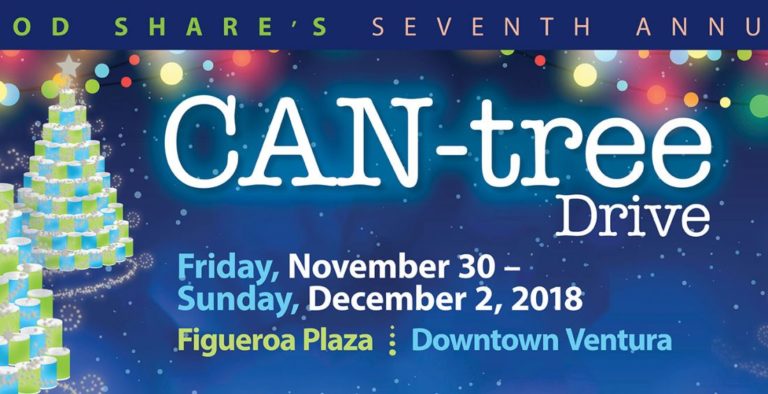 Also, since you're celebrating the season of giving, you might be looking for a way to give back – and we've got it!
The 7th annual CAN-tree Drive
is November 30 to December 2 at Figueroa Plaza. Come bring your cans to donate to FOOD Share, Ventura County's Food Bank. We can't wait to start our holiday season with you!
Discover More
Get to know Ventura, and discover the best things to do around the city.
Ventura Partners With