Posted: Tuesday, Dec 18th, 2018
MAKING SPIRITS BRIGHT!
By Debbie Cvijanovich
Twinkle, twinkle, lighted star…A Ventura tradition! Gaze upon the hillside above midtown's Ventura High School during the holiday season and what do you see? STARS! Since 2009, many hillside homes glisten with a mounted star shaped frame wrapped in a string of lights. And each year the star count continues to grow as others gleefully adopt the enduring tradition.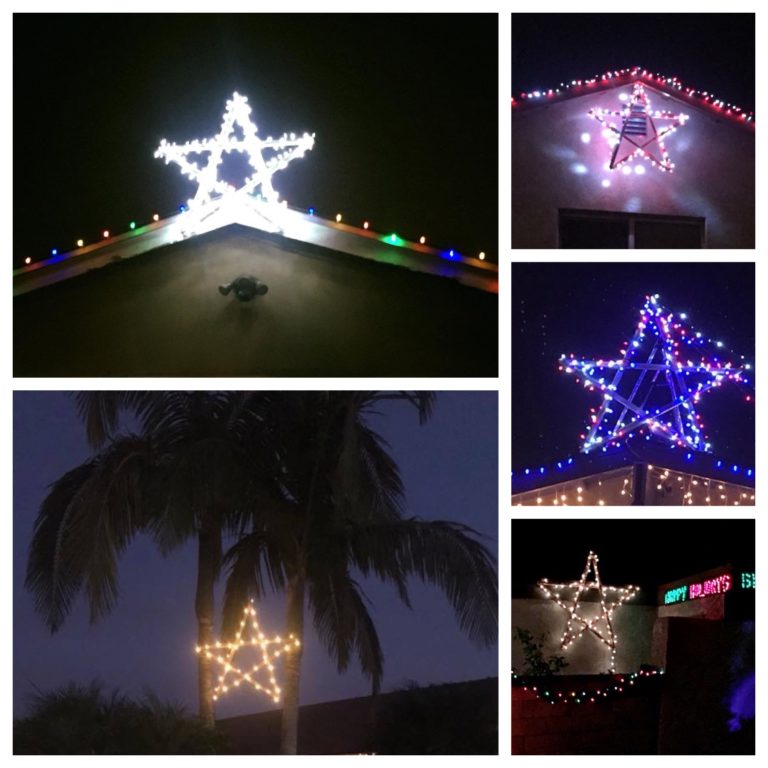 REWIND A YEAR AGO
December 2017, when the Thomas Fire devastated our town, something special happened. 150 additional stars lit up our community in neighborhoods extending beyond the hillside. Everyone wanted to show their support, their holiday spirit. How did these 150 come about? A meaningful collaboration between two caring local businesses: Ryan Denger Contracting and the generous support of Cruz Espinoza of BMC Lumber. They shared goodwill by donating the wood and building the star frames. And then…they gave them away.
What was the motivation behind this kind gesture?
The stars became more than just a holiday decoration, they were to honor those affected by the tragic fire…our entire community. Early in the month, they planned and built 100 stars, but the demand grew and created 50 more stars before Christmas day. This month, December 2018, 60 new wooden star frames were built, again given away, and now adorn outside homes here in Ventura. Perhaps, the Denger & Espinoza partnership starting a tradition of their own.

How did the stars start in 2009?
(as told by Ryan Denger) "The Star began on the hillside as a tribute to a young man's (Will Schoof) father (John) who passed away in 2009. John Schoof was always amused by the neighbor's elaborate light displays during the holiday season. The sentiment quickly caught on. Over the years, the number of stars grows. Each star has a unique size, decor, and meaning…yet representing our connection as a community. I, Ryan Denger, created our family star three years ago in honor of the tradition and for our late brother, James Paul Hoover. We covered it in red lights (James' favorite color) and think of him every year when we look upon it. Last year, our star held an additional meaning." So special, indeed. DIY STAR FRAME Visit the "Ventura Holiday Stars" page on Facebook to watch a video tutorial on "how-to" plus view a photo gallery of lit stars around town. STAR LIGHT, STAR BRIGHT When I encounter a lighted star, it warms my heart resulting in a huge smile. A symbol of solidarity. Our community coming together to share a message of unity, tradition and above all…love. Heartfelt thanks to Ryan, Cruz and all the households who share in the spirit of the Star…bringing warm smiles to us all.
Discover More
Get to know Ventura, and discover the best things to do around the city.
Ventura Partners With