Posted: Saturday, Sep 16th, 2017
Island Packers' Holiday Cruises
By Mary Noe
Looking for a unique, fun, and easy way to celebrate the holidays? Enchant your family, friends, clients, or employees with a private holiday party on a 64' catamaran, or join the fun on a festive harbor holiday cruise! This holiday season, Island Packers in Ventura Harbor Village will once again be spreading holiday cheer with their popular Holiday Cruises around Ventura Harbor and the neighboring Ventura Keys. For almost 50 years, Island Packers has been providing transportation to the Channel Islands National Park and National Marine Sanctuary off the coast of Ventura, and is the only authorized boat concessionaire to the "North American Galapagos." Family-owned and operated, the Connally family and their dedicated staff provide trips to all five of the Channel Islands. Offerings include summer and winter whale watching, birding excursions, island wildlife cruises, and harbor cruises, as well as island camping, hiking, kayaking, and day trips. During December, Island Packers shares the festive beauty of Ventura with its guests. With hundreds of private and commercial boats trimmed with spectacular lights and decorations, the holiday season is a special time in Ventura Harbor—and Island Packers offers several ways to enjoy the festivities: Caroling Cruise: While caroling is optional, ho-ho-holiday spirit is required for this one-hour party! Cruise through the harbor, and admire the colorfully decorated homes in the Ventura Keys while singing carols with the Island Packers' crew and other guests. Items from the snack bar and hot and cold beverages (including beer and wine) are available for purchase onboard, or dine water-side at one of Ventura Harbor's popular restaurants before or after the cruise.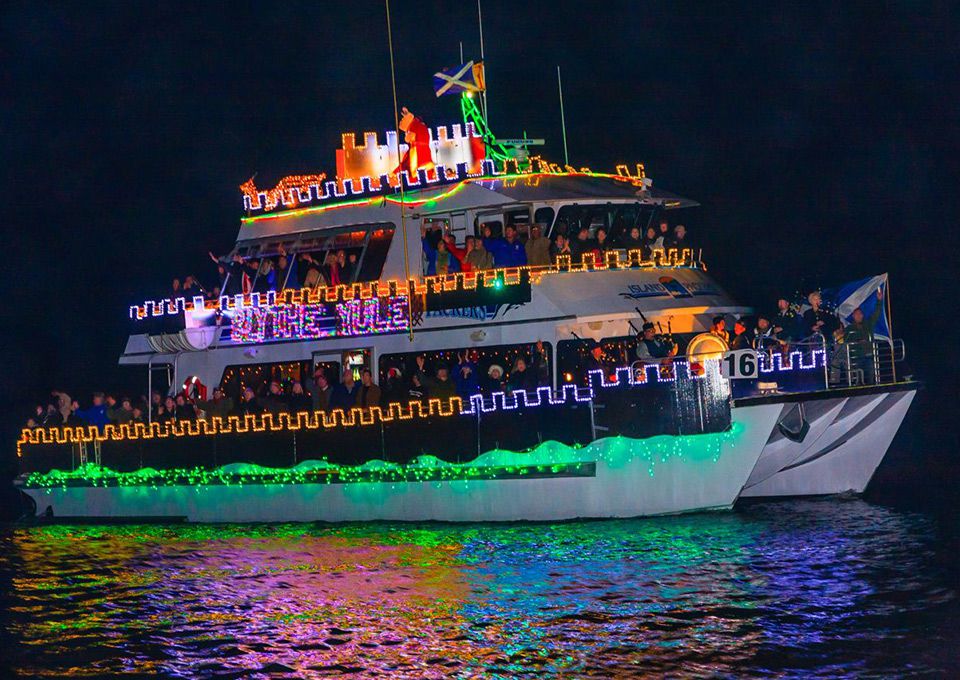 Caroling Cruise Dates: December 8, 12, 13, 14, 17, 19, 20, 21, 22, and 23. Fares: $16 per adult, $13 per senior (55+), and $10 per child. Ventura Harbor Parade of Lights Cruise: Celebrate Ventura Harbor's 41st Annual Parade of Lights and Fireworks from the deck of an Island Packers' catamaran! This year's theme is "When You Wish Upon A Star," and it's a treat to watch dozens of brilliantly decorated boats traverse the harbor. The elaborate fireworks display following the parade will have you wishing for more! Dates: Friday, December 15 and Saturday, December 16. Board Island Packers' 64-foot catamaran for a cruise from 6:30-8:30 p.m. to view the parade and fireworks. Items from the snack bar and hot and cold beverages (including beer and wine) are available for purchase onboard. Fares: $35 per adult, $32 or seniors (55+), and $25 for children under 12 (Discount rates are available for groups of 10 or more; contact Island Packers for details.). Advance reservations are highly recommended for these popular cruises! Private Group Holiday Cruises: If you'd like to plan an extra-special celebration, consider a private group cruise. Perfect for company and group holiday functions, private cruise options include a buffet-style dinner, a host or no-host bar, and various entertainment options. Group rates are available for 30-100 passengers. Contact Island Packers at 805-642-1393 for menu options, prices, and additional private charter information. Island Packers also offers gift certificates—perfect for gifts or stocking stuffers! December 26 marks the official start of the gray whale migration period, and an Island Packers Whale Watching Excursion is an exciting way to spend time with family and friends over the holidays! Recommended Cruise Attire: Island Packers' guests are "strongly encouraged to dress in layers with a coat and gloves, and wear flat shoes." Although we may not have snow in Ventura this December, there will be plenty of holiday spirit thanks to Island Packers! Please visit
Island Packers
for updated cruise and event information.
Discover More
Get to know Ventura, and discover the best things to do around the city.
Ventura Partners With