Posted: Monday, Oct 23rd, 2017
Ventura Makes National Geographic's 25 Happiest Cities in the USA!
by Visit Ventura
It's true! Venturan's really do smile a little wider! Best-selling author, Dan Buettner, teamed up with the National Geographic Explorer and Gallup's social scientists to develop an index that identifies measurable expressions of happiness in order to find the happiest cities in America. Gallup scientists researched 15 metrics that included eating healthy, learning something new, civic engagement, financial security, and vacation time, drawing on nearly 250,000 interviews conducted in 190 cities across the US from 2014-2015 to find America's happiest cities. They found that location-specific qualities of place and community are correlated to the roots and fruits of happiness.
"In happier places, according to Buettner, locals smile and laugh more often, socialize several hours a day, have access to green spaces, and feel that they are making purposeful progress toward achieving life goals."
Not surprisingly, National Geographic Explorer's 25 happiest cities in America include multiple sunny, beachside cities in California and others ranging from Ann Arbor to Austin to Charlottesville.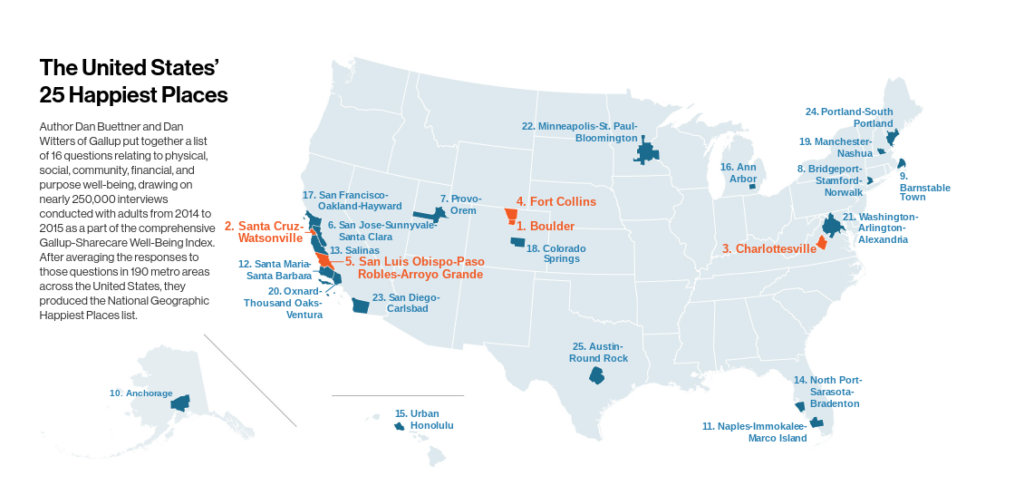 It's the combination of Ventura's endless summers, beautiful coastline, and nearby national and state parks that landed it a spot on this list.
"For visitors eager to take their own measure of America's happiest places, Buettner's advice is simple: linger longer, stay in a B&B, and walk a lot… "My findings indicate that if you want to get happy, don't try to change your belief system. Change your environment,"
Buettner says in a call to action for travelers everywhere. Read National Geographic's 
original article here.
Discover More
Get to know Ventura, and discover the best things to do around the city.
Ventura Partners With